Homes
Delhi based creative Nitin Kohli fashions an urban home replete with opulent elements in the City of Nawabs
JAN 28, 2020
| By Vedika Nair
This spacious, 6,000 sq ft duplex abode in Lucknow, designed by Nitin Kohli, is a glamorous yet cosy rooftop villa. Wrapped in the warmth of extensive wood panelling and a soft interior palette, it boasts rich natural stones and gold accents. Using various shades of blue as the accent colour, Kohli meticulously realised the owner's brief of an opulent and sophisticated home through the interior decor.
Upon entering the foyer, we are captivated by a fusion of warmth and glam. A partition of symmetric niches that appear asymmetric, separates this area from the home's formal entertainment zone. A panoramic window lets in ample natural light and veneer panellings allow for an intimate aura in the informal lounge.
Powder greys and blue tinted seating, along with an exotic stone coffee table characterise this space. In contrast, the formal living area is furnished with elaborate seating options in muted shades, with an array of centre and side tables, while the dining room holds a brass legged table that doubles up as a display for semi-precious stones.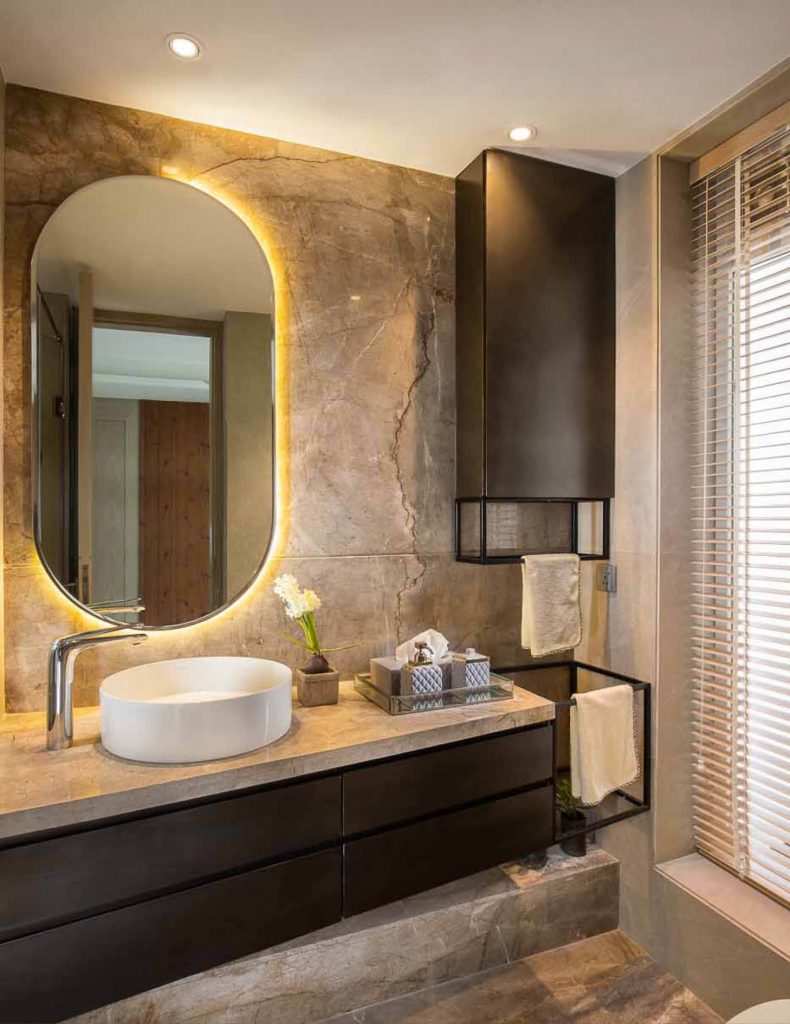 The guest bathroom features an oval mirror mounted on a marble wall
The first floor also comprises a concealed, minimal bar close to the fireplace. The pinewood panelling and monochrome colour theme continue in the guest room that invites sunlight and houses a cosy corner with a chair and footrest.
On the upper level, the aura of the home is transformed with textured walls and onyx claddings. On the right, is a prayer room and an entrance to a private pantry equipped with state of the art appliances and cabinetry. As we venture further indoors, we step into the elegant private quarters.
With soft furnishings, the master suite houses a minimal art deco bed, a mix of quirky chairs and, a walk-in closet and bathroom done up in classic grey tones paired with beige marble wardrobes. While the daughter's room is bathed in rouge, brown, beige and cream shades, the son's room features a stark palette of blue, grey and black tones. "It's a home where a refined colour palette and textures set the right tone for each space," Kohli points out.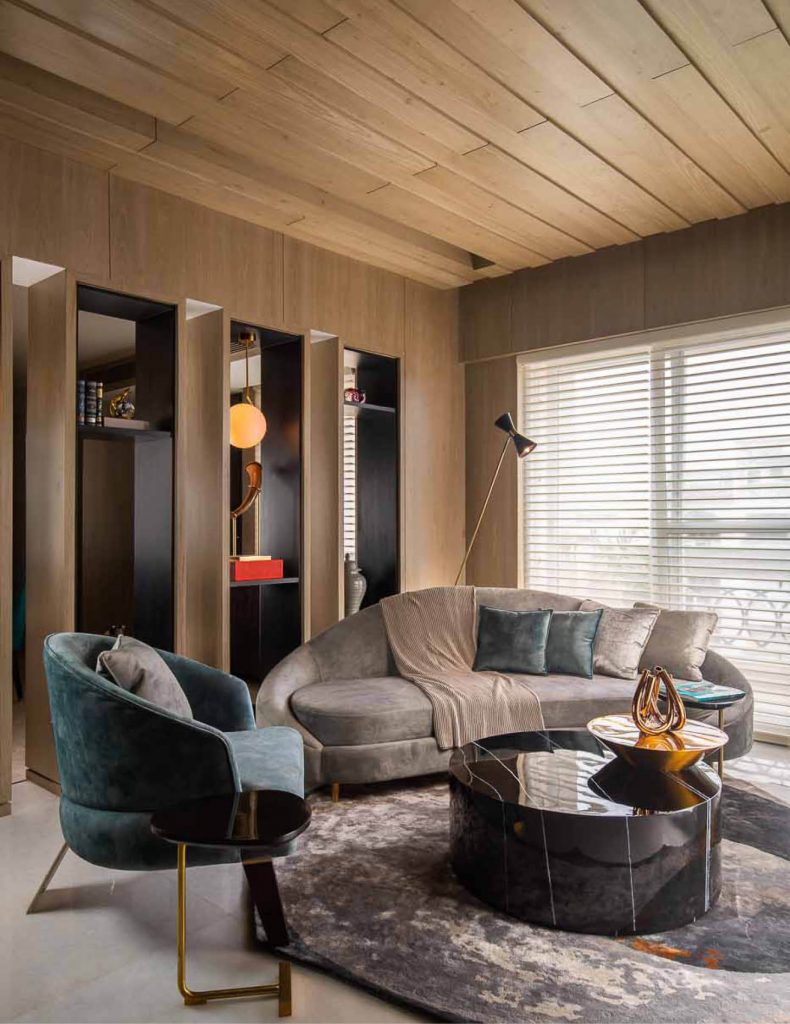 The lounge is clad in powder grey and blue furnishings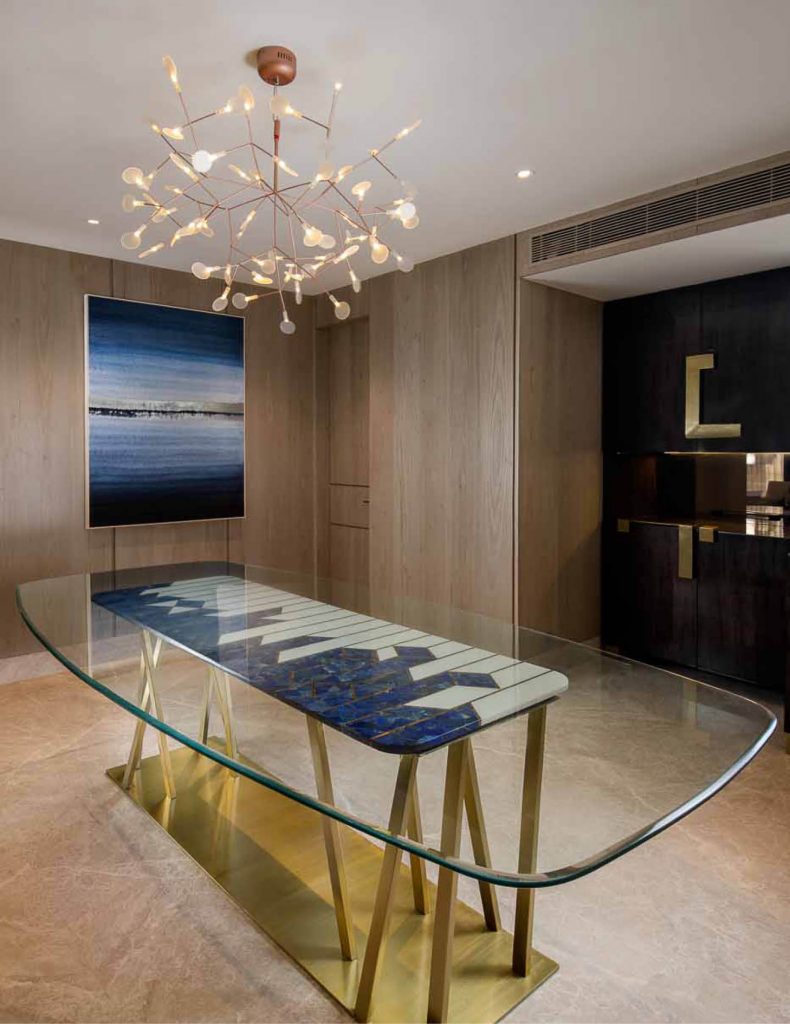 A brass legged dining table that doubles up as a display for semi-precious stones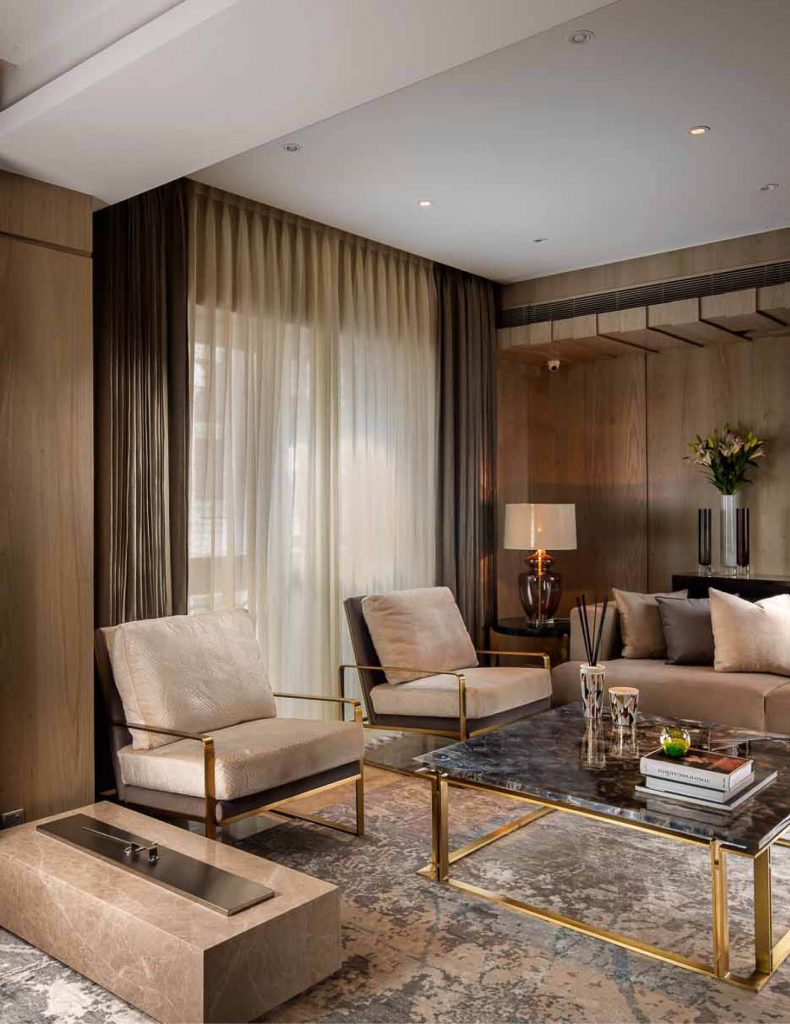 Sleak, Edgy furniture characterises the living room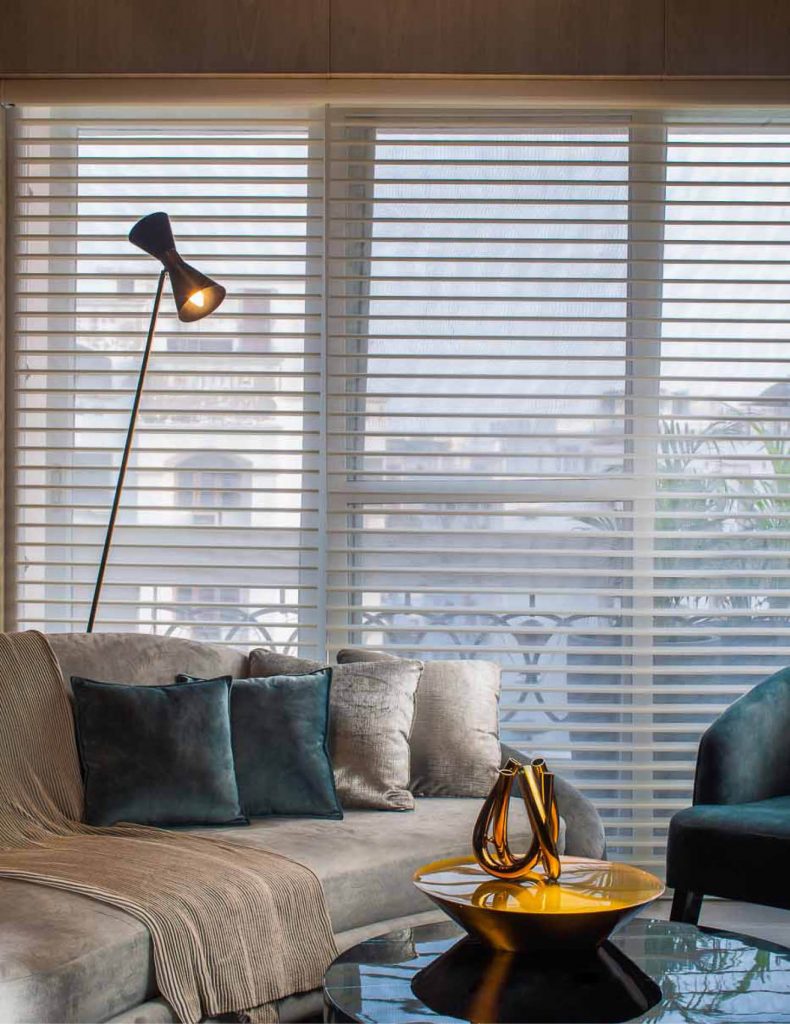 An exotic stone based coffee table is the furniture highlight in the lounge