Homes
Neesha Alwani and Shruti Jalan of ns*a Architecture & Interiors craft an urban cocoon in The City of Dreams
AUG 27, 2019
| By Nitija Shastri
A modern, contemporary abode, nestled within the dense cityscape of Mumbai, breaks the monotony with sweeping views of the Arabian sea on one side and lush greens on the other. The 1200 sq.ft apartment, helmed by Neesha Alwani and Shruti Jalan of ns*a Architecture & Interiors for a family of three, is enveloped in a warm, luxurious wooden cocoon.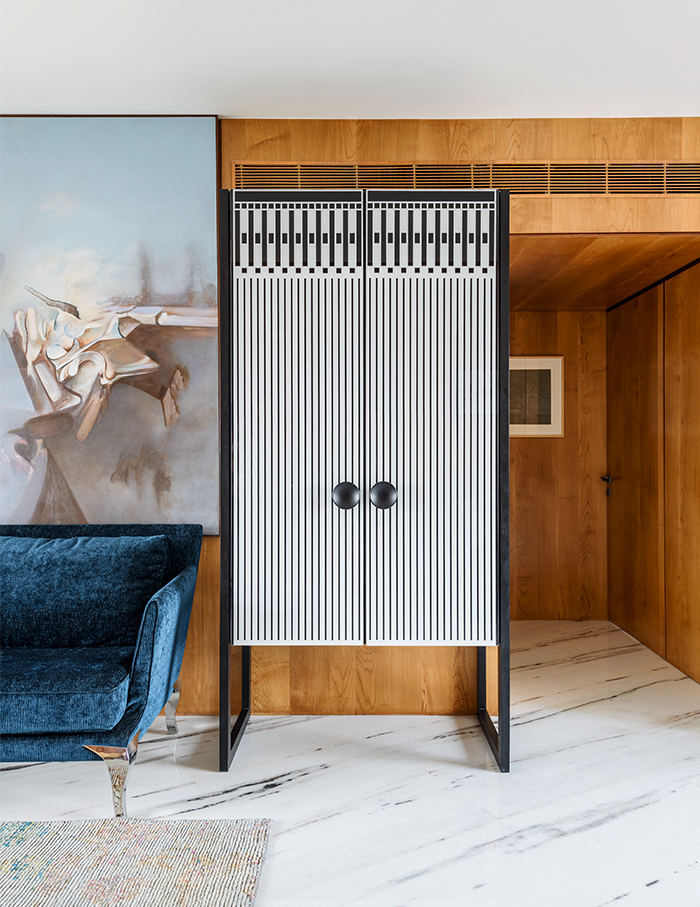 As one lingers through the entrance corridor flanked by a bronze mirror panelled wall one side and a ribbed wooden panelled wall on the other, it's almost impossible to not be fascinated by the interesting texture and pattern drawn from the natural element of wood—using the contrasting colour of the wood to make a bold visual impact. The interiors, void of any clutter is crafted in a neutral colour palette—airy, bright and refreshing. "The client stressed upon bright and open spaces with minimal physical and visual clutter," says Neesha Alwani. "We instinctively worked with a neutral palette of white and oak with hints of colour that appeared in the upholstery and art," adds Shruti Jalan.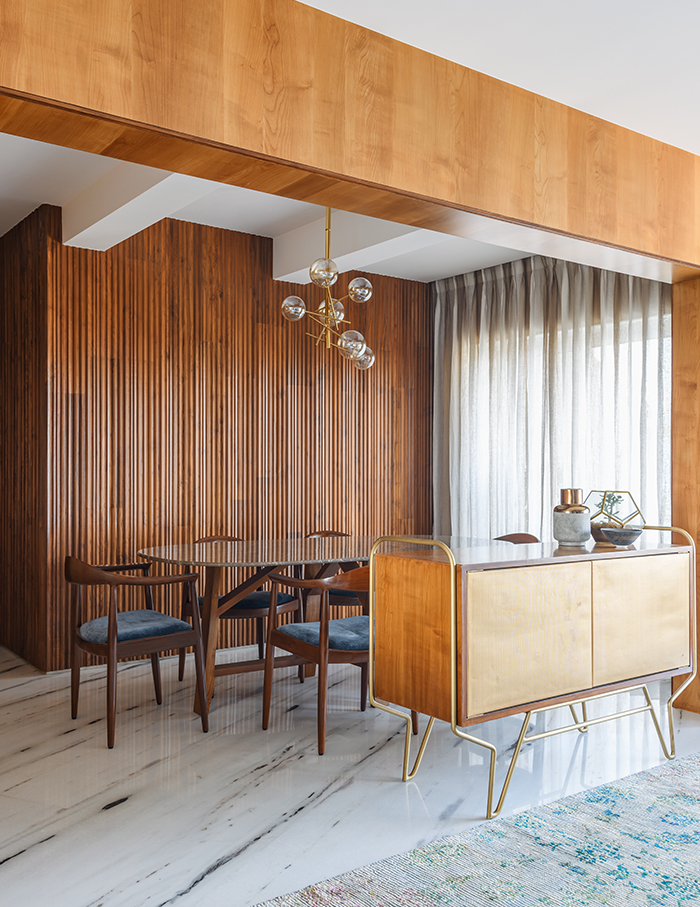 The living room has two seating areas at opposite ends and shares walls with the dining space. Your eyes are immediately drawn towards the wall garbed in oak wood panelling with bold grooves. "The floor to ceiling windows allow natural light to flood the space making it bright and airy and use of white marble offers a light and bright canvas for the rest of the materials while making the apartment spacious," say the talented architects. We can't help but daydream of lounging in the living room, staring away mindlessly at the gorgeous view of the ocean. A large artwork in shades of greys and pale blues mounted behind the sofa offers a dramatic backdrop, while a monochromatic bar closet breaks the monotony. A striking wooden console with perforated brass shutters divides the dining from the living area. A cluster of globes forms the hanging light over the marble dining table as black and white acrylic on canvas by artist Asif Shaikh hangs by.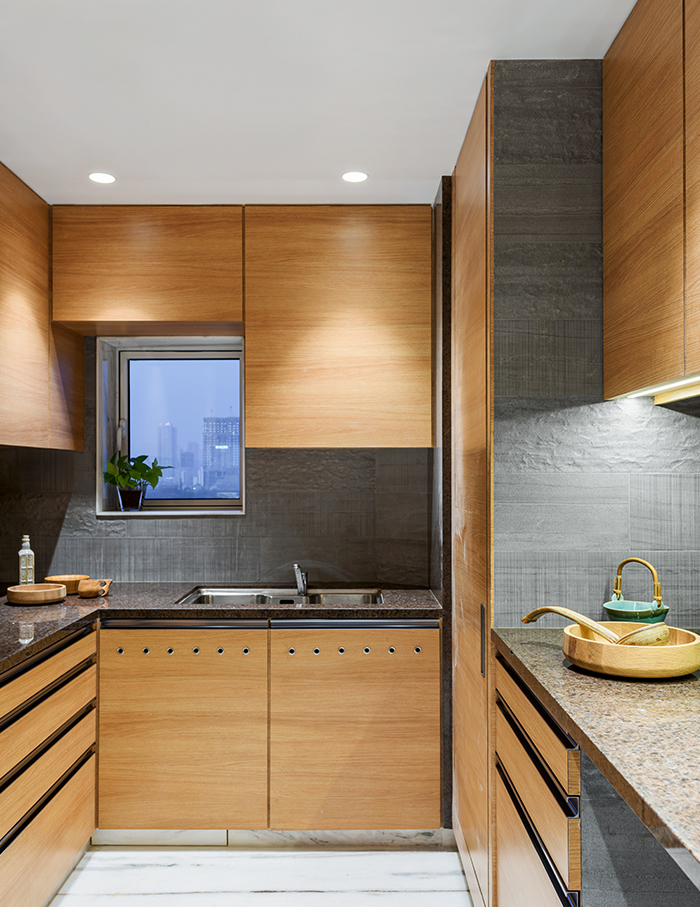 The cosy bedrooms manicured with oak wood, fluted glass and ample of sunlight—hold the promise of dreamy siestas. "The bedrooms have been designed with wardrobes along one side that appear as wall panelling thus allowing the area to be open and clutter-free," says Neesha. The wardrobe shutters are in a combination of fluted beige back painted glass and veneer with black handles. "In one of the bedrooms, the wardrobe is punctuated with drawers and an open niche in oak wood which breaks the monotony of the fluted back painted glass shutters," concludes Shruti. The bath spaces are wrapped in luxurious bronze Armani marble with brown cabinetry rendering a monochromatic tone to the space. Mirrored surfaces within the bathrooms make it appear large and help reflect light within the space.