Homes
A Mumbai home by Tank Design engulfs a clean Scandinavian style with a genius fountain built indoors
APR 17, 2023
| By Rajlakshmi Dastidar
In a rather busy but urbane neighbourhood of Khar in Mumbai, a 1,050 sq ft residence stands wrapped with a visual concept of a raw, clean and minimal design that also combines a wise palette of nature and plants. This creative manoeuvre is helmed by Suraj Manik, Principal Architect of Tank Design, who reveals that the homeowners were as much excited about the interiors of the home and its process as he was.
Almost every component in the house has been designed and particularly crafted in-house, with just a handful of elements outsourced. Understanding the family's taste in materiality, dislikes for certain things, and preferred colour schemes was the starting point for the design of the space.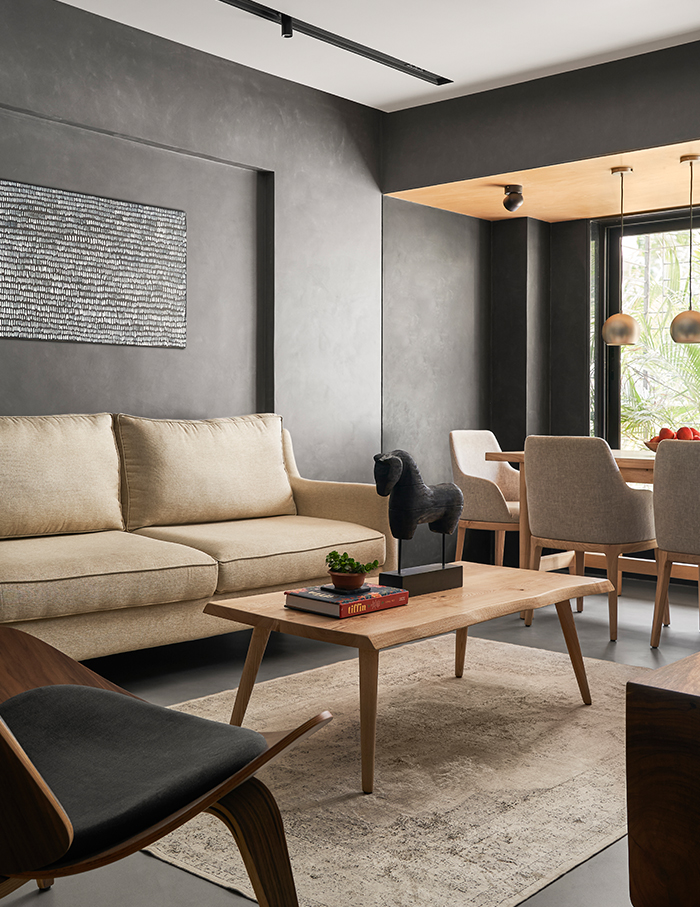 The curious brief
The home is inspired by Scandinavian design principles, which puts an emphasis on employing a more decluttered, simpler display of furniture and decor — never more, never less — along with concrete flooring, light wood accents for warmth, and black accents for contrast.  
"I wanted to plan the flow through these different spaces while arranging them so that they reveal themselves slowly as you walk through the house, making you curious to explore it further," divulges Suraj.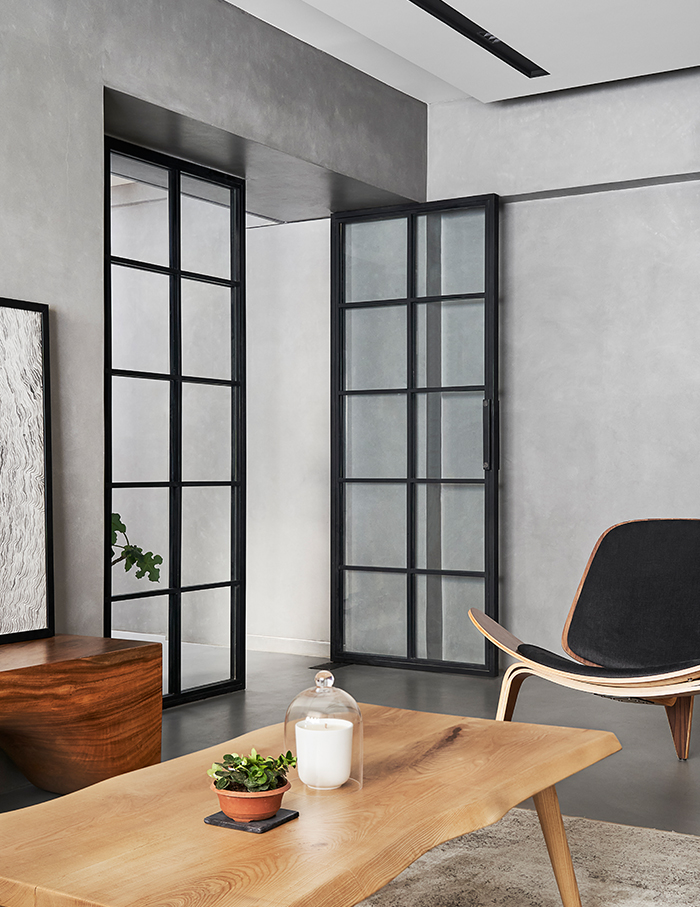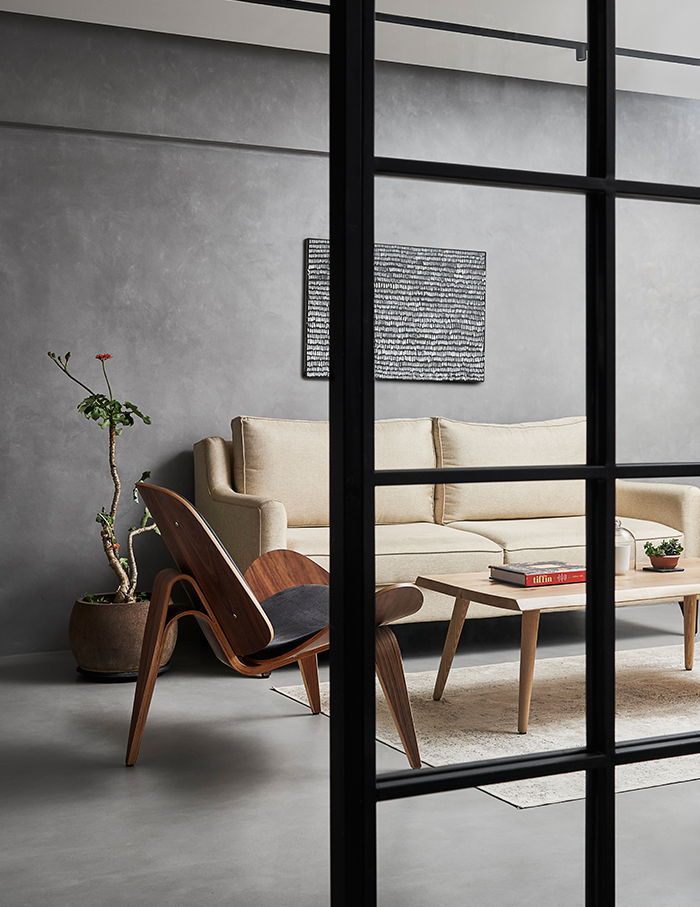 Tour every turn of the home
The zen-inspired architecture blends beautifully with the sublime beauty of nature. With a slatted solid ash wood backdrop from the kitchen to the bedrooms. The hallway leads to the two bedrooms and a shared bathroom. 
The primary bedroom is one of the two bedrooms, and the informal sitting/media/music room is the other. The latter is a separate area where people can relax, watch TV, listen to vinyl records, or play musical instruments. An electric piano and a pair of guitars transform this area into a jam room, with everything set up so that it can plug in and perform.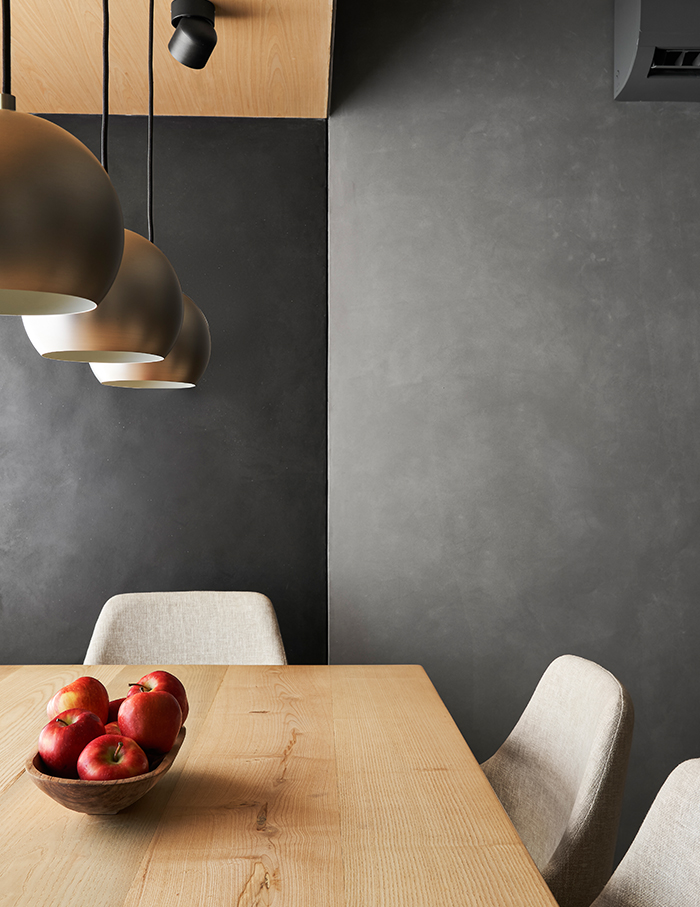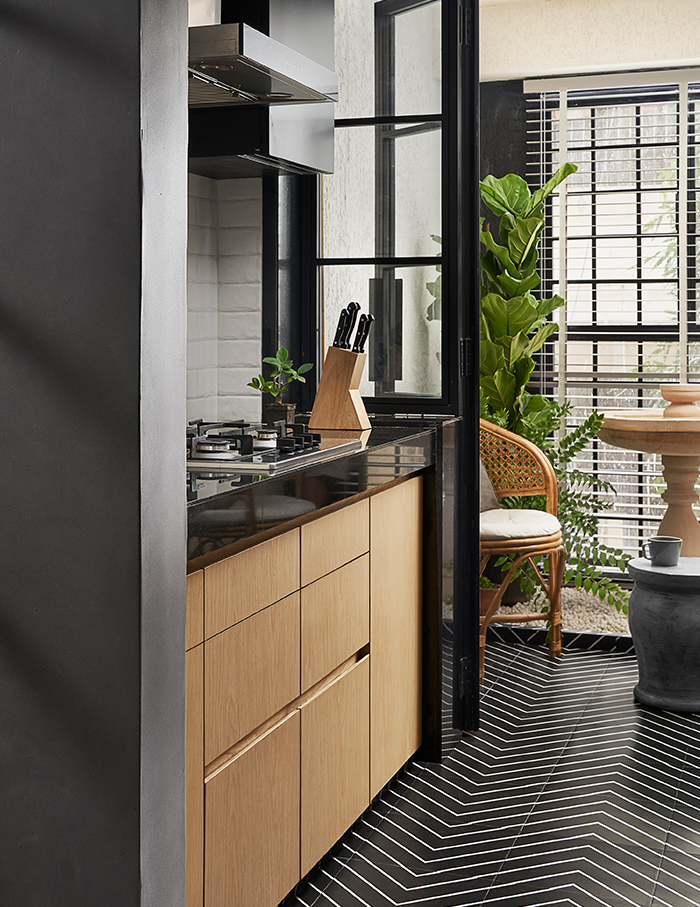 As soon as you enter the living room, you can see the dining area and begin to detect a theme in the materiality. The house is composed of grey concrete, with white Ash wood furnishings throughout, except a statement bench made of East Indian walnut. A chevron pattern tile floor flows from the kitchen to the fountain area.
Going further, one will notice a corridor that leads to the bedrooms, complete with a coffee counter, and to the left, a parallel kitchen with yet another gridded glass divider through which the fountain area exposes itself.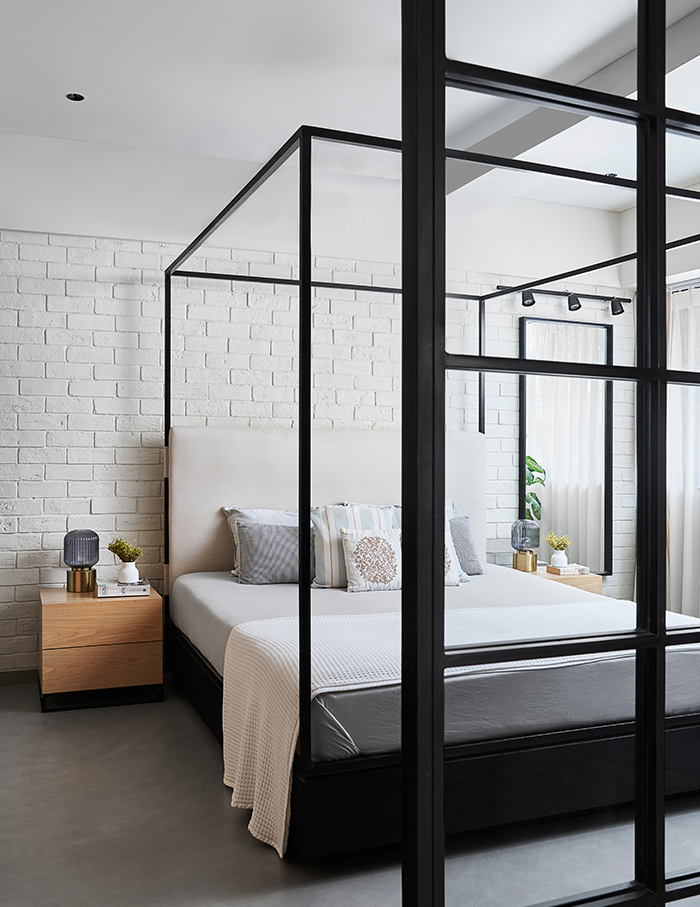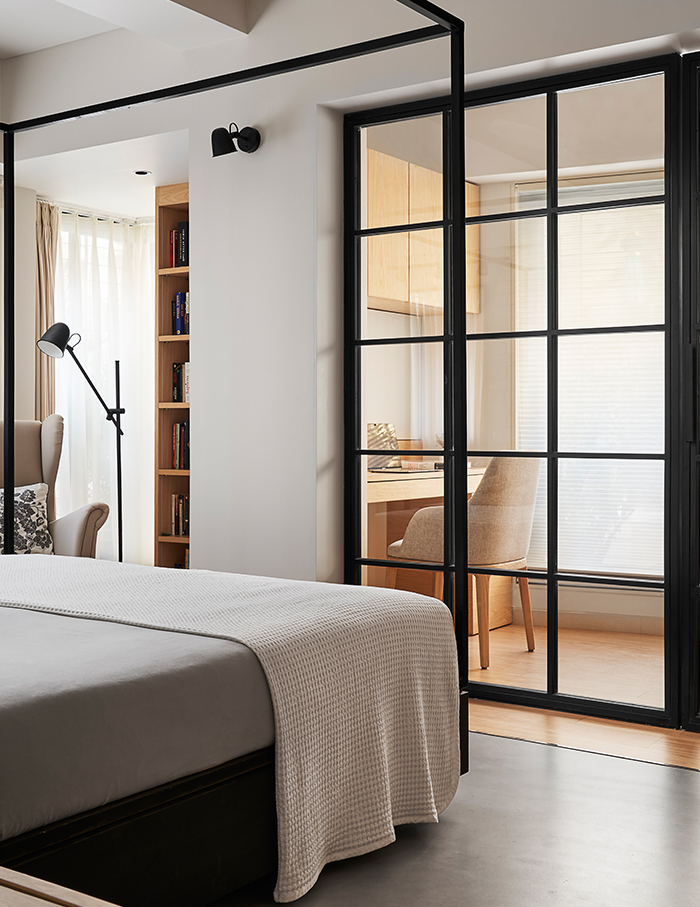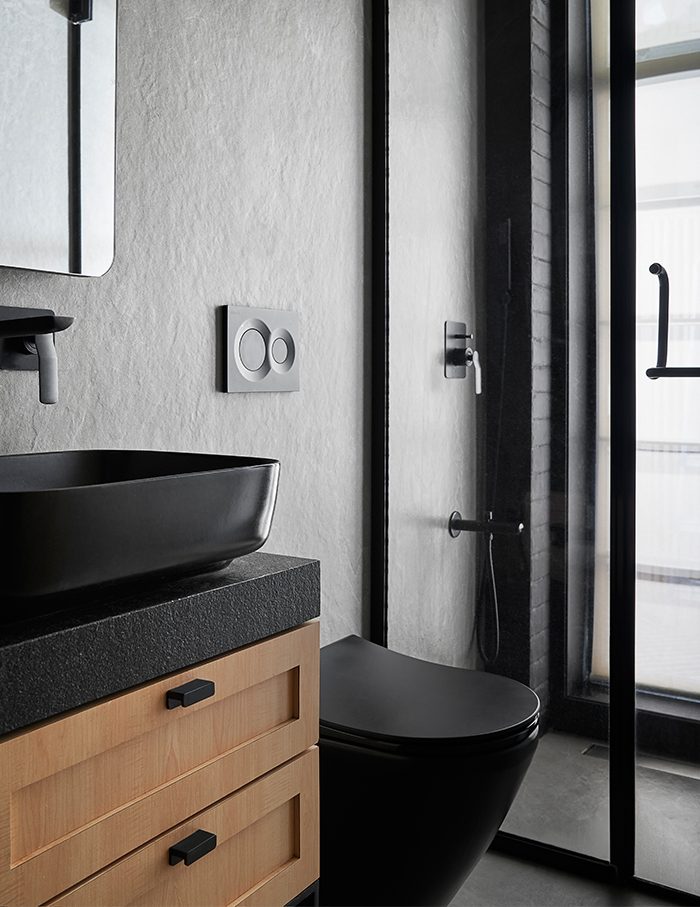 Ideas to bookmark
Concrete is the winning material of this home. Only three colours, shades of grey, light wood and black are chosen for the materials and finishes used throughout the space. Though, black elements were limited to smaller, more slender elements to offer a slight contrast and to frame views, while white ash wood was used to complement the concrete's raw, appealing appearance.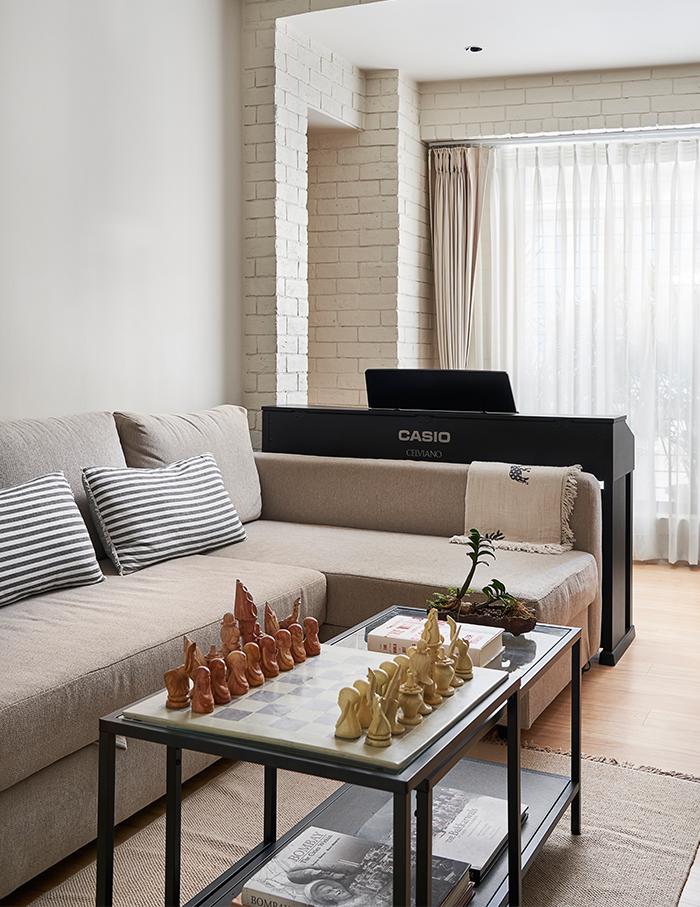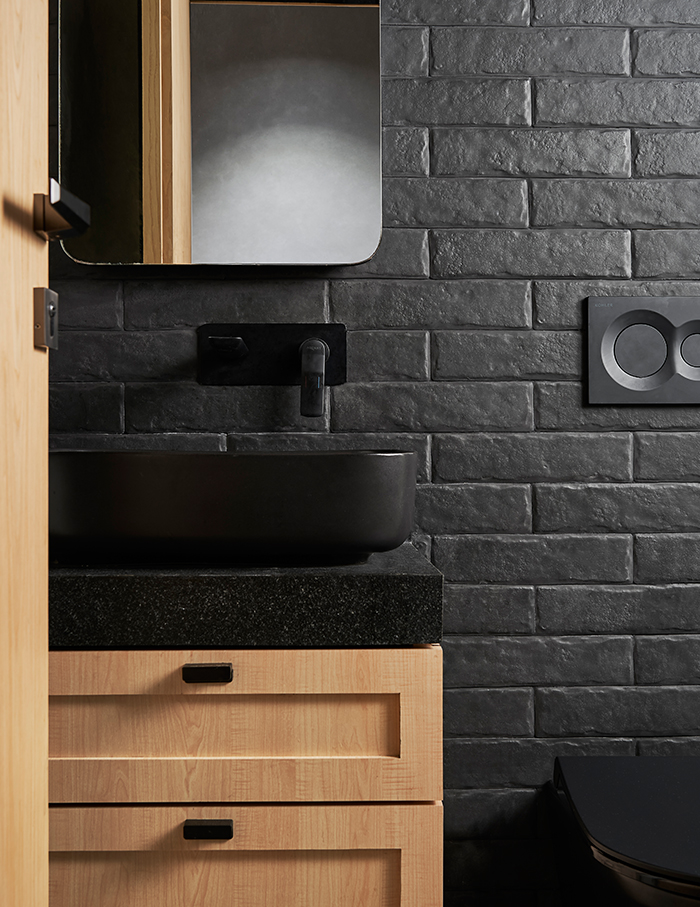 Being ordered, uncluttered, and immaculate in theory and to the eyes is what outlines the notions of Zen. Sure, the chaos of the city and keeping up with our lifestyles can be demanding, but when you go home, you should be able to unwind and feel liberated from the outside world. Building an exemplary personal cocoon for the family, Suraj sums up the Mumbai home, "We loved the idea of going for a raw, clean, minimalist aesthetic, using natural materials that retain their texture without looking too finished, and the Zen house started to take shape in our heads."
You may also like: The Design Cube imbues an inspiring Industrial style to this Chandigarh home with a surprising free flowing mood