Homes
This Mumbai bachelor pad is a canvas of cosy and contemporary design crafted by Rupin Suchak
SEP 23, 2022
| By Shriya Goyal and Maheshwari Vickyraj
When you hear the words "bachelor pad," a certain image forms in your mind. For most, it conjures images of a luxurious living room with leather furniture, a full bar, and a massive entertainment centre. Amidst these conjures is a pad that reflects "less is more" by Rupin Suchak.
Spanned across 700 sq ft, an aesthetic arrangement nestled in Imperial Heights Towers in Oshiwara, Mumbai is this contemporary bachelor pad designed by Rupin Suchak of Goiz Argi for Anubhav Chopra. Rupin says, "I truly believe now that creativity throbs higher when you connect to the space on the emotional side rather than just being structured and corporate."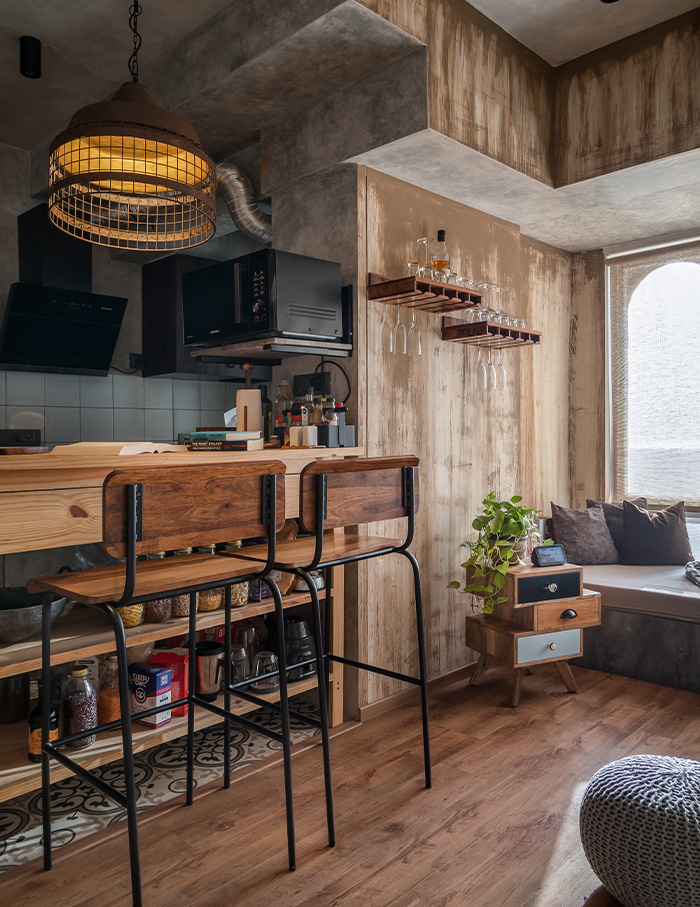 The curious brief
As per the brief, Rupin focused on bringing his design language to the space. Making the most of this compact bachelor pad, he crafted it to host friends and conduct meetings. Fusing the owner's ideas with his elements of design furnishes a cosy and contemporary appeal to the home.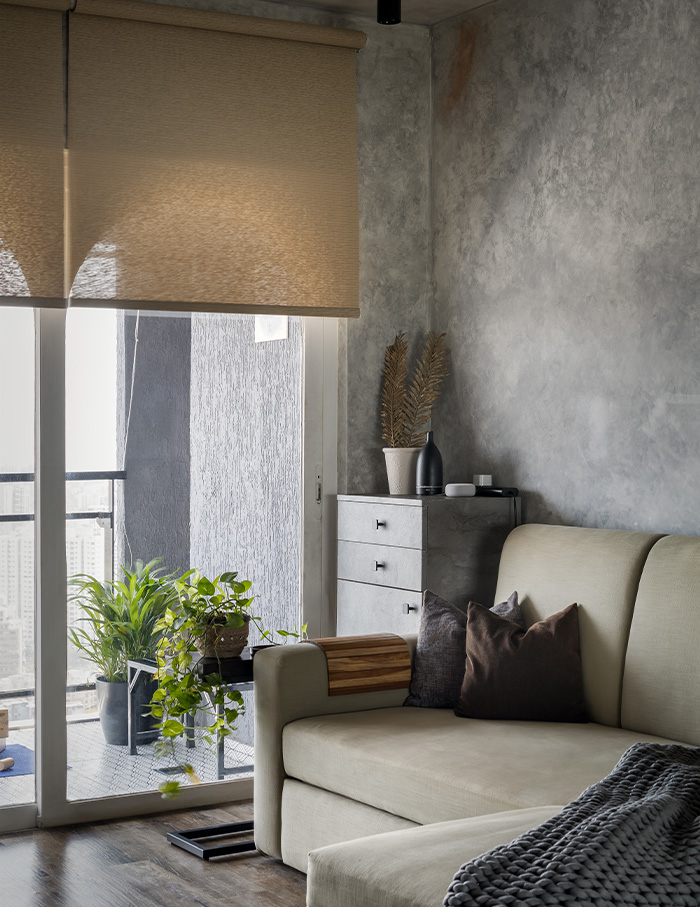 Tour every turn of this home
 Entering through a vibrant blue door, a raw vibe overtakes your senses. The ceiling light brings a splash of colour to the grey walls.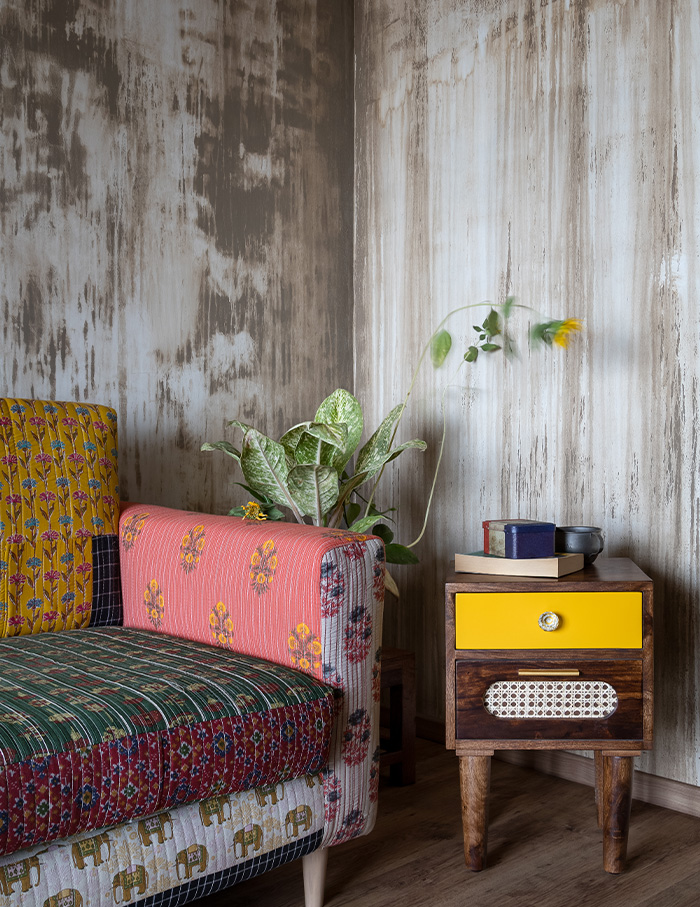 Carrying on this design language, the kitchen is distinguished by patterned tiles and dark wooden cabinets. Bringing the aesthetics of a cafe, the kitchen island divides the space yet visually brings the whole area together. This area of the house is interestingly lit by a few industrial lights. The kitchen's colour palette balances the meeting rooms on the opposite side.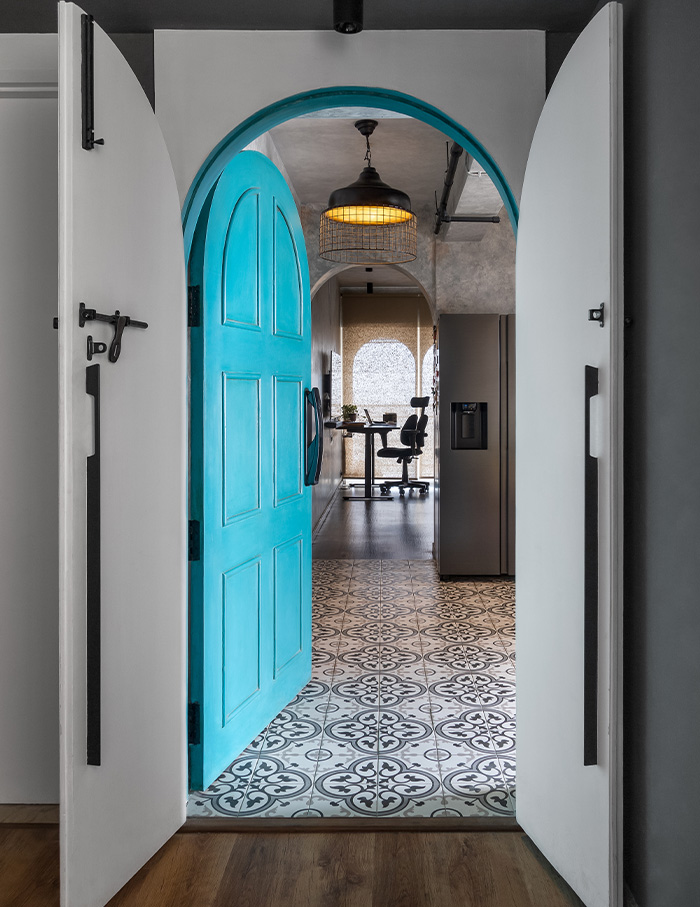 Walking through the passage towards the living room, the area has been visually expanded. The application of mirrors perpendicular to the balcony multiplies the space and the light entering the home. Essentially utilised as a writer's pad furnished with different forms of seating, it marks an ideal spot for the writer-directors brainstorming sessions.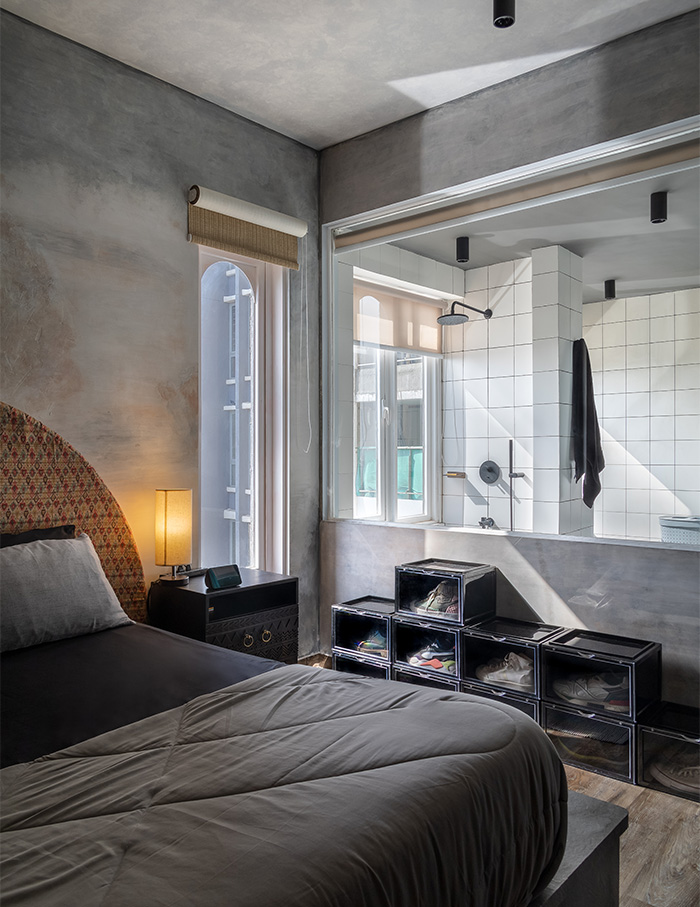 The next stop is a tiny cove that leads to the bedroom with an arched door. With a shoe cabinet on the right and a bed on the left, the master bedroom is swathed with textures and colours that bring out the identity of its owner. A glass open bathroom treated with subway tiles and a Kota stone basin complements the appeal of the room.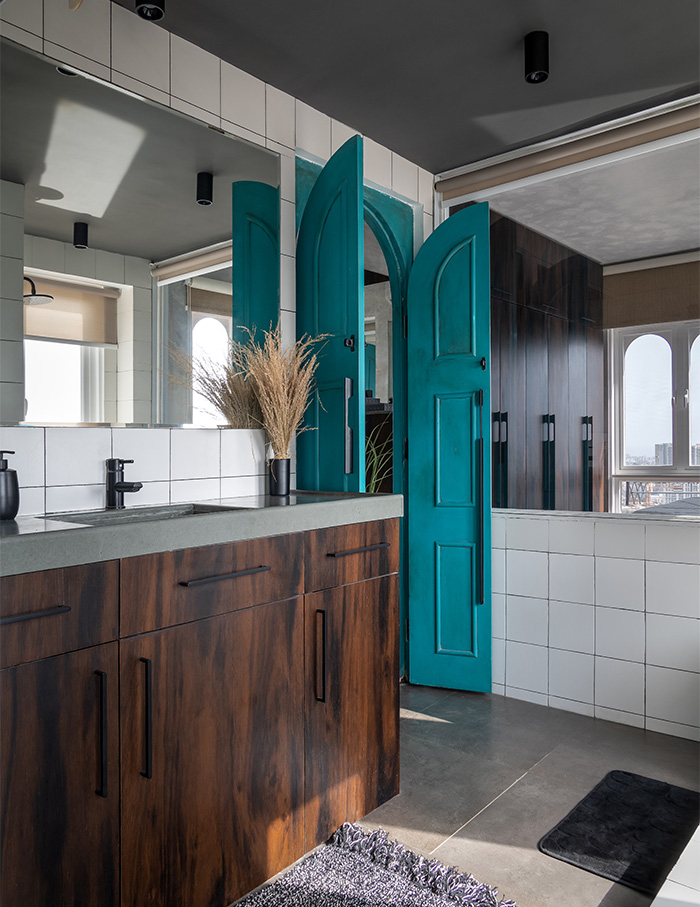 Ideas to bookmark – colours, materials, and inspiration!
Relying heavily on neutral colours to brighten the spaces and balancing tones with wooden browns, a simple aesthetic was achieved in the spaces. An amalgamation of the design of the tiles and the utilisation of architectural features like arches and textural walls showcases the personality of the designer.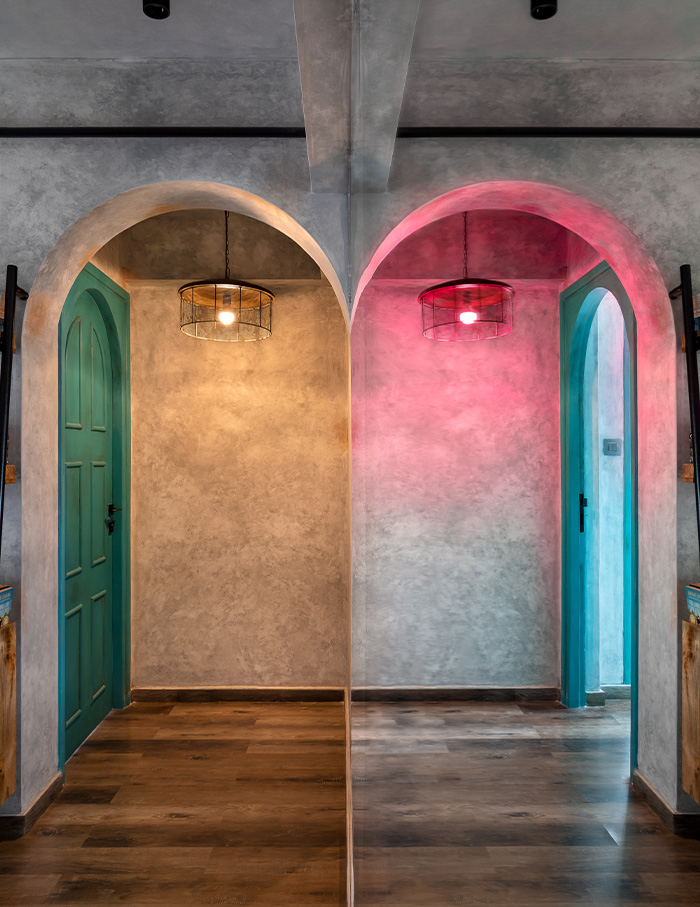 The apartment's doors are painted in turquoise, adding a cheerful accent and elegantly unifying the space. There is a minimalistic theme throughout the space, with only a few colourful pops for emphasis. The home has a primarily monochrome colour scheme. A gorgeous printed fabric bordering the room serves as a deft departure and contributes significantly to the room's ambience.