Homes
Experience romance and nostalgia at Eugenia Mikulina's dacha in Russia
JUN 29, 2020
| By Vedika Nair
While everyone dreams of spending their summers at cosy country homes, Moscow based designer and journalist Eugenia Mikulina of DesignChat.com, put her skills to use and crafted a traditional Russian dacha as her home away from home.
"For me and my husband, the times we spent in those odd yet lovely little homes are our most treasured childhood memories. So I knew exactly what the place would be like. Although since we created it from scratch, it had to look and feel as much as those childhood retreats as possible, especially since we wanted our kids to have childhood memories similar to the ones we had," says Mikulina.
The seven acre plot is captivating with treasured pine and maple trees, gently sloping towards a small river. The land had three structures—the main house and two large sheds, one of which housed a garage. With the goal to create a comfortable dacha in mind, Mikulina reconstructed the main home and refashioned the sheds to create an additional living pavilion and guest house.
She enrolled the help of prominent Russian architect Nikolay Lyzlov for the entire reconstruction plan, while the construction was carried out by Carte Blanche Engineering company—a high-level contractor used by Jean-Louis Deniot and Gabhan O'Keeffe. The dacha also features a garden that looks simple and natural, crafted by St Petersburg-based MOX landscape architects.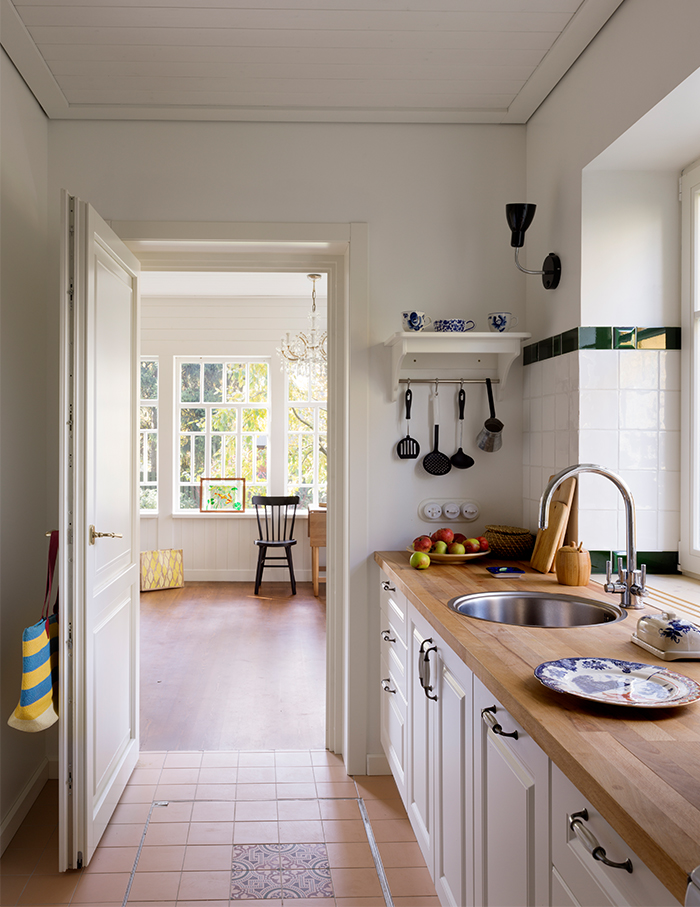 The home enjoys a view of apple trees and jasmine bushes. It has two entrances and features a quaint white porch. To get to the main entrance, one has to walk through the garden. It is on this path that the library with its open terrace lies on the left, while the main dacha is on the right. The white toned verandah leads to the entrance hall that often doubles up as Mikulina's study.
If one skips the kitchen that is accessed through a small door on the left, a set of double doors open to the living room. It is complete with a fireplace, cosy seating area as well as a dining space with an antique round table. This space is defined by the use of pendant lights and traditional textile lampshades in different hues. Further inside, this level also accommodates Mikulina's younger daughter's bedroom and play area as well as the master suite. A staircase in the entrance hall takes us to the elder daughter's bedroom.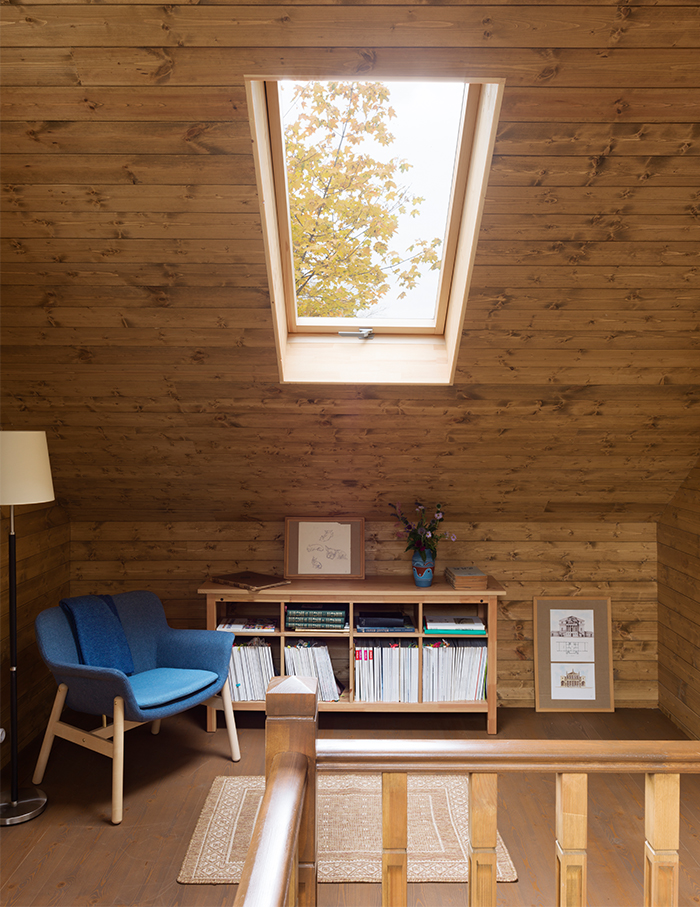 As we cross the open terraced library, we see a dining space used in the summer and enter a single large room with panoramic windows that open to the garden. The library cum lounge also features a fireplace as well as sitting and dining areas.
From here, we walk to the guest house that is designed to feel like a traditional motel, with an open porch and doors leading to each room. The rooms are similarly decorated but vary in colours, while the lawn hosts a small sandpit and swing for the young ones. A gazebo in this space is perfect for tea parties and behind it is a small gate that leads to a dreamily set dock.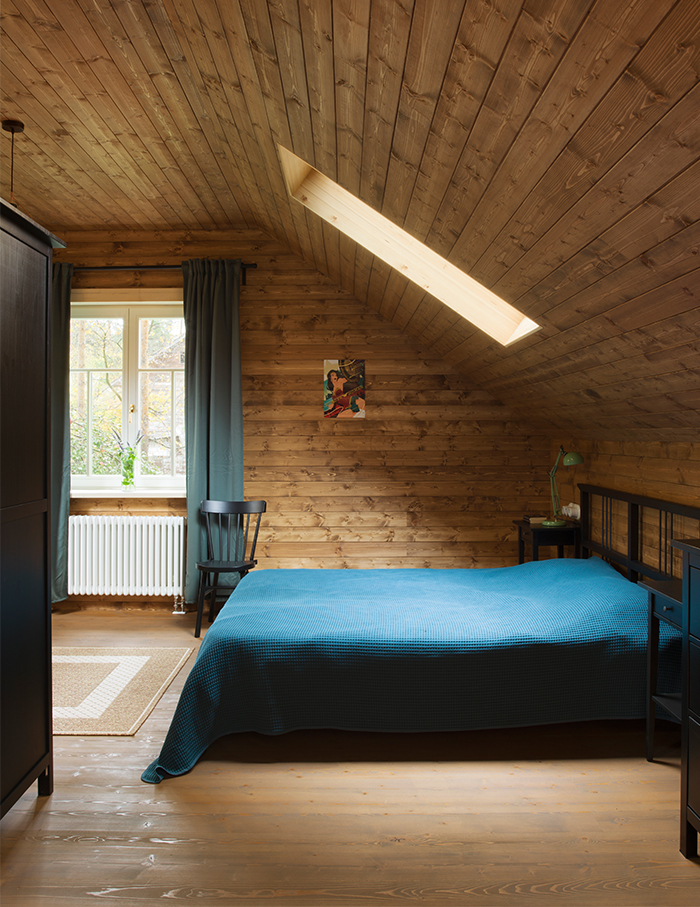 The home's colour palette is determined by wood and its different hues. Natural pine, dark honey, greyish brown and reddish-brown are seen through the home. Mikulina feels strongly about the need to be individualistic. 
She says, "I firmly believe that 'trends' have no place in actual interior design for real people. Designers have no right to paint something purple just because it is "the colour of the year", or some such nonsense. Interiors are made for real people with real lives, and they have to reflect those people, their lives and the context of the project. The city apartment that I designed for our family is completely different from this house; though we are the same people, the context of the city changes things. So, one might say, my design philosophy is flexibility."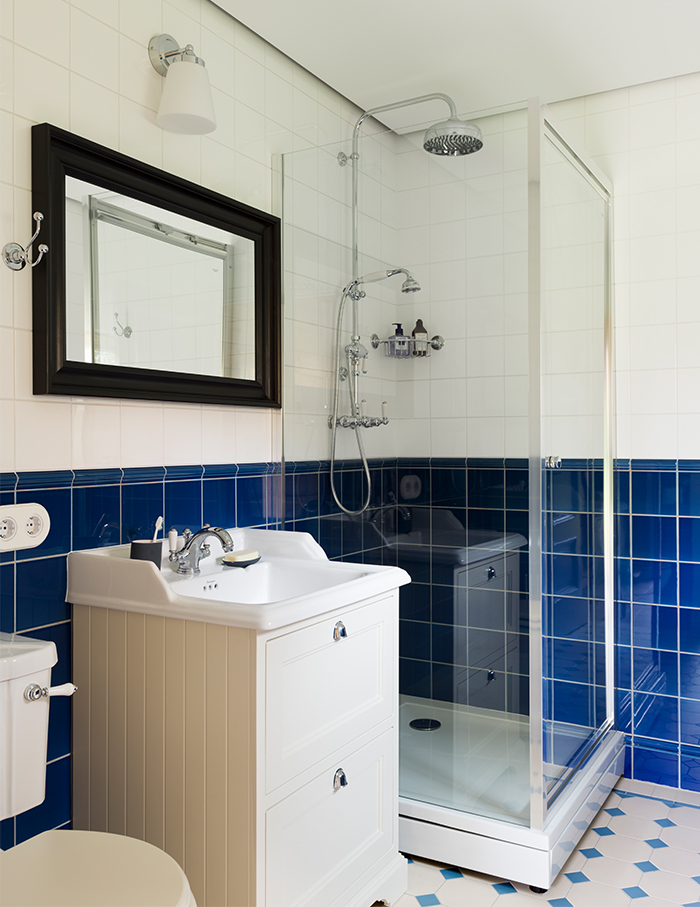 "I would say that my thoughts are close to the ideas of English interior designer Nicky Haslam, who is always flexible but never compromises on taste. I also appreciate colours and mixing them, and I like odd personal things like family heirlooms and children's drawings bringing places to life. So, this dacha reflects my design beliefs completely," she says.
When asked about what the home represents, Mikulina says, "I would say that this place is nostalgic—it is about saving the loveliest memories from our childhood and passing them on to our children. It is also about evoking a new type of country house for Russia. The 'real' dachas would not be comfortable today, so most country houses built in Russia nowadays are European classical or contemporary in their design. But in my place, I think I offer something that is distinctly Russian and that rings a bell for anyone who's ever seen the old dachas. Yet in ways of comfort and approach to architecture and design, it is a modern house. So, in our humble way, we have reinterpreted a national tradition here."