Lifestyle
Humbert & Poyet conceive the all new Beefbar outlet in Malta
MAY 10, 2020
| By Aneesha Bhadri
The globally renowned Beefbar doesn't just impress with its scrumptious offerings that would make the most fastidious carnivore swoon. It presents a curated and delectable fare in a setting that reflects the ethos of Beefbar—luxurious, wholesome and experiential—while paying homage to the restaurant's location; each outlet is inspired by the city in which it stands. Architects Humbert and Poyet have designed the new restaurant in Malta as the first beach club concept for the brand.
Drawing inspiration from the sea, the island's natural resources and local craftsmanship, the architects have captured the cultural essence of Malta and merged it with Beefbar's sophsticated ideology. Created to highlight the seascape and the jugged rocks that punctuate its scintillating blue expanse, the restaurant features a pool that overlooks the sea and is lined with gazebos and sunbeds in yellow and navy blue stripes. The space extends to an outside terrace with a pergola, from which handmade ceramic suspensions in terracotta are strung. Lush decorative vegetation punctuates the restaurant throughout—the entrance, lounge, terrace and pool.
The lounge is designed to create a homely feeling, with large sofas, bespoke tiled tables and ceiling fans, as well as ceramic and papier maché suspensions. Handmade ceramics decorate large library shelves behind the lounge bar, which is adorned with a striking monochromatic, tiled pattern. Emerald green, ceramic tiled tables are paired with custom wood and rattan benches and cord chairs.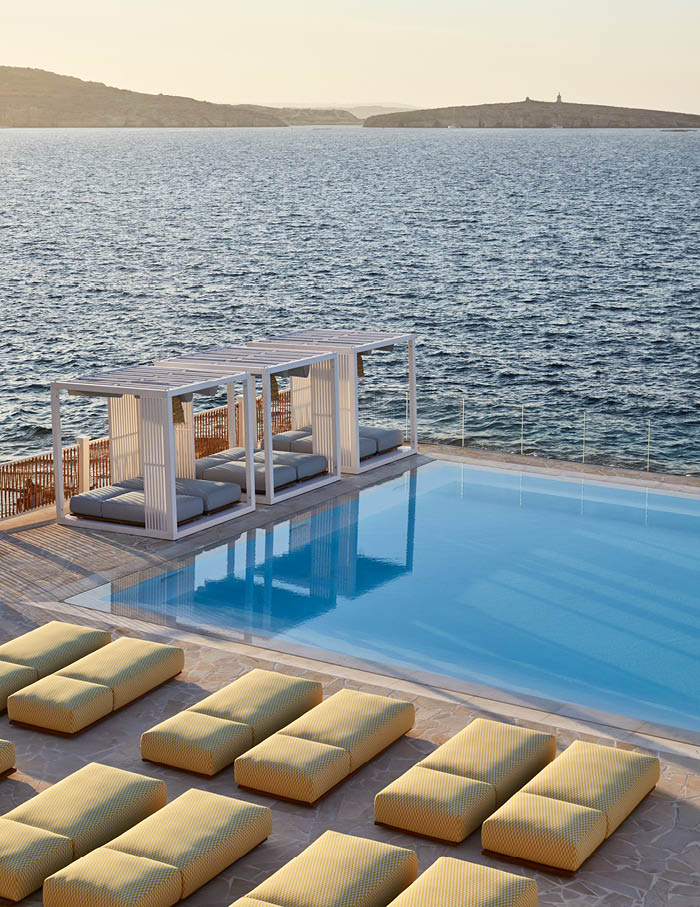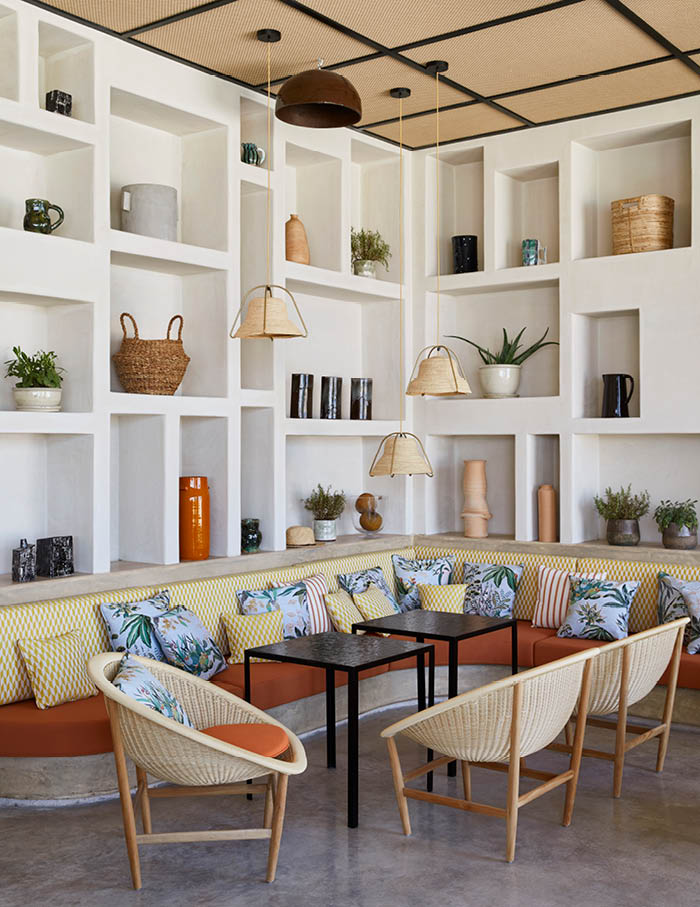 Craftsmanship and detailing play a critical role in Humbert and Poyet's designs. As an echo to the surrounding landscape, a variety of natural and raw materials—rattan, ceramic, plaster and concrete—have been used to decorate the interiors. For the furniture, the architects chose fine textured fabrics, with playful stripes and patterns. "We opted for a warm colour spectrum with an emphasis on soft, earthy tones. Intermittent pops of canary yellow, tangerine orange and emerald green, with touches of black lend character to the space," says Poyet.
The result is an elegant yet informal space with a refined palette that reflects the natural environment of Malta as well as the personality of the restaurant, with its emphasis on quality experiences—guests can dine, lounge, swim and enjoy live music during the day and throughout the night. "The design of the restaurant reflects Beebfar's idea of luxury being an overall lifestyle—attention to detail, quality of materials, and the concept of creating each space as an experience in itself brings it all together," says Humbert.