Homes
Modernist architecture takes on an exemplary form in this sumptuous Hyderabad abode by Kanan Modi Associates
APR 15, 2019
| By Nitija Shastri
Within Jubilee Hills, Hyderabad rests a dwelling that looks like an interesting play of levels almost stacked up like toy blocks. Sprawling over a 6,000 sq ft area, the home, designed by Kanan Modi of Kanan Modi Associates for a family of four, is adorned with sumptuous interiors, contemporary rooms and a well-manicured garden—the property is synonymous with understated opulence. Long faceted stone walls welcome you right at the entrance.
Tread a few steps in and the aesthetics are clear—neutral hues and furniture with clean lines. Falling in love already? Exposed concrete and local stonework are the primary building materials—it feels as if shadows and metal have become intertwined within the space, appearing as an extension of one another.
"The intent of our design was to create clean seamlessness, inspired by Modernist Architecture. We wanted to create a balance between the midcentury modern and the New Age dynamism," says Kanan. Controlled natural light streams into every corner through vertical slits. Public spaces are divided by moving walls, which are hidden within a pocket when not in use.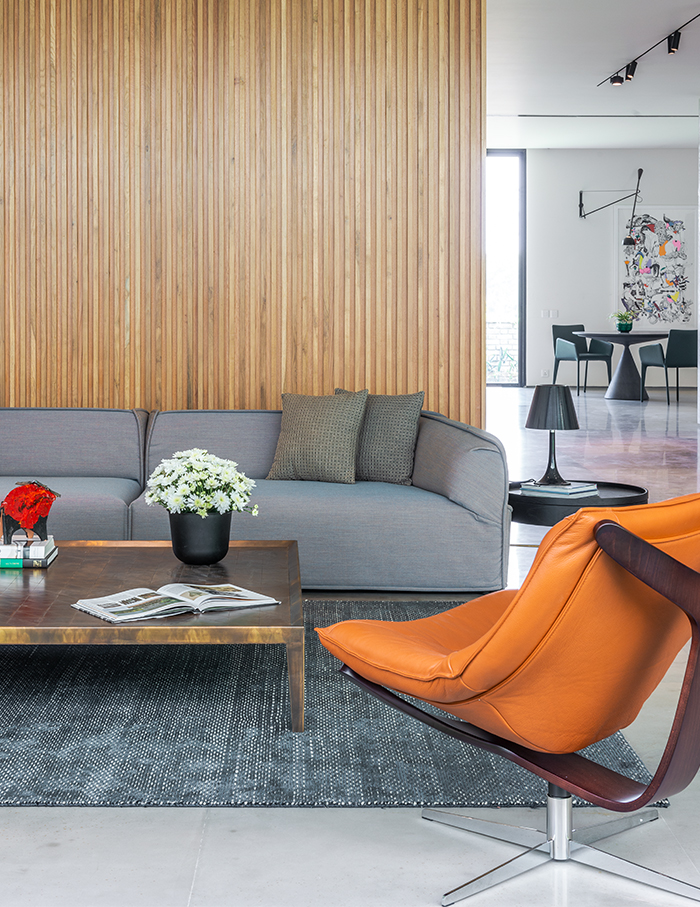 The living space, also the architect's favourite, opens out to the verdant garden. "Covered with lush landscape, it doesn't feel so close to the streets," she says. Quirky lamps and kaleidoscopic wall patterns embellish the powder room which was built using leftover stone from construction. "We mixed various shades and textures of local stones, and created a unique pattern," says the architect.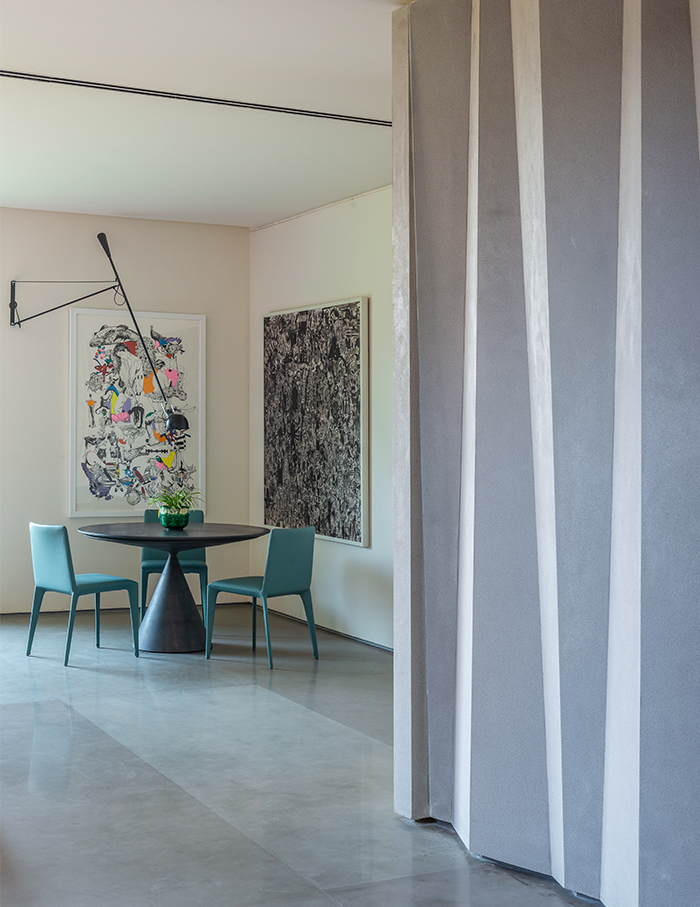 The open staircase leading to the first level features a brightly-lit timber railing meticulously concealed within the wall. The daughters' bedrooms are set in a monolithic theme, using an oak and concrete material palette. The family home aesthetic blends effortlessly into the modern silhouettes. "Although it is contemporary, I would still call it comforting," asserts Kanan.
Scroll to see more images from this home by Kanan Modi Associates…