Homes
Tussle of minimalism, vintage and modernity emerge in a Mumbai home designed by Aashni Kumar
SEP 27, 2022
| By Maheshwari Vickyraj
Function and fluidity converge with a sense of harmony and poetry in design at this Mumbai residence carved up for a joint family.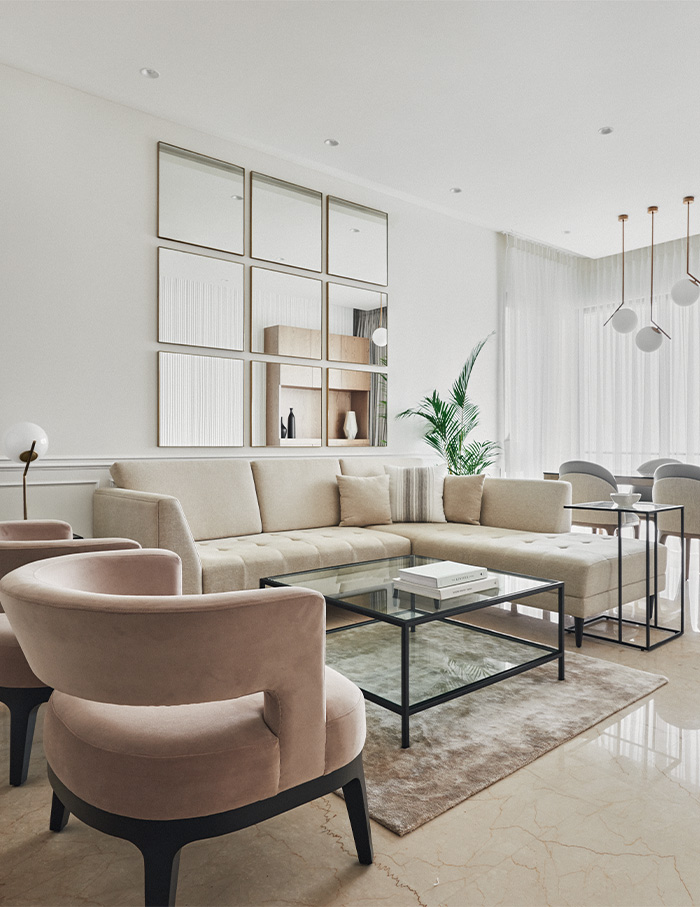 Three distinct homes, 1,000 sq ft each, are nestled comfortably in a luxurious skyscraper at Lodha Parkside in Lower Parel, Mumbai — one for parents and the other two homes for the sons and daughters-in-law. Taking up the onus of creativity for these dens floating in the sky is Aashni Kumar of her eponymous practice.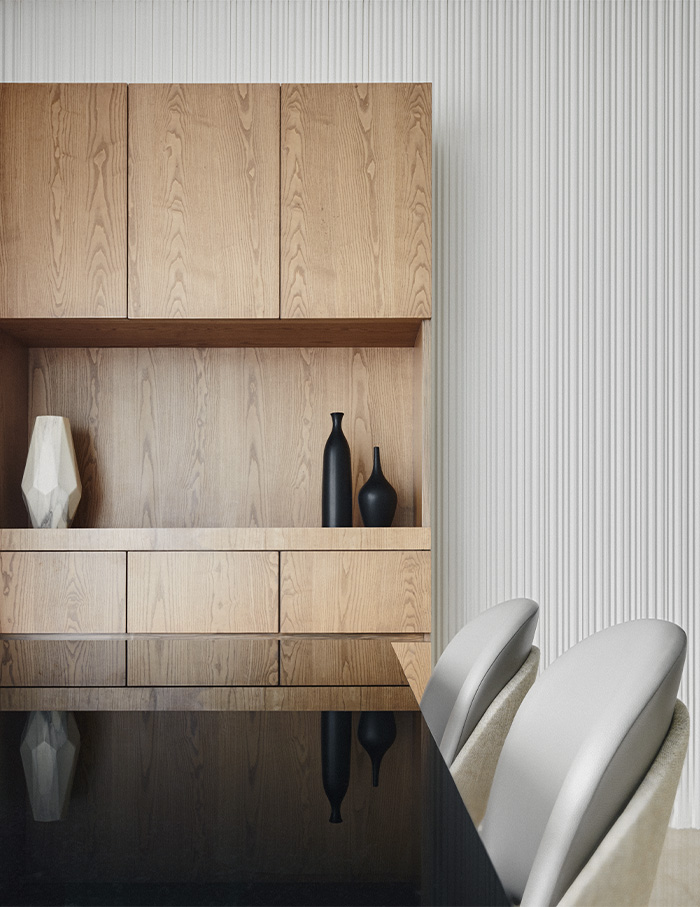 The Curious Brief
The brief was clear, anchored on the need for three idiosyncratic spaces that would narrate each family's individuality and aesthetics. Aashni elaborates, "This seed of thought gave birth to the design concept, where each nuclear unit's home served independent expressions and needs, but the homes would look harmonious and have a thread of poetry running through them from an aesthetic point of view,"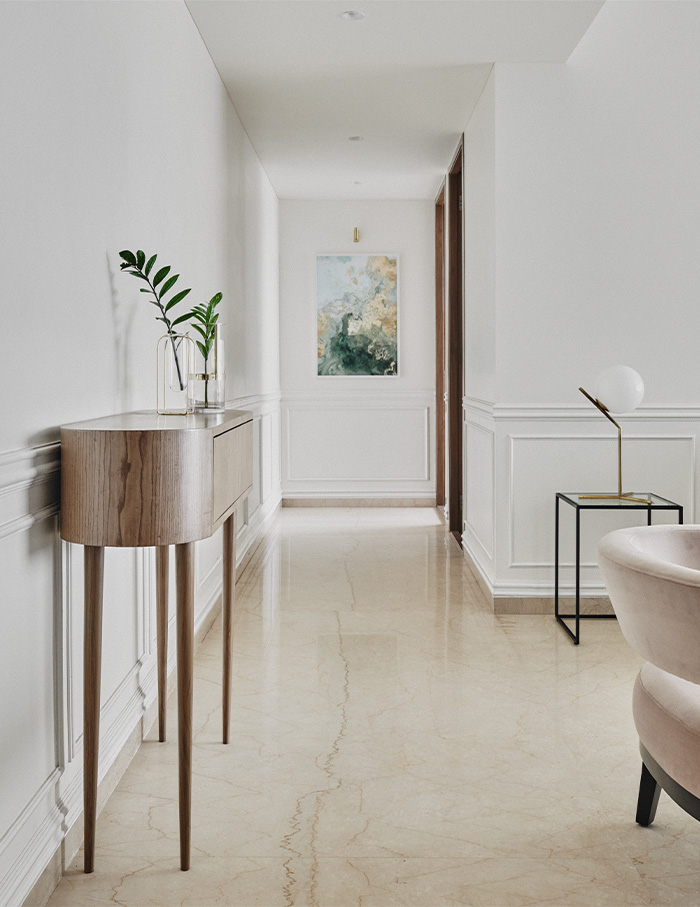 Tour every turn of the home… 
 For the first house, Aashni employed a continuous juxtaposition of circular forms with rigid geometrical details and abstract designs with balanced treatments. As you promenade indoors, the panelled wall extends, inviting one to the living room, then on to the dining zone and a custom oakwood bar area. 
 The living room serves as a gateway to the home's private quarters, which include a study, master bedroom, and bathroom, as well as a walk-in closet. The master bedroom has cladded wallpaper that is designed to be an oasis of calm and relaxation, which stimulates all senses. A customised bed is placed in the centre with a rose-coloured armchair next to the window, the fluted cabinetry, rose gold fittings, a cylindrical mirror with hidden storage, and oakwood accents set off a white marble bathroom.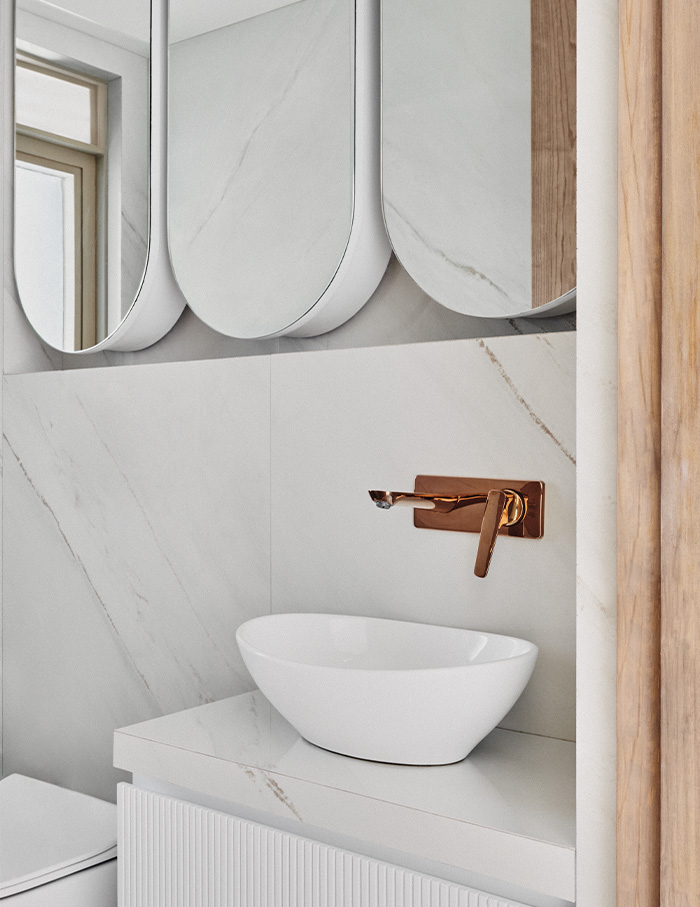 The second home was ideated to emphasise the city's skyline which would set the mood for a minimal maximalist home. Defined by monotone walls, the living room has dark wooden flooring with a large window that allows the room to be immersed in natural light. A coffee table finished with quartz marble sits in the corner with an L-shaped dining booth highlighted with mauve upholstery. A modern fluted lighting accent is an addition that gives it a cosy nook.
 The master bedroom achieves the goal of providing a warm space without being overbearing. White thin curtains hang from the ceiling over a four-poster bed that has been stripped of its classical elements. The custom-made nightstands and chest of drawers feature a linear grid pattern and two classical features in eggshell white and mushroom beige. Respectively, the children's bedroom is an extension of the rest of the home, whilst infusing character of its own.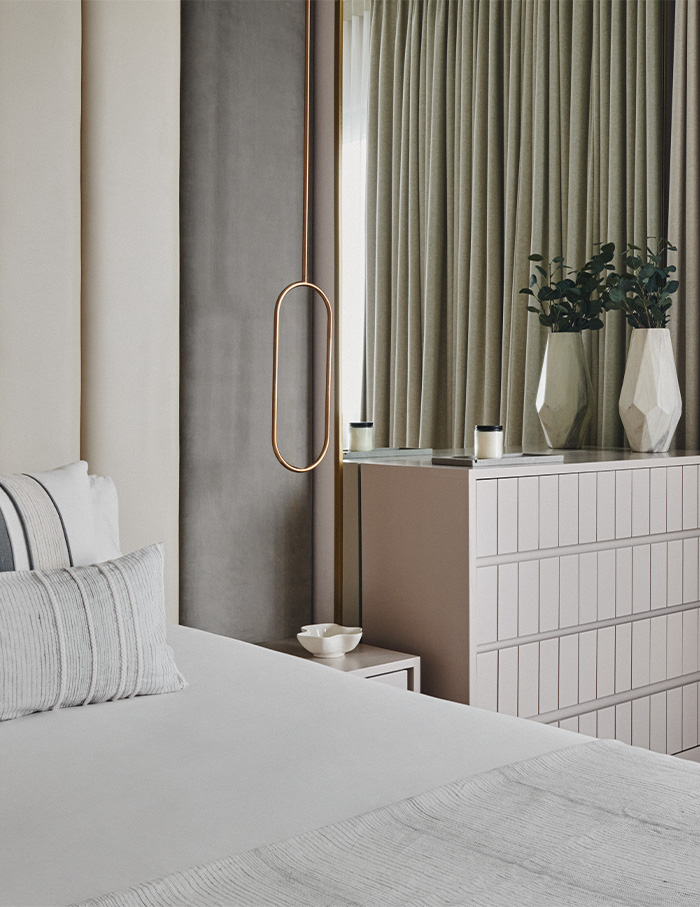 Designed for parents who are in their sixties, is the third home. The living room's creamy marble floor and white walls model striking contrast. The panelling's geometric, gridlike moulding elements and the furniture's round, soft curves give character to the space. The master bedroom was planned as a minimally furnished, modern retreat, with vintage wall treatment and modern accent pieces. A splash of olive green and some black accents livened up the otherwise muted colour scheme.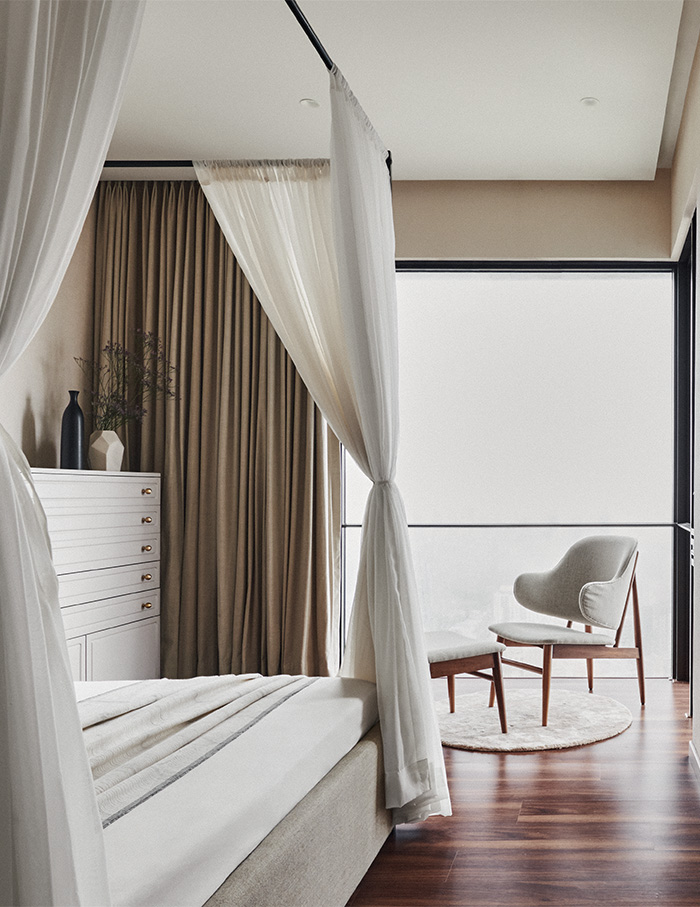 The hallmark of this home is the den, which has a commissioned piece of art based on Elif Shafak's bestseller, "The Forty Rules of Love," which includes poems by the renowned poet Jalaluddin Rumi. 
Ideas to bookmark – colours and materials
The apartments were all thematically oriented toward a serene colour palette of greige hues, khaki tones, earthy browns, serene taupes, and greige tones, with touches of dusty rose, muted blue, and sage green. Oakwood, teak wood, and marbles in white, beige, and grey are mixed with black open grain wood, black, rose, and dull gold metal finishes to create a complex colour scheme. Aashni chose this palette for the three homes' to flow into one another just like a single unit.