Modern design shakes hands with supreme functionality in this Bengaluru home thanks to modular storage solutions by Zenia
MAR 22, 2023
| By Team ELLE DECOR India
Storage is the unsung hero of the home, whether displaying collections or hiding clutter. Redefining customised modular wardrobes, kitchens, bar units, TV units, crockery units and any other modular storage units, Zenia aims to provide bespoke storage solutions—picking the best new designs for an organised life! In their latest outing—a four BHK villa located in the heart of Bengaluru, they have created a lifestyle of sorts by amalgamating traditional design with modern day sophistication. As you traverse the four different areas of the home, you will realise they have implemented innovation at every step of the way.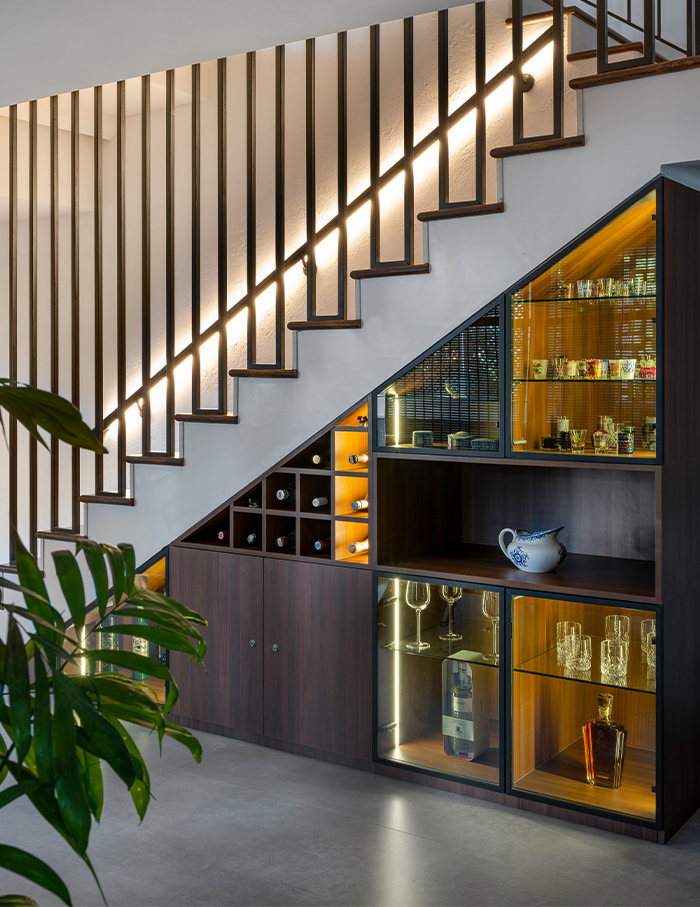 As one enters the villa, a stylishly designed under staircase bar unit grabs your attention. The key here was to combine both aesthetics and functionality while designing the entire storage unit crafted with dark walnut laminate along with tinted glass shutters. Multiple permutations and combinations were discussed before finalising on this design. "The challenge here was to be precise to every millimetre as the height from the floor to under the bottom of the staircase varied at every point and the entire bar unit had to be designed in a triangular shape" shares Gaurav Bhandari, Director of Zenia. What's more, the bar unit lightens up the mood of the house not just with various spirits but with actual LED lights and handle-free glass shutters for that added suave.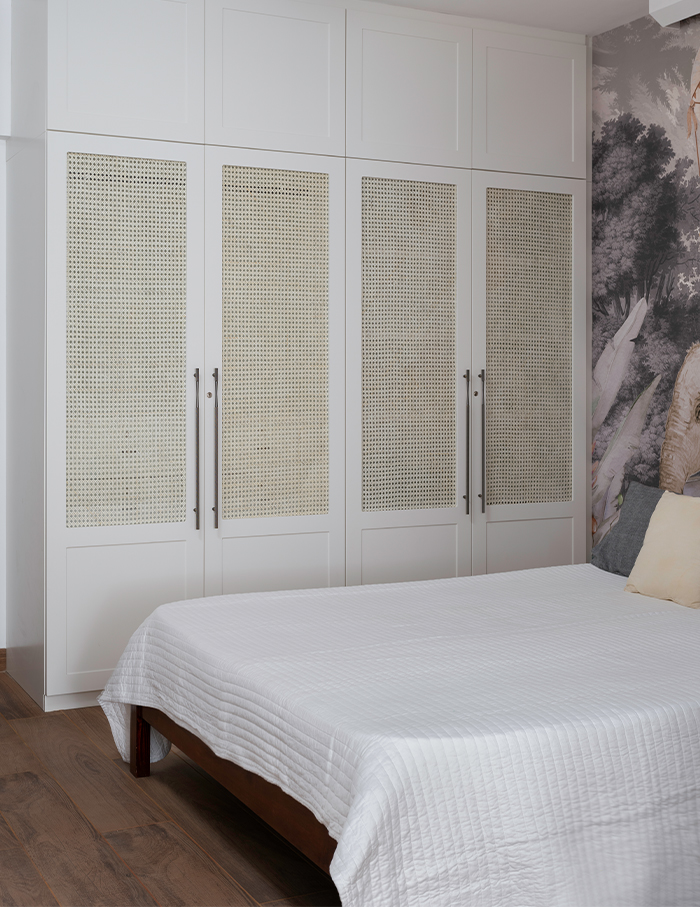 Moving onto the bedrooms, Gaurav has crafted different modular and spacious wardrobes for all the three rooms. Aesthetically pleasing and functional, not only do these wardrobes have soft closing hinges, but all the internal drawers are soft closing! Along with being supremely utilitarian, they also complement the interiors of the respective rooms with their design sensibilities. Case in point, the kids bedroom consists of an internally-lit wardrobe with matt finish PU shutters and a routed profile design and with natural cane sandwiched between glass. The remarkable thing about using this specific cane is that the material is environment-friendly, non-toxic, and has a unique aesthetic appeal that you won't find in synthetic rattan rolls.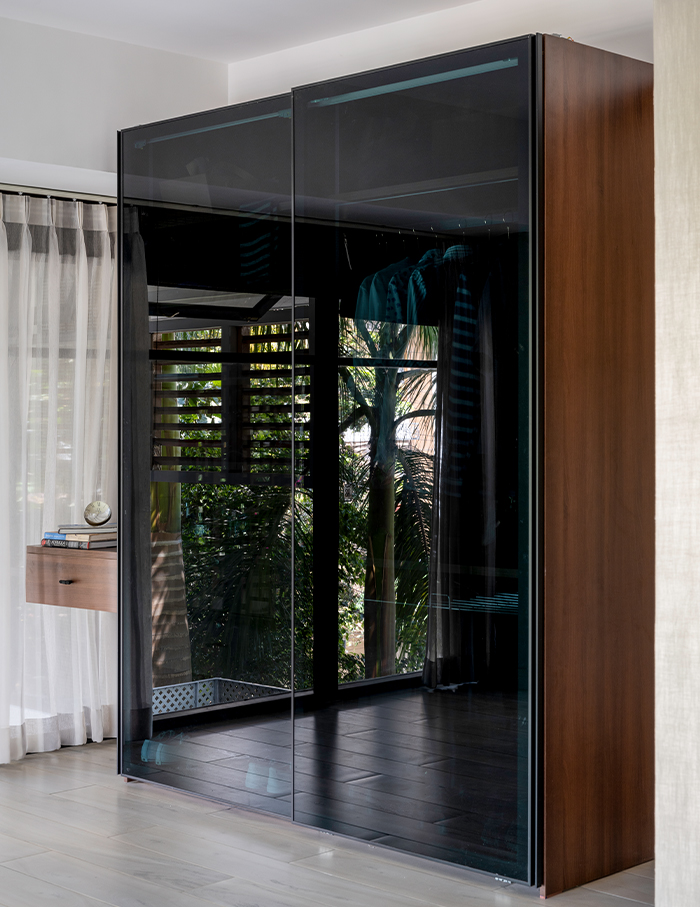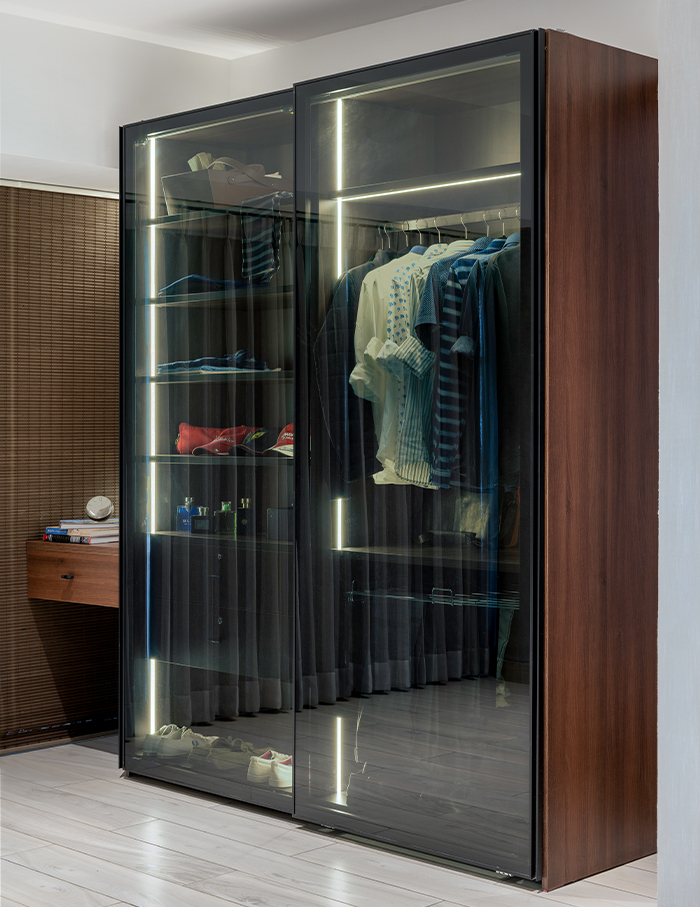 The primary bedroom scores high on that modern yet moody minimalism. A double door sliding wardrobe along with an extended drawer and mirror is sure to keep all your storage blues at bay! Tinted black glass shutters with a sleek black frame and internal lighting on the carcass add to its futuristic vibe. Even the smallest of details are taken well into consideration by Zenia. For instance, the laminate used for the wardrobe carcass is not a regular white laminate, instead it is an acacia wood grain laminate.
Lastly, the guest bedroom' white coloured wardrobe with black handles is a treat for sore eyes. With sleek black handles and matt white PU finish shutters, the monochrome effect works wonders. The push-to-open mechanism of the loft is an added bonus. 
At the heart of every kitchen, wardrobe or storage unit designed and executed by Zenia is practicality, functionality and a design that's tailored to meet your every need. It doesn't matter how big or small your project is, it comes with unparalleled service and uncompromising dedication, standing true to their motto: ''At Zenia, we don't just sell products; we create a lifestyle.''
Click here to explore more (www.zenia.in) or visit their store in Bengaluru for a comprehensive interior solution to all your modular storage needs!