Homes
Mod glam meets timeless elegance in the Palm Beach villa by architecture and design firm Stonefox
JUN 8, 2021
| By Jayasmita Ray
This Palm Beach Modern Villa by Christopher Stone and David Fox of Manhattan-based architecture and design firm Stonefox is an ode to both classical and modern architecture and design, rooted in the tradition of South Florida modernism. Sprawled over 34,000 sq ft, with water on both sides of the property, the house is detailed with utmost sensibility.
The homeowners, Phelan's, envisioned a warm and inviting space with a mix of art and objects to spend time with friends and family. The Neoclassical grandness of the Spencer House in London and the icon of modern architectural transparent qualities of the Farnsworth House served as a challenging but interesting brief to harmonise the home's elements.
Dressed in limestone flooring for the exteriors, cut in a spiral hexagonal pattern this exquisite home celebrates experimentation of textures and neutral cool tones with warm accents as seen in the living room.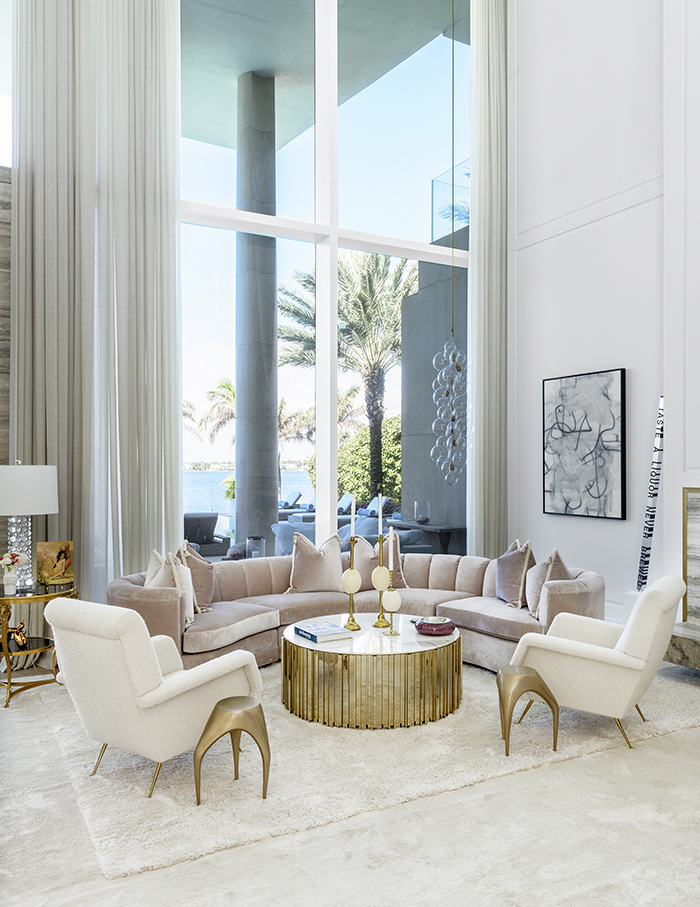 On the axis with the front door and entry gallery is the home's main space, the large double-height living room. In this abode, symmetry balances the structure and as we move northward or southward, the geometries of the space loosen and become sculptural, as seen in the Disco and covered loggia in the southern end.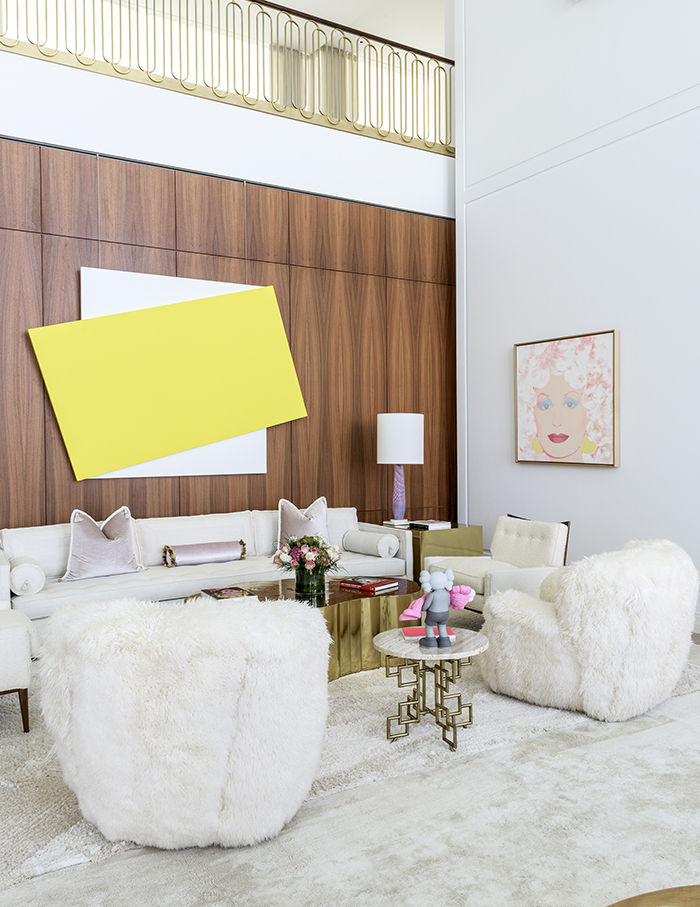 "The clients, Amy and John Phelan wanted the home to be built for their current and future art collection.  Sensitivity had to be paid to incorporate their vast collection, and be flexible for the display of art," said the architects.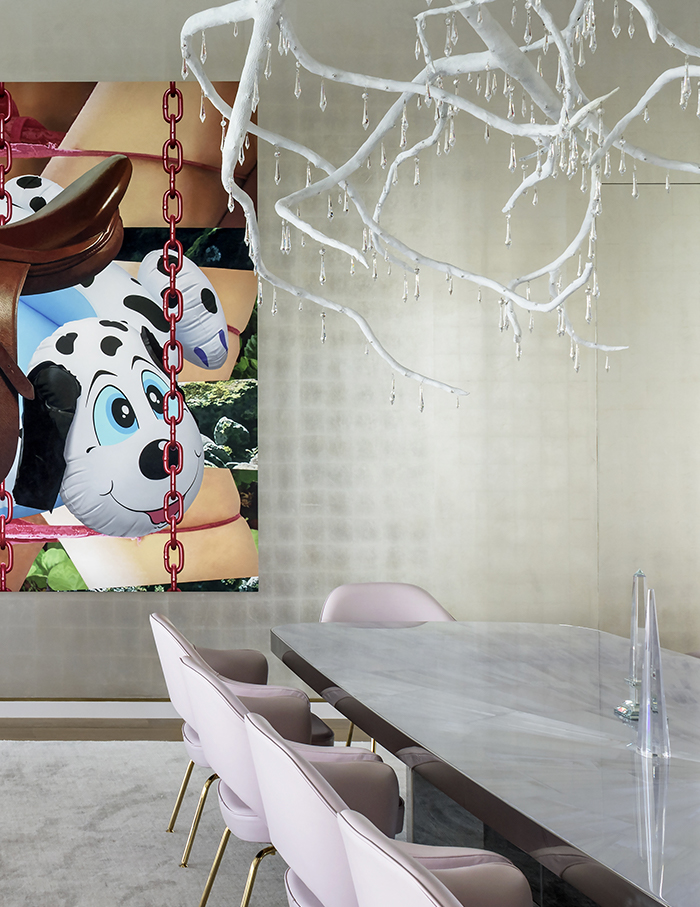 Clad entirely in sleek Santenoy limestone from Portugal, cut to size and shipped to Palm Beach, the villa is refined with excellent craftsmanship. Designed in the Greek tradition, with entasis and then scooped out to have a modern sculptural effect, the columns at the front and the rear canopy display immense character. This villa also has the largest known private residential rooftop solar array in the world.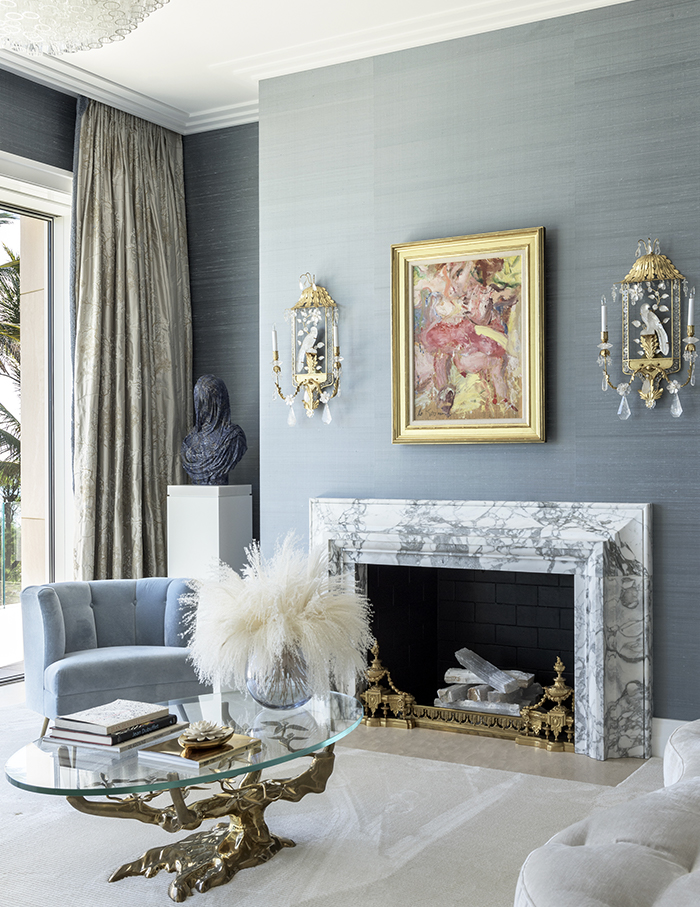 With six bedrooms, Stonefox curates this space filled with balance and energy located on the direct oceanfront on the Atlantic and another exposure on the Intercoastal Waterway. Fluted stone accentuates the space behind the palm trees, making this modern villa a beach fantasy.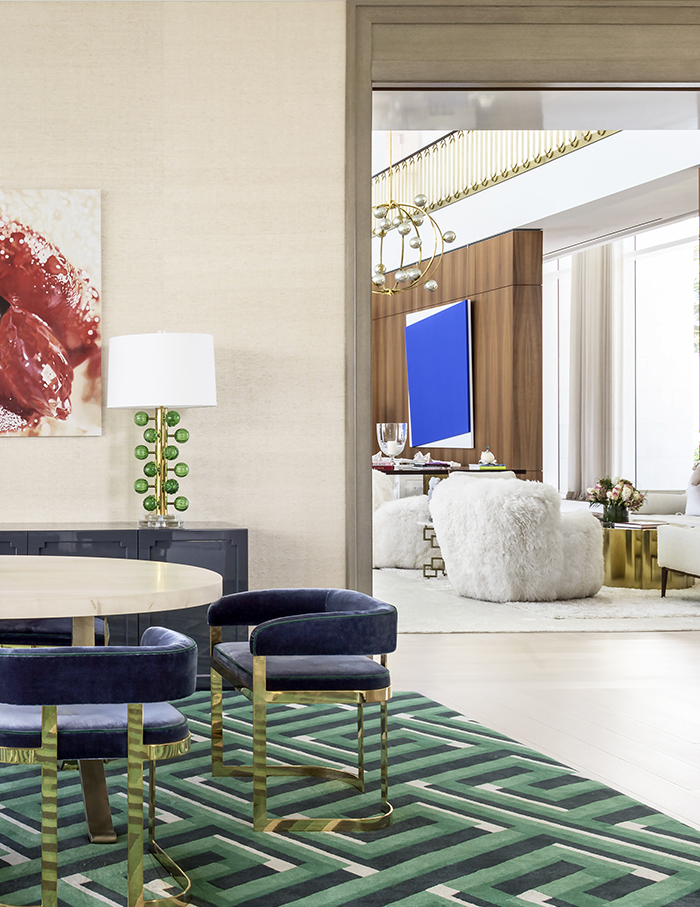 Custom furnishings and interiors like the vintage Paul McCobb Chairs, 1960's Brass and Mercury Glass Chandeliers as well as bespoke silk rugs define the Palm Beach Modern Villa as an art lover's dream, emanating retro-contemporary chic with a classic touch!
Scroll to see more images from this art-filled home by Stonefox…