Design
Members Only—A new hotspot for Mumbai's cool and connected!
SEP 21, 2021
| By Ankita Rathod
Between the concrete and glass of Mumbai's satiated city life, tucked away on the eighth floor of a fancy Lower Parel high rise, is the maximum city's latest urban lifestyle club. Conceptualised by Vivek Narain and Sonya Jehan— niche, exclusive and at a sprawling 56,000 sq ft—The Quorum Mumbai is the brand new members-only 'It spot', the cities cool and connected are said to gather in. 
Marking a dual city expansion with the opening of The Quorum Mumbai, the upscale club is growing to become the first-ever homegrown private member's club brand in India.  Much like its Gurugram forerunner, the second edition will offer its curated group of members a cutting-edge congregating point to entertain, unwind, learn and disseminate in a world-class setting. Extending its unique blend of hospitality and philosophy of being community-led, content-driven, design-focused and experiential to a discerning Mumbai audience.
The club will have a co-working space, and allow its members to access both The Quorum clubs in the country. In addition, members will also have access to 50 sought-after private members' clubs all over the world, spanning 27 countries. Excited much! 
Excerpts from our conversation with the founders…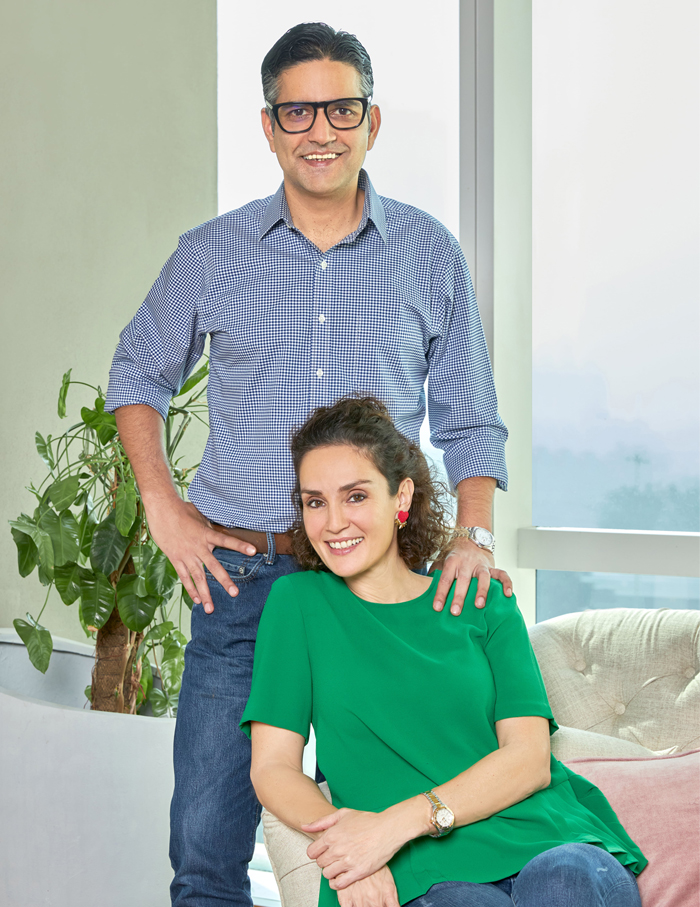 What were the first impressions when you came across the site at Mumbai that had to be overhauled for The Quorum Mumbai? 
Vivek: "I led the conceptualisation of what became The A Club back in 2015 so was already familiar with the functionality and layout of the space. The interiors and design came after, so I'd only seen those details through photographs. Walking in and seeing the space for myself was an interesting experience, a strange homecoming of sorts.
Sonya: "For me, the starkness of the space, the cold flooring, and dark furniture were at the core of all that had to be changed. I felt as if there was no soul to the space – no thought had been put into how the space comes together, how it'll be used, and how one would feel when inside it. Every corner had to be brought back to life."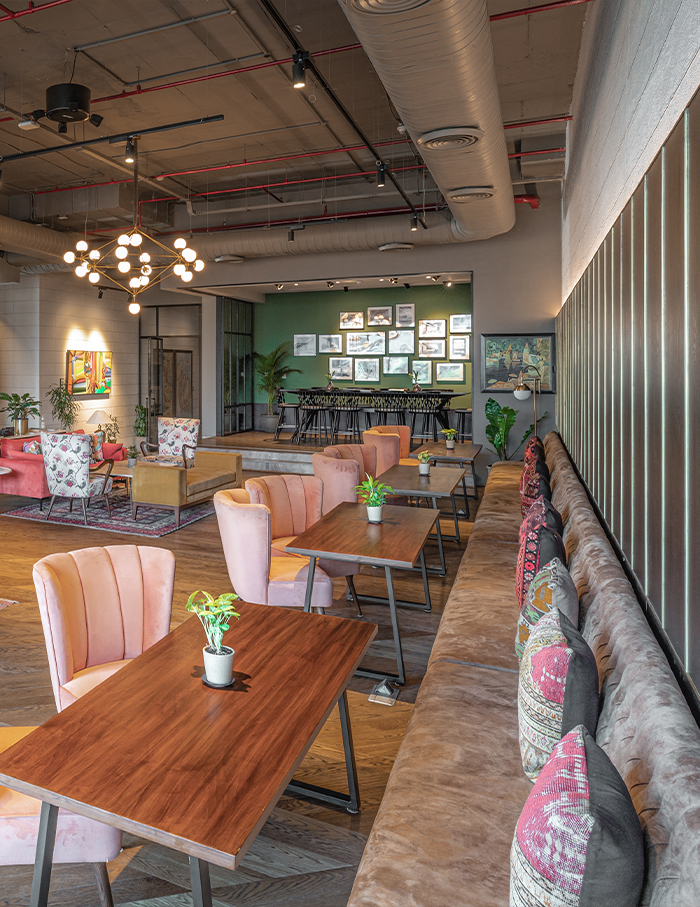 How different was it – designing for The Quorum in Gurugram versus Mumbai?
Vivek: "The Quorum Gurugram, from day one to opening day took us 18 months to conceptualise, build, and complete, and it was a fantastic collaboration with Studio Lotus. On some levels, Mumbai was easier since we didn't have to build the space from scratch but it posed an interesting challenge when it came to adapting the look and feel to match The Quorum brand aesthetics."
 Sonya: "Delhi is my first baby. There was an excitement to begin working with a clean palette, an empty shell. With Mumbai, there were already built rooms and spaces with set functions and usability that we had to turn over and it was amazing how fast we did it, despite the second wave."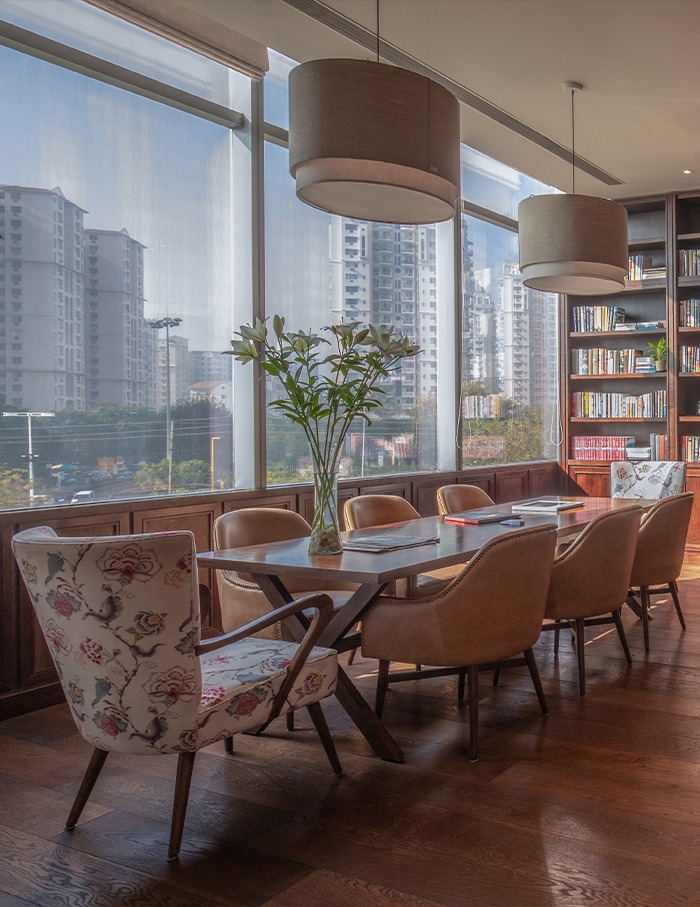 What were some learnings from the Gurugram project that you've applied to the space in Mumbai?
Vivek: "Our biggest learning has been materiality, specifically the choice of materials in a commercial space that is utilised through the day, everyday. The choice of colour palettes; we have to focus on making our spaces transformative from day to night, from work to play. Architectural lighting for our kind of hospitality spaces tends to be overspect and at The Quorum, we follow a more residential approach with more table lamps that give a softer glow."
What were the challenges while designing the space?
Sonya: "During the transformation process we ripped up a long stretch of carpet that ran through the main areas of the club only to find that there was no marble under it. With a certain budget and timeline in hand, we couldn't redo the entire floor. So began our journey to find the perfect match of marble that could be brought in and placed in that exact strip and I'm confident you won't be able to find the difference."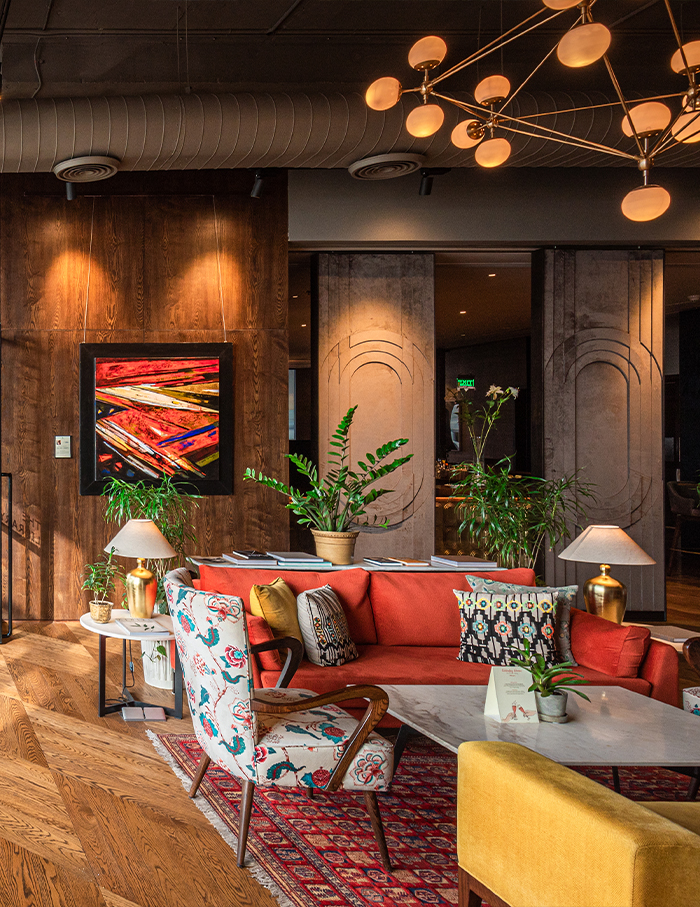 Take us through the transformation from A to Q…
Sonya: "There was a lot of space that had no purpose – functional or aesthetic. For example, The Alley in Mumbai was just an empty lobby but now it's our gallery space where Artery will be bringing in ever evolving exhibits. A lonely room with sharp lines and harsh lights that was home to a single sleeping pod became 'The Q Shop' with new flooring, wallpaper, and lighting. Their 'co-working space' was a strict set of white industrial tables, which we removed and replaced with our open concept work tables. As a space for collaboration, we wanted to keep our spaces private yet accessible so we got creative with our partitions and layout to create the nooks and corners that our members like to claim as their own.
"The Den was previously a private meeting room which had expensive views of Mumbai. We brought in opulence in the form of cushion covers from Sarita Handa, and rich drapes. While the rest of the club doesn't feature a single curtain or drape, this is the only space that does as we intended for this to be a more private and intimate setting, for social or corporate events alike."
Do you have a favourite space or corner to spend time in solitude at The Quorum Mumbai? 
Vivek: "For solitude, I love The Study. It has a mini-library as an ode to The Q Library in Gurgaon and we've continued the tradition of having our members add a book to our shelves from their personal collections so even when you're alone, you have bits and pieces of The Q Community around you."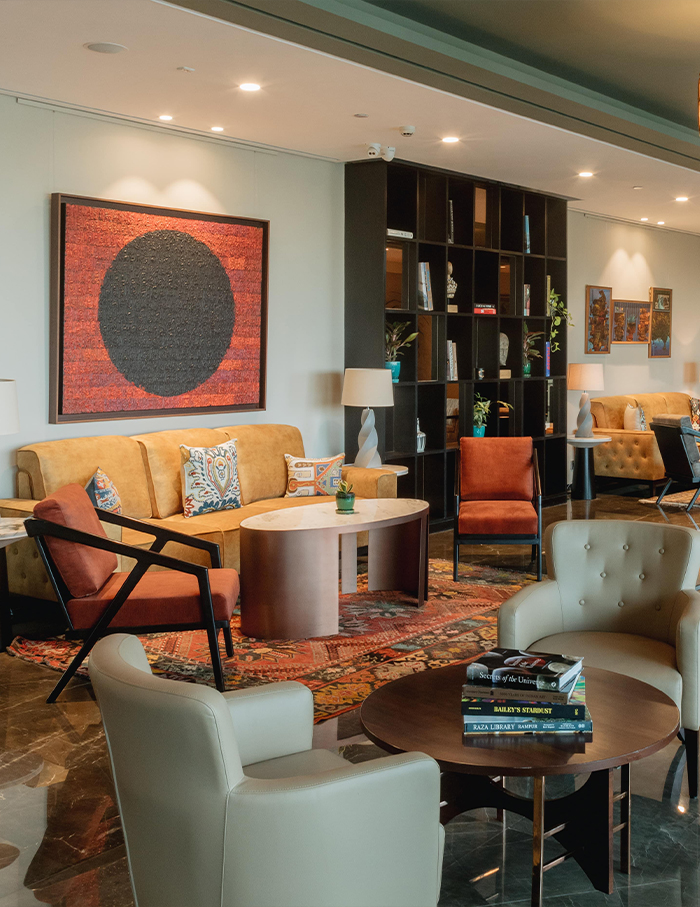 Overall, what is the experience that you want to offer to the club members?
Vivek: "Our experiences are all centered around the 5 senses for the member experience; the Q factor has to be in each element including sound, lighting, scent, taste, and service. From our signature scent of Mandarin and Amber that we created and diffuse around the club throughout the day, ensuring a flawless transition in lighting through the day and into the night, the transition of our music which is curated for each individual space within the club, to even our signature stamp on the ice; we want each experience to be bespoke, fuss-free, and seamless for our members."
The menu has been designed to imbibe variety and to keep monotony at bay as it changes at regular intervals. Would you like to throw light on this?
Sonya: "In Mumbai, we'll be experimenting a lot more with seafood which I love but never had easy access to in Gurgaon. Between Chef Johnny and Chef Pranay you'll be seeing a lot of cross-collaboration in our menus with Mumbai tastes influencing the Gurgaon menus and vice-versa."
The space was designed at a time when the world was at the cusp of changes (owing to COVID-19) as we evolved to new ways of living. How did the same affect the spatial layout?
Vivek: "In retrospect, we were ahead of the curve. The lifestyle and experiences that The Quorum offers its members have become even more relevant post-COVID. The design didn't change but the utility of a space such as ours became more relevant; where you can spend your entire day within our spaces and do it well.  I like to believe that we are the quintessential third space, which is what people want to come back to in the new normal."
What about the design makes it functional, aesthetic, and true to your signature style? Could you tell us about the ideas and details that have gone into the nooks and corners; the wallpapers, lighting, accessories and so on…
Sonya: "The wallpapers are the central aspect, the starting point of each room. Carpets come next. With the help of The Carpet Cellar, we brought in pieces crafted by tribes from across South Asia. Each one was chosen for its story and adds to the vibe of the space it inhabits."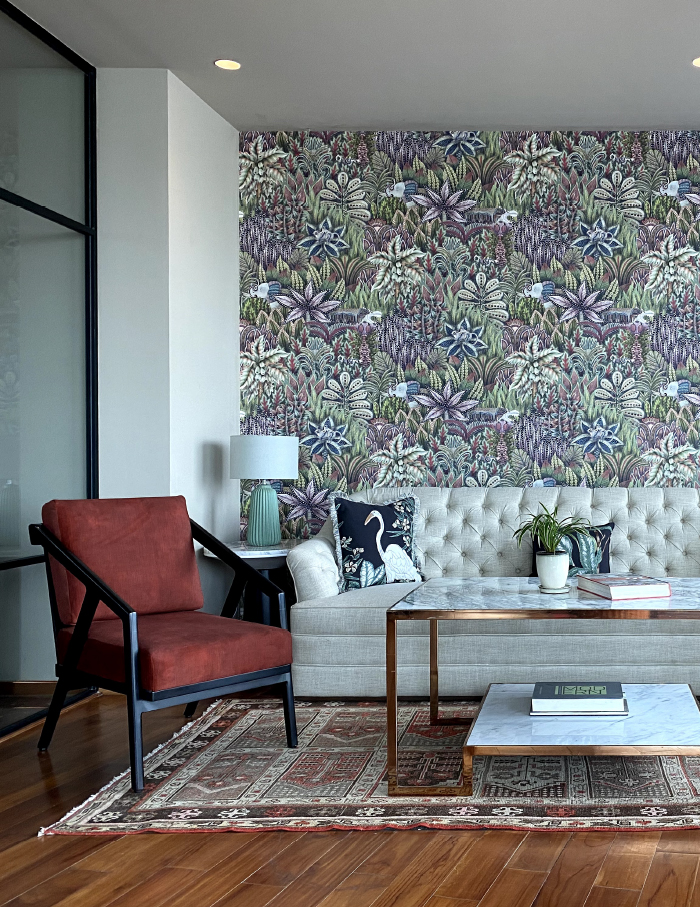 "Overall, I wanted to create The Q Jungle which is a mix and match of colours, animals, and textures from around the world that have come together to create our home away from home. Looking back, I think the explosion of colour and warmth was a reaction to how stark the space was when I first walked in. Slowly and steadily using cushions from Sarita Handa, local plants that we used to bring nature into our spaces, books from our members', and art that's been curated by Artery India – the soul of The Q Mumbai has been brought to life."