Homes
Mansi Sethna Pandey of The Design House Company adheres to a newfangled Mediterranean style in this Mumbai apartment
JUN 9, 2021
| By Kashish Kaushal
Portraying creativity and multiple aesthetic expressions into practical designs, Mansi Sethna Pandey of The Design House Company has successfully executed a breathtaking spectacle. Spread across 750 sq. ft, this apartment called Beach House is equal parts functional and beautiful. The airy and open abode is aimed at creating a natural and organic space to optimise utility underlined by congeniality. Natural materials and organic hues create a canvas for the warm and inviting home.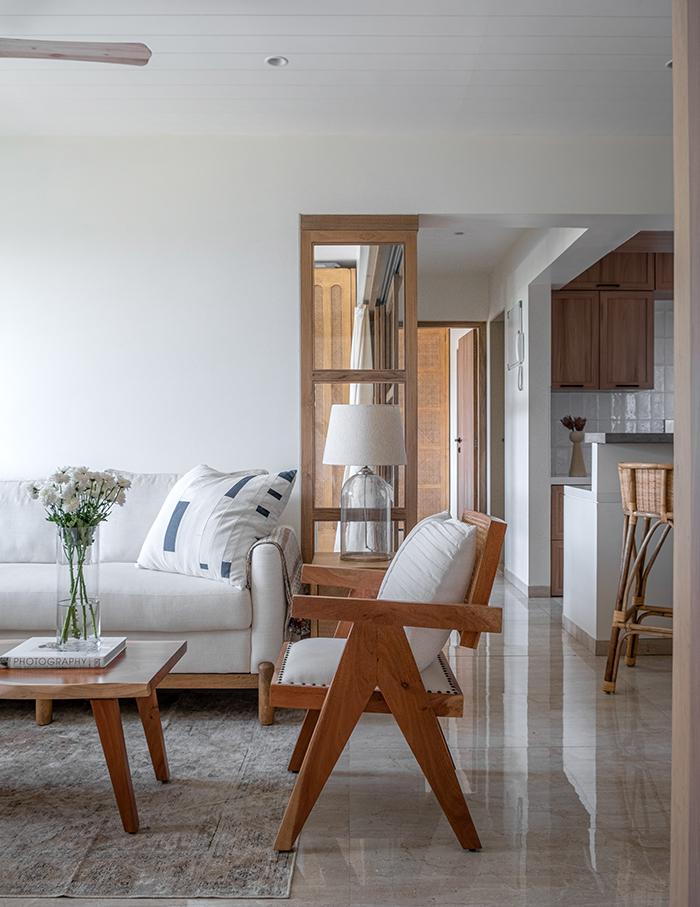 Custom made oak finished cabinets create cohesion between the living and kitchen area while adding warmth and ample storage to the space.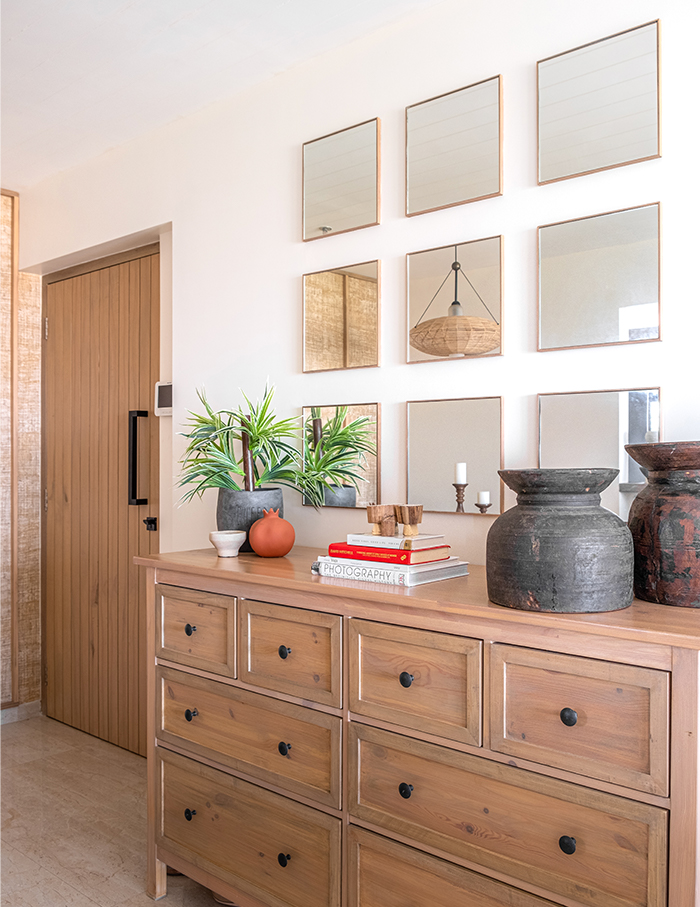 A concrete breakfast counter furthers the tactility imparted by cane against the wooden cabinets.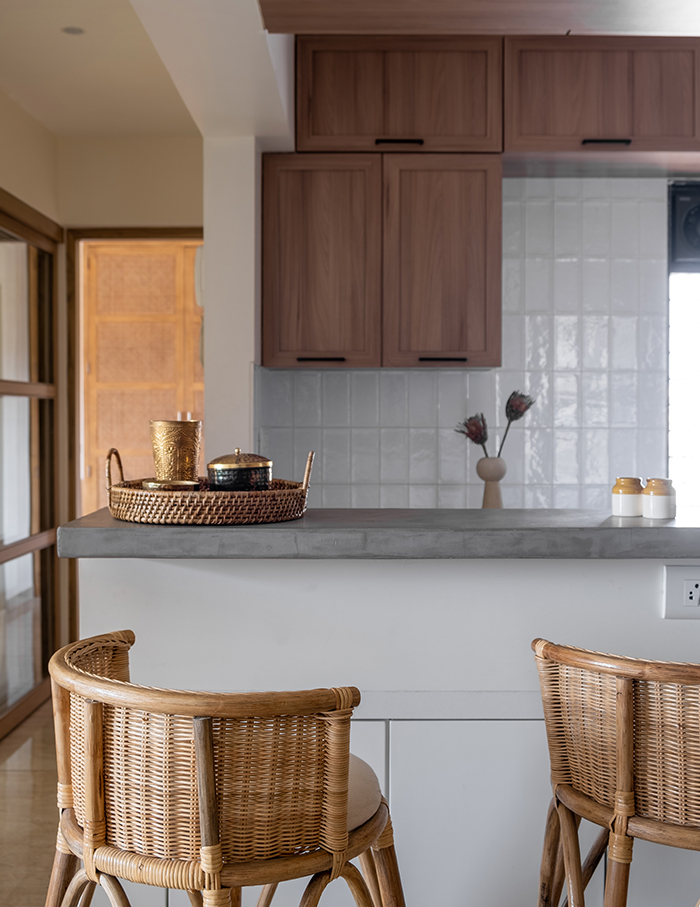 The jute wallpaper which offsets the white walls endowing a beautiful backdrop to the dining table. The clean and strong lines of the chair and dining table is a wonderful juxtaposition to the neutral hues.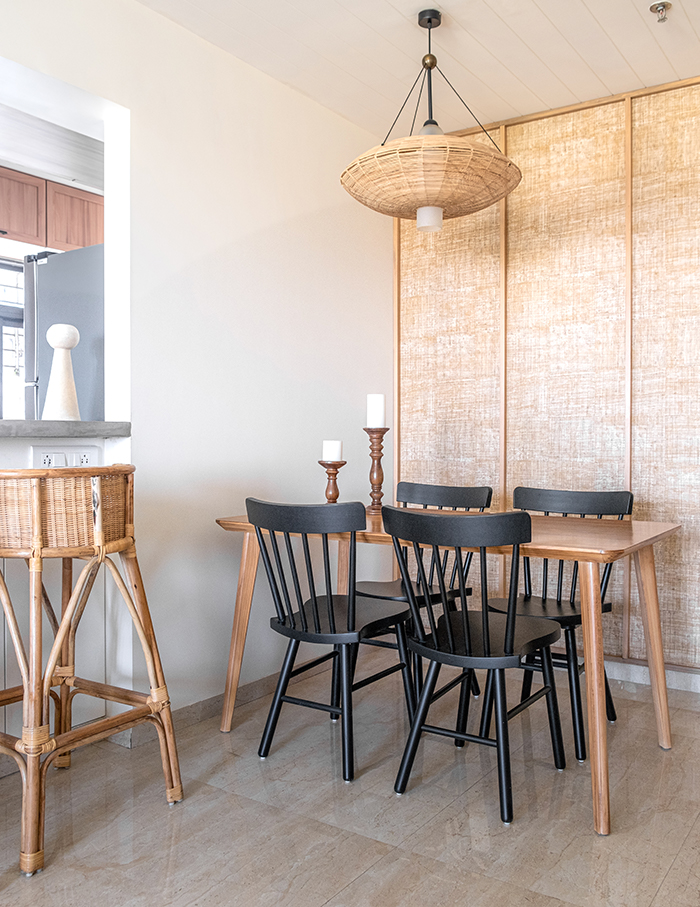 Clean, simple, airy and a naturally lit bedroom is what one needs and aspires. The primary bedroom has a wide window that makes it a perfect spot for a swing. Terracotta-finished wall compliments the cane detail in the headboard and wardrobe.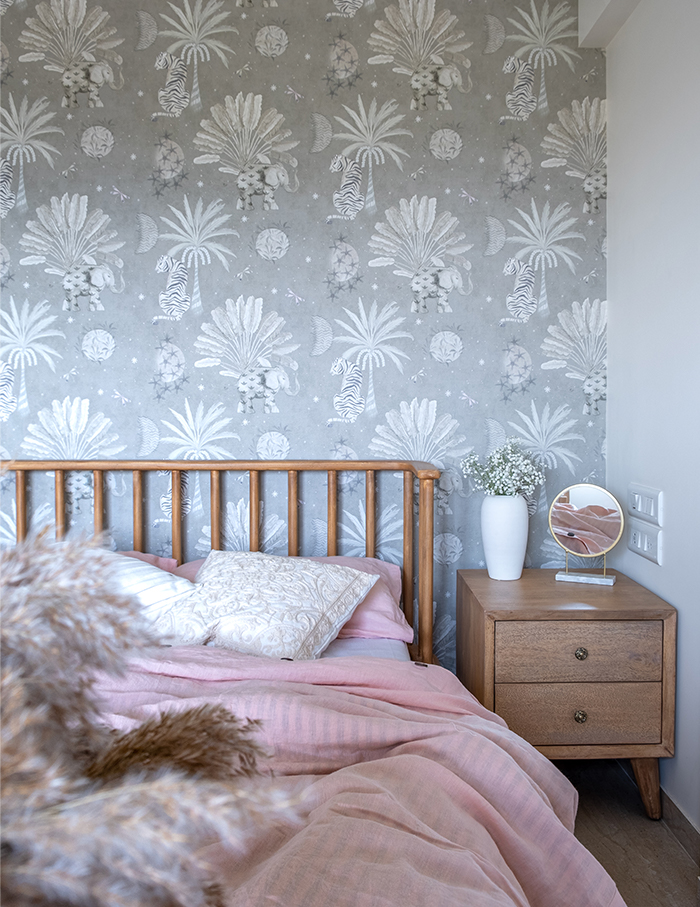 Emulating her personality, the daughter's bedroom has been crafted keeping in mind her love for design. Moonrise island wallpaper from Nicobar creates a fun statement wall in this bedroom.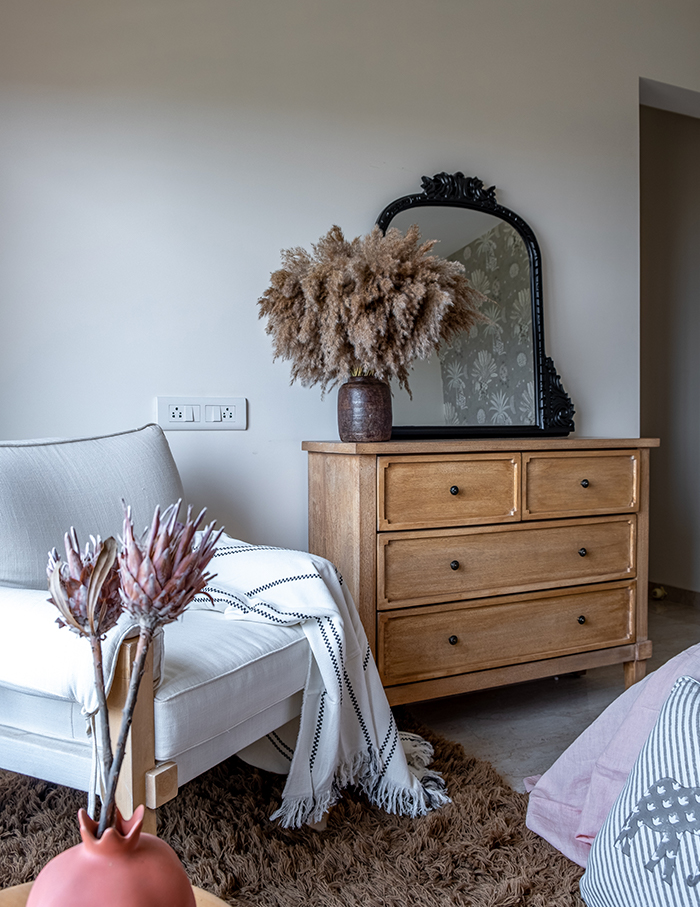 The daughter's bedroom, with the arched headboard to its tray-like detailing to the reading corner with a decorative mirror on the chest of drawers, manifests a raw, natural vibe. The bedspread in linen imparts a warm and homely appearance.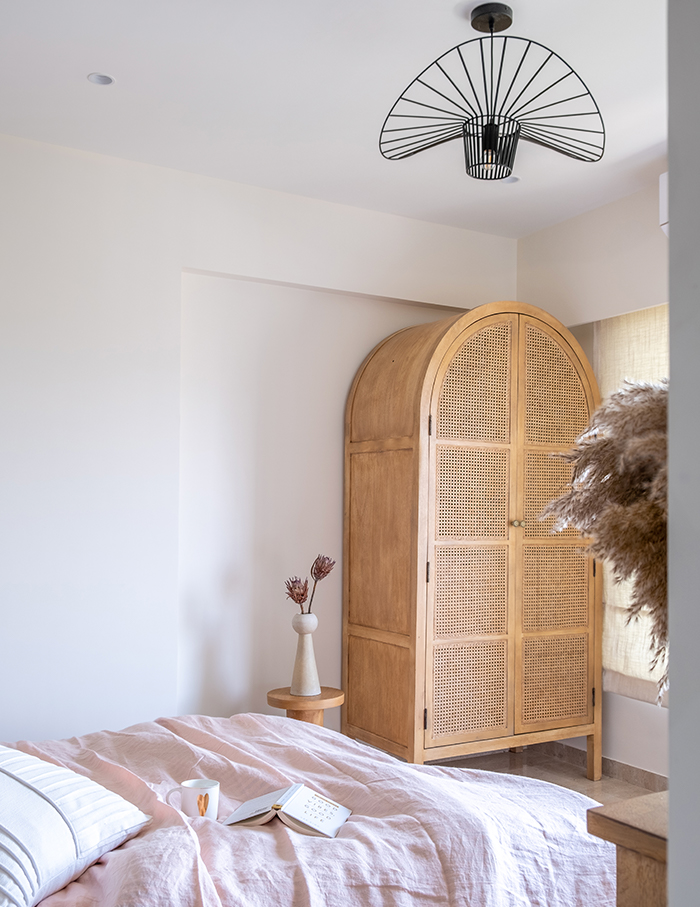 The Beach House flows in one single theme throughout as each element of the design works together to feed the mind with calm and soulfulness.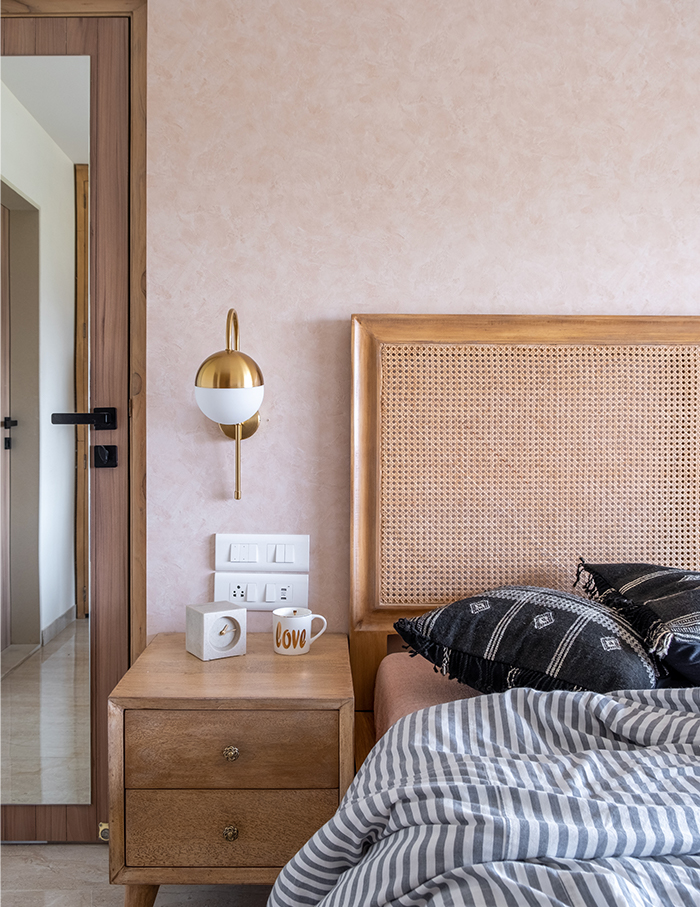 Warm and neutral tones such as beige, white, terracotta and brown have been used for the colour palette of this house. 
Talking about the material palette, Mansi says, "We brought in neutral earthy tones in, to make the space look bright, giving it a coastal vibe. Raw finishes  on the furniture such as tables, shelves, decor objects give it a hand-carved aesthetic. A special focus has been laid on sustainability with natural materials such as textiles, rattan, etc."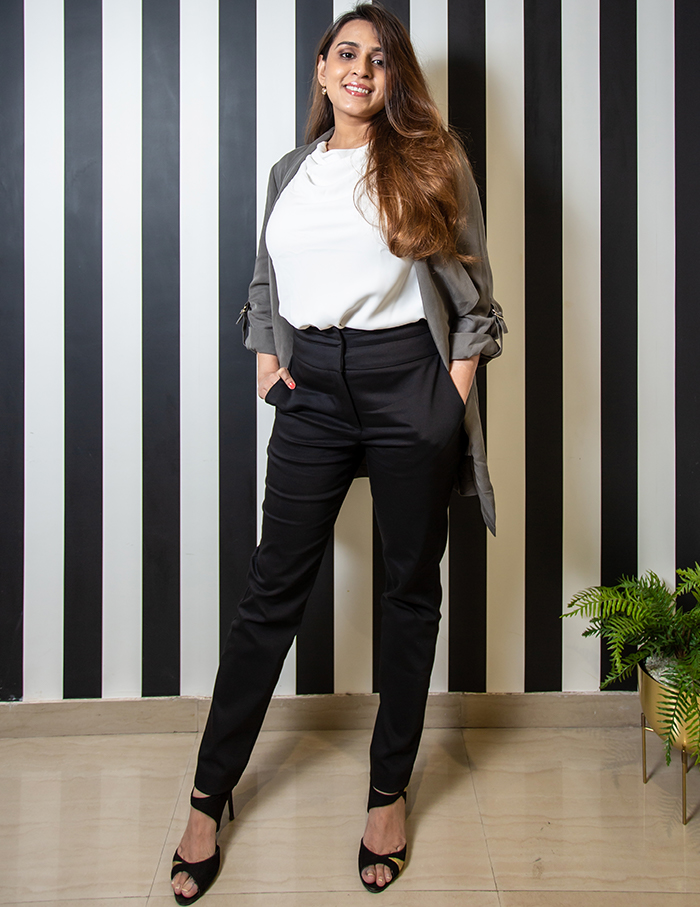 Infused with organic elements in every nook and corner, the Beach House is a simple, elegant and pragmatic space for the inhabitants to luxuriate in!