Design
Maneesha Doshi's Weaving Worlds is an intersection of crystalline and organic narratives presented at 079 | Stories in Ahmedabad
OCT 18, 2022
| By Ishika Paruthi
"If the foot of the trees were not tied to earth, they would be pursuing me. For I have blossomed so much, I am the envy of the gardens" – Rumi
Maneesha Doshi's latest work Weaving Worlds presented at 079 | Stories in Ahmedabad urges its spectators to consider paintings as organic entities similar to that of a free-standing form. An amalgam of ideas, the collection delves into the composite of what lies within, invokes conversation, form and shadow and toys with the idea of positive and negative spaces compared to an inner and outer realm.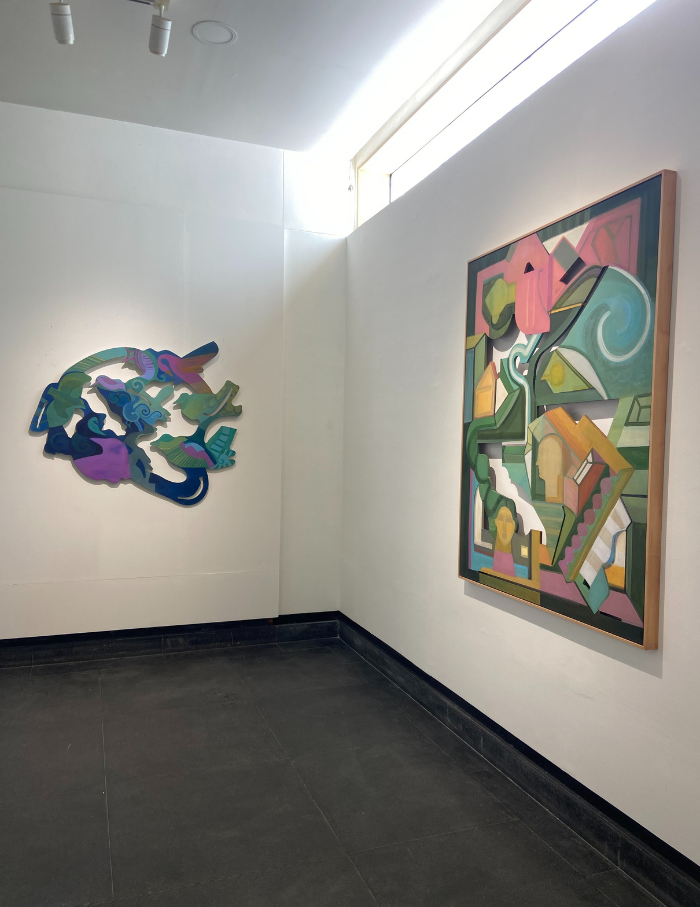 Upon first glance, one sees a handful of colourful trees and buildings in the forefront while human-like figures lurk in the background. A meta landscape to its core, the title chosen by Maneesha, 'Inner Tree' takes its viewer through a visual logic with the help of redolent colours, interspaces between the trees and exceptional circumstances, one of them being the global pandemic that brought the world to a standstill. The 'Inner Trees' that are growing in the imagery by Maneesha grew in an unprecedented world full of uncertainty. Alas, Maneesha like many other artists found inspiration and a sense of creative expression at a time of humongous loss. The apocalyptic state of the world during the quarantine meant staying at home to which she says, "The lockdown meant spending a lot of time with myself." This meant introspection which led her imagination to run wild with her arboreal obsessions. And she landed on the politics of nature which became symbolic for her collection. We, humans, retreated into our shells while nature around us grew leaps and bounds and rejoiced at its own abundance.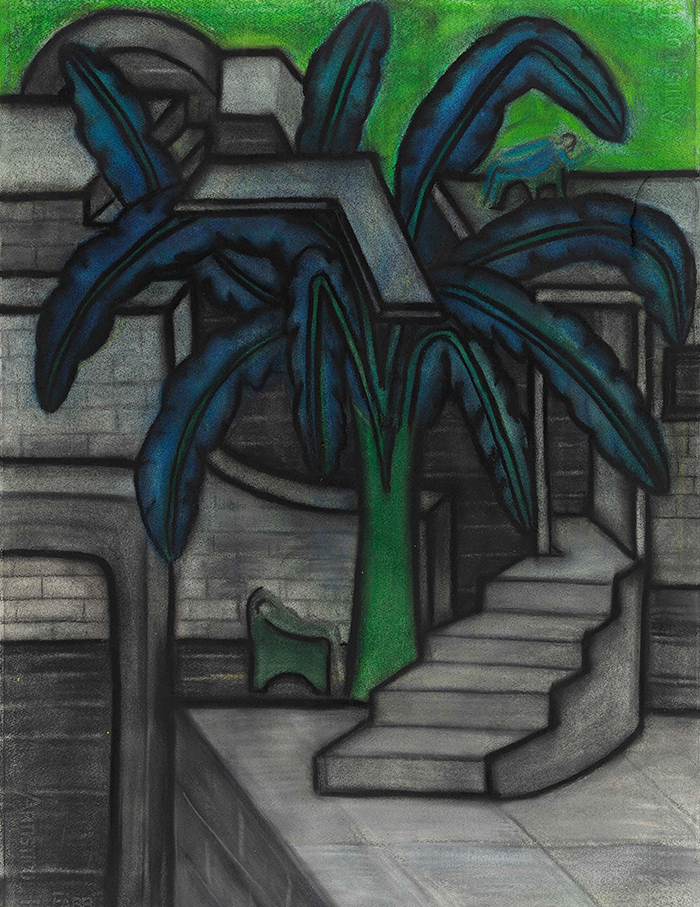 The lyrical drama that these trees unveil is in the form of a strange choreography of magical realism. It is an unapologetic celebration of beauty at a time when we were all chased by a pandemic. Maneesha's collection is an exploration of nature in art which showcases its endless forms due to the vast wealth of inspiring phenomena in the form of aesthetics. She exhibits that man and nature are inseparable; it's just that man has taken to a vanishing presence during the majestic conversations between the trees and buildings. Nature takes over the lurking shadows and the architecture and surpasses the human lens on a quest towards a post-humanistic landscape. This seems to be a landscape where humans have been reduced to punctuation marks and become inconsequential to the bigger narrative of things.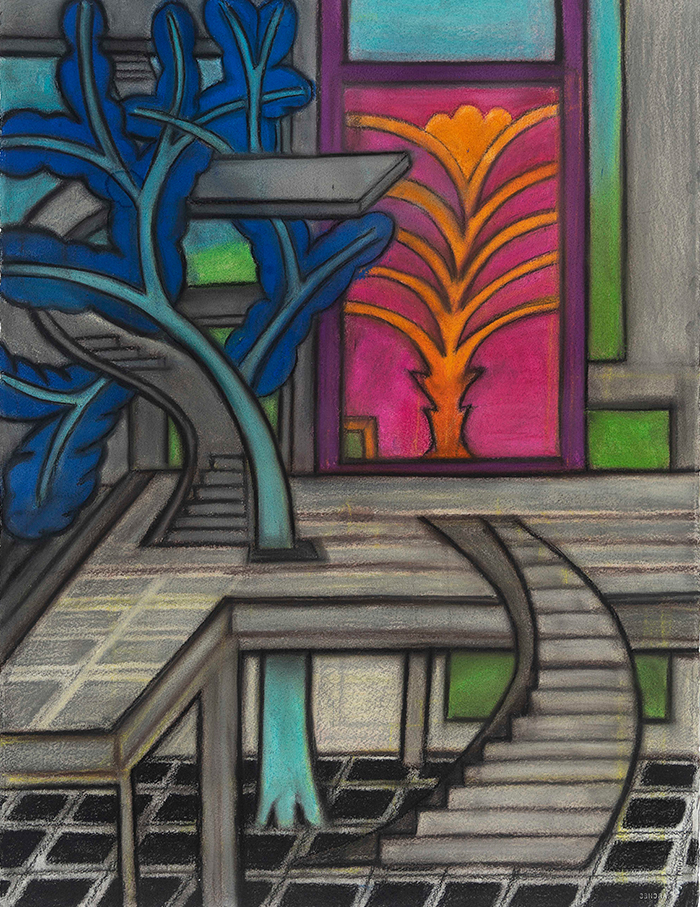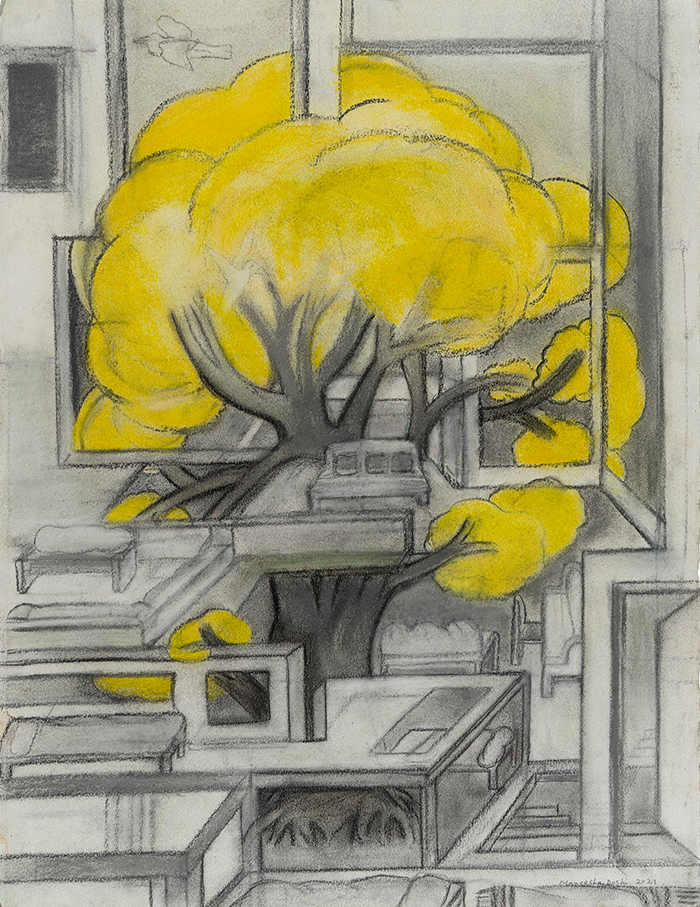 The complexion of nature is a portal to the contrast and interplay between architectonic and organic. The painted cutouts of the 'Inner Tree' open the eyes of its viewers to the intricacy and beauty of the natural world. Some of these are to be hung on walls while some can be propped up on pedestals. With wall cut-outs painted with broad sweeping lines to patterns that play with shadows, this collection is meant to be seen from both sides. On either side, the frame resonates with modernist abstraction and seems to stage an interplay with positive and negative patterns across the same surface. Furthermore, they explore the form through shadows or holes through iconoclasm which seems decorative here.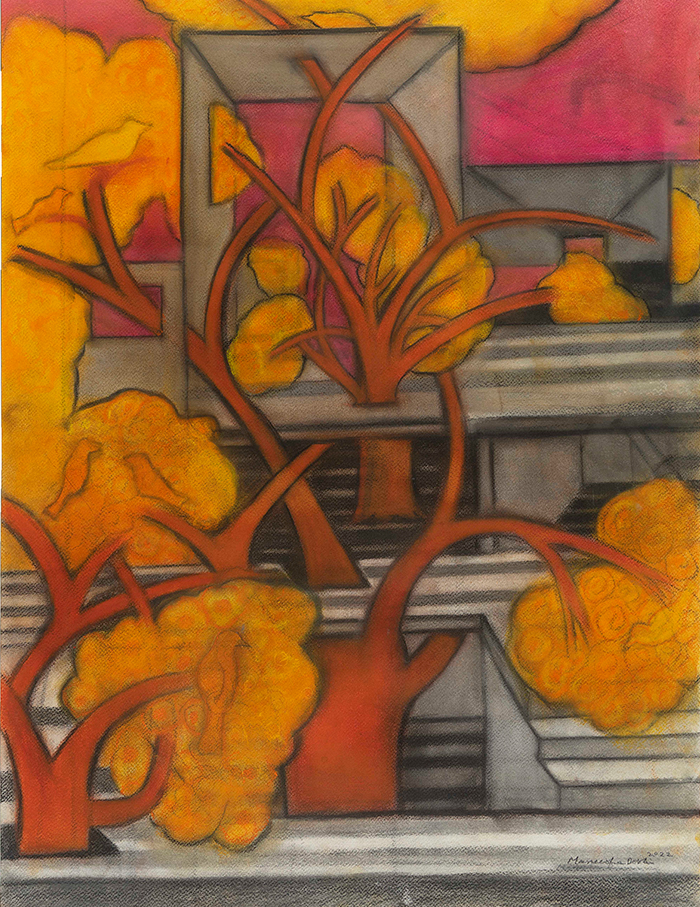 The bird motif on the cut-outs alludes to modernist architecture. Prowling beneath Maneesha's arboreal vision is her passion for modernism which encapsulates her love of nature and delves into her journey of introspection. This collection mimics biomorphism in its very essence and interacts with the viewer through a balance between nature-based imagery and abstract invention.