Lifestyle
Maia Design Studio fuses vernacular materials and craft techniques in the making of a sushi parlour in Bengaluru
OCT 14, 2020
| By Jhanvi Somaya
Indiranagar, one of Bengaluru's trendiest neighbourhoods, is home to sushi parlour Lucky Chan. The 1,600 sq ft restaurant, fashioned by Shruti Jaipuria of Maia Design Studio, combines local materials with traditional craft techniques to achieve a sleek look. 
We especially love the collaboration with artist Atul Johri in Channapatna and the town's local artisans, who have created a 250-module wooden installation for this restaurant! The hand lathe woodwork and natural lacquering of this art piece have existed for over 200 centuries, which hints at not just its longevity but also its eco-friendly and sustainable origins.
The chic interiors are present a curious kaleidoscope of colours that's seen across each and every surface of the venue—including the ceiling.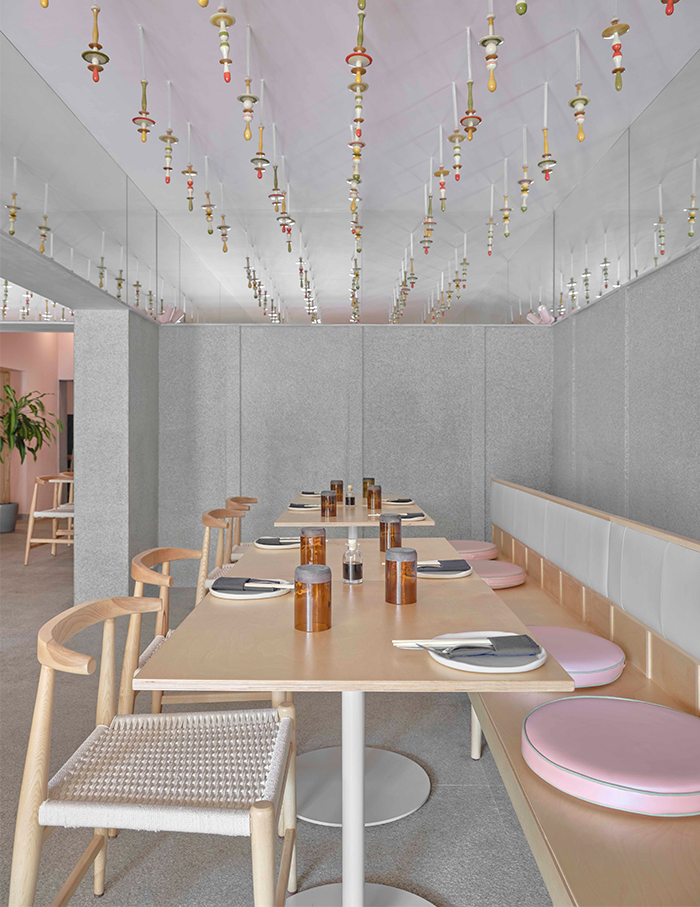 All the materials, from the lacquers to the colours, are natural or derived from natural sources. The yellow from turmeric, red from Manjista root, green from the Tesu flower, Indigo from indigo dyes and brown from a walnut bark. The integration of these hues come together to give the restaurant a natural yet soothing look.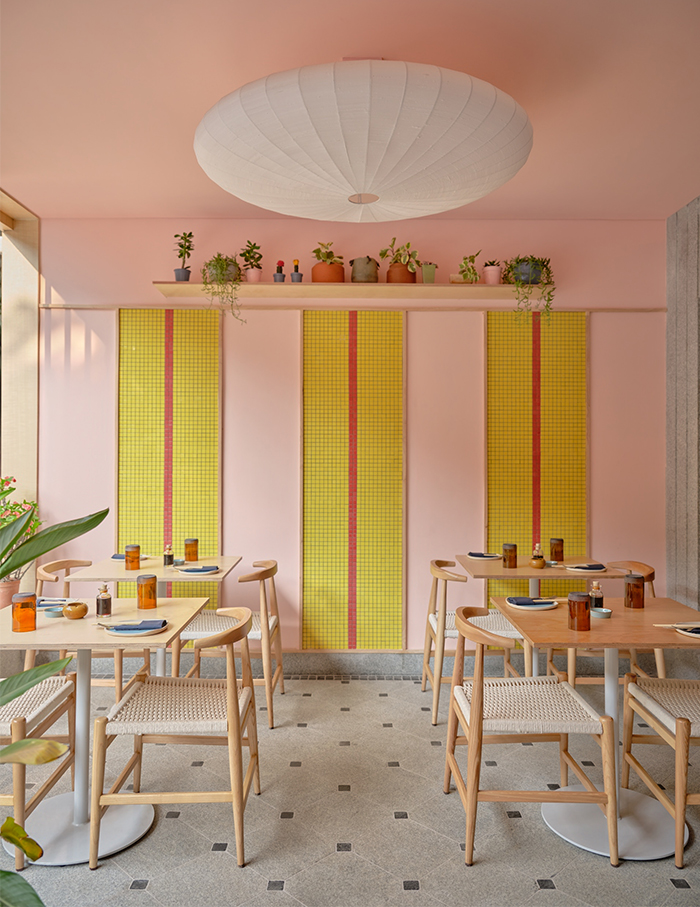 Above the main dining area are the wooden modules by Channapatna artisans. These are hung at regular intervals of 450mm each to create a grid-like look for the ceiling, and to present the artisanal work in a contemporary context. Inverted beams are inserted to cut the space on all sides. The space is also fitted with a mirror to reflect and create an infinite illusion that completes the look.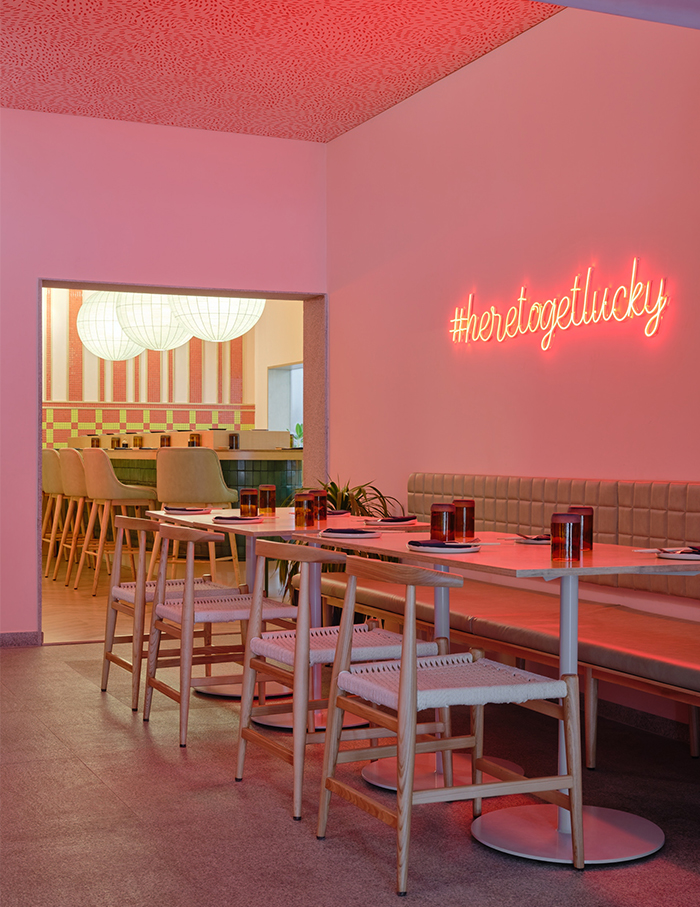 Extensive creations on the wall are the main element that adds life to the entire space. With locally mined light grey granite Sadharalli and light birchwood panelling on the walls and flooring, a neutral backdrop is created. Against the subtle backdrop, patterned mosaic tiles in red, green and yellow pop out to give it an edgy look. To tie it all up, pastel green and pinks are used to improvise on the trendy outlook of the restaurant.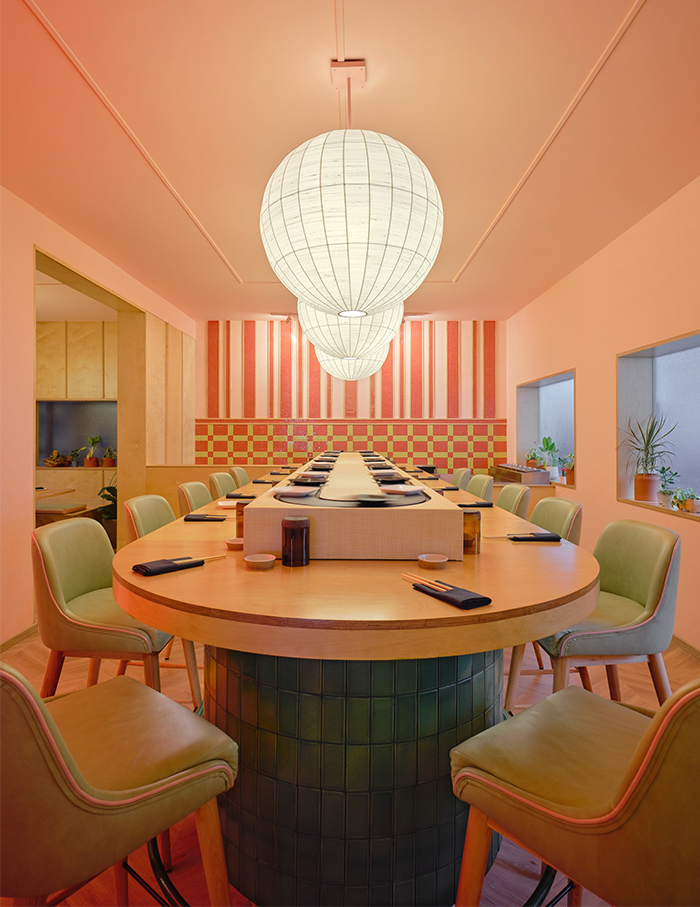 The space is accessorised using raw silk custom made lamps that are placed with hand-woven chairs made of coir—another tribute to Indian crafts. In its endeavour to tie local craft to a contemporary setting, this restaurant has done so in spades.