Design
Closer to city skylines and calming dim lights—luxury apartments by Pomegranate Designs are fine living redefined
NOV 3, 2021
| By Anushua Aich
Paying utmost attention to detail is what Ronak Sekhri, director of Pomegranate Designs, believes his design approach to be. Representing this idea to the T, the Pomegranate team has built as well as designed three brand new luxury apartments, all ready for handover this Diwali. These three abodes replete with a rich blend of contemporary style and divine opulence are not just it, as the team works proactively to craft various dream homes and a whole lot of ongoing projects simultaneously.
Completed to perfection during the pandemic in a record-breaking 15 months, these apartments display the team's immaculate efficiency and inventive approach. Beyond just bricks and mortar, every space exemplifies the finest design and interior practises. 
The three luxury residences out of their 38 ongoing projects, namely Hudson Residence at New Friends Colony, New Delhi, Kensington Residence and Louis Residence at DLF Camellias in Gurugram define supreme design and built.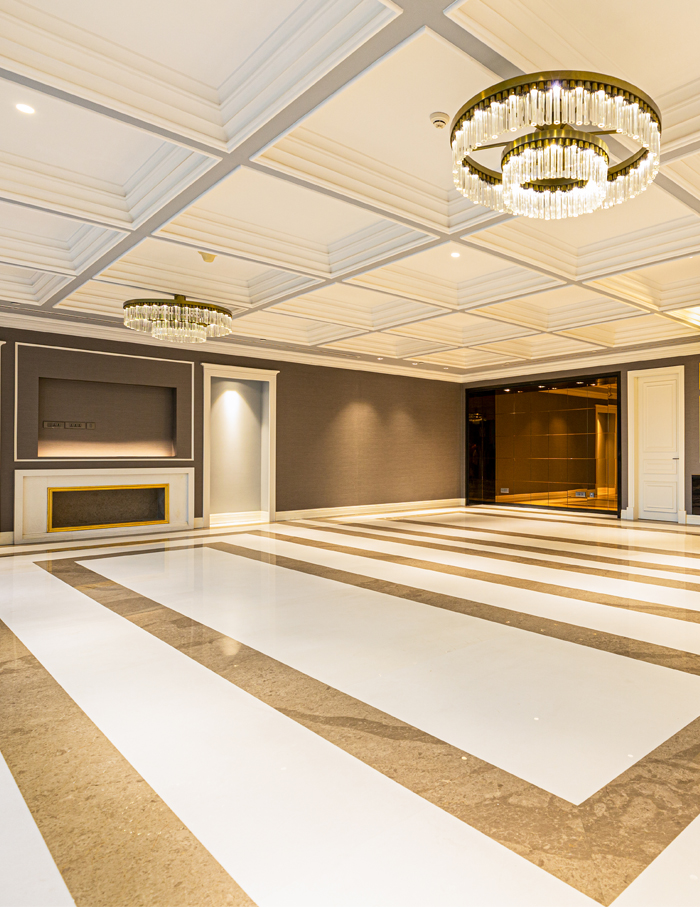 When the doors to each of these apartments swing open, it naturally evokes a sensation of sauntering, similar to one experienced while visiting one of the lavish hotels of Manhattan in New York. Life seems to be a slow-motion drama and you wish to unearth more while looking at the city skyline from the vast balconies.
As the eyes prance around, witnessing the dim, luxe lightings, the stylish sanitary fixtures, the clean structured lines flowing from one door to the other and the meticulously carved out panelled walls, each design amplifies an elaborative method of mindful detailing unique to Pomegranate Designs. As Sekhri rightly sums it up—capturing a client's sensibilities is extremely important.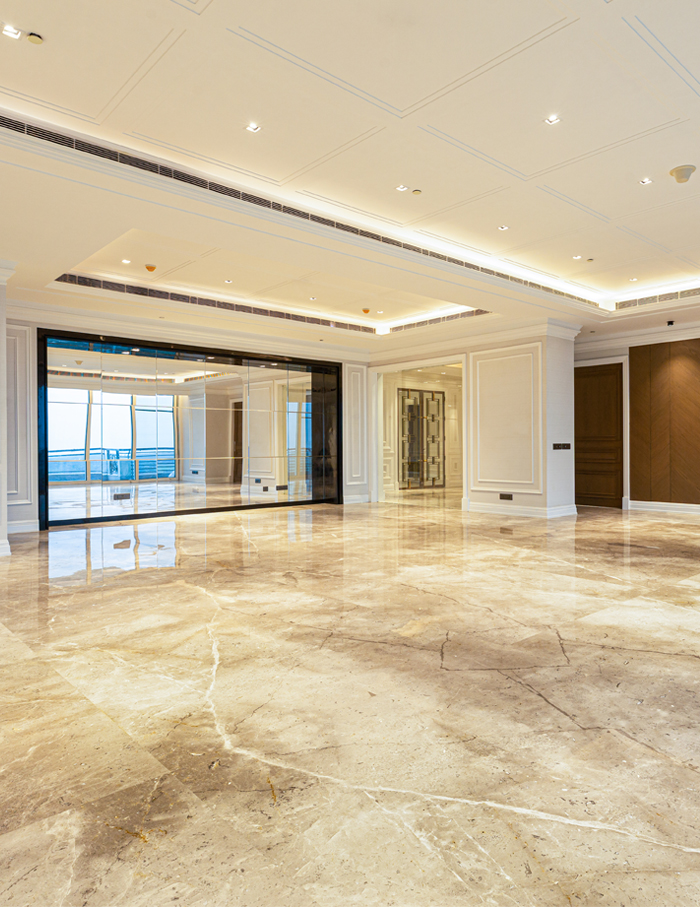 Besides everything looking and feeling so modern, there is something about the interiors and designs that goes beyond the styling. The Kensington Residence, which sprawls an area of 7,500 sq ft, features a certain glimmer, reflecting off of gold and white interiors, that directs your vision either to the sharp edges of TV units or towards the flawless shine of the neat and technologically-forward kitchen area with all its cabinets, drawers and appliances sitting in a poised manner.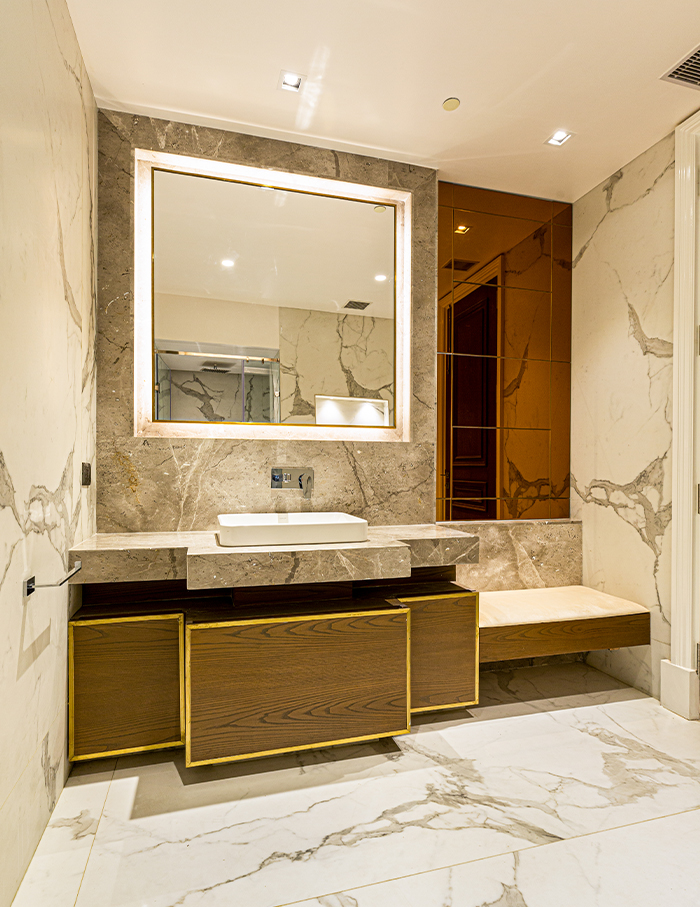 Meanwhile, stepping inside the Louis Residence in Gurugram, which spans 7,500 sq ft as well, fascinating chandeliers and lighting catch the attention immediately with its fixtures across the entire home. The chandeliers have been fitted in such a manner that each space in the Louis Residence finds a spotlight of its own as one passes it by. Their illumination brings forth a balance—softening the splendour held in the spaces on one side while providing the perfect ray of light to live life, on the other.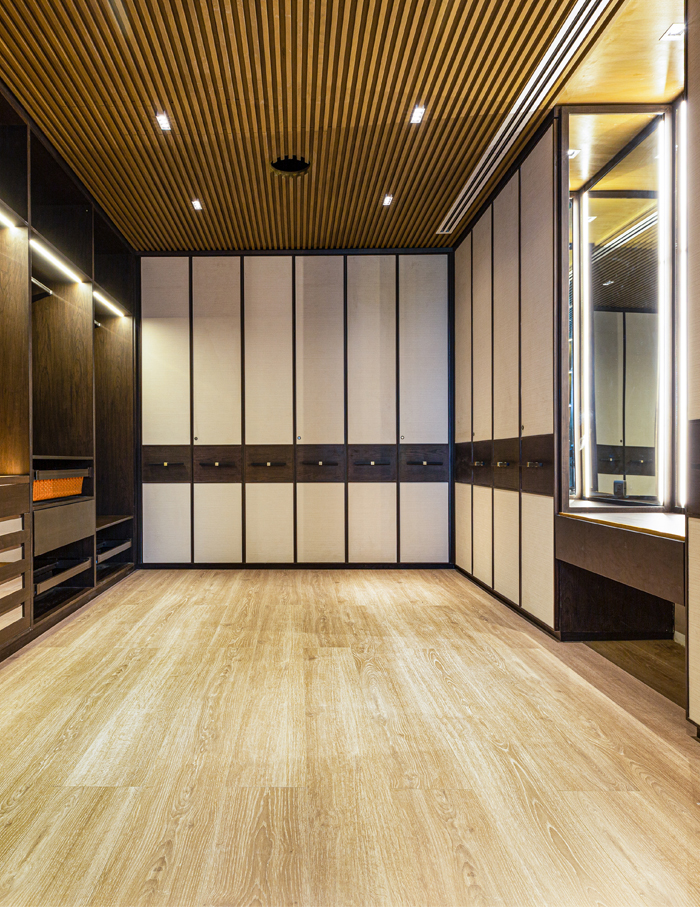 The suave woodwork of the Hudson Residence at New Friends Colony, New Delhi, perched grandly in a 12,000 sq ft area, is what draws the attention to the abode. To feel its finesse, the wooden doors, closets and more, need to be touched so that you can put its polished flair into words. The accompanying white and yellow illumination, marble work and an elegant colour palette of white and brown, further elevates the beauty of the woodwork and that too, at a level, which leads you to think what decor pieces would be able to match the sublime excellence that these interiors exhibit.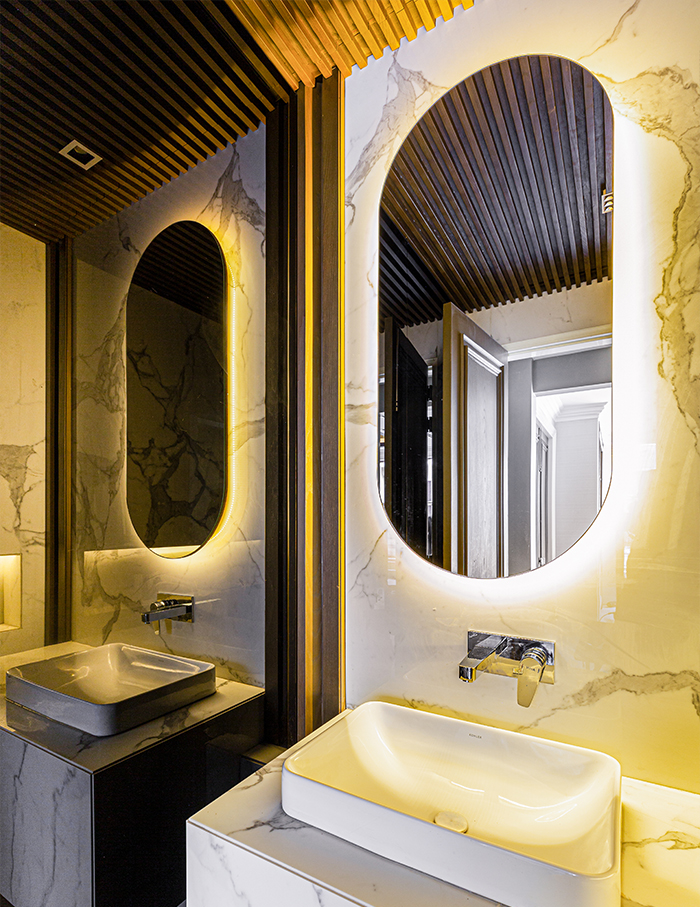 Doused in a plethora of luxurious elements, these apartments give rise to a dream of experiencing a homely grandeur, amalgamated with comfort and leisure. Pomegranate Designs meticulously depict all these design qualities in the apartments they craft, just like the seeds of a pomegranate, each having its distinct taste, essence and design. 
Click here to explore more about Pomegranate Designs and their luxury projects today!