Homes
Layered House, conceptualised by Khushboo and Kunal Khandelwal of Design Inc, unfurls overlays of vintage and modern that carry the stories of its inhabitants
JUN 30, 2020
| By Aneesha Bhadri
A house cloaked in memories that narrates the stories of its dwellers, leaving room for more to come—this was the brief given to Khushboo and Kunal Khandelwal as well as Kajal Soni by the homeowners whose greatest passions include travels and antiquity.
This 2,000 sq ft apartment is located in South Mumbai and presents a melange of decor pieces from all over the world—from Timothy Oulton and Flos to The Charcoal Project and Tranceforme Designs, and even Harry Potter Studio and Chor Bazaar.
Basic civil changes were made to this space as it had several corridors. The result was a neater layout, encased by windows whose old teak frames have been restored. The walls were stripped down to reveal bricks throughout. Fluted teak panels line the corridors, juxtaposed with beige walls and textured surfaces with wood laminated floors and ceiling, and brass details.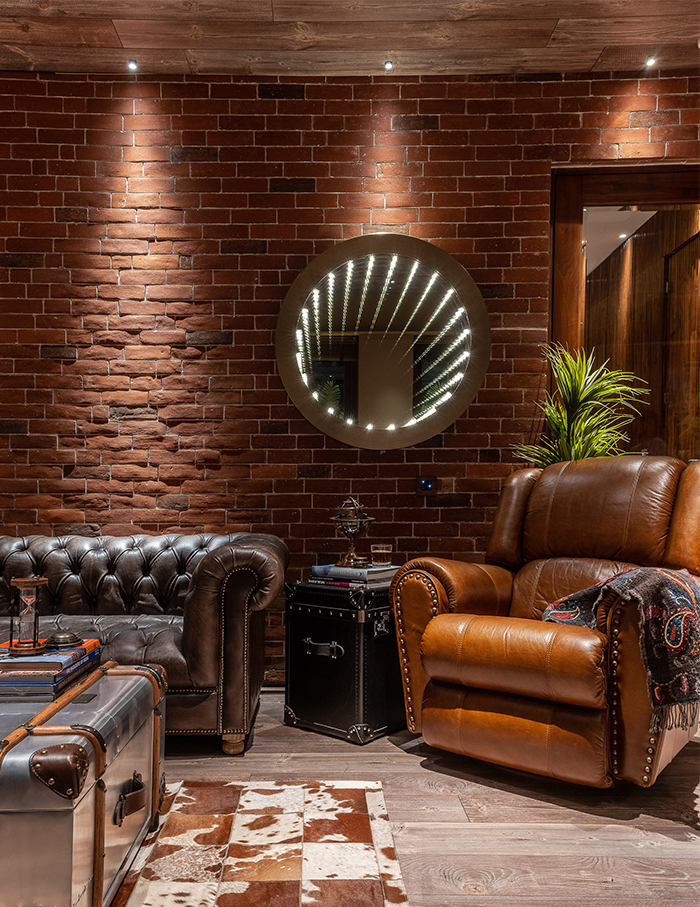 A large vintage clock at the entrance is flanked by wall scones around the fluted brass door. A distressed wood mirror adds depth to the otherwise narrow corridor. The living room transports one to a bygone era—dark leather Chesterfield inspired sofas, leather and metal chests on a cow hide rug are flanked by vintage metal lamps. An Inception mirror reflects the space, creating a sense of infinity and reinforcing the idea of layers of stories through time.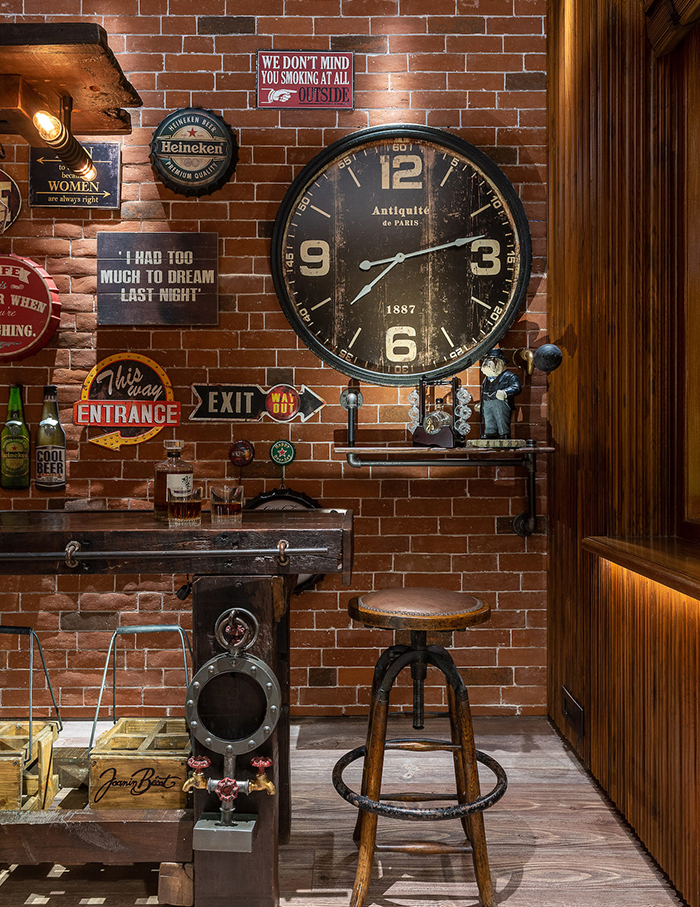 The standalone timber bar is paired with rustic metal and leather stools. The wall behind is a montage of quotes, quirky pieces and country accessories that complement the gentleman's club leather chairs and vintage metal lamp.
In the dining area, a large restored Japanese screen forms a wall panel on one side and a distressed wood cabinet flanked by fluted glass floor lamps sits on the other side of the table, which uses an old ship wheel as the base.
The master bedroom is the ultimate statement in vintage luxury with its dark blue walls, distressed wood and brass wall panelling and furniture. On the other hand, the daughter's bedroom is peppier and brighter with layers of fabric panels and funky colourful accessories. The son's bedroom pays homage to the Harry Potter universe—meticulously sourced accessories of the famous franchise adorn a fluted blue wall.
"The entire space is envisaged as an envelope of layers; concealed lighting creates shadows and patterns over the layers and sets different moods. It's a home which pays homage to memories old and new, where each element tells its own story, adding more layers over time—creating its own 'vintage modern' design identity," say the Khandelwals.