Homes
Experience a blend of individualities in this sublime Kolkata house by Spaces and Design
SEP 28, 2022
| By Tanvee Abhyankar
In an era that celebrates both individuality and collectivity, a designer has made a vivid effort to create a space for a family of varied generations. 
Blessed with natural light and trees around, the house in a select locality of Belvedere road, Kolkata, is an all-encompassing place, to which Pooja Bihani, Founder of Spaces and Design has given an old structure a renewed life structurally as well as aesthetically.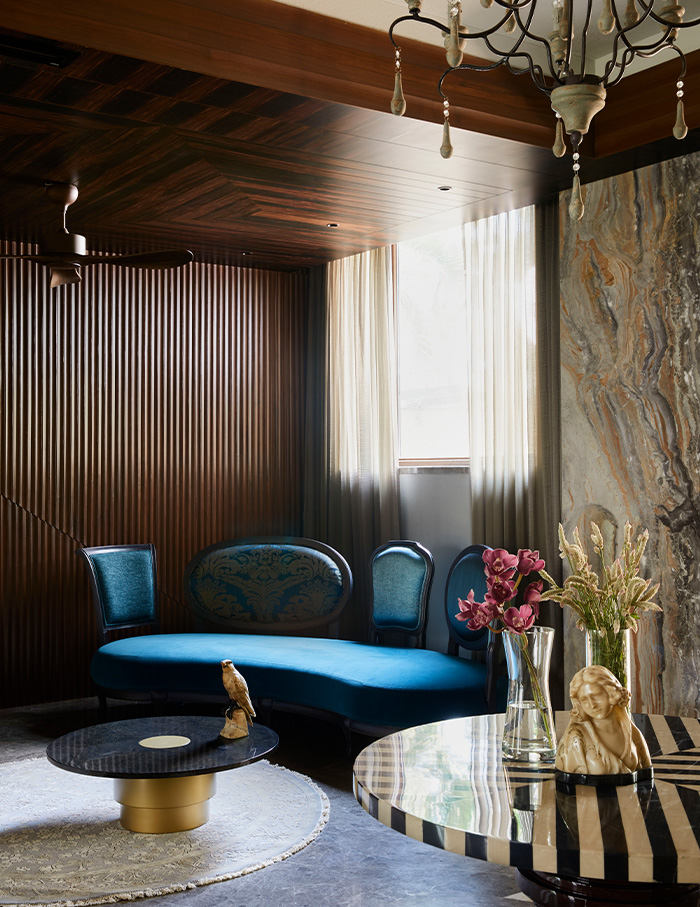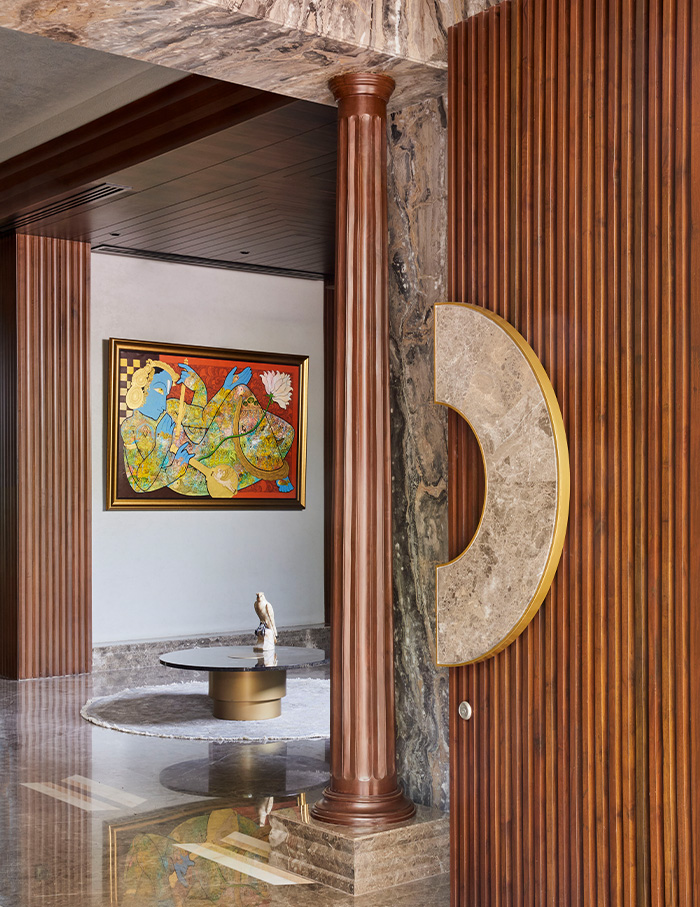 Hitting the brief 
Designed for a family of three generations, the bungalow covers a total area of 8,000 sq ft, with ground plus two levels sprawling about 2,000 sq ft each. Pooja says, "Since it was an old structure, we had to work a lot structurally, architecturally and interior-wise to maximise the space."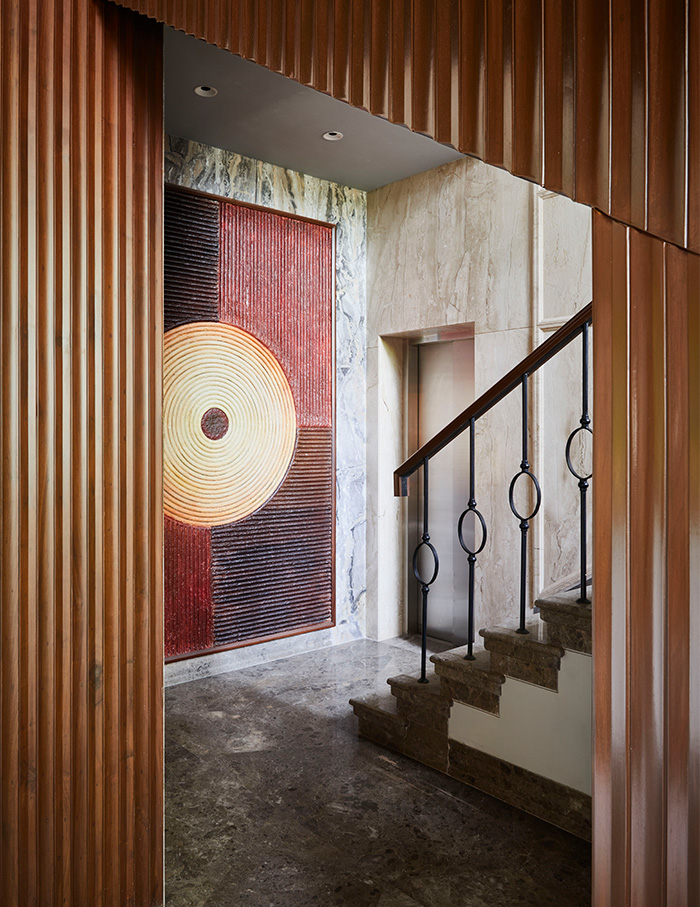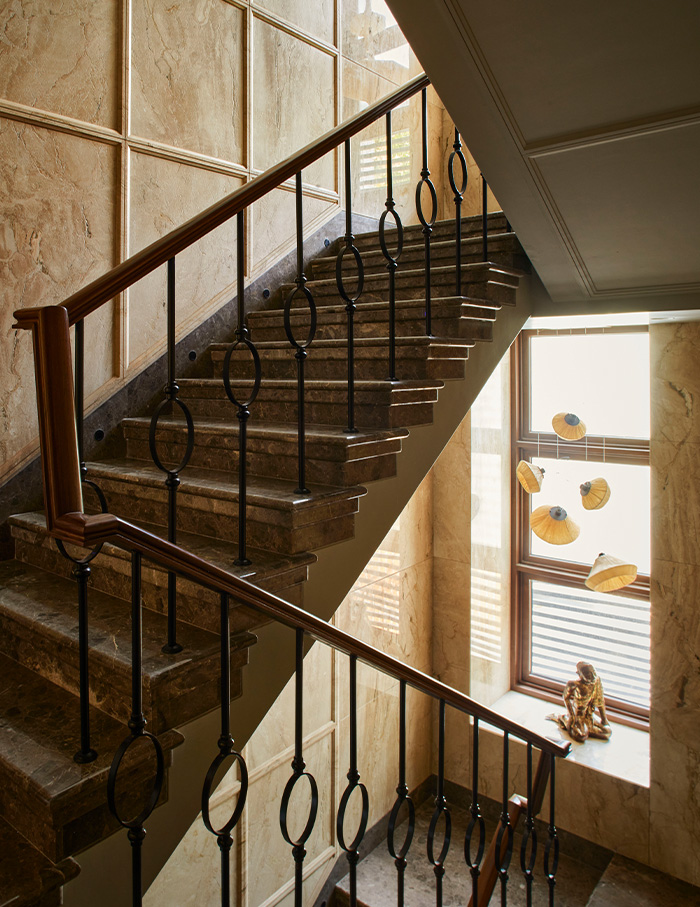 The second floor affords tranquil views of nature and three trees outside, hence also titled 'House with Three Trees'. An individualised palette of colours and patterns takes up an equal share with Vastushashtra, paired with Zen art to weave house in a coherent fabric.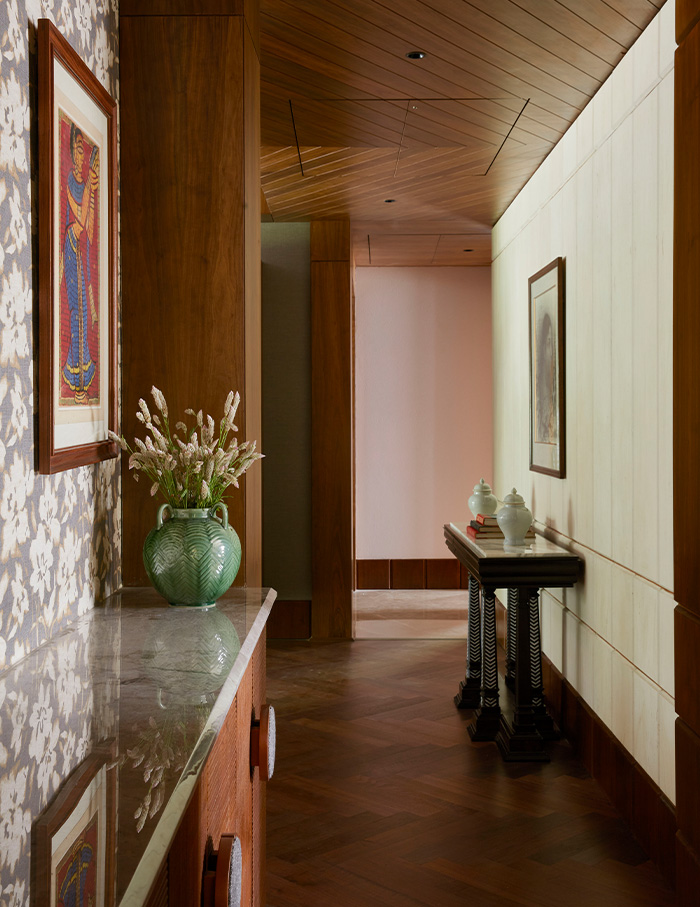 Explore inch-sized details in this home 
A facade softened with trees as a first impression, the driveway of the house leads to a lovely double door that opens up in  a small foyer. A huge hallway which is practically an informal living area, assumes the main character in the bungalow, while the bar beyond it plays along as a side-kick. In addition to it all is a foliage and natural light at the end of the room to blow your mind. Spot an iconic sofa by Poppy and Beyond and you are led to the staircase, with a dining area and a powder room to your left. A dramatic view of the driveway is set up from the living room.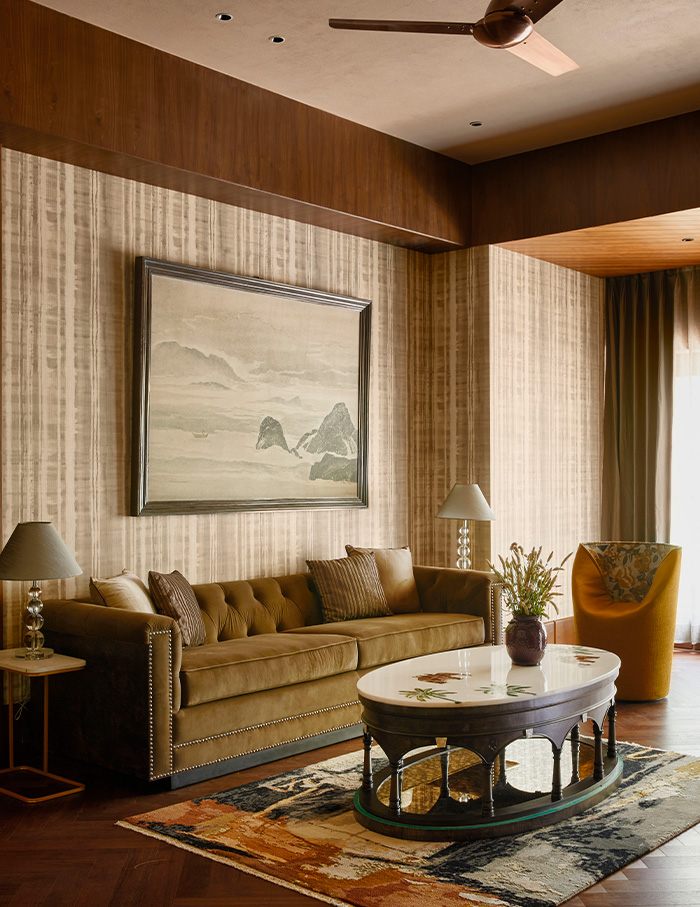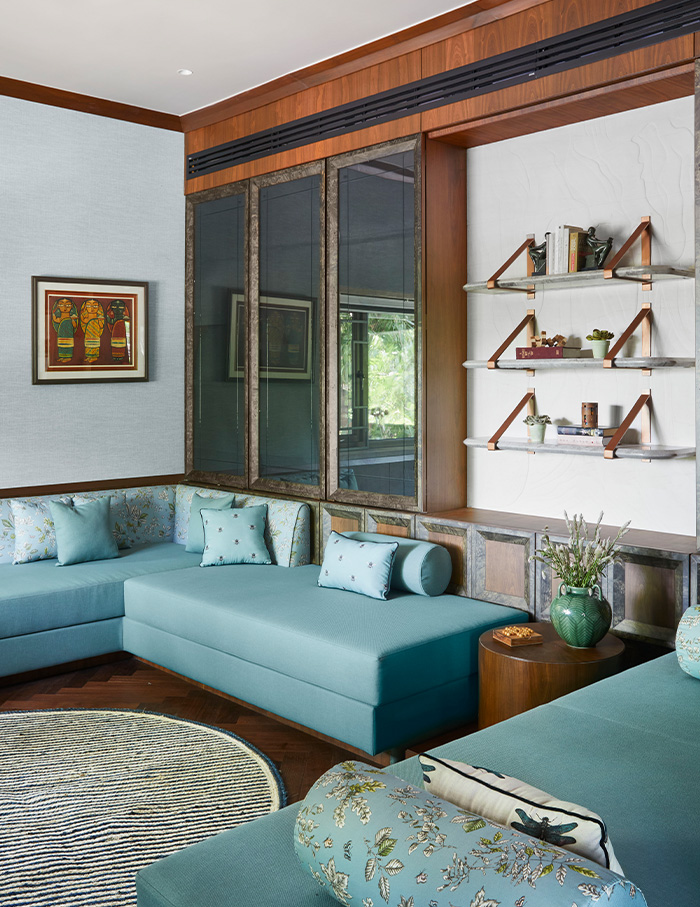 Functionality is kept in mind while designing the upper floors and resultantly, a pantry and a common room is allotted to every floor. Bedrooms are planned with open wardrobe spaces and ensuite bathrooms,  keeping luxury and needs in mind.
On the second floor is a breathtaking view of the 3 trees and is matched with rattan furniture pieces for the mother's room. The cream of the house is denoted by the roof, which has a den and a garden.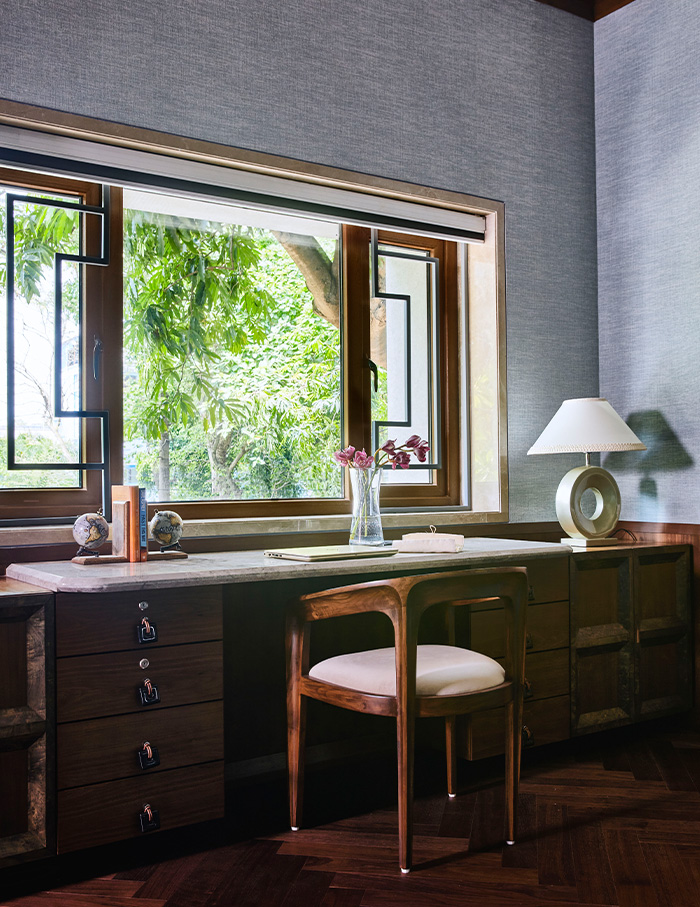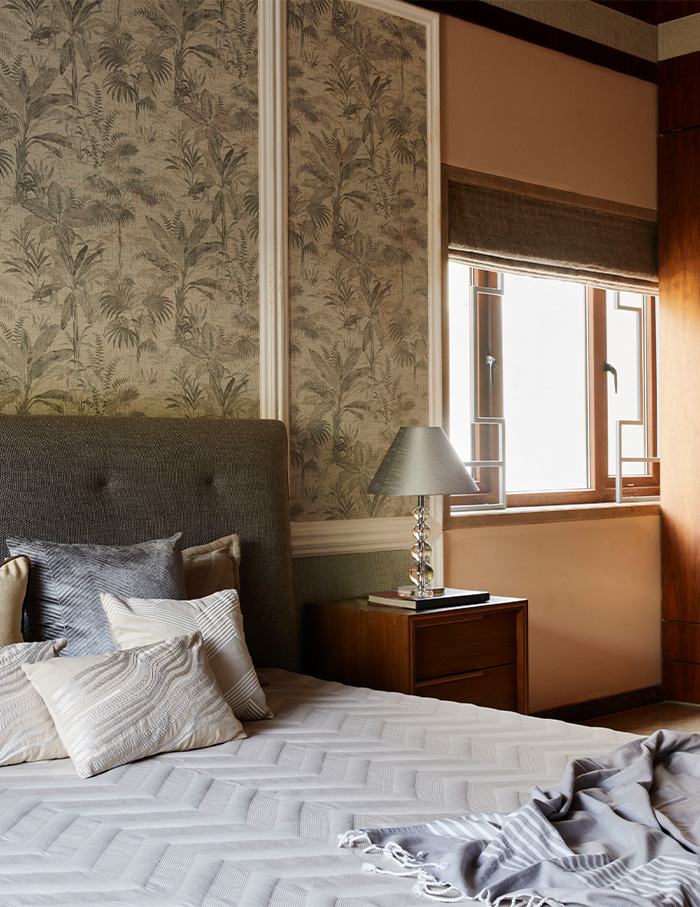 Synchronised with a wrapper of Zen art on the staircase, the house uses matte gold with deep marbles on the ground floor and walnut with rose gold paired with lighter shades of marble on the second floor. The climax is displayed on the third floor where the contemporary drama unfolds itself with oak black finishes on lighter marbles.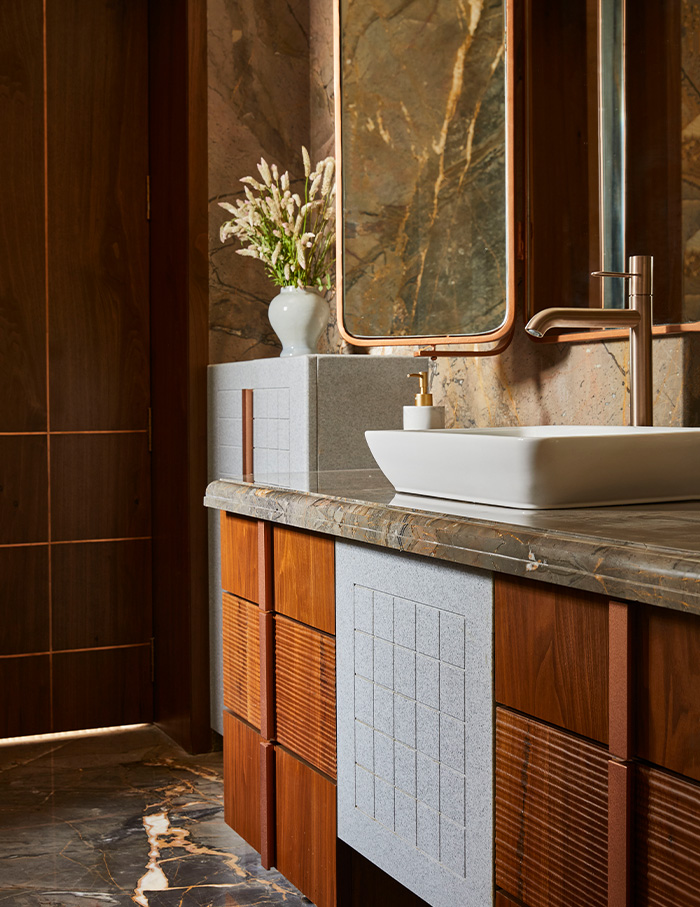 A second skin built around the original structure forms a thermal insulation, which adds to the beauty and the sustainability factor of this house.  Automation, VRVs and LED lighting completes it as a whole.
The curious case of innovation in renovation
The project came to Pooja Bihani as a raw, old, G+1 structure with nearly 2000 sq ft of floor plate per floor. The construction was carried out critically to make it into a G+2 structure with a productive roof as well.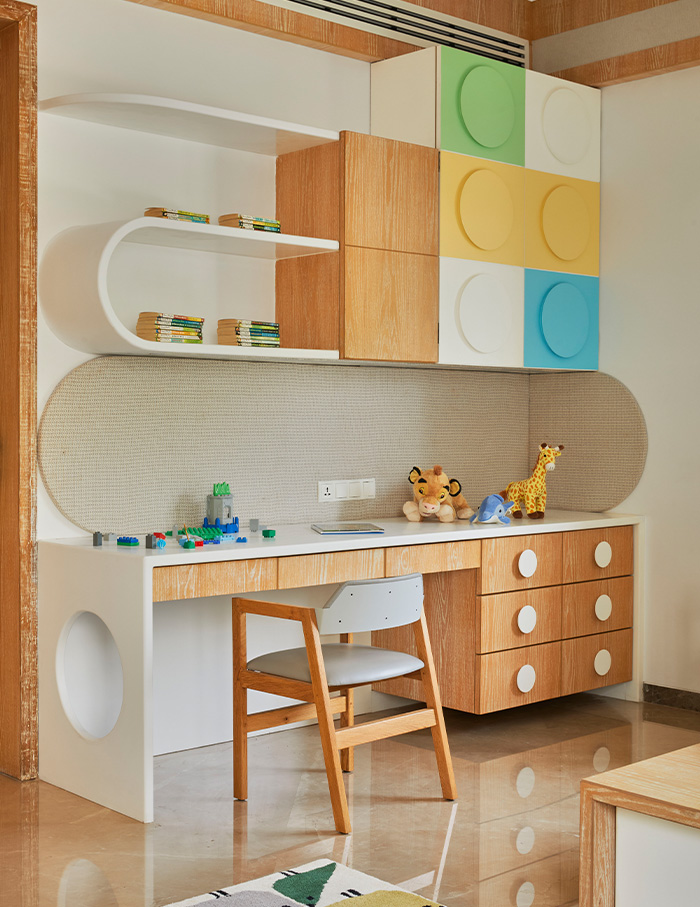 Structural analysis teamed with the knowledge of Vastushastra was put to use to achieve a perfect balance. After a few extensions and smart design interventions, the house was now ready to be all decked up.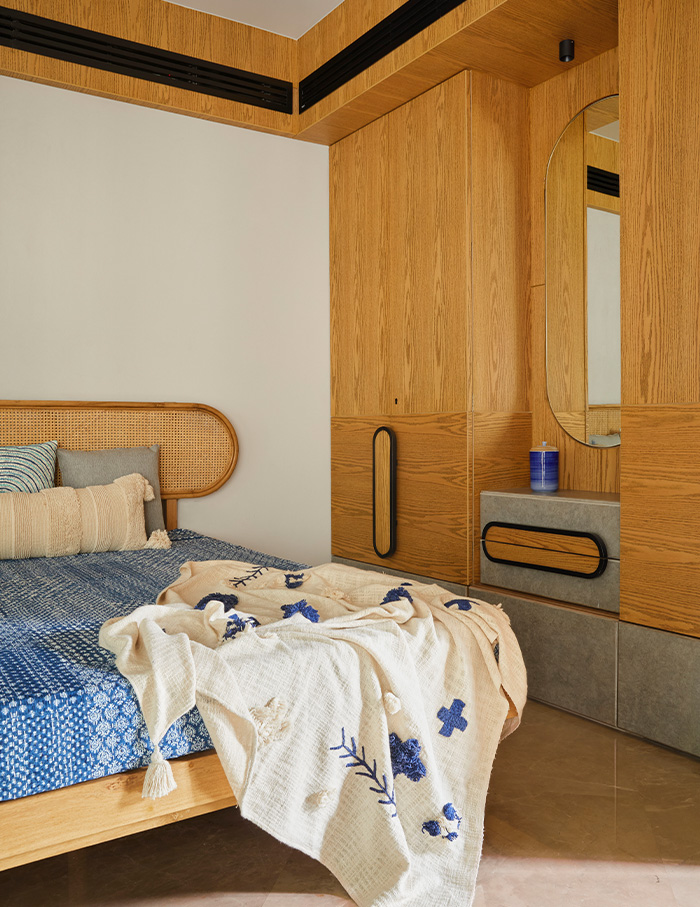 Ideas yo-yo use – zen art flow and a second skin to shield your house
A simple concept of creating a second layer of facade which accommodates the thermal comfort levels, protruding chajjas and visual privacy is definitely a takeaway. Another concept, of flow, exemplified and applied in the zen art on the walls that forms a visual vertical connect in the house, is another takeaway that will work in your favour.