Design
For the bolder and boldest: Kohler Bold Design Awards returns to rekindle a never seen before movement in Indian design
JUL 6, 2022
| By Team ELLE DECOR India
Experimental and eclectic, the world of design is due for an upgrade and Kohler Bold Design Awards, also entitled as KBDA alongside creative partners ELLE DECOR India, is determined to helm the way with its return announced at the India Design 2022 symposium. KBDA 2022 is set to roll out the carpets to the third edition of our awards ceremony, with the first two editions endorsing the diverse but unifying temperament of all that India offers in design.
On the cusp of a renewed course of life where possibilities are endless and ideas always evolving, the design fraternity is living in an exciting time where we don't want the creatives to pull any full stops to their design intentions.
KBDA is the defining platform for architecture and design, returning after four years, last seen in its triumphant glory in 2018. It is now time to jump into your boldest self to design a bolder future.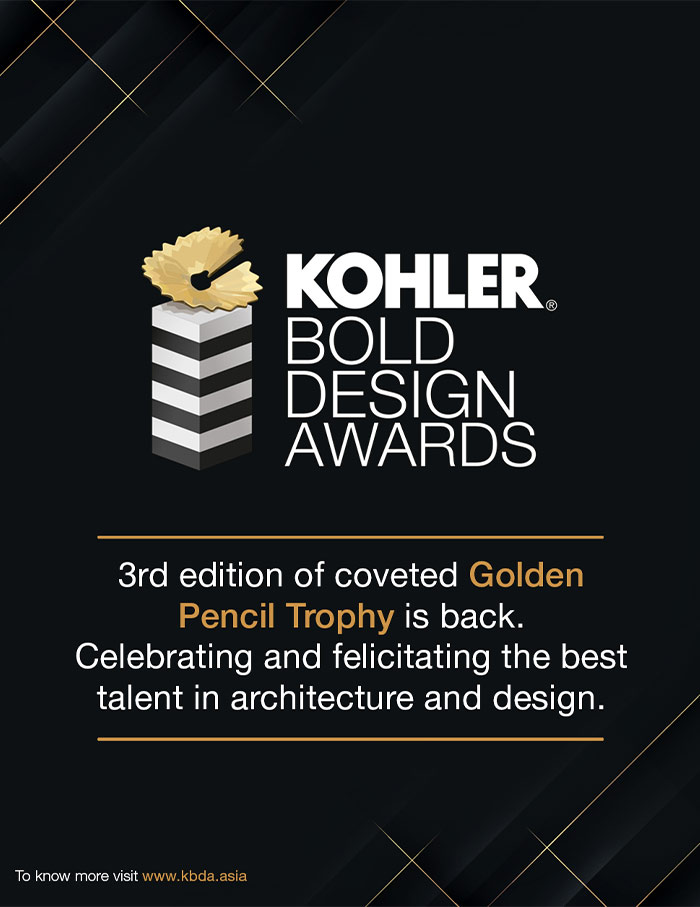 What we like to call a history in making, KBDA 2022 sets the benchmark for the changing times with an undivided focus on design. KBDA sets the podium for practitioners of the built environment and their projects that set trajectories for the future. An ensemble of judges from around the globe form this year's jury too, ensuring holistic perspectives, transparent assessments and judgements.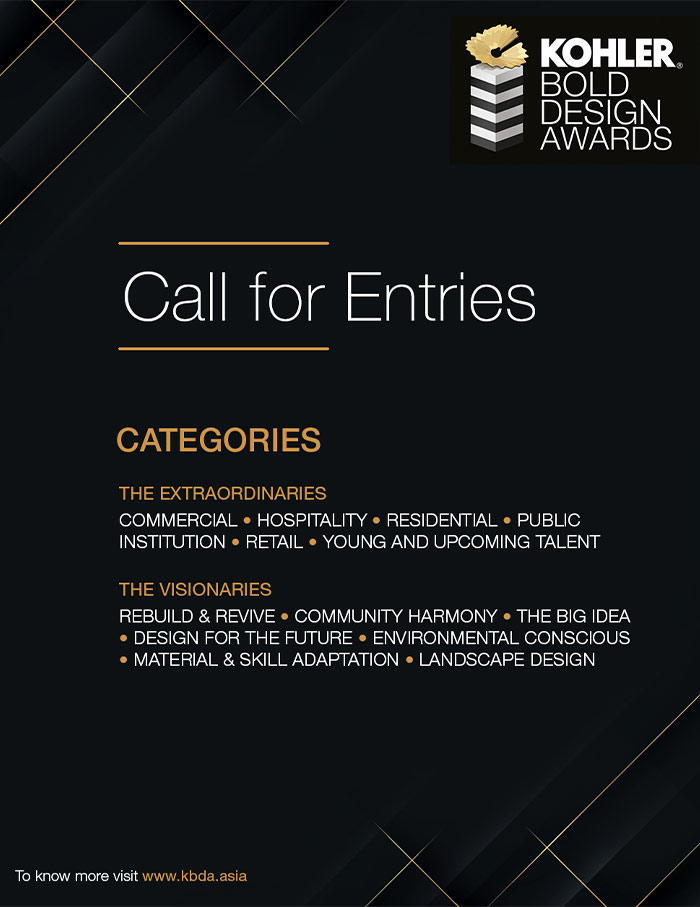 Salil Sadanandan, President – KOHLER Kitchen & Bath South Asia, Middle East & Sub-Saharan Africa, says, "We are excited to announce the return of Kohler Bold Design Awards (KBDA) 2022 after a delay of two years. This is the third edition of our biennial event for the coveted Golden Pencil, awarded for path-breaking work in Indian architecture and interior design. This year, our eminent jury is a mix of celebrated names from India and the world from the varied disciplines of design, architecture and hospitality. These awards reflect Kohler's admiration of the creative community and is our way of honouring not only the established maestros but also the impressive list of emerging names that are curating the future of architecture and interior design in India."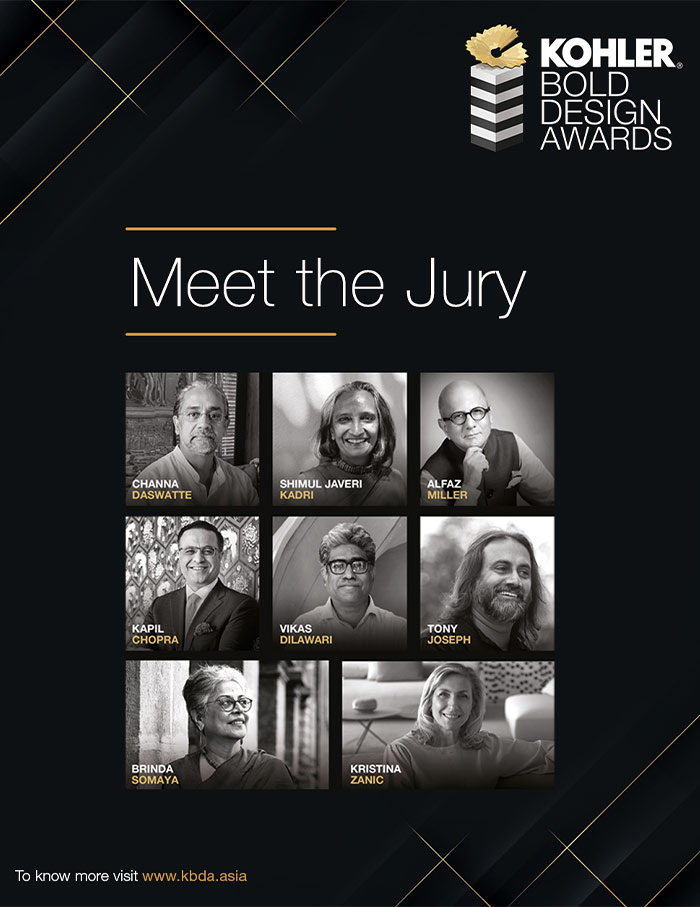 In the last edition, Kohler Bold Design Awards 2018 received over 1200 entries with participation from India's leading architects and practices. Over the two editions, entries have been screened by a jury of renowned global architects and designers such as Paola Navone, Fabio Novembre, Sunita Kohli, Jimmy Lim, Lyndon Neri, Rossana Hu and Sanjay Puri, amongst others.
The lifetime achievement award was bestowed upon Christopher Charles Benninger and Raj Rewalin 2016 and 2018 respectively. Other winners include Samir Raut, Smaran Mallesh, Saurabh Pradeep Malpani, Verendra Wakhloo, Tony Joseph, Dhananjay Shinde, Karan Grover, Sanjay Puri, Ketan Jawdekar, Abin Chaudhuri, Hiren Patel, Brinda Somaya, Manish Gulati, among others.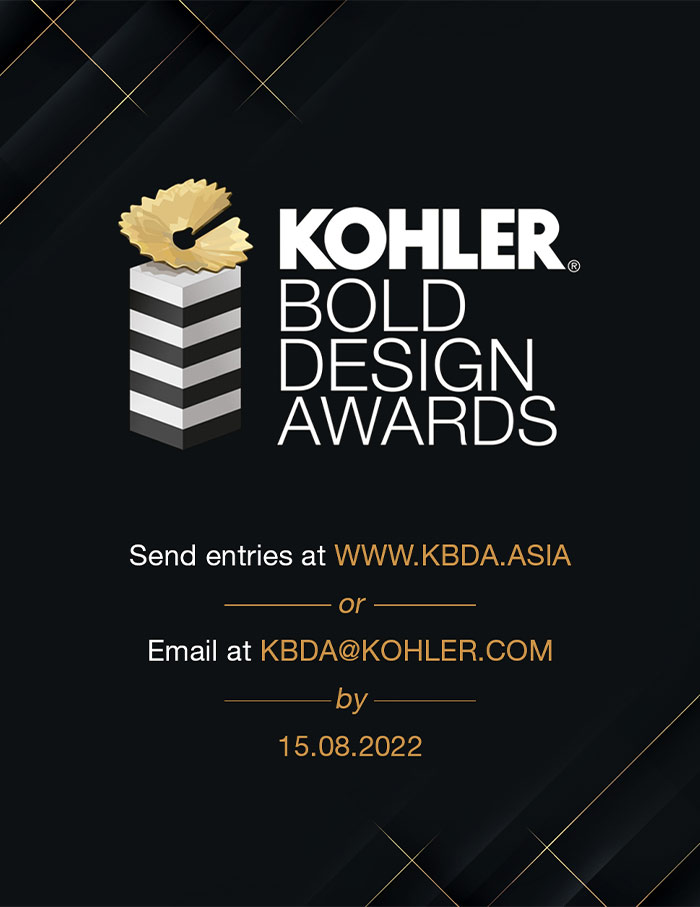 KBDA is yet again ready to create design history. The categories for KBDA 2022 include — The ultimate 'John Michael Kohler Lifetime Achievement Award' for the doyen of the design industry who has contributed success to the country and accrued repute, internationally as well as within the nation. The second category 'Extraordinaries' identifies exceptional designs across typologies — Commercial, Hospitality, Residential, Public Institution, Retail, Young and Upcoming. The third category 'Visionaries' explores Community Harmony, Environmental Conscious, Material & Skill Adaptation, Rebuild & Revive, The Big Idea, Design for the Future, Landscape Design.
The jury panel includes Alfaz Miller, Brinda Somaya, Channa Daswatte, Kapil Chopra, Kristina Zanic, Shimul Javeri Kadri, Tony Joseph and Vikas Dilawari.
KBDA is now welcoming entries from the architecture and design industry on all the categories recorded above. The clock is ticking and the last date to submit entries is August 15, 2022.
To apply, visit: www.kbda.asia
Enquiries: kbda@kohler.com
Join the crusade at #KBDA2022 #KBDAIndia