Homes
Kohelika Kohli designs a sublime apartment that is suffused with sophisticated charm for a client turned close friend in Delhi NCR
NOV 5, 2020
| By Kohelika Kohli
When I first walked into the house, it had no soul and was built like a typical, 'trying to be high end' apartment. Originally it had five bedrooms, with separate living and dining areas, and one side overlooking the verdant golf course.
Following discussions with the homeowner, I converted it into a two-bedroom condo—one for her and her handsome Labrador Oli, while the other was planned as a guest room. I turned one of the original chambers into a luxurious dressing area, as the homeowner is one of the most stylish people I know, while the others were transformed into a home office and a gym.
It had become abundantly clear to me, right from our initial meeting, that this apartment had to be designed for a young, working professional, who's vibrant and constantly evolving her many avatars. I find that it's easy yet stressful to design for someone who trusts you implicitly, and there are only a few clients like her who become friends and soul sisters.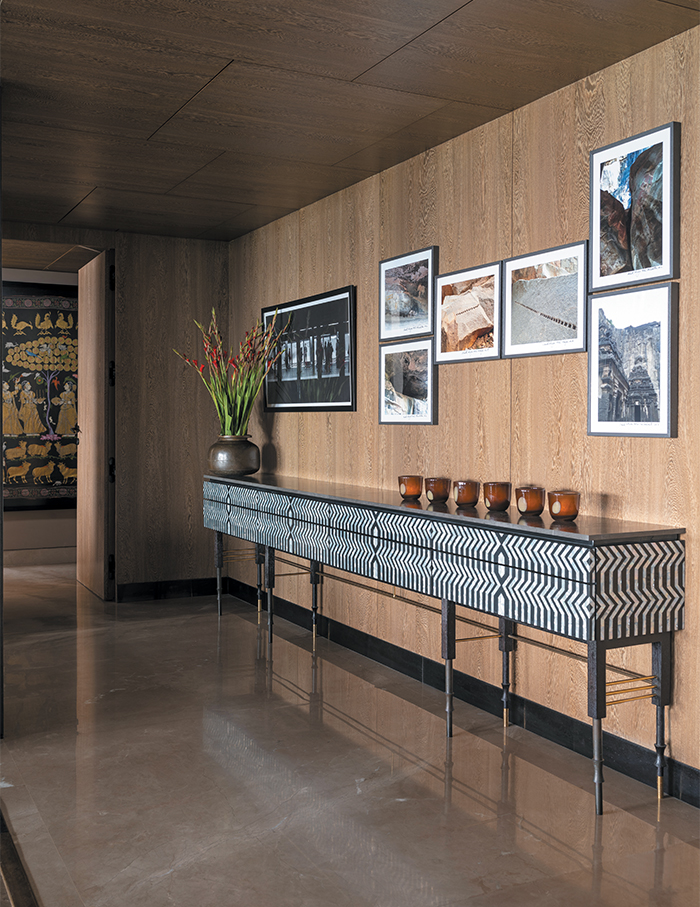 This was one of those rare projects where I almost felt like I was designing an apartment for myself—a real privilege in my profession. I crafted all the furniture, bespoke cabinetry and sofas, which were manufactured in our workshops that, I must add, are soon to complete 50 years of making refined handmade furniture!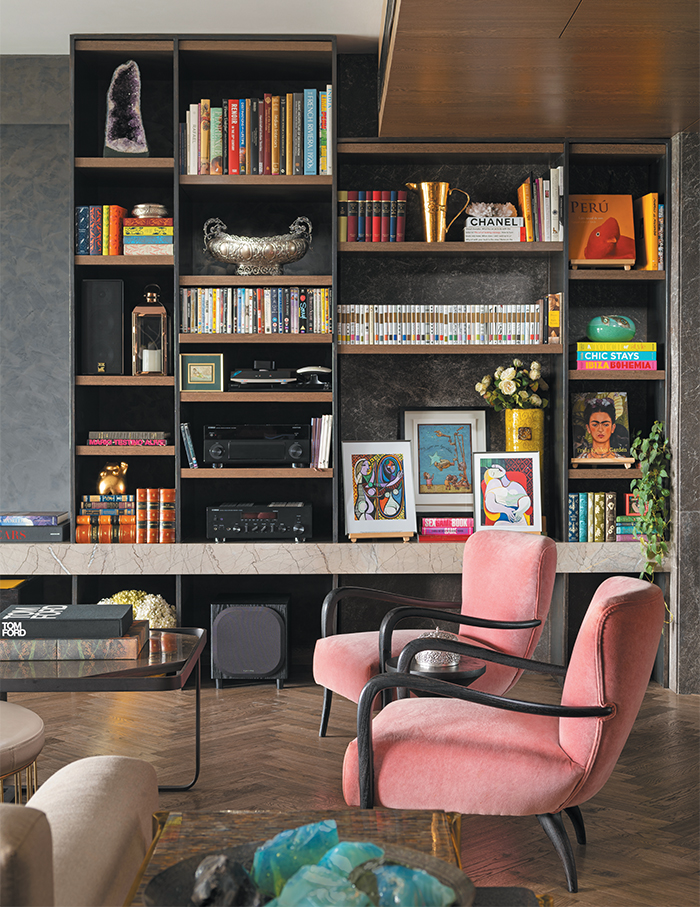 This apartment has been meticulously detailed, using different materials and textures. The colour palette is a sophisticated tone on tone to keep it quiet and understated. Considering how well-read, well-travelled and contagiously enthusiastic the homeowner is, the apartment has been designed to complement her rich personality!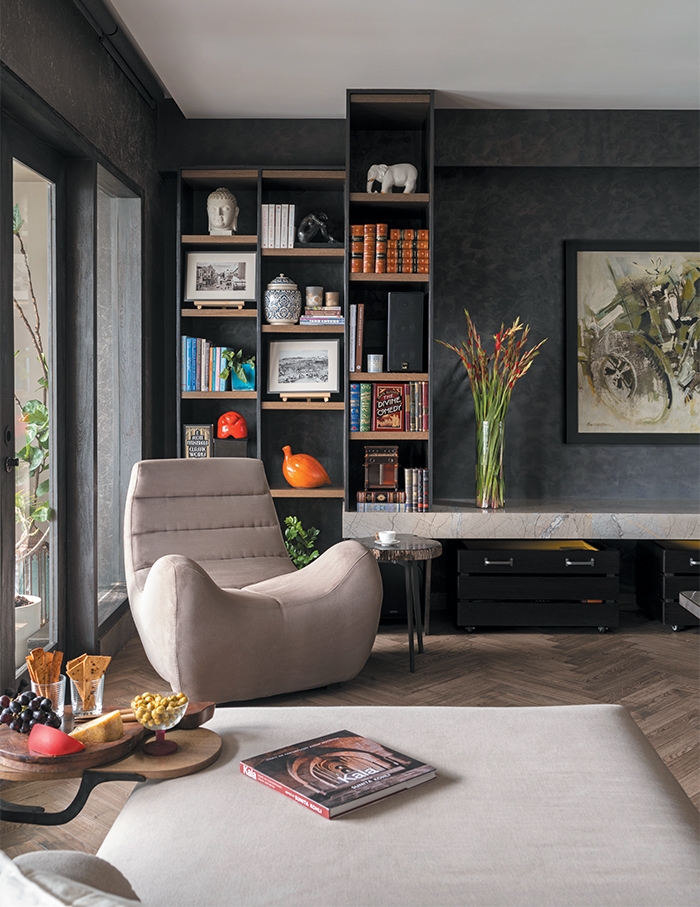 So, the entryway is framed by an exquisite hand-scooped, solid teak door that is finished in shou sugi ban. It involves the charring of wood in a process called yakisugi, to render it into a deep charcoal black texture.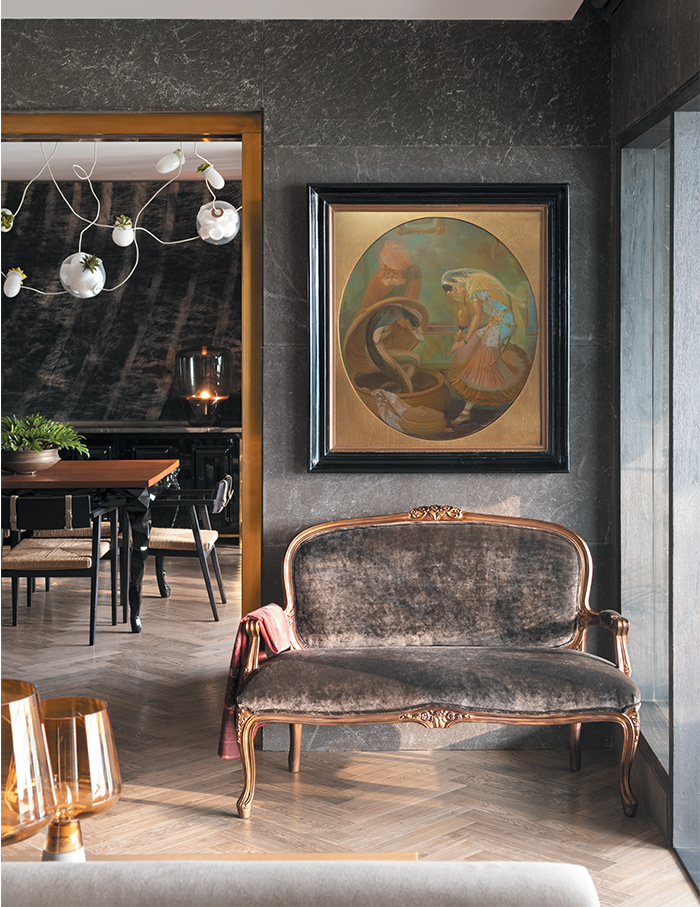 The foyer was completely redesigned, the floorings and services were ripped out and refitted. I extensively used a rough finished olive-grey stone for the vertical cladding here and in the entertainment spaces, juxtaposed with a Sukupira veneer on the ceiling and on some walls. The powder room features a beautifully crafted stone door leading into a tiny space with a witty Cole and Son wallpaper of cabaret dancers.
The living and dining rooms were made to appear like one continuous space, with a small area near the window carved out for the bar. Having said that, in case there's no use for a formal dinner setting, the homeowner and I—both, amateur food connoisseurs—determined the need for a well-appointed kitchen. One that allows her to relax and dine in but is also witty and informal.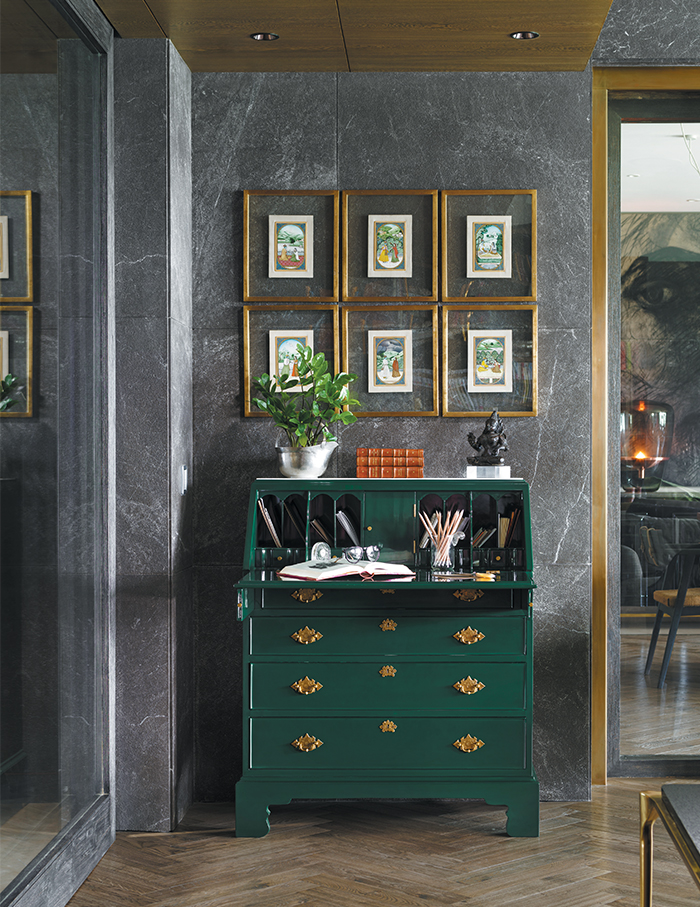 The study-cum-music room is one of the most frequently used spaces in the house, especially since she plays multiple musical instruments and, not to mention, is in the process of assembling her own band called The Phonies! The whimsical wallpaper of the clown fish here perfectly captures this home's and its owner's vivacious personality.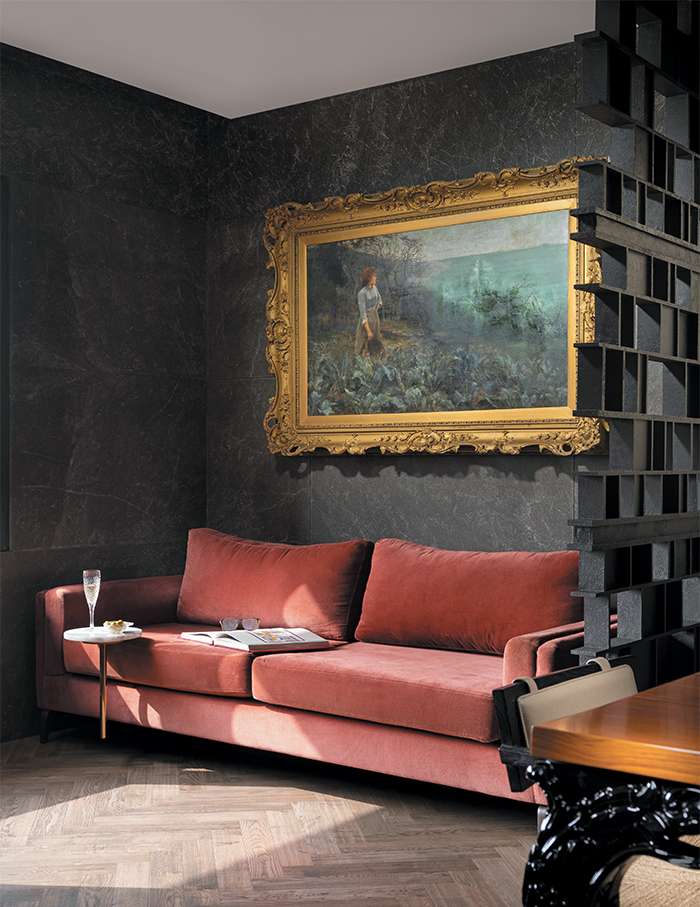 To address the client's love for movies, I ensured the high tech apartment was fitted with a superb projector for watching cinema. The idea was to create an area suitable for both entertainment as well as isolated relaxation. The space is eclectic, full of vibrancy, character and personality. It was incredibly heartening to have her say that "it has an interesting and inviting soul of its own".