Homes
Arun Shekar Gowda and Mohd Afnan of Humming Tree have given this Kozhikode home a modern, natural and artsy makeover
NOV 17, 2020
| By Arun Shekar Gowda and Mohammed Afnan
We can't let 2020 end without talking about our most cherished project of the year—the transition of a space, largely through its wall decor and a spectacular series of accents.
Located in Kozhikode, Kerala, this was a design commission for transforming a dark and spacious bedroom with a stunning, sun-lit bathroom. It was extremely dated and probably never renovated since the time it was built. Although the 450 sq ft space was peculiarly balanced, one really couldn't get a sense and appreciate how gorgeous the room and its outline was.
The conversation for its revamp started when our client Fatima Jeffrin expressed her desire for a change, as the present interiors didn't match her aesthetic sensibilities. The most enjoyable part of working on this project was to work with a client like her, someone who had impeccable creative taste and was supportive of every decision we made as designers.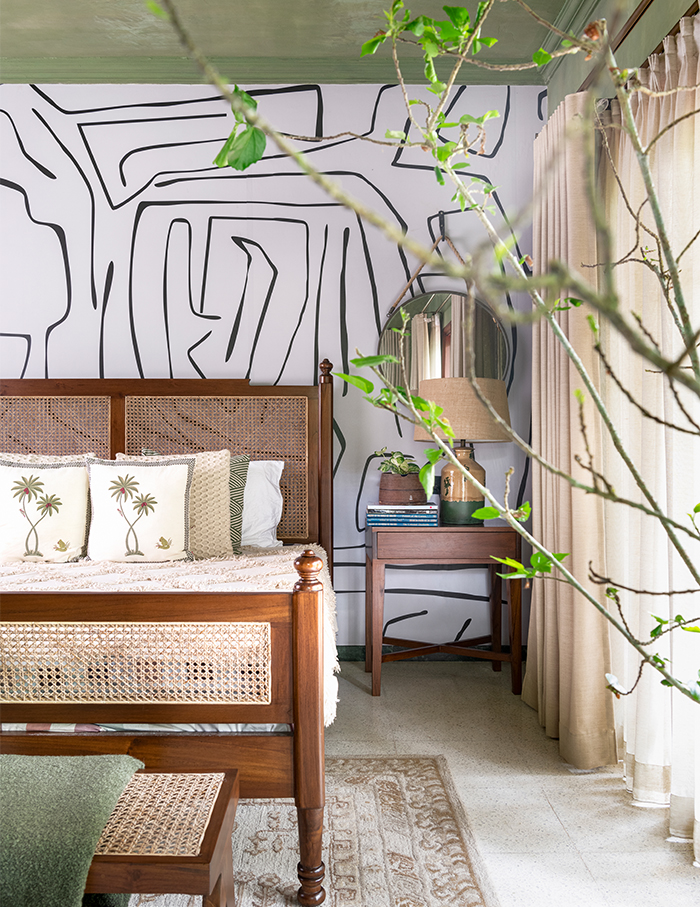 The main aim of this project was to reduce complexity, let ample light pour in and layer the space with an assortment of textures. We started with the flooring, opting for fine polished, seamless terrazzo, which is considered bare to some people but we find quite soothing. The textured wall and ceiling, on the other hand, has been painted with numerous, natural brush strokes in a magnificent pale kale green shade that adds a lot of depth and customisation to the surface.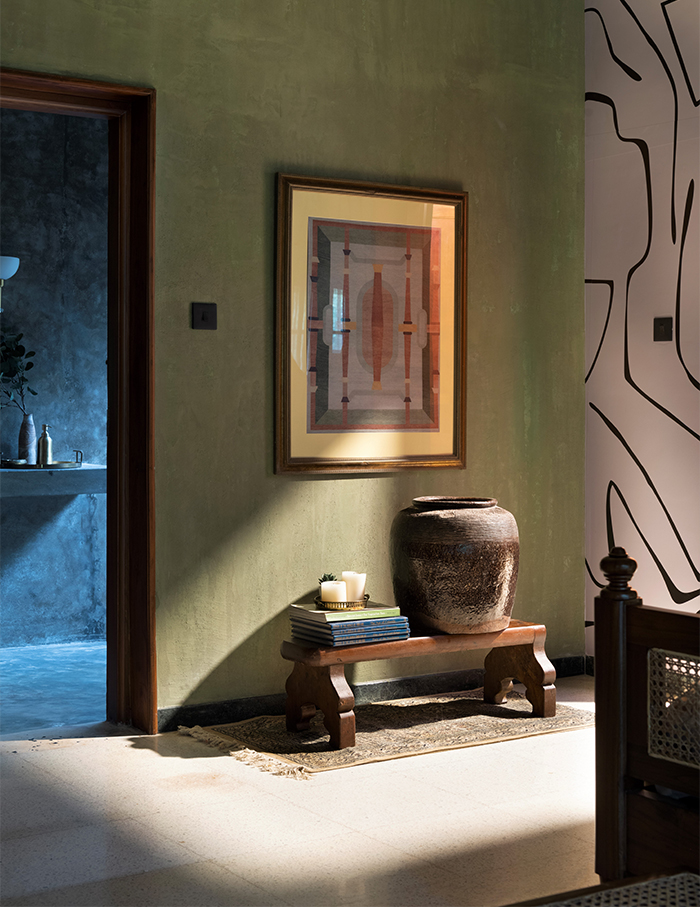 A William inspired artwork at the entrance by our practice Humming Tree plays a vital role in setting the tone of this room. It makes visitors pause and take in the energy of this green infused room. Vases from Pottery Barn are placed elegantly below the artwork.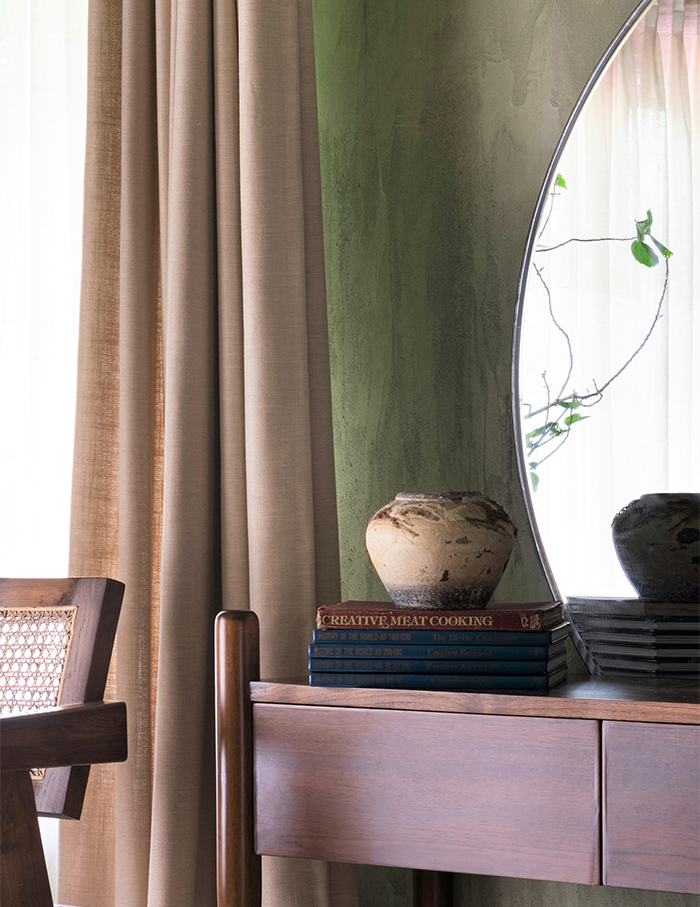 Behind the bed is a wallpaper by Kelly Wrestler, which significantly enhances the space by giving it a loaded, tribal look. The circle mirrors with leather bands on it are from Maison du Monde and help reflect the greens and balance the sharp graphics. This space is also furnished with classic Burma teak pieces with matte finish to add warmth.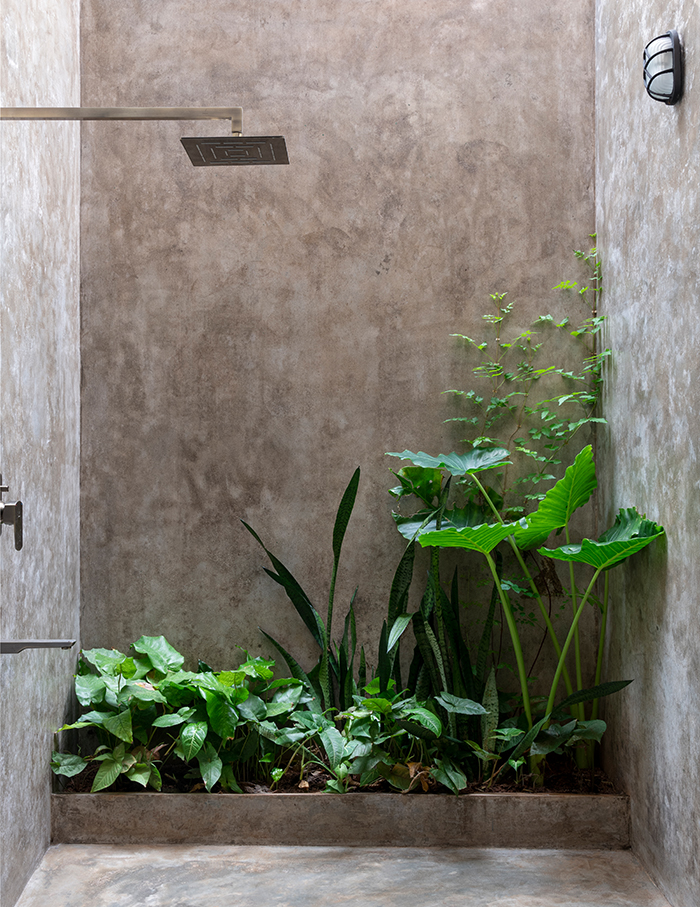 The cushions and fabrics are from Good Earth, H&M home and Pottery Barn. Meanwhile, the throw on the beautifully crafted rattan foot bed is from West Elm. Huge, scaled night lamps from Pepperfry balance the wide cot and complement the green wall.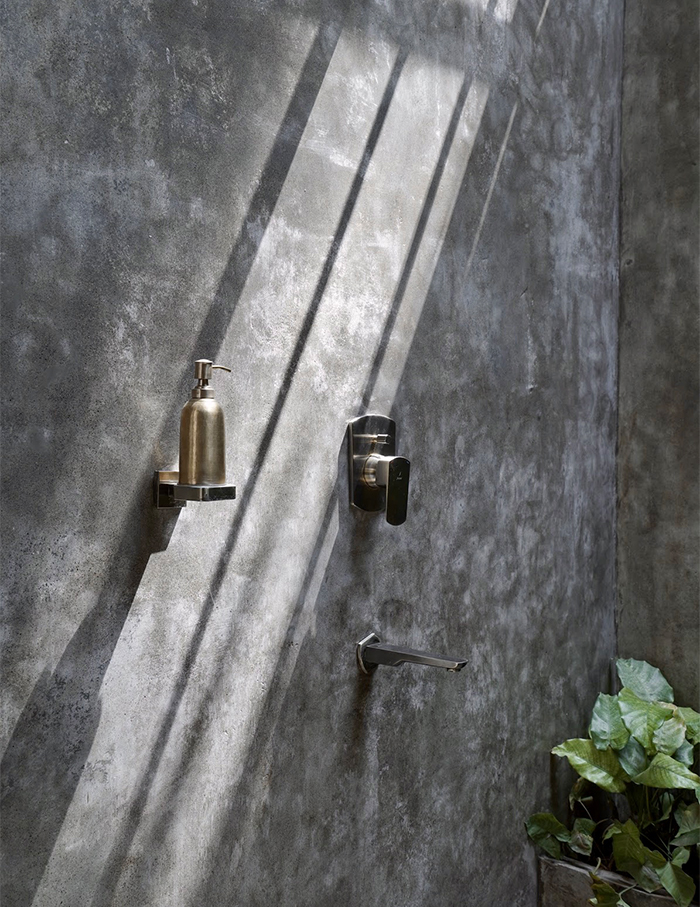 While redesigning this bed and bath, we also reflected on our philosophy as a brand and realised the need to adapt to every project in its individual context. Objects or pieces of art capture our divine attention and serves as a starting point for designing spaces.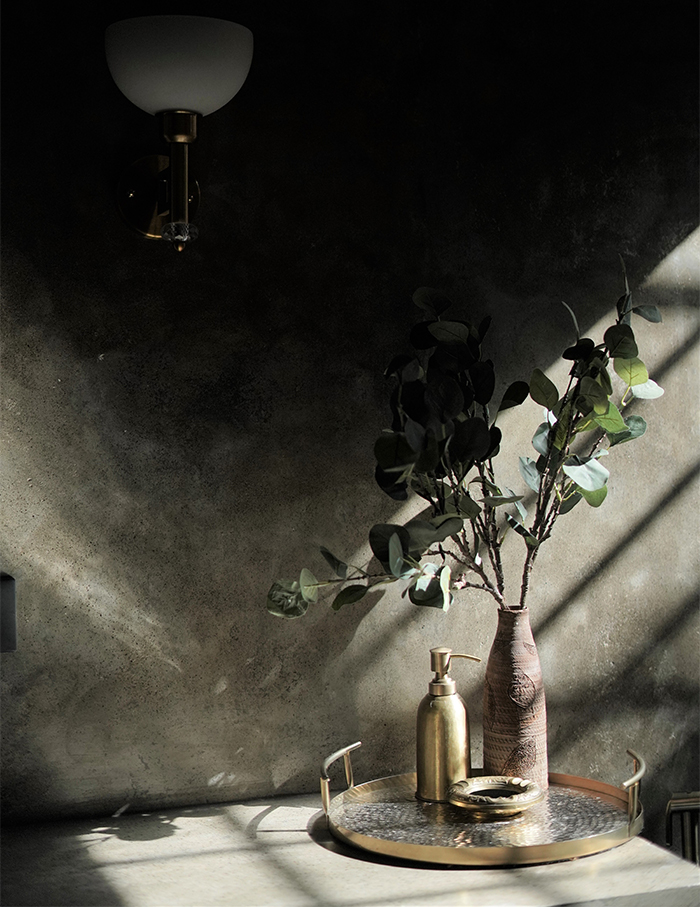 The carved leg stool below the tribal art photo frame—an illustration of Nastagio rug inspired from an artwork by Sandro Botticelli—is an antique passed down from the client's family. A charming Persian rug sits beneath it. We found it extremely interesting to pair artefacts from different eras together. Although each has a distinct character, they come together as a whole in the decor.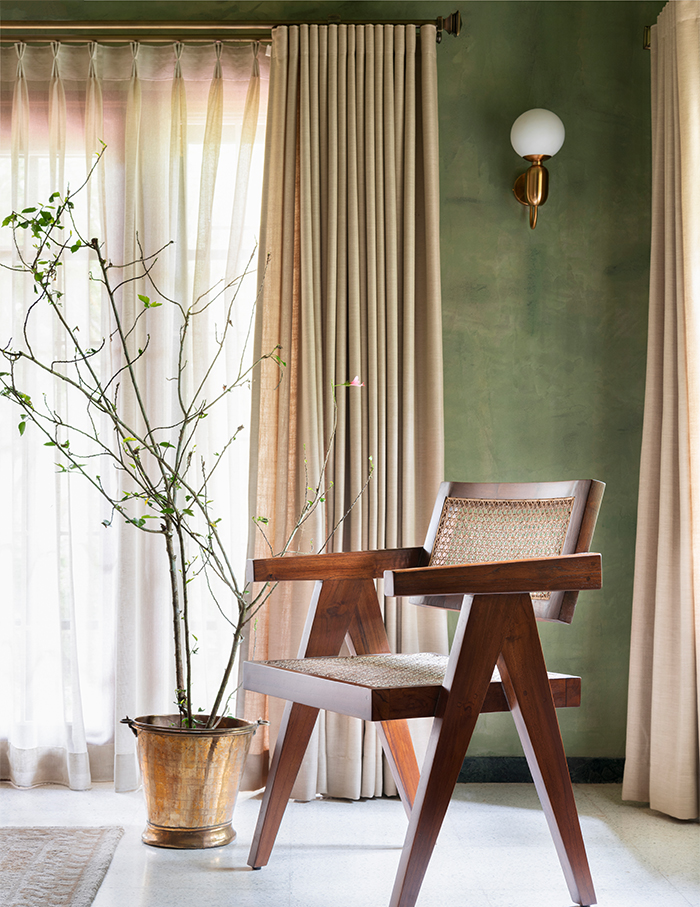 Fortuitously, the pots, plants, brass buckets and other accessories, belonging to the client, help orchestrate the diverse space together. In place of the room's modest light fixtures, we installed romantic, art deco inspired wall lamps.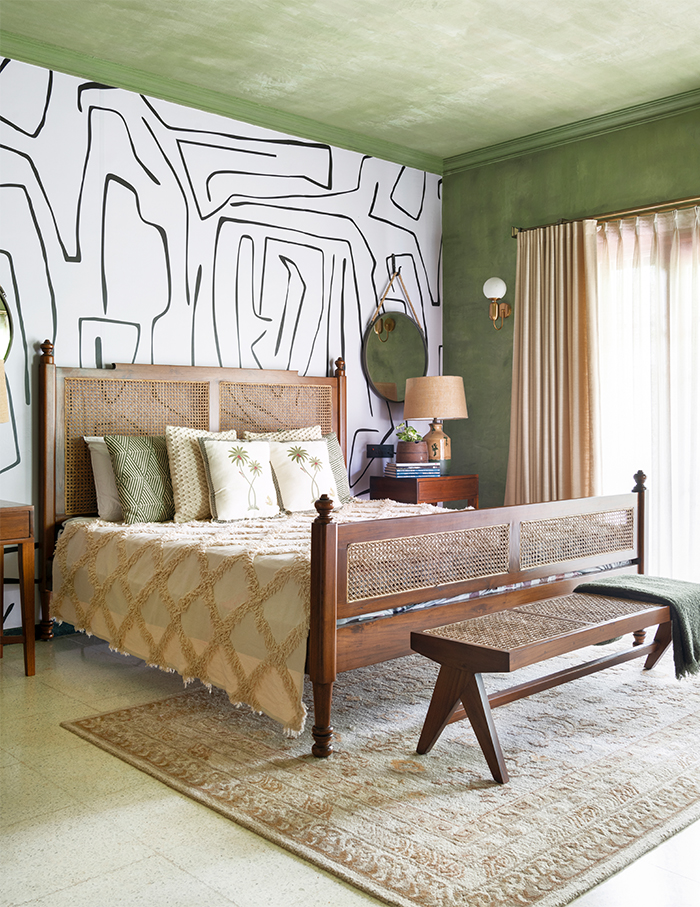 All the furnishings—from the handsome wicker and rattan cot to the stately highboy night stands, from the console near the circular mirror to the Pierre Jeanneret chair—have been designed and customised by Aanai Studio in Bengaluru. Meanwhile, the neutral-hued curtain fabrics that filter in light and match the palette are by Kozhikode-based Art Legends.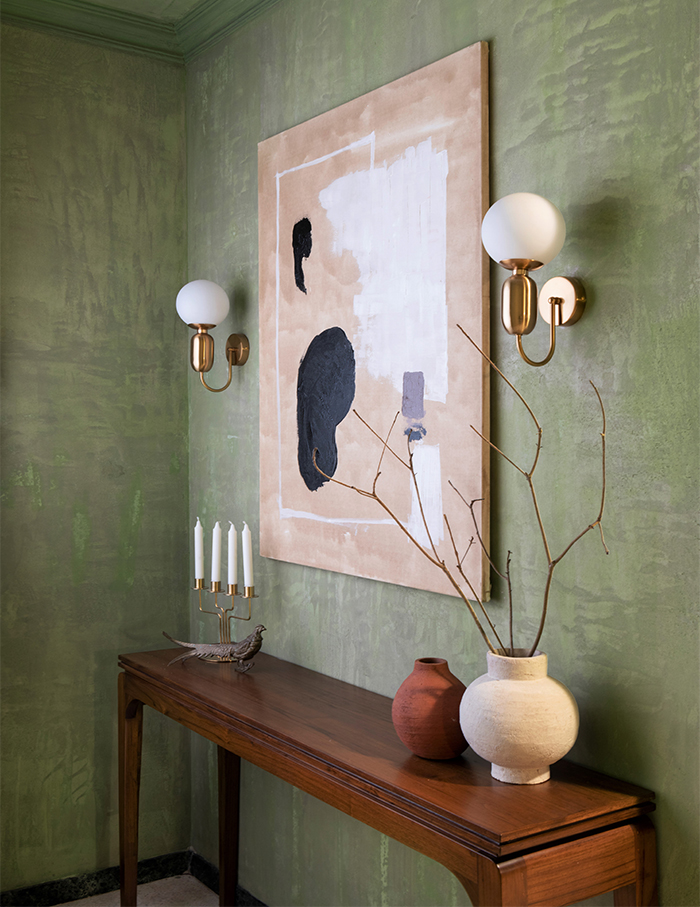 For anyone who wants to bring in a dash of nature into their washrooms, we recommend bathroom landscapes. This new trend is exactly what it sounds like…a pure, sun kissed bliss! We also placed plants in the shower area to add visual interest to the space.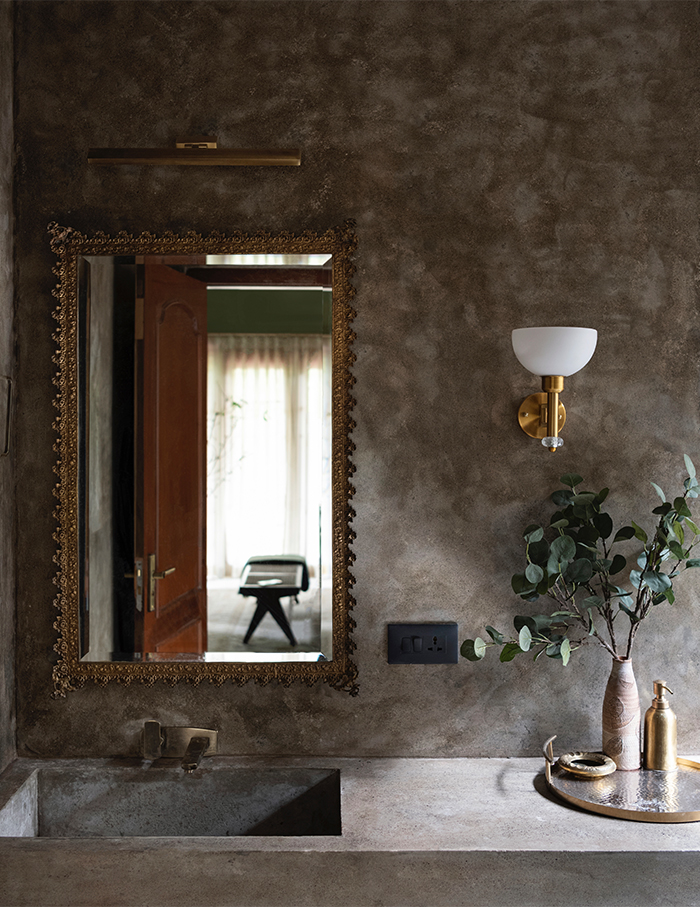 An intricately detailed brass mirror, sourced from a local antique store in north Kerala, steals the show. Cement and concrete surfaces, which is what we went for, look best alongside warmer tones like brass and inviting organic materials such as textured linen. Together, this play and juxtaposition of colours and materials helped shape a vibrant cove.