Homes
Explore Kavita Nair's home in Goa that's designed by Shonan Purie Trehan of Labwerk
AUG 17, 2020
| By Aneesha Bhadri
A stone's throw from the beach, in a landscaped plot surrounded by vast swathes of paddies, lies Anjuna Fields, Kavita Nair's home in Goa, where an old well and a thicket of coconut trees sit in the backyard.
This serene and sustainable home designed by Shonan Purie Trehan of Mumbai based Labwerk celebrates tropical Indian architecture. The creative—who was introduced to Nair by ELLE DECOR India's Editor Mrudul Pathak Kundu—engaged in an enriching dialogue with the homeowner over the building of this space.
The C-shaped house accommodates an open courtyard at the back, and is enveloped by landscaped gardens developed using organic resources and leftover building materials. Using it as a central social space, the layout unfolds in a slow and fluid fashion, opening up to rolling grasslands— bringing to mind traditional, native homes of halcyon days.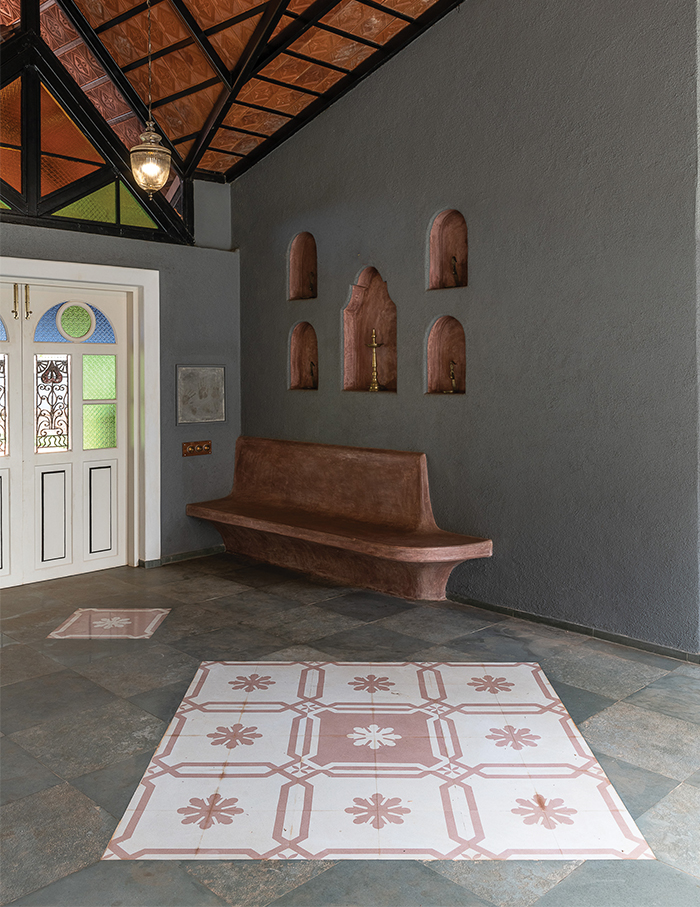 The courtyard garden, where Nair grows vegetables, fruit and herbs, slopes towards the sprawling fields. A gazebo supported by reclaimed granite columns lies next to a pool. Nearby is a guest cottage with a facade of reclaimed windows and doors, some with antique stained glass panes.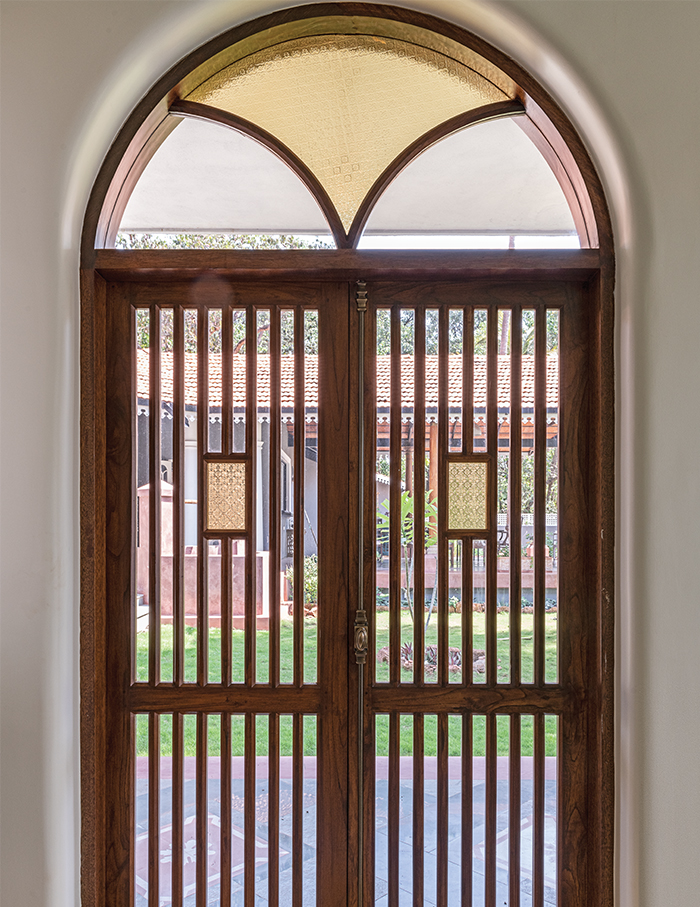 The porch leads to an entrance foyer that overlooks the well and the verdant courtyard. Below a series of wall niches, an inbuilt seat allows the foyer to be used as a transitional space. On either side of the atrium are the living room and kitchen. Accessed from this point is an alfresco dining pavilion, which lies under the shelter of a sloping tiled roof supported by reclaimed teak columns. The chequered Kota and Kadapa floor, timber cabinetry and wood trusses make the indoor kitchen a vibrant and warm space. Also on the ground floor are two bedrooms and a studio on the left—surrounded by deep verandahs that allow seamless indoor and outdoor gathering zones, perfect for hosting soirees. The exuberant studio, with its own lounging space, has a private verandah that leads to the pool.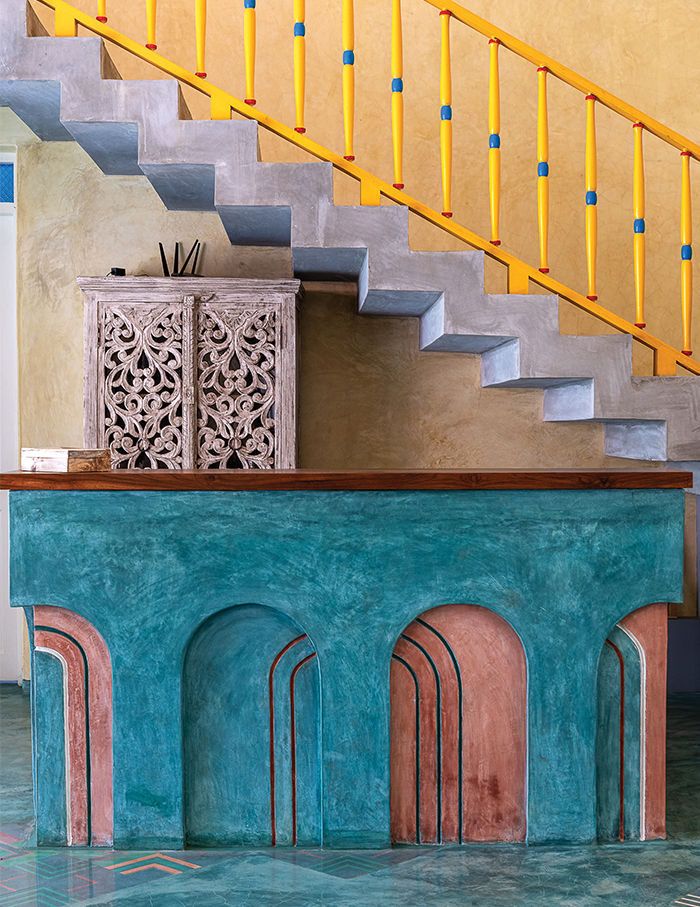 Verandahs made using natural stone in varied textures form seating zones, private workspaces, reading nooks and a dining pavilion. The home is dotted with transitional spaces that feature inbuilt seats finished in pigmented cement, encouraging a restful pace. In the living room, a staircase with a reclaimed canary yellow railing leads to the private quarters on the upper level.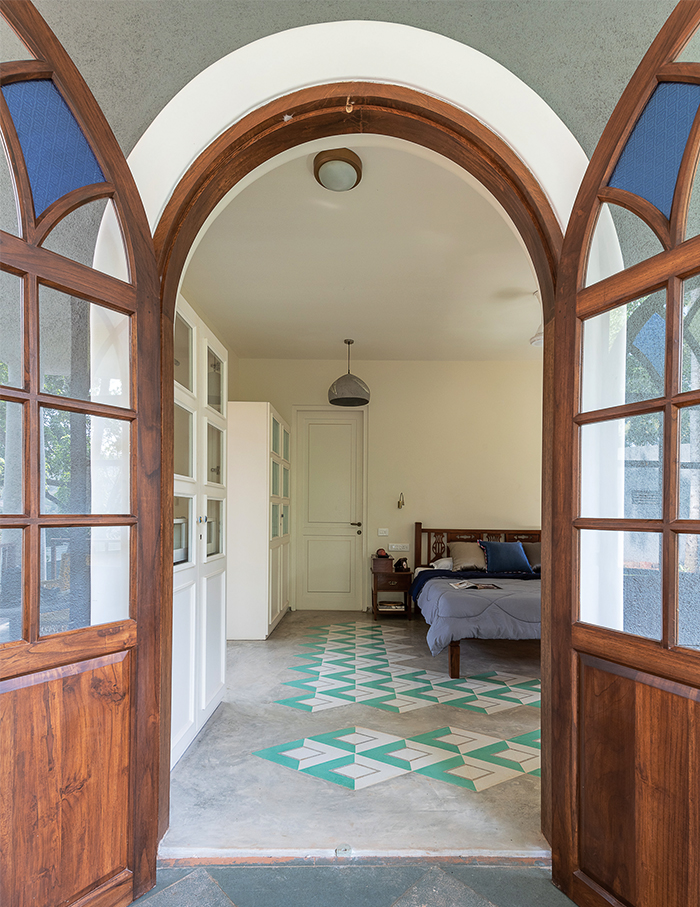 "It became important to find a design voice that was tropical, Indian and current," the designer says. The schema of the sprawling house is quintessentially inspired by indigenous structures. "We wanted to pay tribute to conventional homes of Kerela, so we travelled to Jew Town in Kochi to source timber columns but we came back with so much more," enthuses Trehan. Over 20 columns in timber, some in granite, reclaimed windows, birdbaths and even a baby plantation chair, not to mention an entire assemblage of windows and doors that come together in a quaint yet contemporary setting.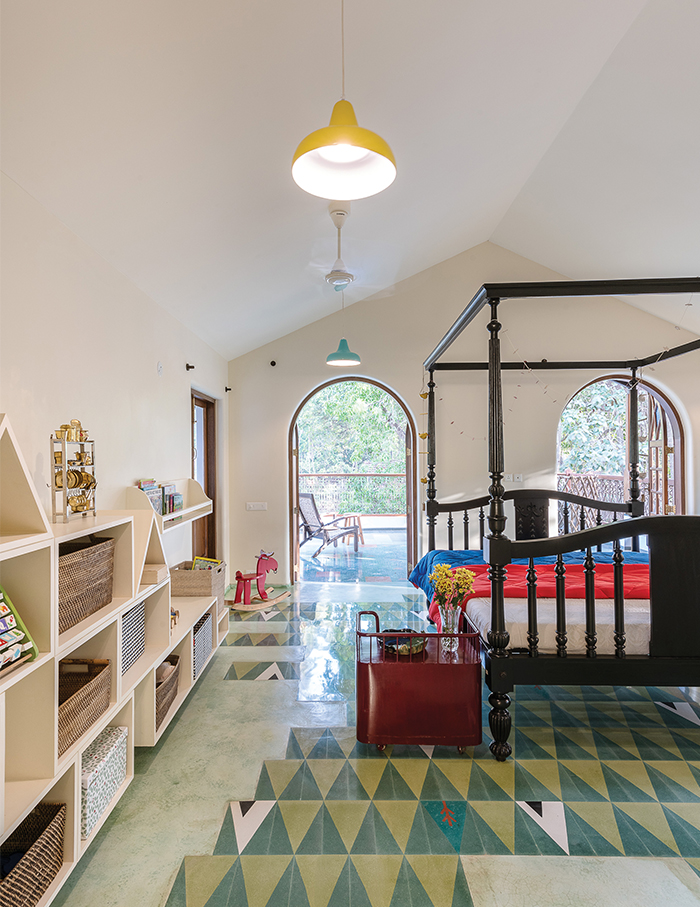 The sloping, double-layered roofs provide insulation and route rainwater to the well. The windows—a combination of teak arches and stained glass shutters, along with reclaimed antique frames— allow abundant cross ventilation. The resulting material palette suits the tropical climate and references vernacular architectural elements. Constructed using local laterite blocks, the home is furnished with naturally pigmented, polished cement floors. In fact, Nair's love for colour manifests in the different bespoke handmade cement tiles. The furniture is an eclectic curation from antique markets and fabricators. Sofas are from Gulmohar Lane, while the antique beds, chairs and tables have been sourced from Kochi and Delhi.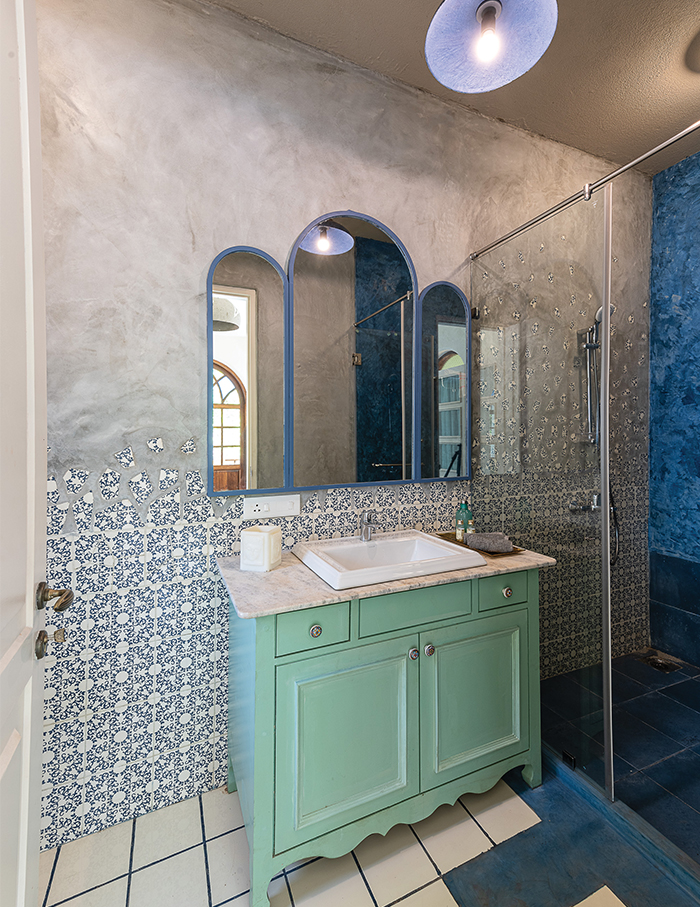 This Goan project is a wholesome and rustic yet modern construct of the found and the handmade, where sheltered spaces interact with the natural landscape. One can imagine ending the day on the planters chair on the verandah to the music of cicadas and birds, while a sea breeze sweeps through the lush paddy fields and the setting sun lights up the sky in a warm, peachy glow.