Homes
Jude D'Souza of JDAP crafts a light and airy, wooded wonderland for himself and his rescue dog Aazad
APR 17, 2021
| By Kavya Joshi
This apartment is special for two reasons—it's the first home that Jude D'Souza of JDAP purchased for himself and that the focal point of this new pad is his seven-year-old rescue dog, Aazad.
Structural changes have been made in this 700 sq ft home to open the kitchen up to the living room. And this involved getting creative around the provided layout of the kitchen. 
The architect shares, "The idea behind its design is to create an authentic abode that accommodates and celebrates the moments and activities of a home through subtle and refined moves in space."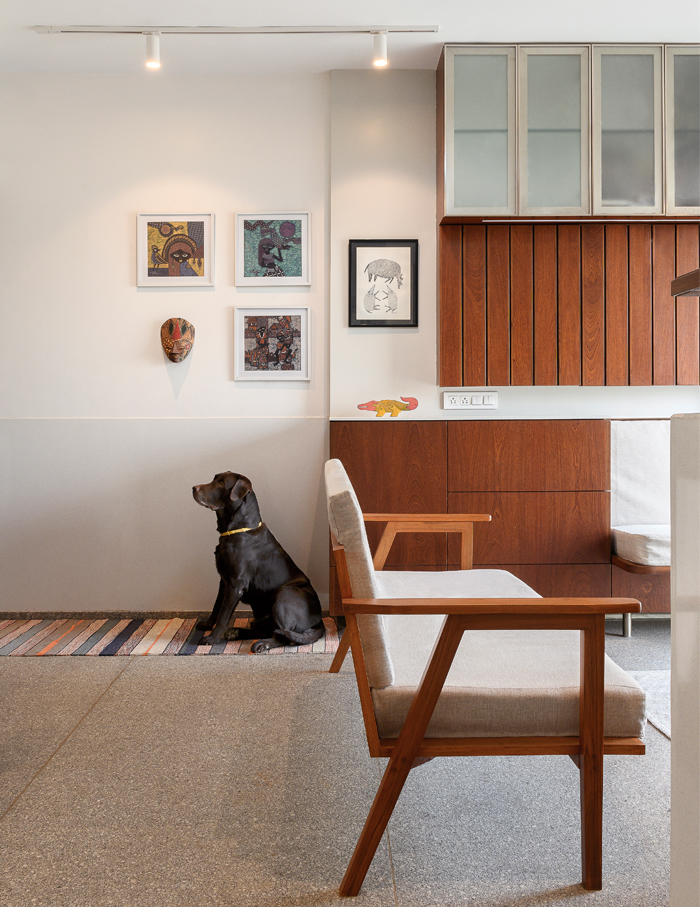 In this north-facing house, the colour palette takes advantage of the diffused natural sunlight. So, whites, light greys and transparent blends with warm woody surfaces serve as highlights. All of these shades are derived from the material being expressed, creating a background for a number of artworks.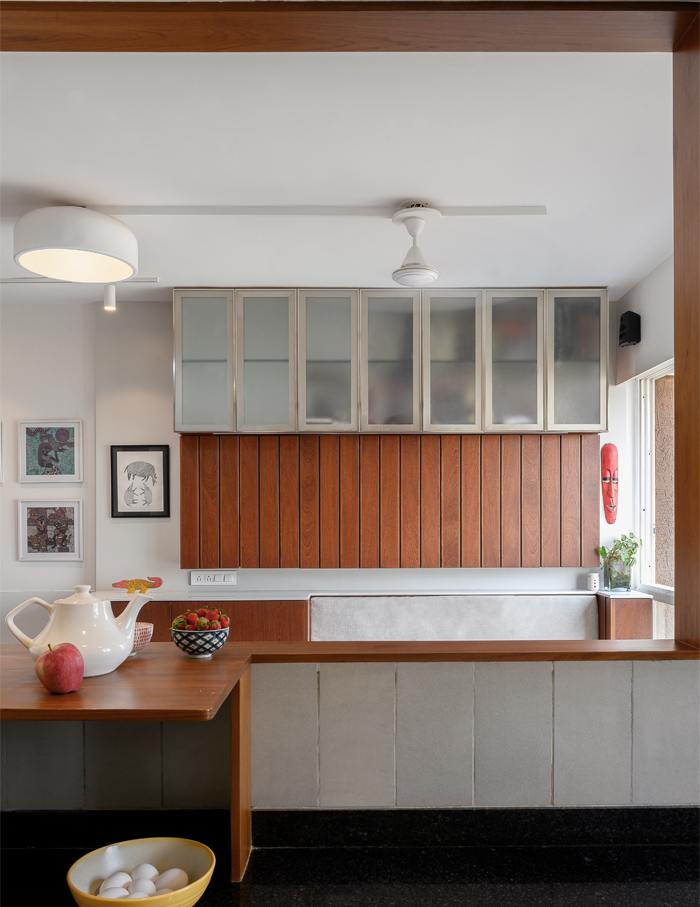 This colour palette gels well with the theme of the house, which inculcates a sense of unity within. This is a conscious choice. In compact spaces, subtle and simple designs are appreciated, rather than a loud or cluttered setup.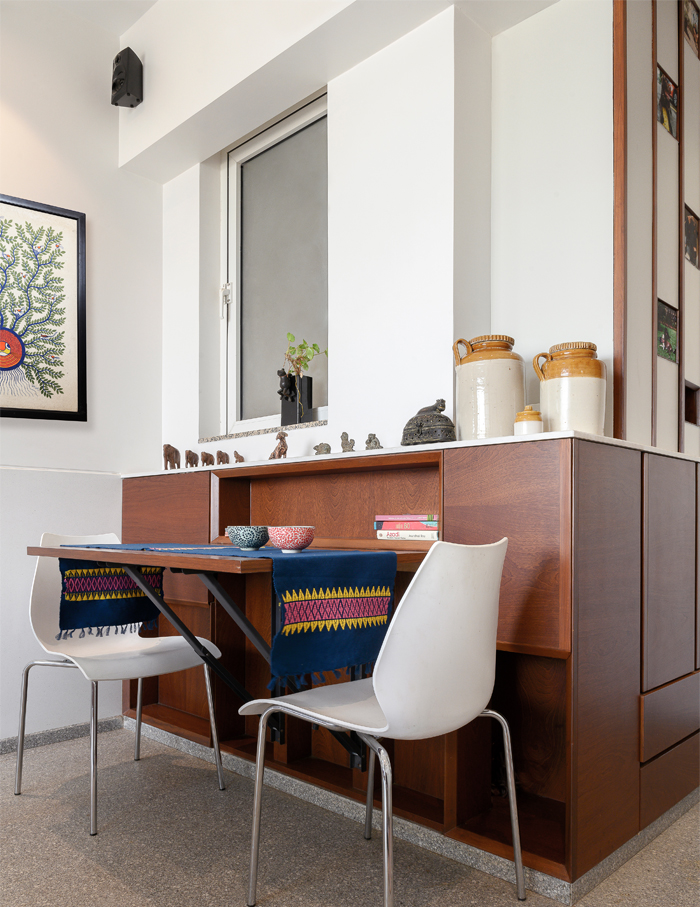 The main entrance is followed by an alcove, where soft grey balances well with timber accents and a mahogany-finished counter that has a white marble top. On the wall are canvas prints of Aazad's portraits. These are inserted into the storage unit with concealed handles.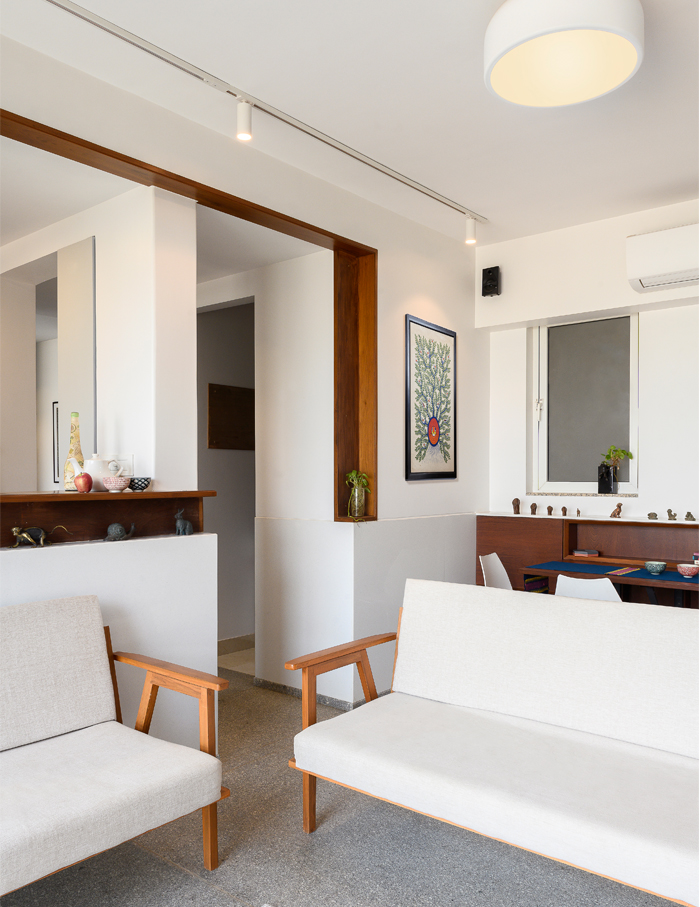 The living room extends to the fully glazed wall and offers a view of the hills from the windows. Considering that D'Souza and his partner have several friends with pets, he designed the living room to be as open as possible, with an abundant flow of natural light, for pet-friendly social gatherings.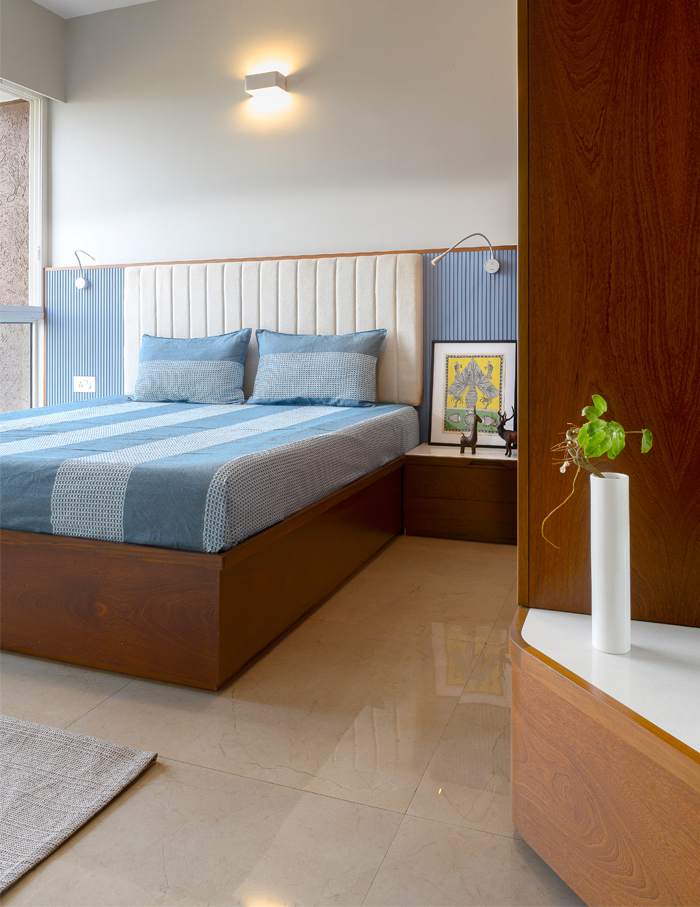 The living room's long wall—opposite the kitchen—holds a floor-to-ceiling, multifunctional unit. It serves as a TV unit, bar counter, library and seating nook. When the family chooses to watch television, the case's vertically panelled surface swings open. And when closed, the unit serves as a warm backdrop in the room.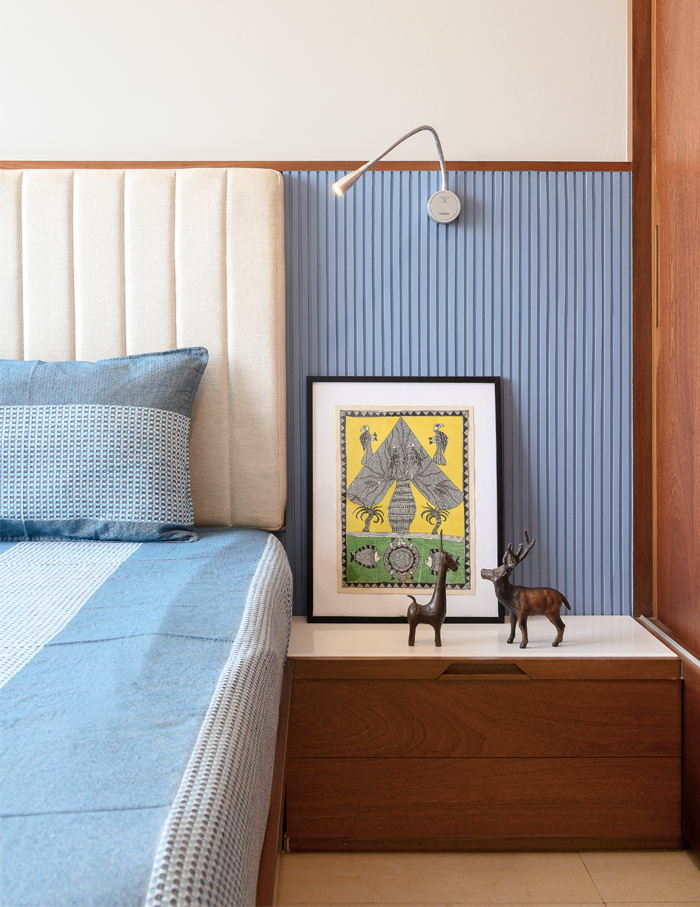 An open frame leads to the kitchen that uses an abundance of polished Burma teak. It widens at the corner to form a serving ledge between the kitchen and the living room. 
Framed, indigenous artworks are seen across the home. These are part of the family's collection, gathered and commissioned from all over southern Asia. "Designing for one's own family is a reality check for any architect! It is also a litmus test on what one really values in design," concludes D'souza.