Homes
Jokes a-part: Only Design captures the homeowners' jolly personas in this unabashedly glam punk apartment in Russia
AUG 22, 2020
| By Aneesha Bhadri
Walls covered in blown-up illustrations from a book bought in a Parisian flea market, a portrait of Alexander Sergeyevich Pushkin resplendent in a Louis Vuitton bomber, a table made of beer cans and Beavis and Butthead cartoon imagery in the bedroom—this apartment is anything but ordinary.
Located in a 1950s building, the 600 sq ft home by Prohor Mashukov and Olga Sedova of Only Design studio embodies Russian humour. "The first meeting itself revealed the absolutely cheerful and creative nature of our clients, who constantly joke, like to laugh and appreciate a relaxed atmosphere," says Mashukov.
He adds, "They are connected with the world of fashion and love to receive guests, so they wanted to have a separate dressing room and a spacious lounge for parties. Olga and I decided to reflect their excellent sense of humour in the project, so the concept of the interior was built around jokes, which are mostly Russian," says Mashukov. The duo roped in stylist Natalia Onufreichuk to help bring this narrative to life.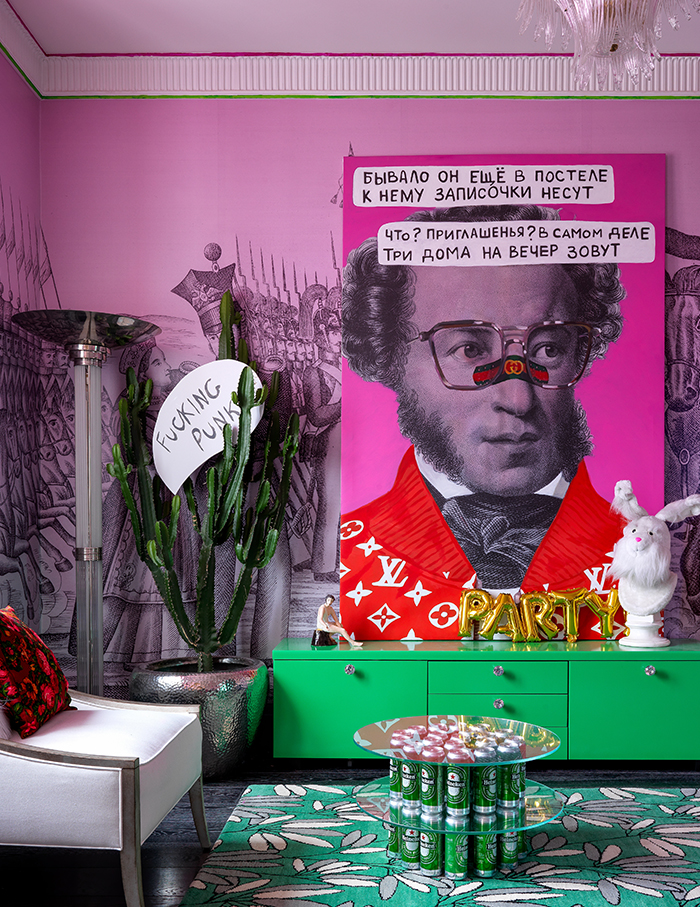 It all started with the choice of wall coverings—Mashukov and Sedova used popular prints out of a popular literature piece bought in a Parisian flea market. Part of mass publications primarily aimed at peasants, the books include large black-and-white pictures accompanied by a short humorous write-up. "Out of 50 gorgeous images—girls braiding their hair, a bear dancing to an accordion, etc—we scanned and enlarged some of them to create wallpapers," explains Sedova.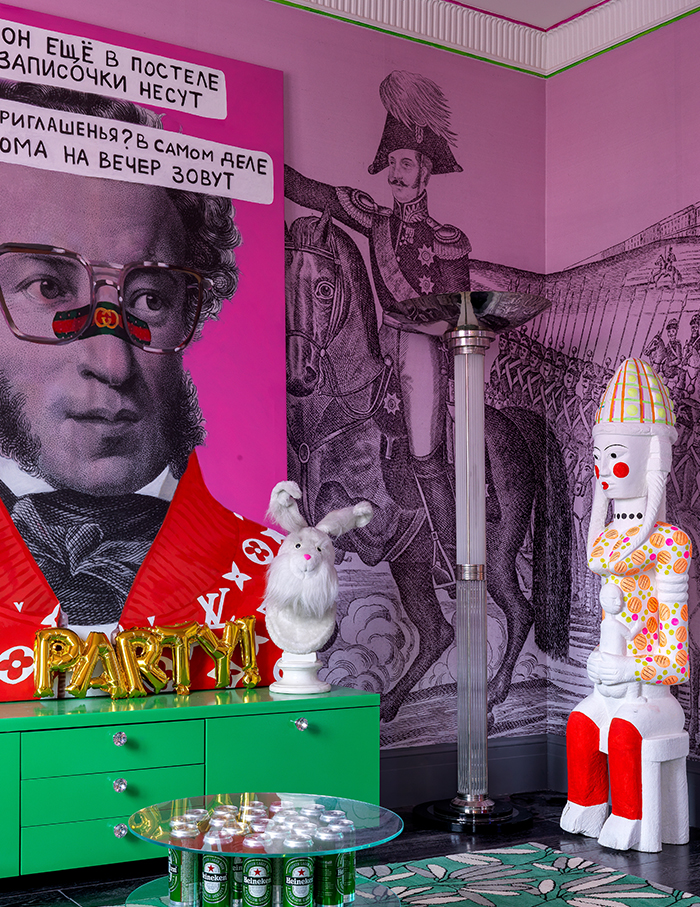 Another humorous quirk is a wall accent in the spacious living room—a portrait of Alexander Sergeyevich Pushkin dressed in a Louis Vuitton bomber. It alludes not only to the renowned Russian writer's reputation of being a famously modish dandy who attended many social receptions but also his work that was often rich in classic Russian irony.
The table in the living room is another quirky piece with a base made using beer cans, along with a striking African wooden statue painted under a Dymkovo toy. A reflective sticker for car headlights is seen on the glass inserts in the living room door. And curtains made of waterproof fabric for raincoats cover the windows, while decorative pillows fashioned out of fabric scraps furnish the kitchen.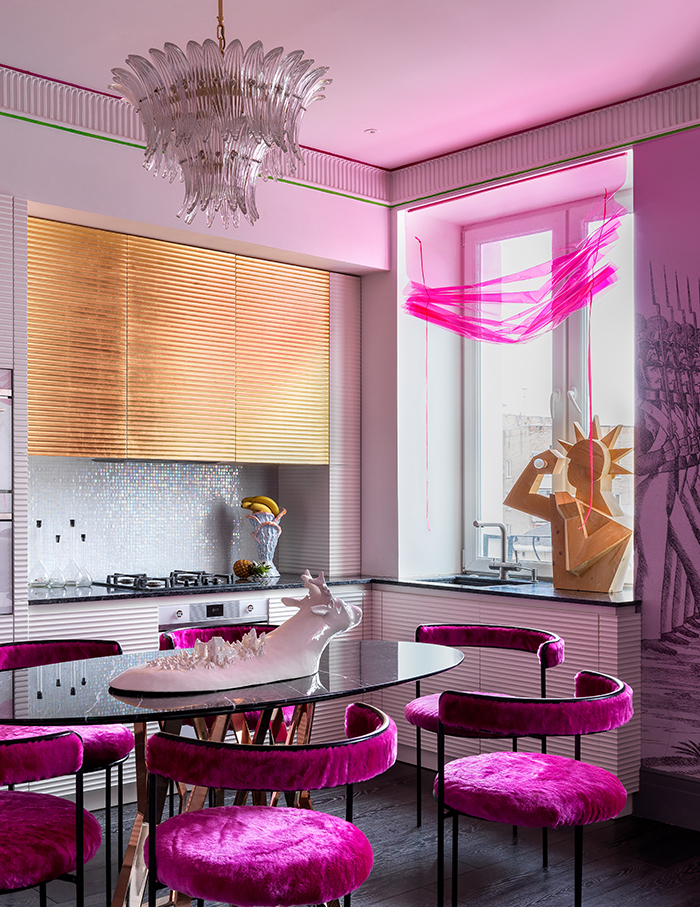 "The owners of the apartment are not afraid to experiment, so we were able to play with a bright colour palette and elements of their favourite punk, which they interpret as the spirit of inner freedom. Perhaps the most recognisable creative design was the area by the fireplace. Eschewing candles, we went in for red lighting instead," says Sedova.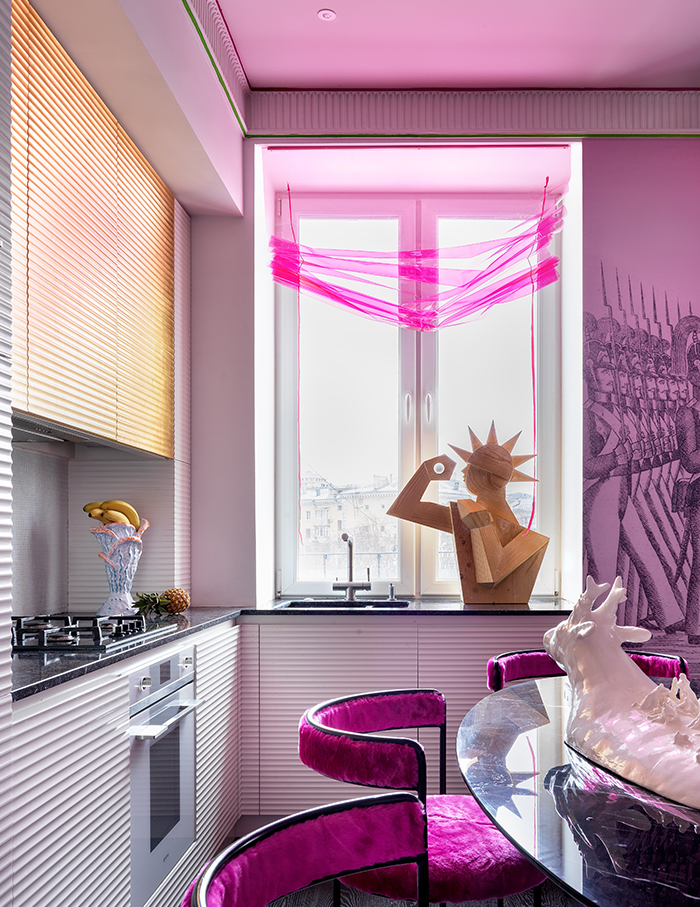 Contemporary art is seen throughout the apartment. Niches in the bedroom, beside the fireplace, hold sculptural pieces by Yuri Horovsky. Works of contemporary artists such as Rostan Tavasiev, Tatyana Antoshina and the art group Blue Noses are seen in other rooms. "Speaking to the clients reminded us of the cartoon series Beavis and Butthead, so we fashioned an installation with the image of these characters in the bedroom," smiles Mashukov.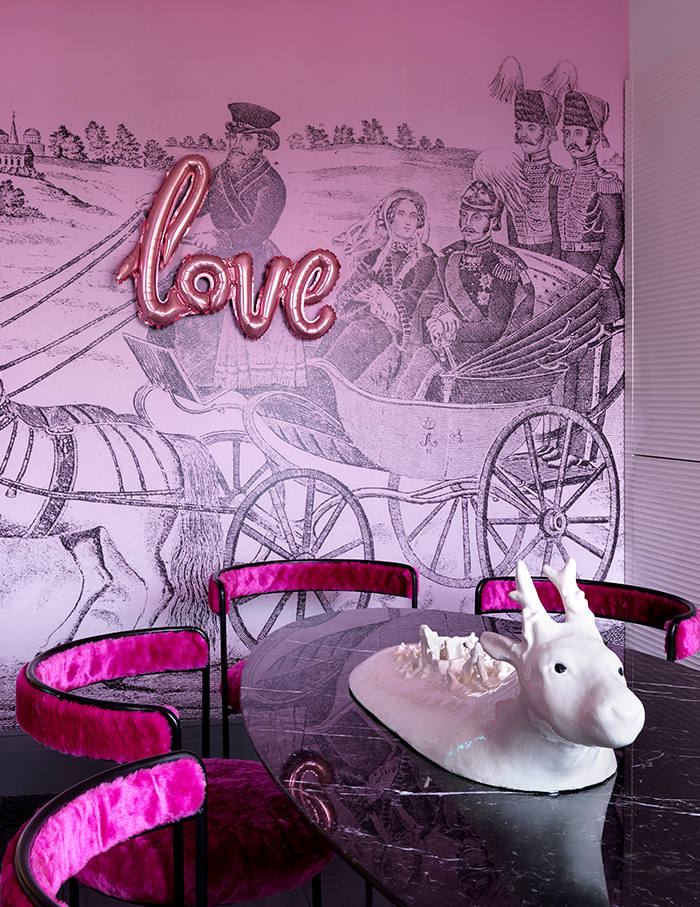 "There are always a lot of historical allusions in our works, we like to tweak images from pop culture and classics, and remake Soviet artefacts into furniture. This style is usually in demand among cafe and restaurant owners but it also works for those who love a crazy and fun home," adds Sedova.
Scroll below for more images of this kaleidoscopic Russian apartment by Only Design studio…