Design
IOTA's Everyroom x Anyroom premium furniture series is a beautiful amalgam of sophistication and classic elegance to its very core
NOV 17, 2022
| By Ishika Paruthi
A house without furniture is like a barren canvas waiting for realising its own beauty. A home sans classy furniture affords no comfort to its owners. Besides, it looks dull and cheerless. An empty space is like a blank canvas waiting for you to fill it up with furniture and bring it to life. Furniture plays an essential role when it comes to re-doing one's space at home or at work. The determinant factor of space plays a pivotal role in deciding what furniture goes into a certain space. At times, one likes the furniture design but the space one has does not allow one to accommodate it. To effectively address this issue, IOTA's new furniture collection with the name "Everyroom x Anyroom" lets you have your choice of furniture without having to worry about space constraints.
As IOTA continues its evolutionary journey as a relevant brand that resonates with furniture enthusiasts, it becomes a must-visit one-stop shop for everyone. IOTA has had an amazing transition from being a family-owned timber shop to now being a boutique store. Founder, Namit Ajmani ensures that the store boasts elegant and timeless pieces including designs from global heavyweights such as Ligne Roset, Kartell, Arosio Milano, Innovation Living and many more.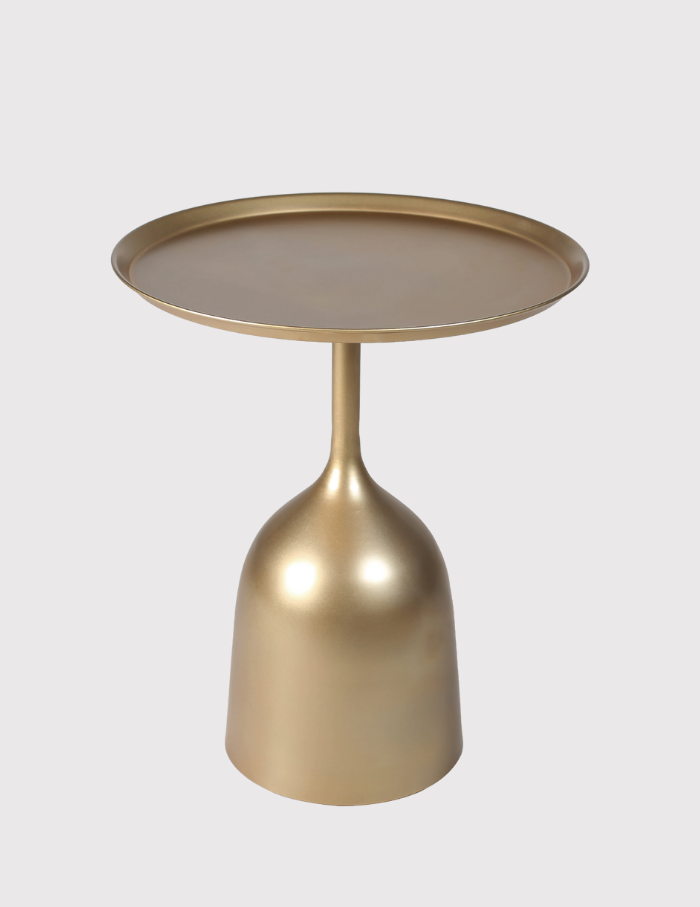 Bloom is an everywhere and anywhere side table meant for accenting any interior space. Available in an anodised gold finish.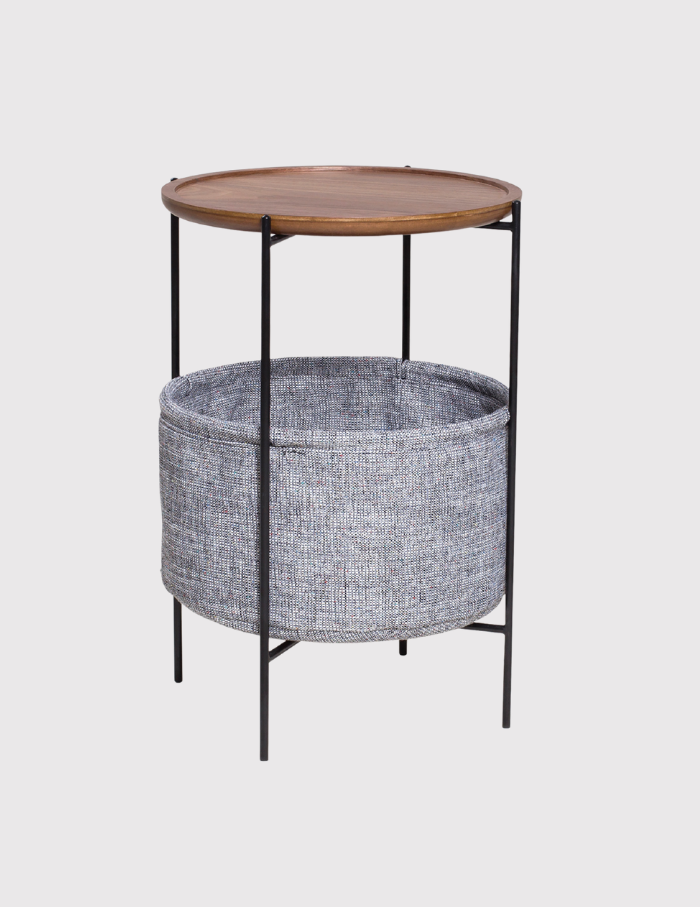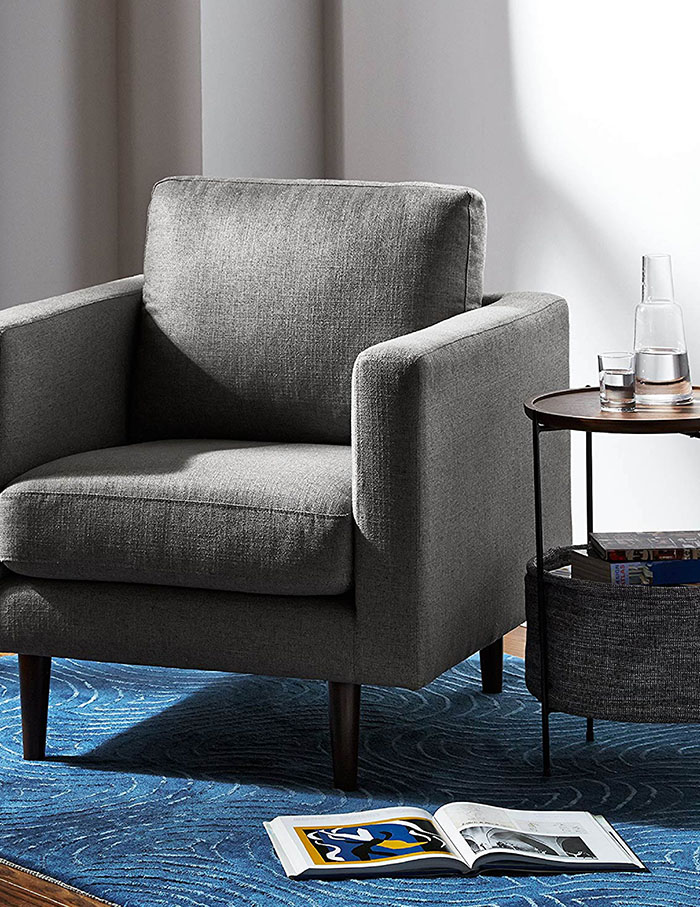 Motion is an everywhere and anywhere mobile side table meant for accenting any interior space! The additional fabric open basket provides ample storage space underneath the table.
 HOURGLASS: Coffee and Side table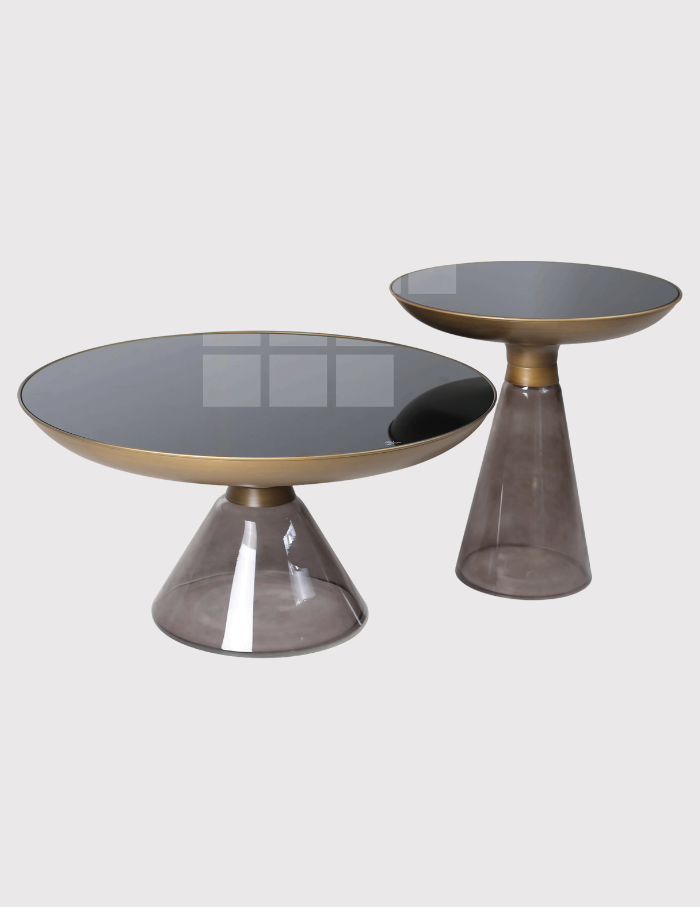 The "Hourglass Table" by Sebastian Herkner turns our perceptual habits on its head, using the lightweight, fragile material of glass as a base for a black tinted glass framed in solid brass that seems to float above it. Hand-blowing the traditional manner using a wooden mould, the transparent tinted glass base asserts a scriptural presence in space, contrasting intriguingly with the opaque frame on top while also forming with it a harmonious unit recalling the elegant curving silhouette of an hourglass. Available in grey base.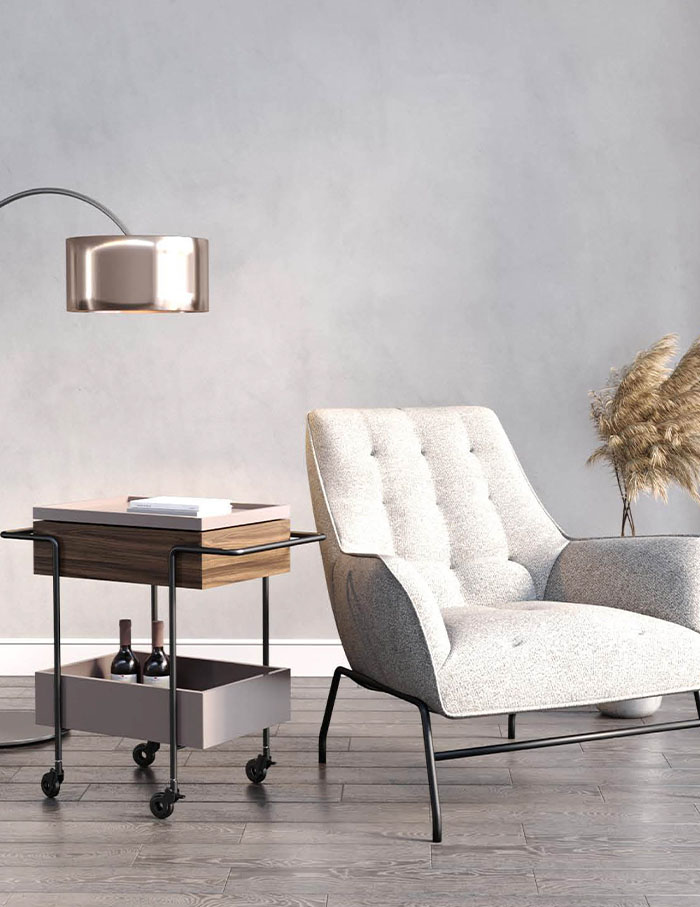 Daniel service trolley is an elegant and immensely practical moving trolley structured in painted metal and walnut wood veneer. The protruding handles at both ends ensure added functional mobility and stability.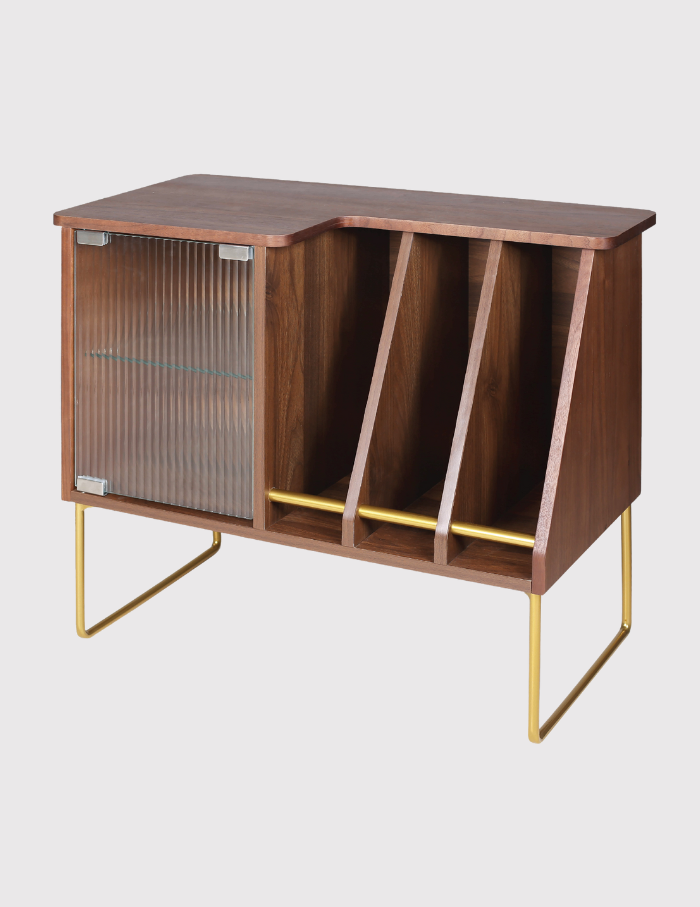 Mini cabinet is a multipurpose storage and décor piece meant for any interior space.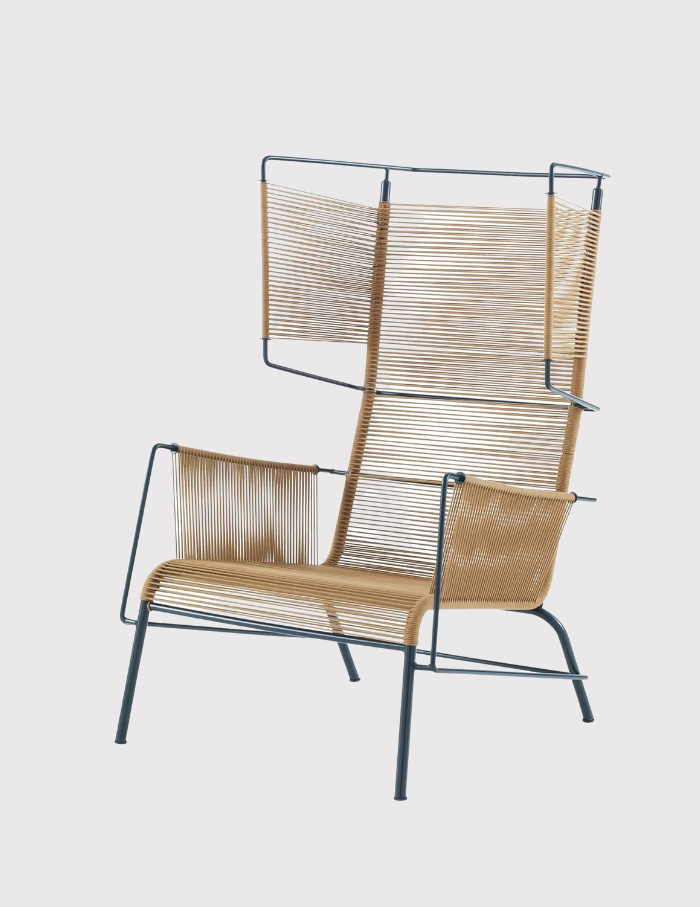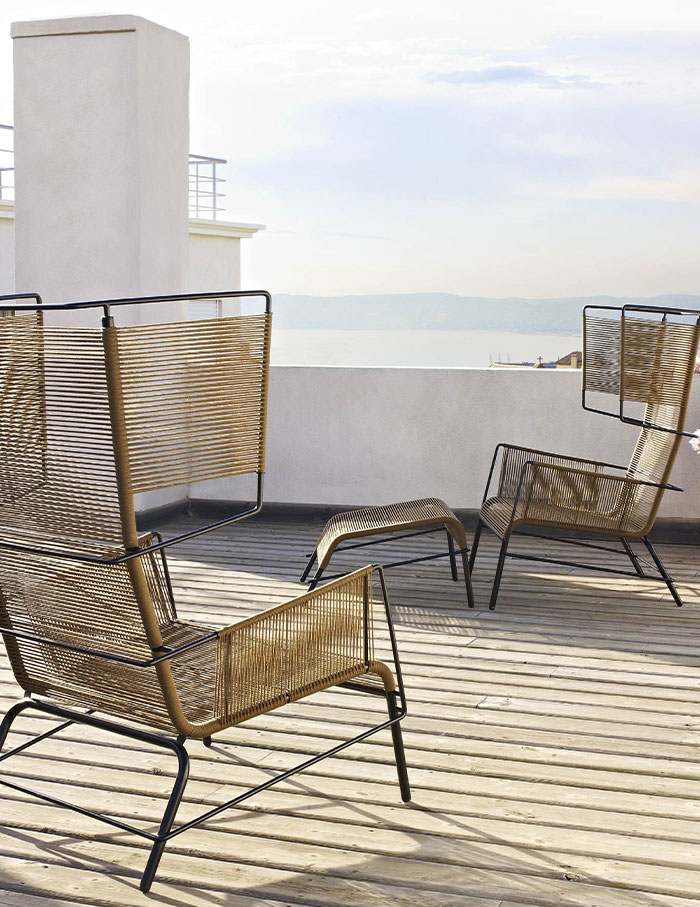 The Fifty armchair gives a sculptural presence indoors or outdoors and will intrigue with its unexpected alliance of the minimalist design of its steel structure and the traditional warmth of the hand-woven cord.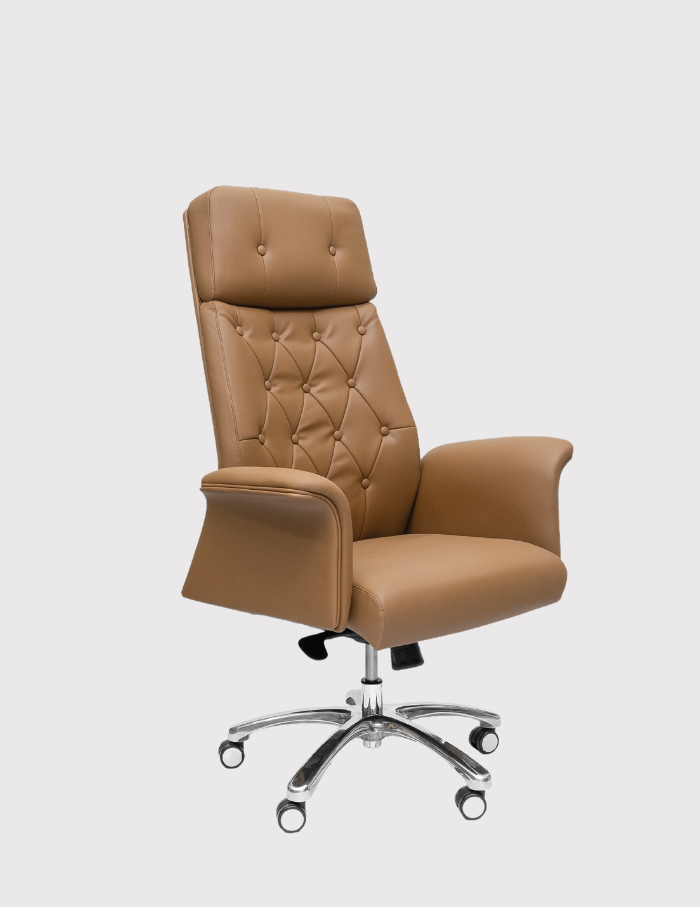 Made of easy to maintain bonded leather with a tilt mechanism and height adjustable gas piston, the Button is elegance redefined.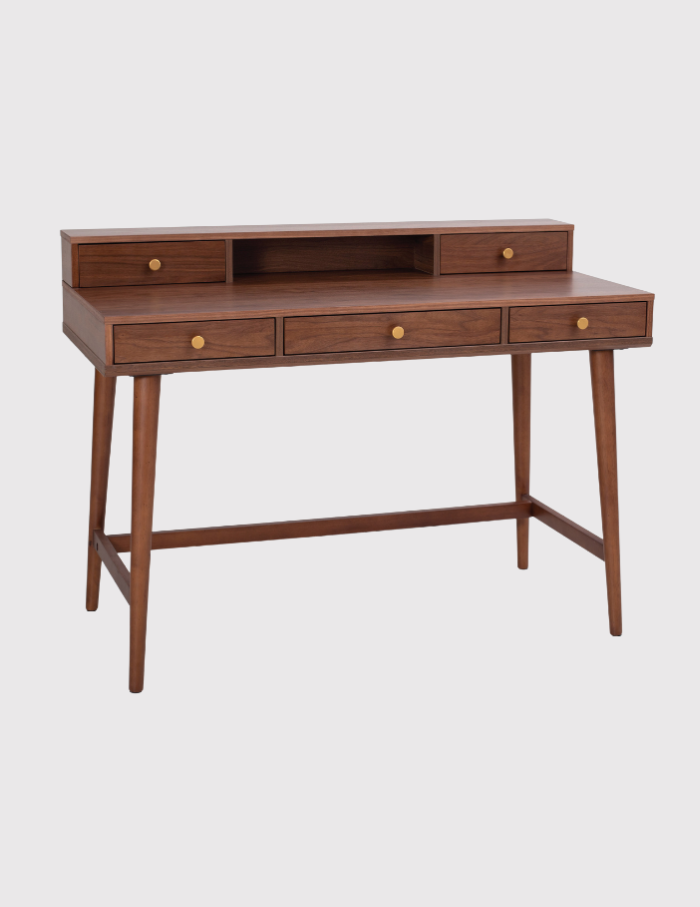 Shane-N desk is a home office table made in walnut veneer. The table has a frontal drawer with a soft close mechanism that serves as a storage unit.
LAGOS: Dining Chair/Armchair/Working Chair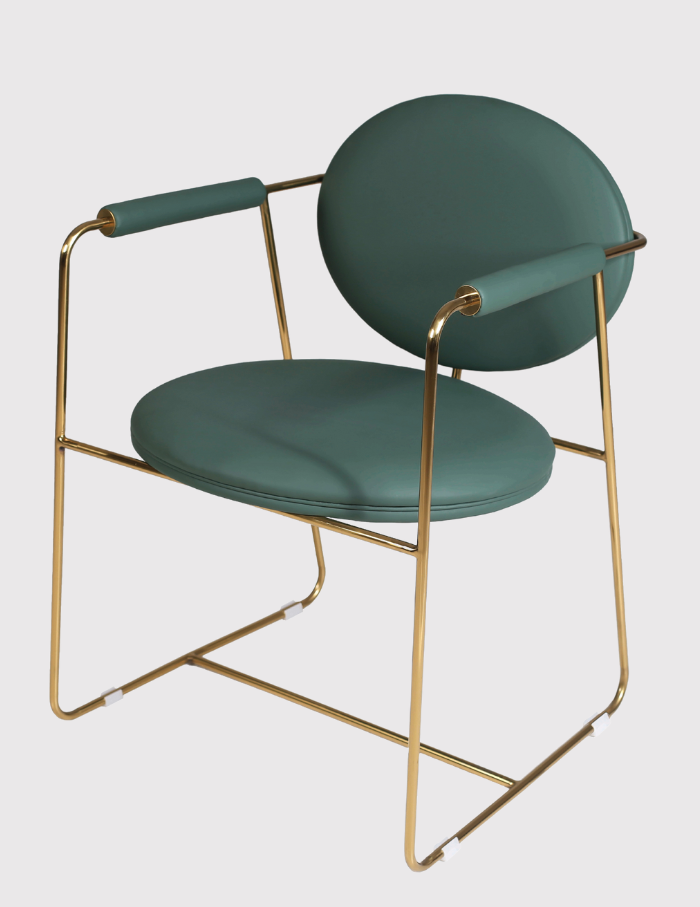 Lagos is an ultra-luxurious chair with armrests; made in anodised steel and bottle green leatherette. The chair can be used in bedrooms or dining areas alike.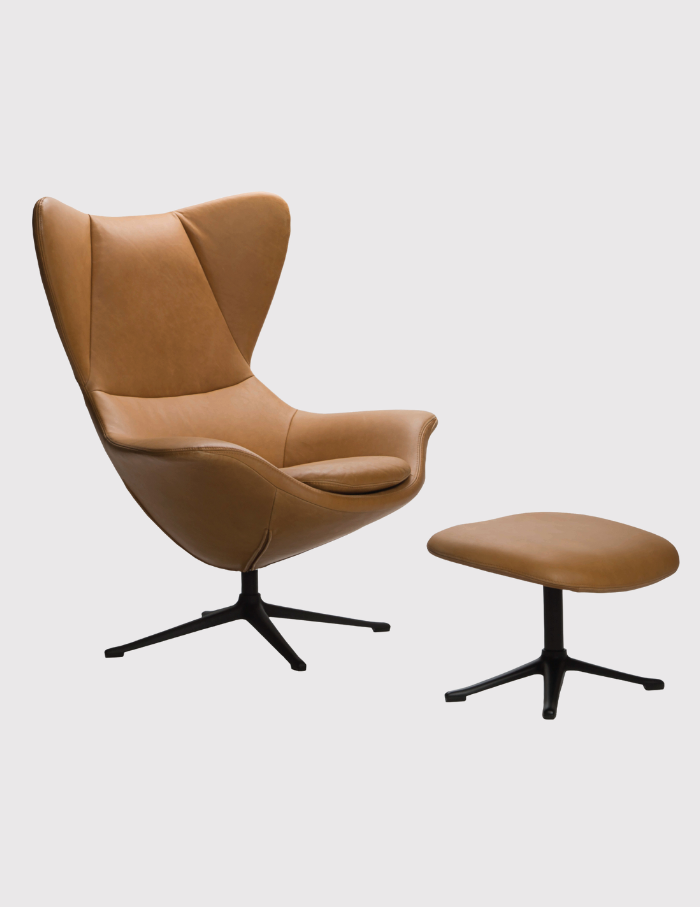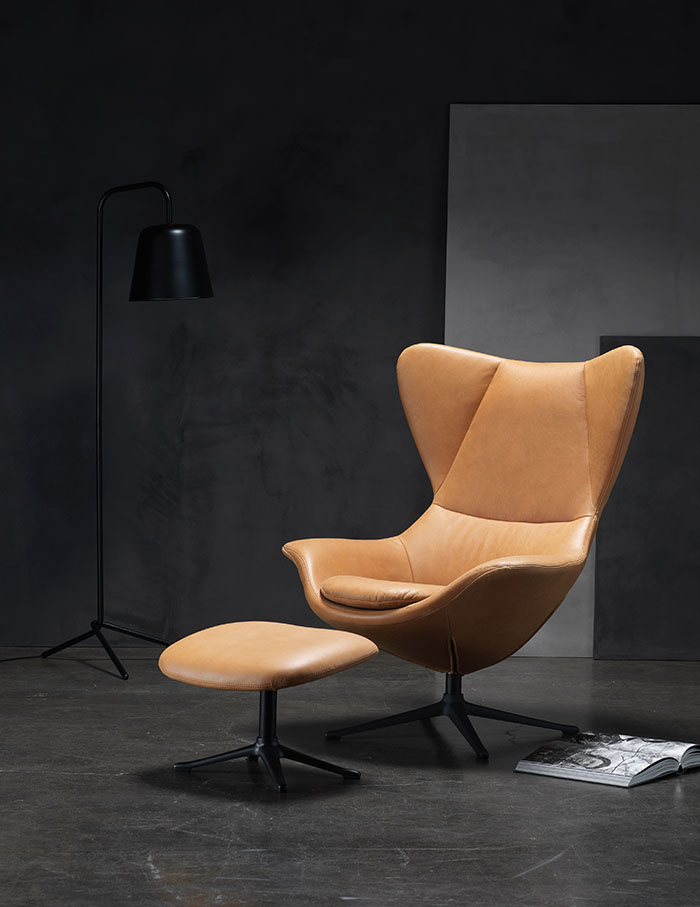 Stilo is a Danish classic yet modern chair dressed to impress. The perfect private escape – inviting you in with its soft flowing lines and feminine appearance. Stilo with its swivel 360-degree feature has pleasant arm pads, good lumbar support, built-in neck rest and good proportions which gives it great comfort.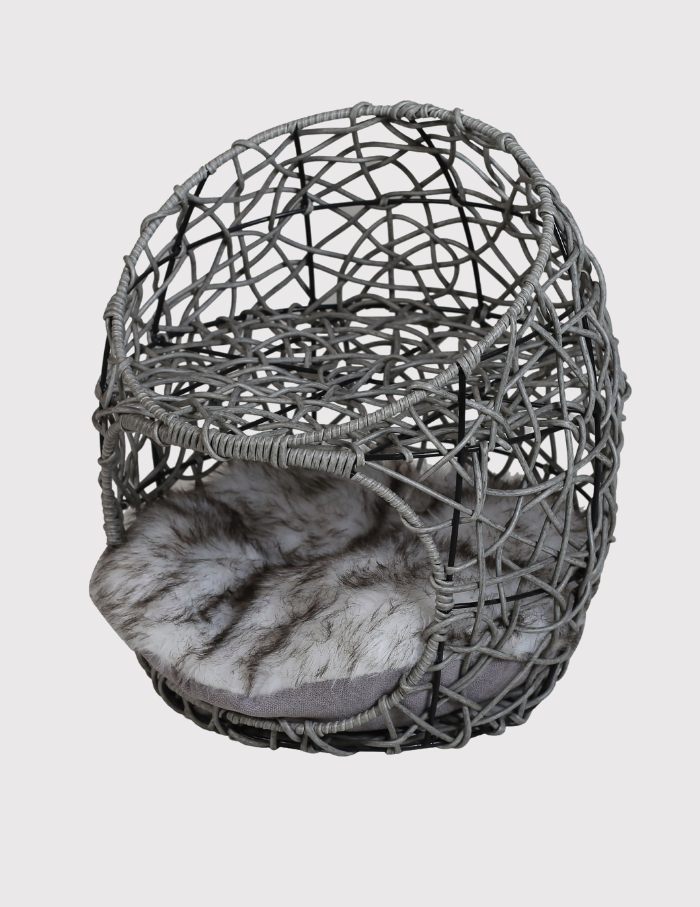 A Pet cage is a resting space for pets at home made of wicker and recycled cotton.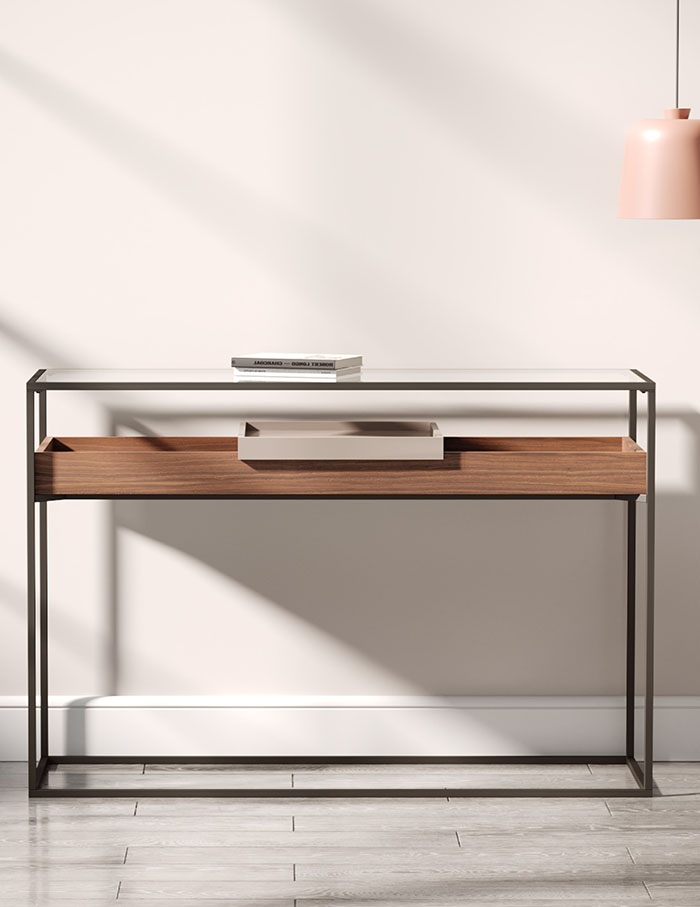 The Gregory Console is a tribute to the Nordic way of life. With minimum styling and maximum utility, the console also has a compartment like storage. It serves a dual purpose of an entrance cabinet and a utility piece!
Vintage: Coffee and Side Table
A side table cum storage cabinet, this is a furniture piece for every interior space. A blend of natural veneer and golden metal legs, Vintage is the epitome of elegance
Smart Table: Coffee and Side Table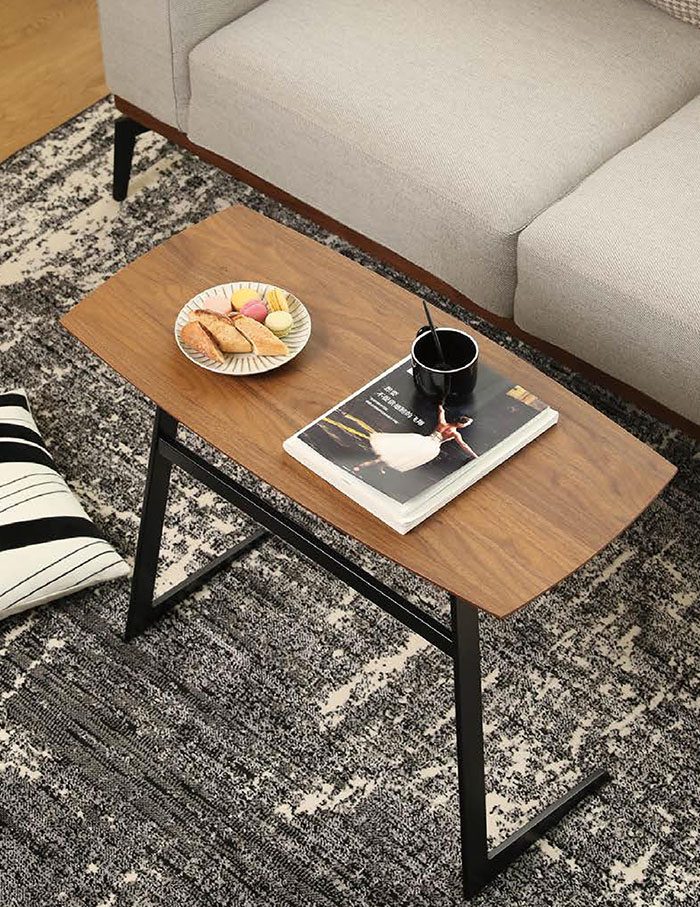 The Smart Table is a multi utility piece of furniture with wooden top that serves as an additional accessory with any type of sofa.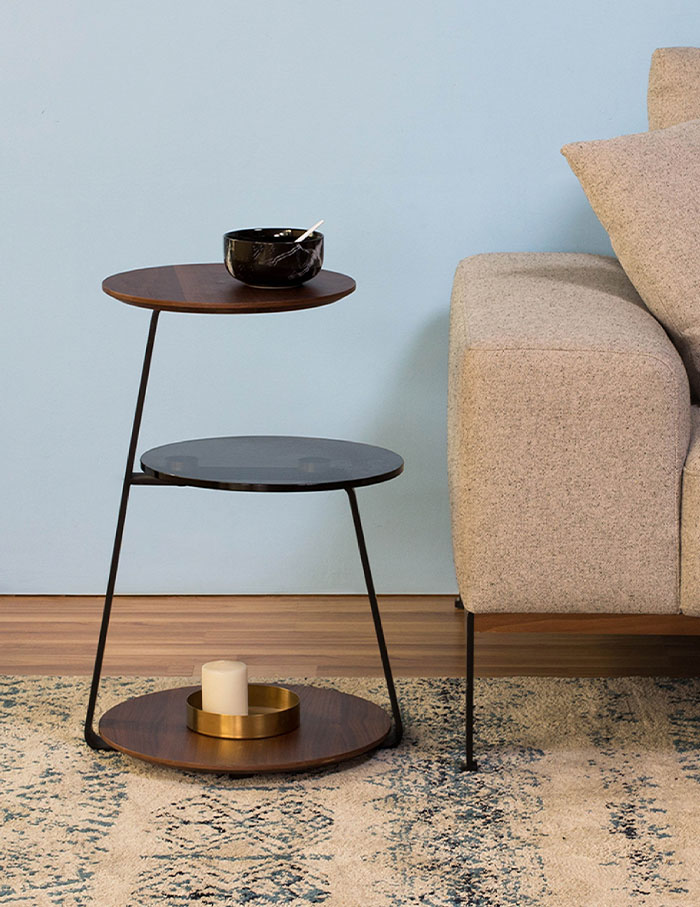 An interplay of two surfaces in wood and glass, the Twin side table merges style with functionality in its very essence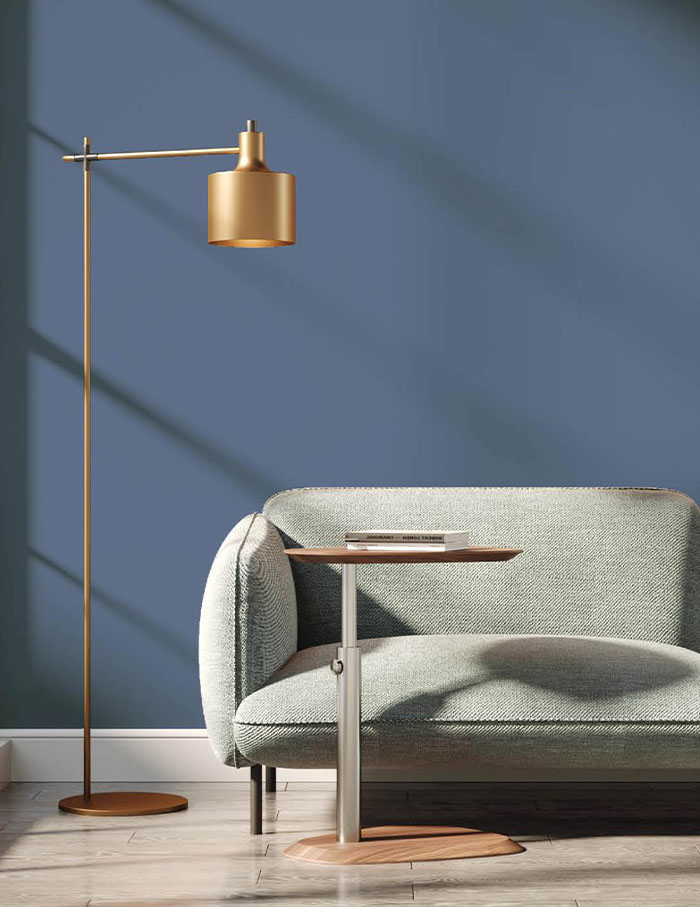 The only side table which can be adjusted in height, it can be used an add on to any interior space and it will compliment it well.
A smart Table collective with a swiveling top on a strong wooden base, Riva is best used in pair for larger spaces.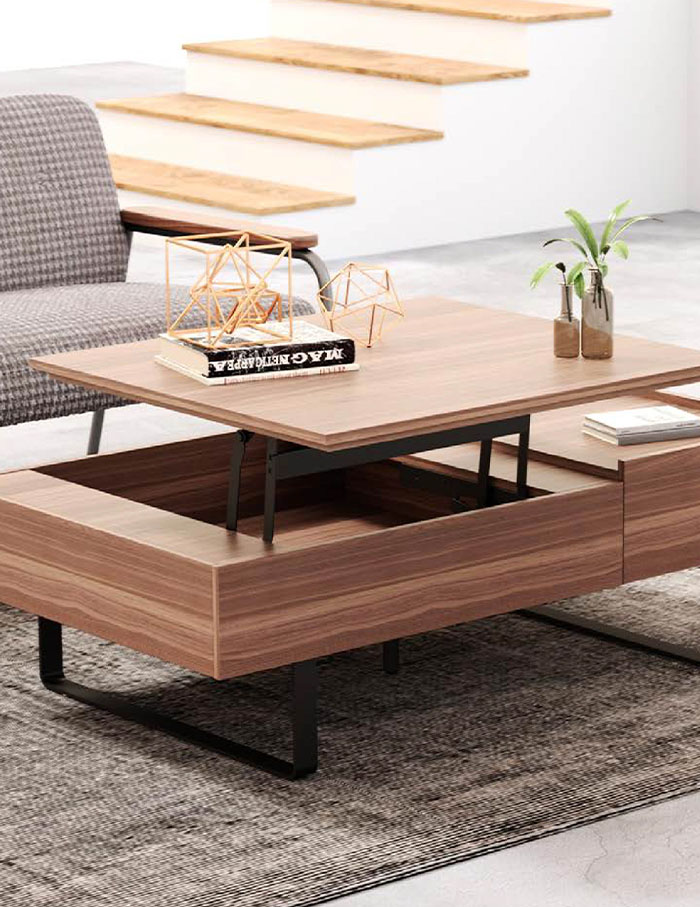 A rectangular table with extendable top and smooth functionality, Jump stands out in any and every living area.
IOTA boutique store is tucked away in the heart of Kirti Nagar- a dreamy outpost where homeowners and design professional come for an experiential service and consultative engagement, you can be one of them. Choosing the right furniture for your home or office not only improves overall beauty but keeps your stress away as well. As a piece of your habitation, the furniture you choose should mirror your identity and taste and IOTA's 'Everyroom x Anyroom' furniture series is the perfect choice for the same.