Homes
Interior stylist Manuu Mansheet details his self-made, "best out of waste" hermitage
OCT 27, 2020
| By Mrudul Pathak Kundu and Manuu Mansheet
My formative years were spent in a palatial British era bungalow, surrounded by historical edifices in a culturally rich area on Ferozeshah Road in Lutyens' Delhi. My parents ensured I was exposed to all kinds of art, music, theatre, dance and naturally, I imbibed all those nuances.
This led to a fulfilling career in the field of space design, visual merchandising and styling. The family home, which was an apartment, was not enough; I needed a larger house with rustic qualities. Since there were no readymade options, I decided to create this haven on my own, from scratch.
With the design, I knew it had to be a home that reflected Indian architectural principles and had a courtyard. Verandahs and a porch were a must, so we've got open-to-sky shower and bedrooms with separate closets and dressers. It had to be organic, and obviously an extension of me. I wanted to explore crazy ideas that might otherwise be too dramatic for my clients.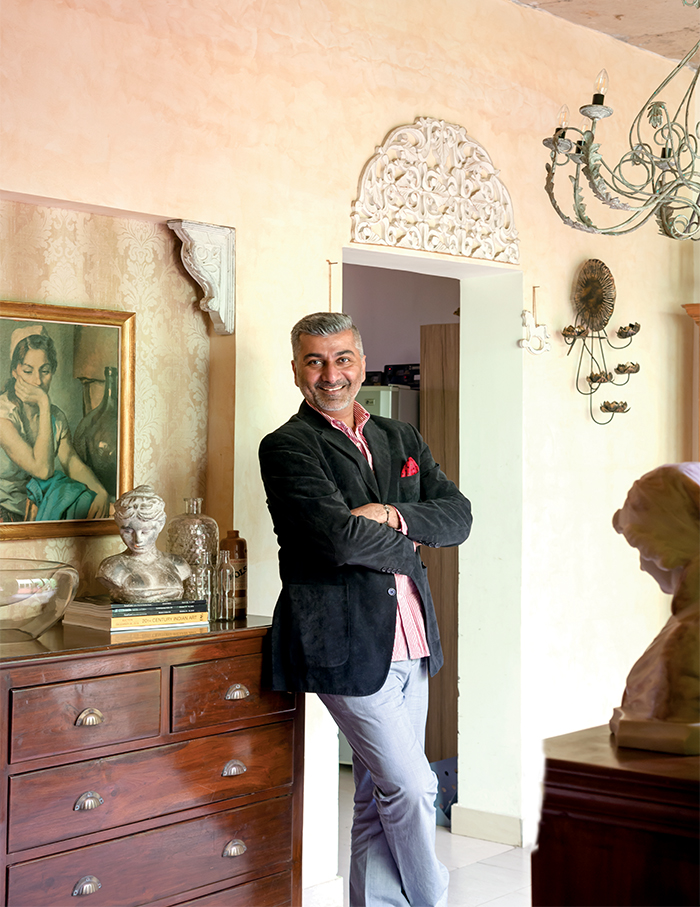 Erected on a 9,000 sq ft plot, the 4,500 sq ft home has four bedrooms, living, dining and family lounges, four staff quarters and two verandahs. The ceiling is exposed concrete and no two walls are the same colour; no polishes or fabrics match. Some pieces of furniture have been bought, custom made, collected, restored and modified, while a few textiles, art and silverware are priceless inherited family heirlooms.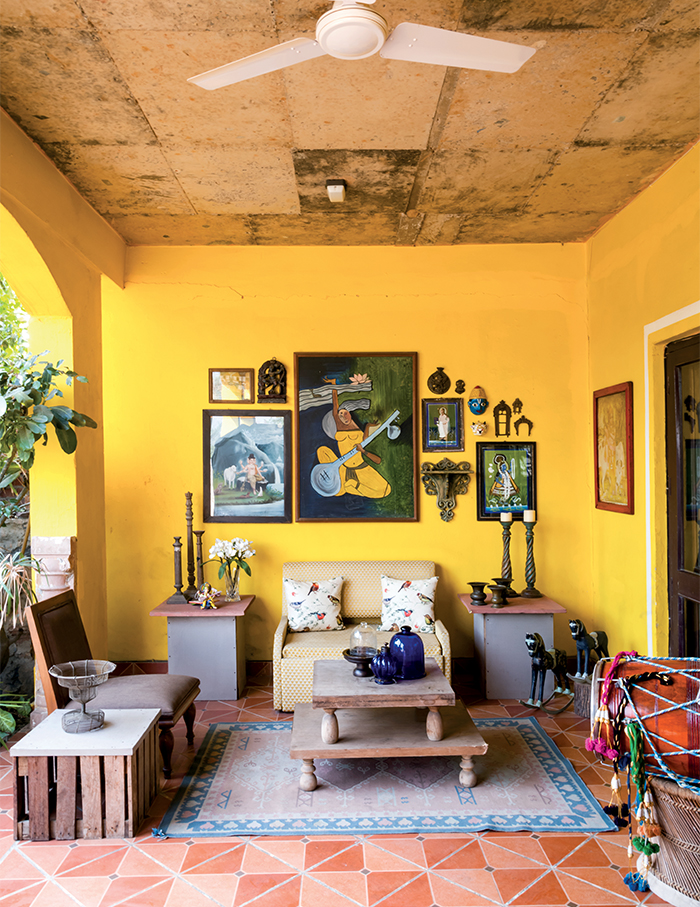 Because of my association with Alsorg Interiors, some wardrobes were custom crafted by the brand. My kitchen and bed were designed from waste and leftovers from the same factory. The doors and windows came from a house that was to be pulled down by a builder—a blessing in disguise as they turned out to be rare Nagpur teak! Wallpapers and fabrics were all leftovers from various projects.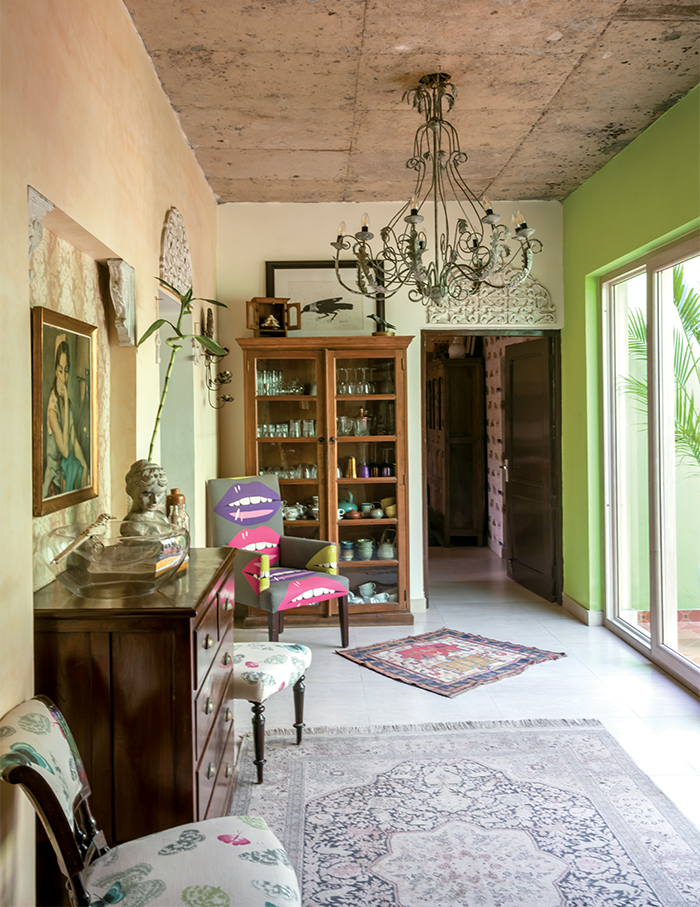 The courtyard is where the carpets and woollens get aired, the pickles sunned, and the vegetables and grains sorted. When friends come over, we spend many pleasant evenings in the summer and sunbathe in winter afternoons. But my personal sanctuary would be my bedroom.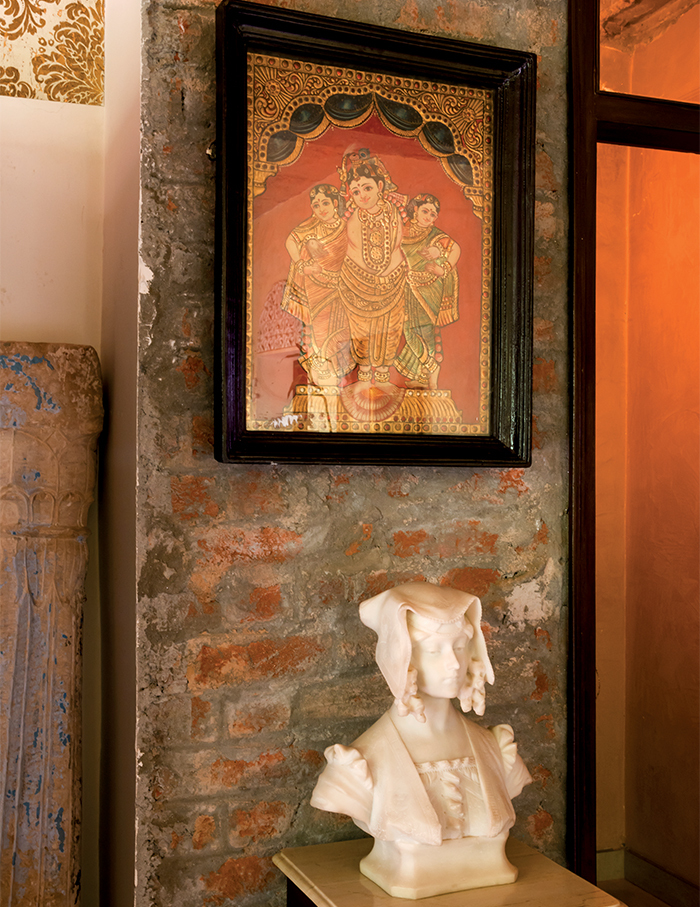 I used to travel a lot, which made me accustomed to hotels; so when I decided to make my room I wanted all the elements of a decent-sized suite. Essentially, this house is like a veritable museum—every piece has a story and every corner is a space frozen in time.
Scroll to see more images from this colourful home…