People
Chitra Vishwanath on architecture's role in conserving and protecting the environment
AUG 16, 2020
| By Aneesha Bhadri
Responsible for about 50 per cent of the world's energy consumption, the domain of construction is one of the largest producers of greenhouse gases. It is not surprising then that architect Chitra Vishwanath believes that her profession "front lines the battle to conserve the environment". Since graduating from the School of Architecture at CEPT,
Ahmedabad in 1988, Vishwanath shuttled between Nigeria, Ahmedabad, Goa, New Delhi and Kochi before settling in Bengaluru. She started her eponymous practice in 1991 and seven years later founded Biome Environmental Solutions—a multidisciplinary firm that addresses ecological issues through design.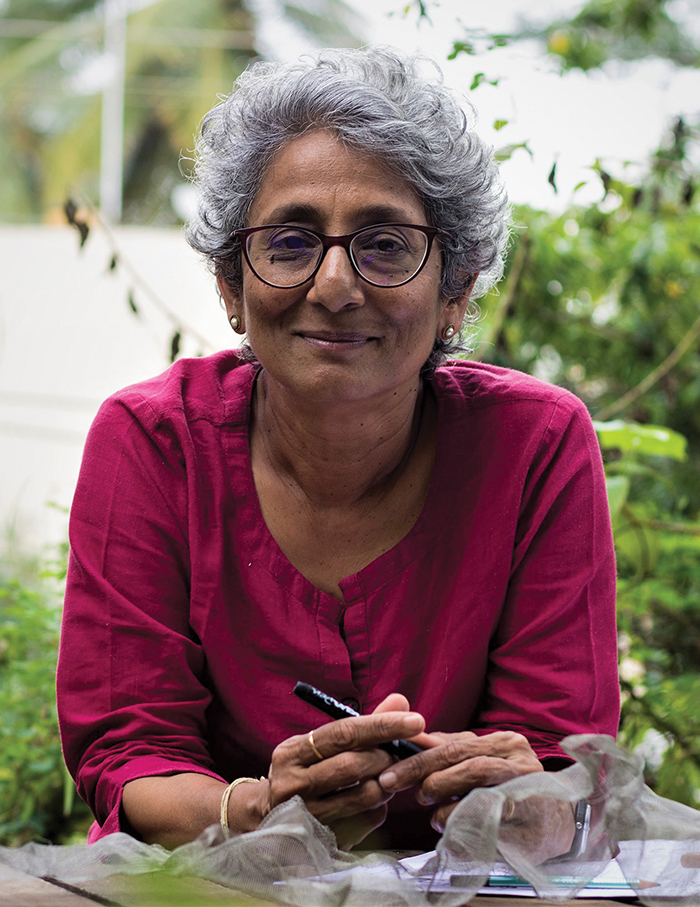 Delving into eco-architecture was serendipitous for the 57 years old creative. "The soil in Bengaluru is ideal for construction, so it made perfect sense to use it. But water is expensive here as it is brought by the river Kaveri, from about 100 km away and pumped up 300 metres, making it energy-intensive and one with the highest production cost in India. So, it is essential that we work on intelligent water and sanitation designs," she says.
When asked about her experience of being one of the pioneers of eco-architecture, she smiles. "It was a challenge and the start of an incredible journey. My peers reacted with a mix of disdain and awe. I would rather not elaborate on that," she laughs, continuing to share that her first such project was her own house, which she built-in 1995.
"It was the most ecological project I'd ever done then. For me, my home is closest to my heart because it is here that I am able to consistently innovate and, where my husband and I first built with earth and worked on water issues." An urban and regional planner himself and part of the diverse Biome team, S Vishwanath devotes his time to the water, sanitation and agriculture nexus.
In addition to the duo, the Biome team comprises designers, architects, civil and mechanical engineers, and urban planners from India and abroad. Each project that the practice takes on undergoes a thorough evaluation of the plot—from soil to hydrogeology studies, and even biodiversity surveys are conducted.
The earth excavated for the foundation, basement and sump tank is used to make Stabilised Mud Blocks onsite, where a minimal amount of cement or lime is added to steady the earth against major shrinkage and water damage. These blocks are designed to manage heavy loads.
Another innovative and eco-friendly effort is the concept of a waste sink under the building. "Below an edifice's plinth, the land cannot grow food or sustain biodiversity. It's an unutilised space that could accommodate the waste that comes from the structure's construction," emphasises Viswanath.
On the subject of recycling, the architect has plenty to offer. She says, "Presently since sand is overpriced and its mining is resulting in ecological destruction, it is worthwhile to have crushing units grind building debris and use that as a replacement for sand in mortar, plinth and lintel bands. By this, we can only hope that an economy develops around processing such waste, eventually resulting in its productive use."
Vishwanath and her team ensure that all housing projects incorporate rainwater harvesting. Her constant experiments in treating wastewater are often successfully integrated into the houses she conceptualises. "We also minimise the impact of our construction by respecting local ecology and creating gardens wherever possible."
The creative stresses on the importance of understanding both vernacular and modern methods of construction to make the most of available resources, without adversely impacting our environment. Plenty of energy saving opportunities come into play when designs take into consideration the local geography and climate, paving the way for passive lighting and cooling. "Before the emergence of global building trends, vernacular architecture was the benchmark for well-adapted design.
The core focus of green architecture is to incorporate the indigenous wisdom of native design into forms that can accommodate modern lifestyles," explains the maestro. "Architects can certainly provide climatically and materially sensitive design. This also requires clients to show sensitivity and restraint; allow buildings that are environmentally friendly."
Besides following her passion for architecture—the most cherished advice from her father—the architect also enjoys her role as an educator. She's delivered several lectures in institutes in India and abroad. Vishwanath was the Charles Correa Chair at the Goa School of Architecture in 2017 and is currently mentoring thesis students at Mangaluru's NITTE School of Architecture.
She believes that "ecosystem education is certainly the need of the hour", adding that, "Students should be given a breadth of knowledge which is not tied down by conventional ways of looking at the built form."