Homes
This Hyderabad home by Vinithra Amarnathan is an oasis of freshness and elegant hues merged into classic forms
FEB 15, 2022
| By Shriya Goyal
All homes come with a checklist, but a common request across all is comfortable and functional spaces. The owners of The Modern Classic Home sought an abode that felt fresh, young and luxurious with cues of a classic design language.
Designed by Vinithra Amarnathan, Founder of Weespaces, this 4,000 sq ft home is located in Gachibowli, Hyderabad. With a fresh start, the couple envisioned classic forms in a modern perspective that reflect their lifestyle and make room for their little boy born along the design journey. 
One of the designer's prolonged projects, the design evolved with the changes in the homeowners' lives. "In this home, we embraced the idea of a laidback lavish appeal in the spaces by bringing in luxe and accessible materials like linens, marble, leather and wool rugs, all juxtaposed with natural wood, white brick and metal to create a beautiful contrast!" says Amarnathan.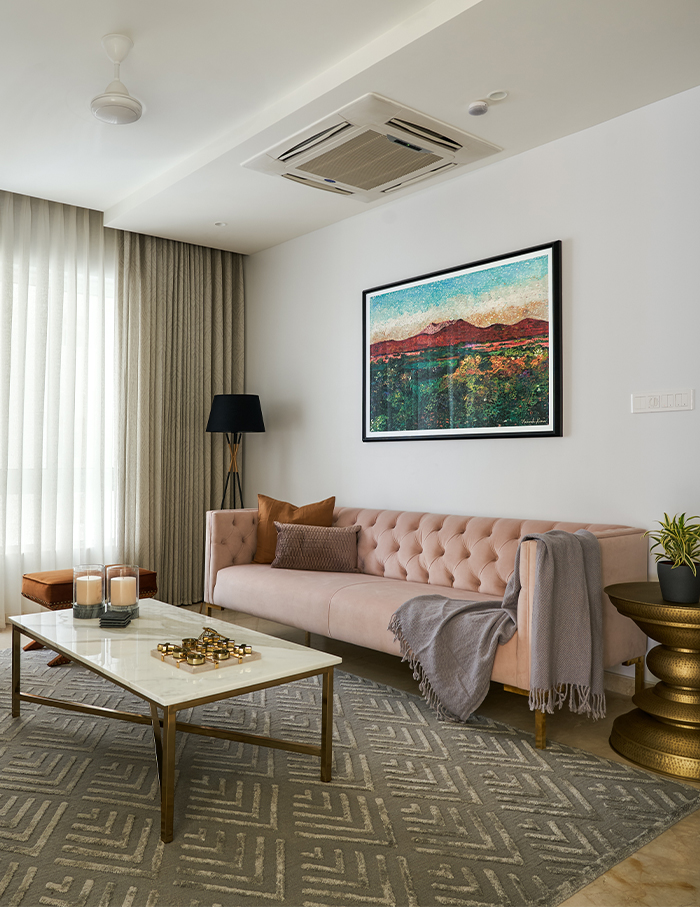 On arrival, the formal living room, wooden craftwork, customised console and brass sunburst inspired mirror does not let the eye settle in one place. For striking first impressions, hand-painted quaint wooden blocks in abstracts and botanicals with shades of earthy olives, light greige and charcoal tones are installed.
Dressed in modern tufted back blush velvet couches, marble coffee table and a set of velvet ochre ottomans, the formal living room imparts a pop of liveliness and a burst of colours from the print by Namrata Kumar.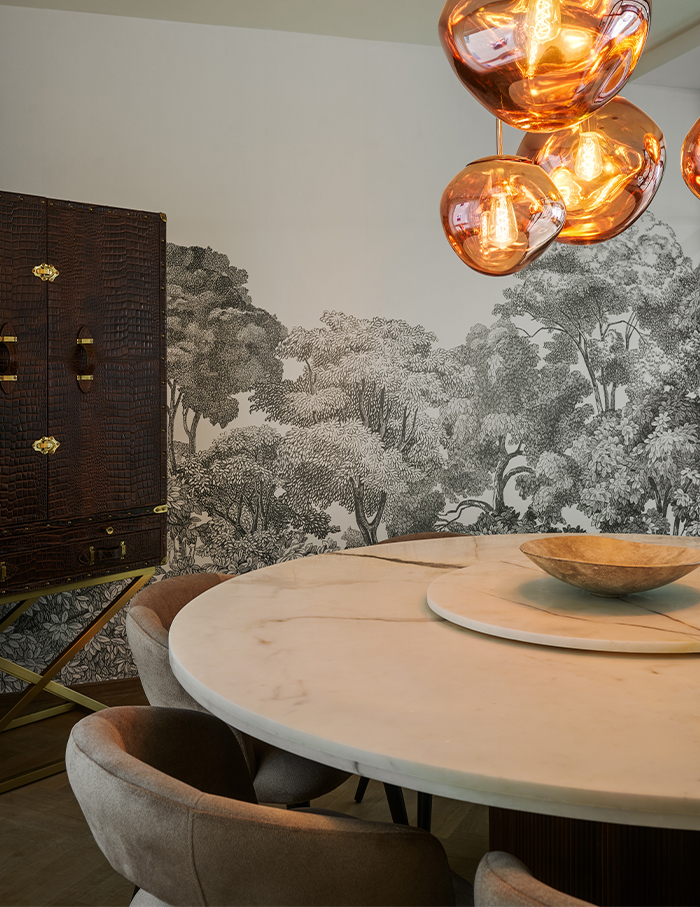 Like a breath of fresh air, the dining room is a quintessence of striking elements and intimate charm. A dramatic botanical wall mural from Rebel Walls in black and white tones and a cluster of ombre pendant lights command attention. Layered marble-top dining table with soft velvet chairs beset the herringbone wood clad dining room and render a modern cosy vibe.
Designed to unwind, entertain and spend time together, the informal living room plays host to uninterrupted balcony views creating outdoor experience and letting in ample natural light. Highlighted by wooden beams and a farmhouse-inspired chandelier, along with a lime washed white brick wall, the relaxed ambience created makes you put your feet up and immerse in your favourite movie.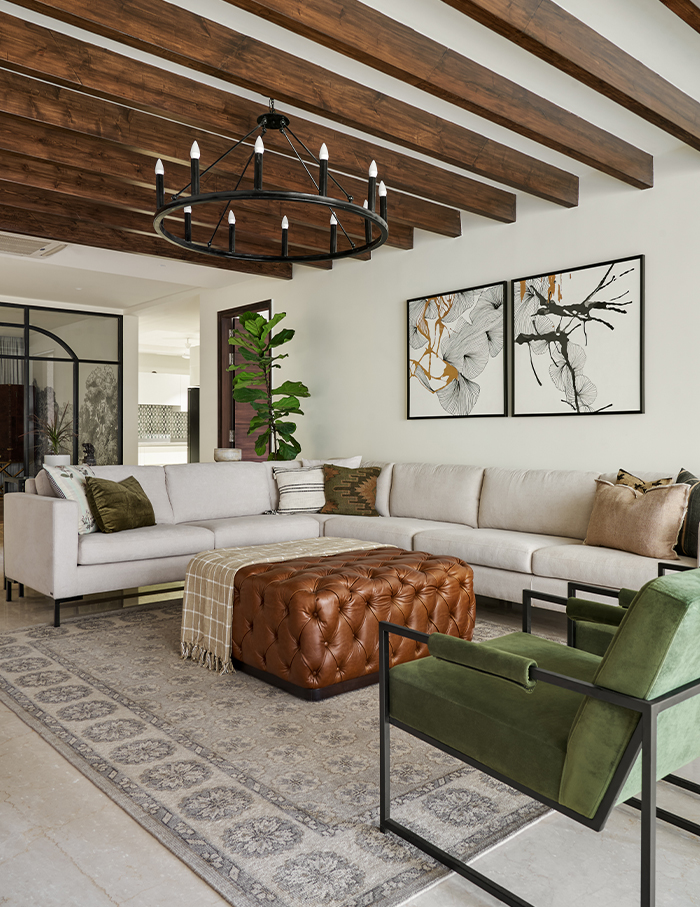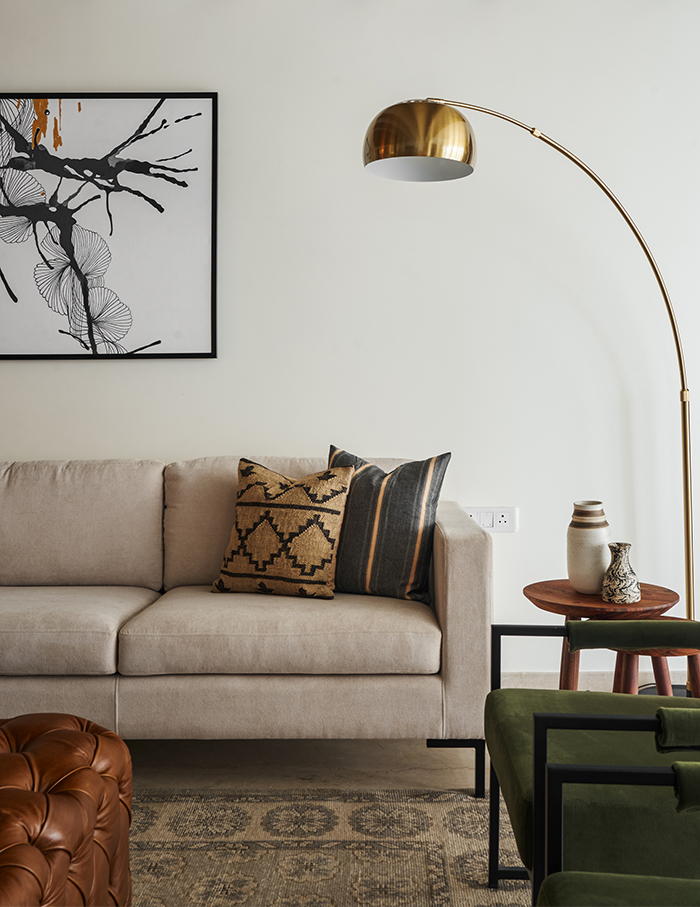 Framed by a velvet tufted bed set against a striped wallpaper, the main bedroom harbours a burgundy upholstered daybed and a leather armchair. Converting the third bedroom into a walk-in closet, it is adjoined to the main suite for the lady of the house. All white and glass, the closet incorporates ample storage and is flanked by a coral upholstered settee.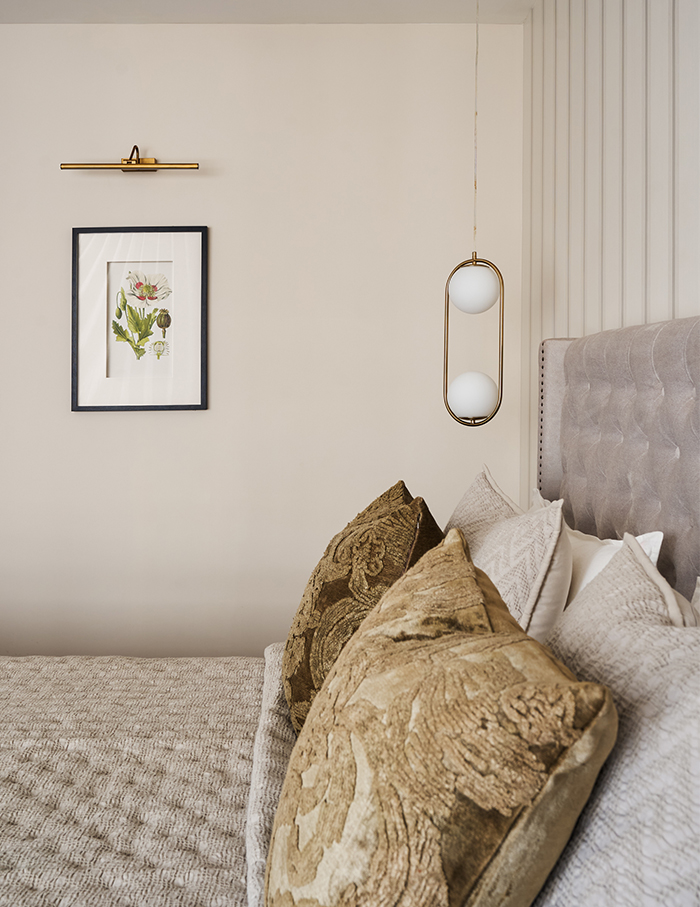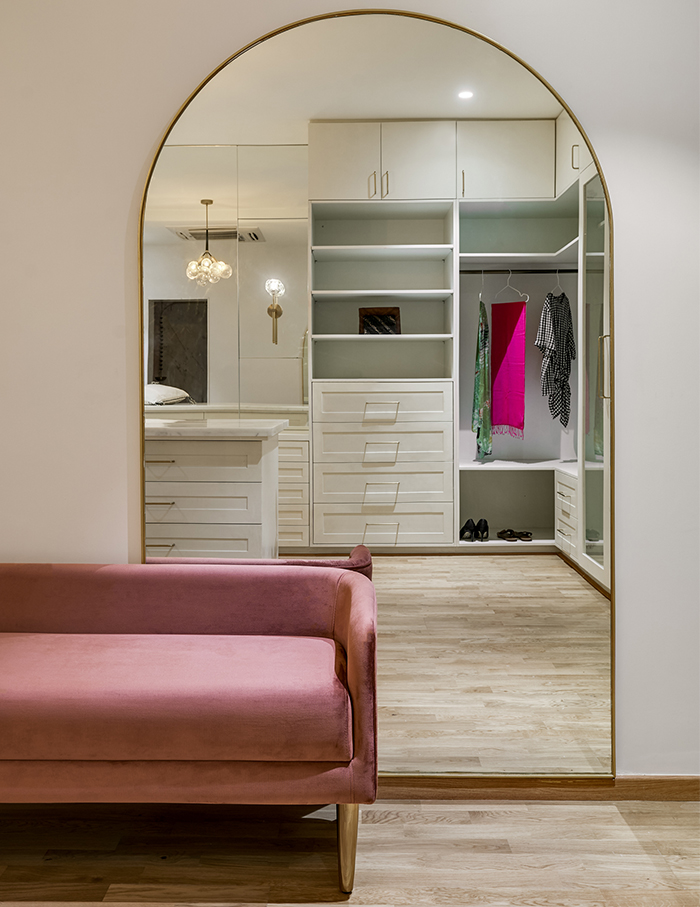 A calm and pastel oasis wrapped in shades of chartreuse and blush with warm grey walls and a dark walnut four poster, the guest bedroom is furnished in understated elegance. Dyed in tones of dusty olive, the ensuite bathroom is a coalesce of distinct textures and patterns.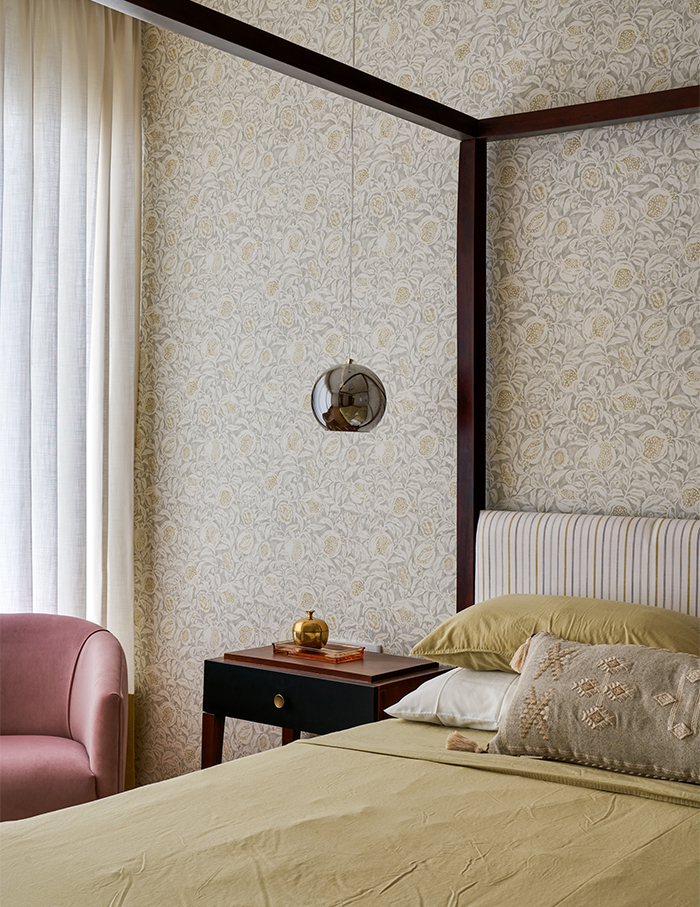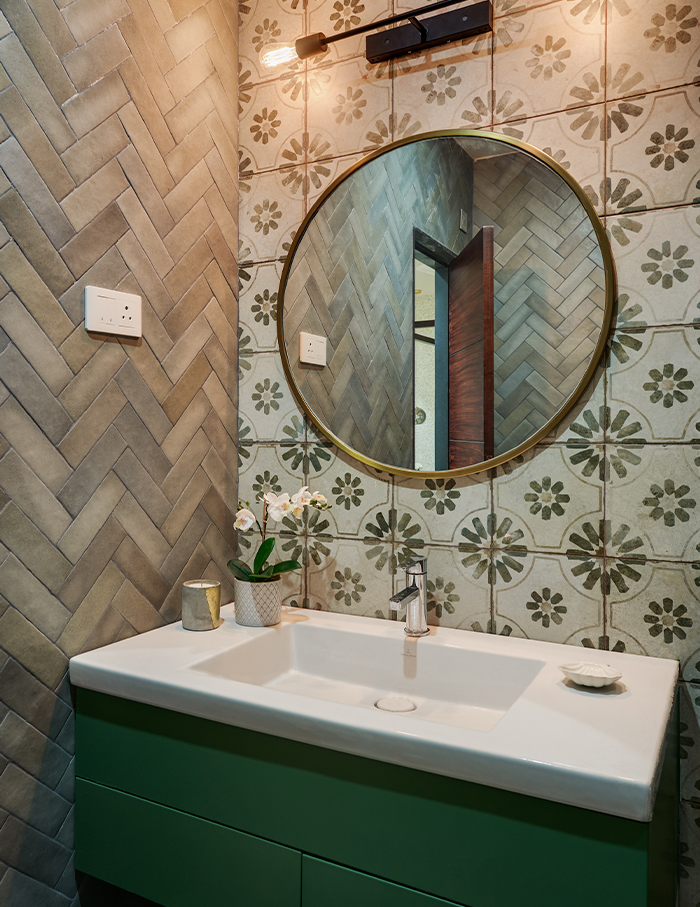 Young as morning and fresh as dew, The Modern Classic Home furbishes materiality to craft a lived-in environment with a natural palette coupled with swashes of colour. This calm and collected home is rooted in classic forms interpreted in modernity to evoke a sense of warmth and cohesiveness.
If you loved this sublime home by Vinithra Amarnathan, then check out this tranquil Tel Aviv home designed by Henkin Shavit Studio Design