Homes
CEA Design characterises this Russian home with a fusion of Japanese symbols and futuristic themes
DEC 22, 2020
| By Meghna Meduri
The domains of architecture and design are tasked with creating spaces that not just resonate with individuals but also pay an ode to the environment. Located near Moscow in the Chekhov district, this 3,230 sq ft property—modelled by architects Nikolaev S, Kulich D, Salov A and Oseckaya T of CEA Design—exemplifies this concept by employing Japanese symbols as well as soothing and energising themes.
The client's readiness for experimentation from the get-go and desire for a phenomenal house granted the creatives artistic freedom to ideate a novel and imaginative space.
The ground floor houses the kitchen, dining room and a relaxation zone by the fireplace. The former is separated from the rest of the living area through a partition with a spherical gap, which creates a path for uninterrupted dialogue in line with classical symbolism and Japanese culture.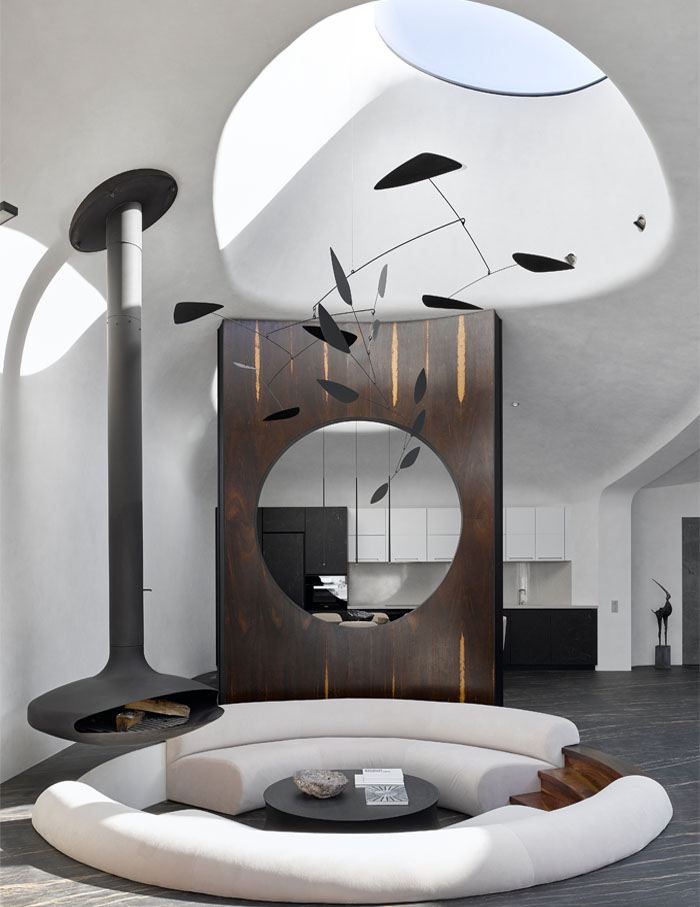 The relaxation area has a practically closed circular shape and its design is symbolic of two balanced halves—yin and yang. Also present on this level is the master suite with an ensuite bathroom and an additional guest washroom. A spiral staircase leads from the hall to the first floor, which is occupied by two bedrooms, another bathroom and a study with a view of a bespoke pond.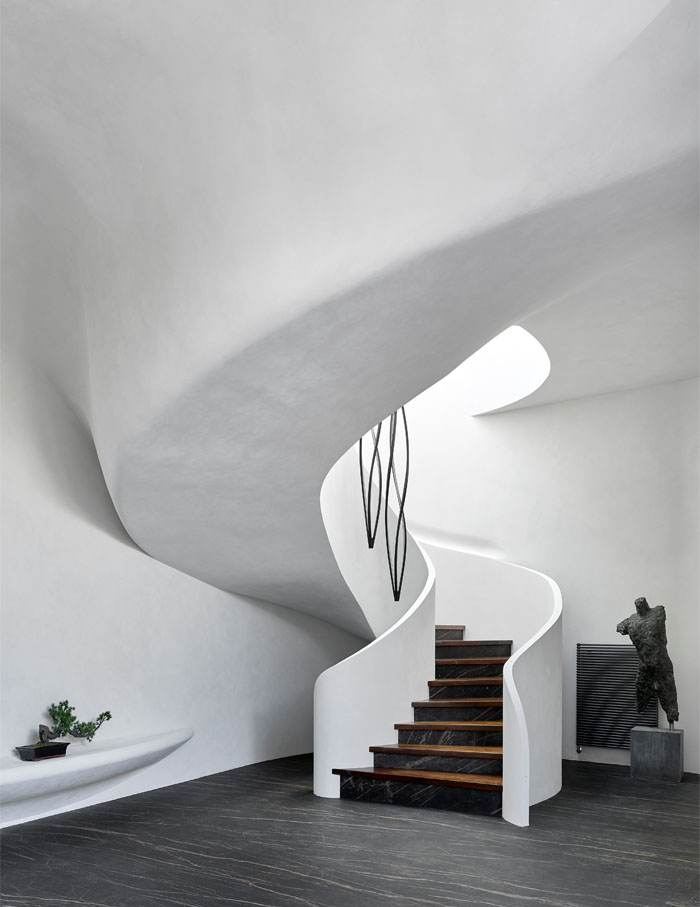 We love how the architecture is integrated with nature and surrounded by verdant landscapes. An example of the former sentiment is the green roof, on which a garden with woody and herbaceous plants and artificial relief is planted. Roof lamps, oriented to the movement of the sun, are another excellent accessory to remind one of the outdoors.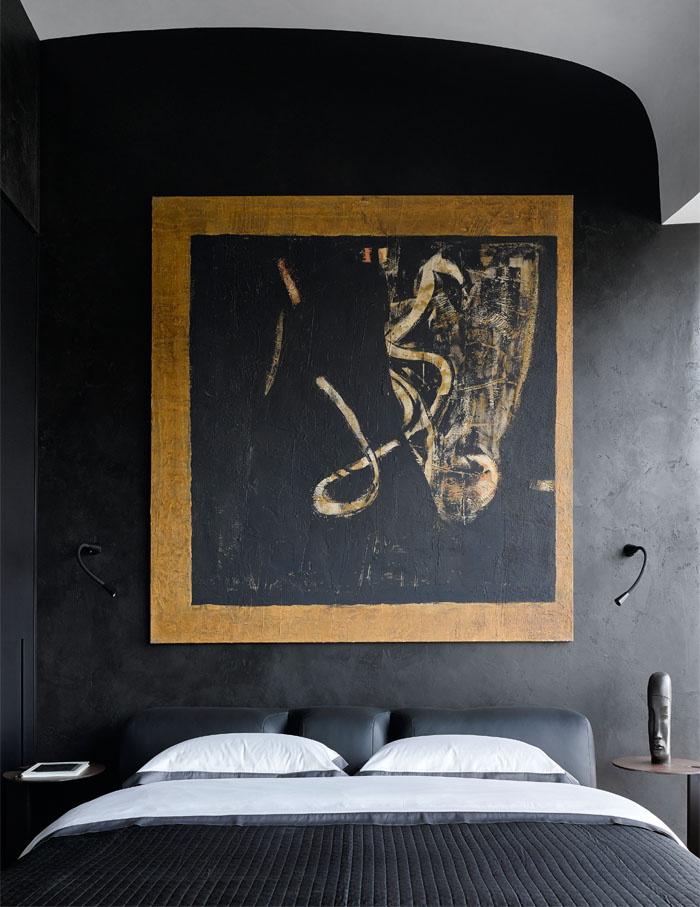 The organic flow and futuristic construction may be contrasting but still create a harmonious visual frame. This balance is accurately represented and indicated through a painted wall leading towards the landscape in the central zones of the building—an aspect developed in collaboration with Russian artist Tashita Bell.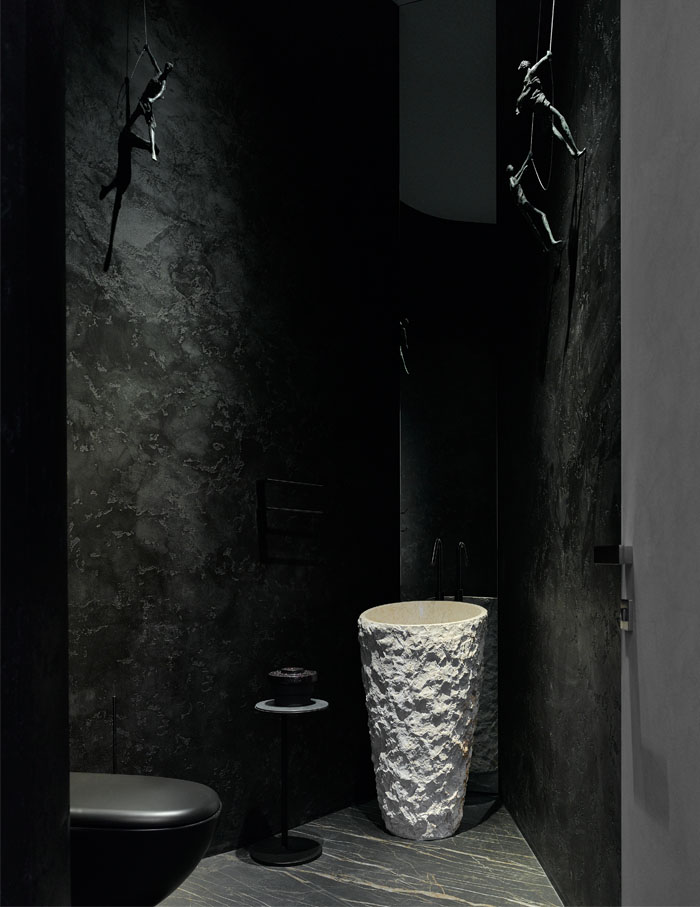 The interiors integrate "home gallery" principles into the living area. "In keeping with the theme, the material and colour palettes are kept minimal both indoor and outdoor. So, the building frame is entirely made of concrete, while natural materials are used inside. The floor uses large-format porcelain tiles in the common areas and solid American walnut in the more private zones. Meanwhile, the walls are plastered and the bathrooms are equipped with CEA fixtures," the creatives point out.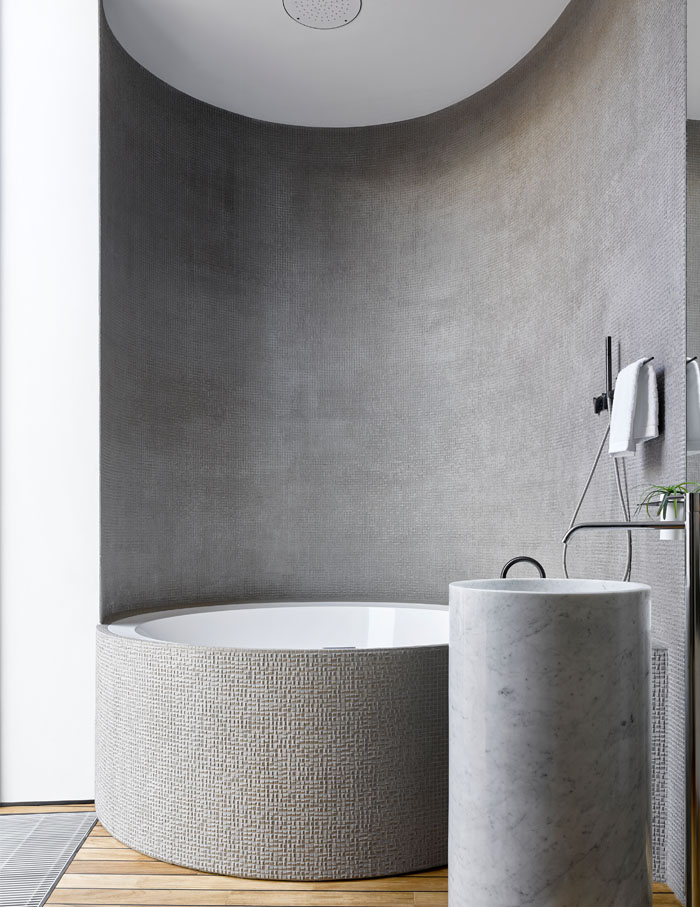 Grey dominates the home and acts like the perfect backdrop for the many sculptures, decorative elements with hidden Japanese themes as well as furniture that are seen across the home. These neutral colours highlight the plasticity of geometric shapes in contrast with the environment, and focus the attention on the symbolic compositions and objets d'art integrated into the space.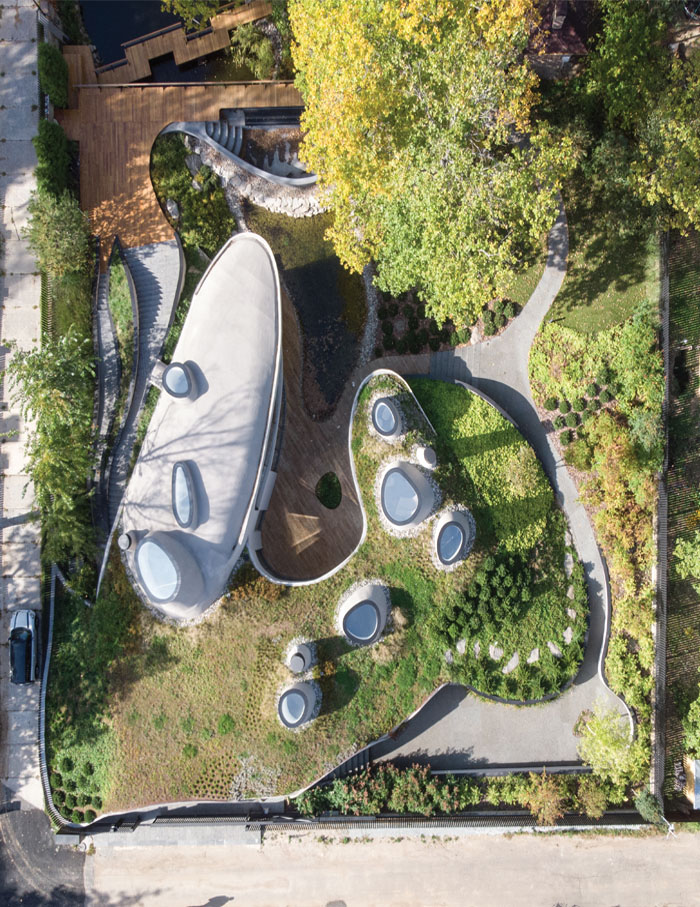 This project perfectly conceptualises a sense of continuous contact, the flow of energy of man and nature, the inconstancy of the moment and the invariability of the algorithms of the environment, functionality and an organic essence.