Lifestyle
Here's why you must not miss Future Is Not Fixed, an exhibition by Nature Morte and Vadehra Art Gallery, curated by Arjun Sawhney
SEP 10, 2020
| By Aneesha Bhadri
The concept of 'future' has always been quite reliable in its ability to compel us to set goals for ourselves and move forward in life. This reliability depends on its predictability, allowing us to plan ahead and chart a course where we have a sense of control over where we are headed.
Of course, the future only truly exists in the present, so it's easy to lose sight of today in our ambitions for tomorrow. However, when the present is turned upside down and the future is abruptly shrouded in an unknown darkness, we lose our sense of sight.
The sheer unpredictability creates a murky atmosphere of fear, foreboding and disquiet, where questions about our very freedom, courage and wisdom as both individuals and people, swirl in our minds, locking us down in a strange vacuum of liminality.
The virtual art show Future Is Not Fixed explores these very notions and states of being. The premier joint presentation by two of India's prestigious art galleries, Nature Morte and Vadehra Art Gallery has been curated by Arjun Sawhney.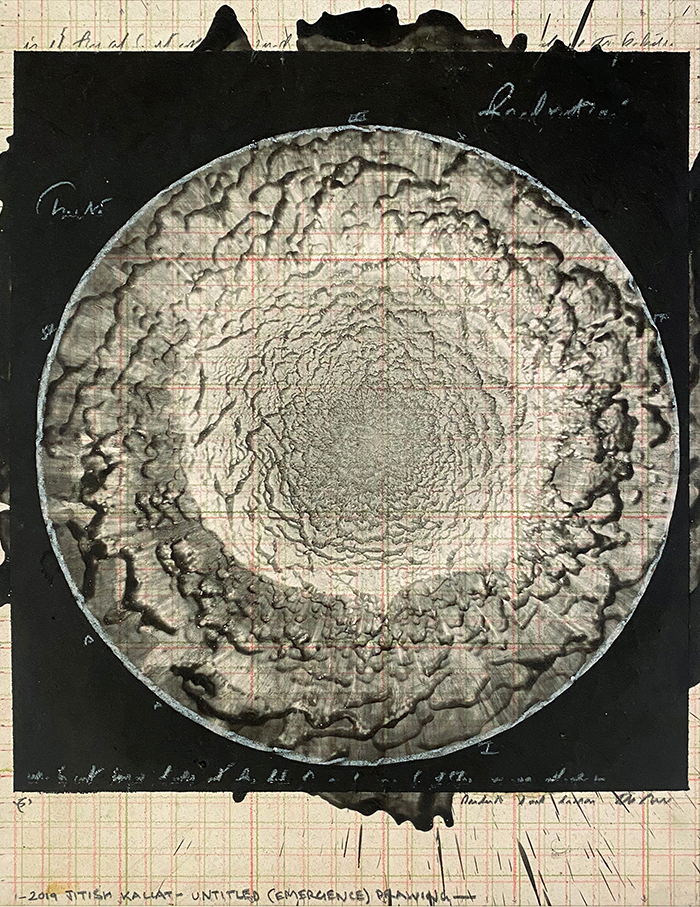 "When Arjun came up with this idea, we were immediately excited by it, as we were already seeing artists respond to the uncertainty and challenges that face us today. The works vary in scale, medium, and seniority of artists, making it an interesting mix of artists for different audiences," divulges Roshini Vadehra of Vadehra Art Gallery.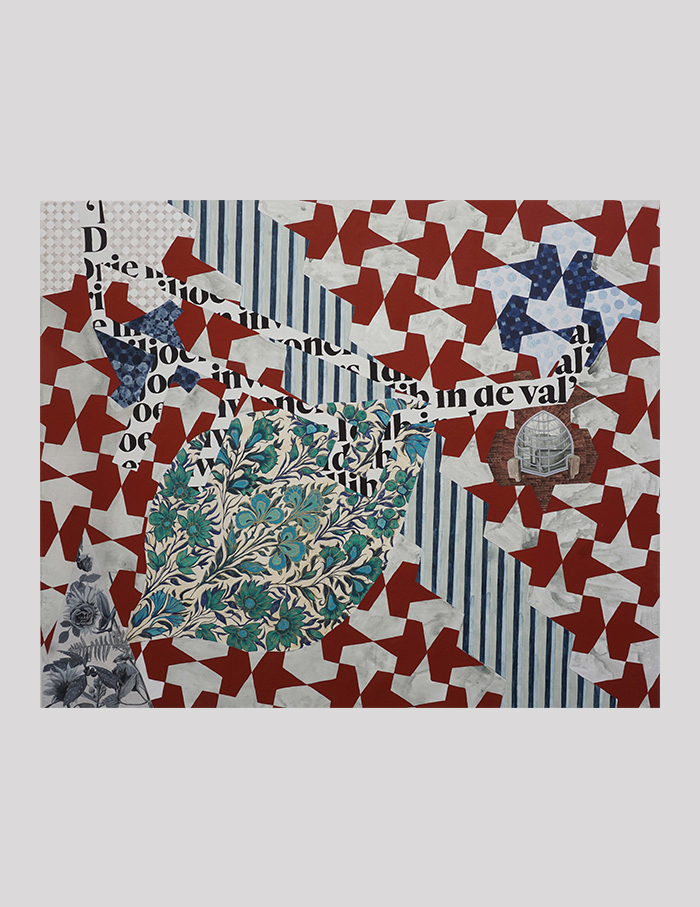 "The show was conceived as a collaborative effort between two galleries, their artists and Arjun [Sawhney], to address some of the current global realities. It's a strong representation of our subcontinent in the midst of our current times." says Aparajita Jain, Director of Nature Morte.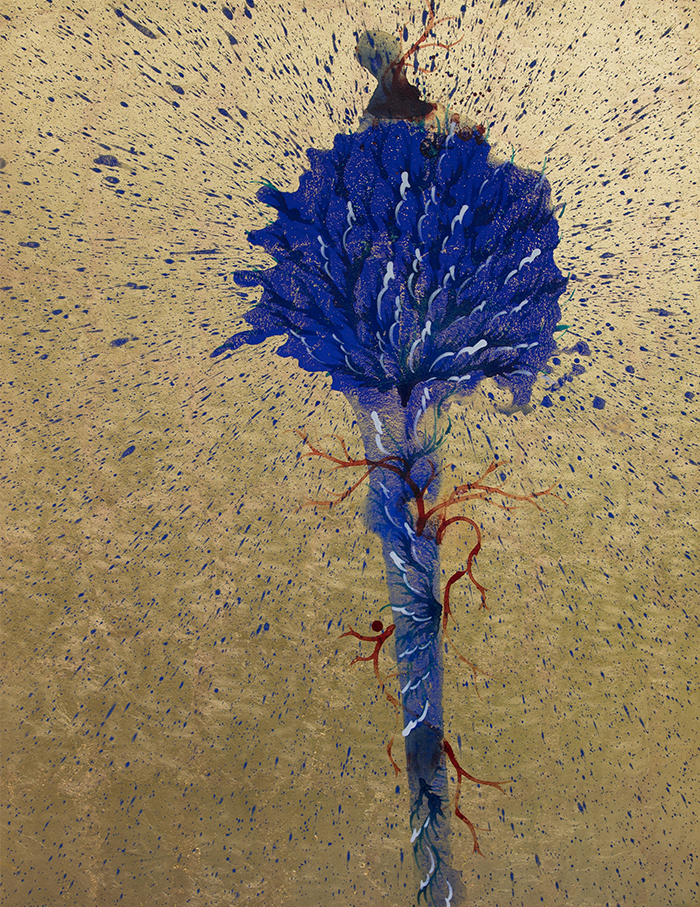 About this ongoing art exhibit, Sawhney shares, "As time hung heavy and emotions raced, creatives from all over the globe attempted to express their feelings. Conversations with writers, designers and artists made me realise that these thoughts could be channelled to voice to what we all were feeling. So, the galleries and I asked select contemporary artists to create works on those lines. While viewers can interpret them in their own view, the artists have also presented their thoughts—not just in their art but also in prose."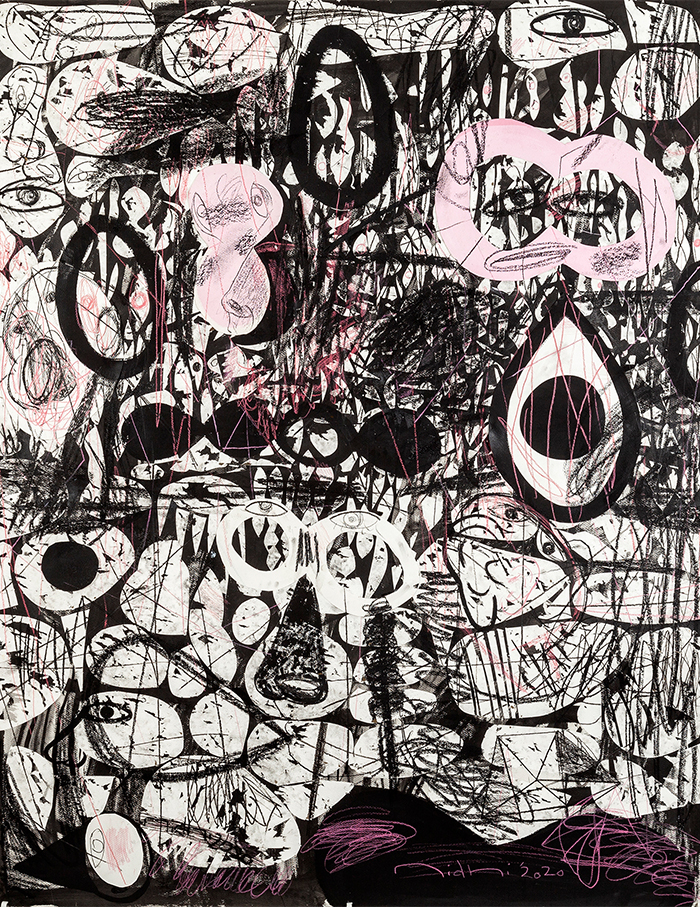 Future Is Not Fixed essays a creative interpretation of the unknown future, an artistic reflection of inner and outer worlds, a heightened sense of anxiety and solitude, and the new way of bearing these utterly unfamiliar times.
Atul Dodiya's landscapes are pastoral scenes visualised in an old modernist, expressionist style. The oil on canvases transports the artist to a sublime zone on a spiritual level. They examine the inter-relation between subjectivity and objectivity, and the very perception of reality.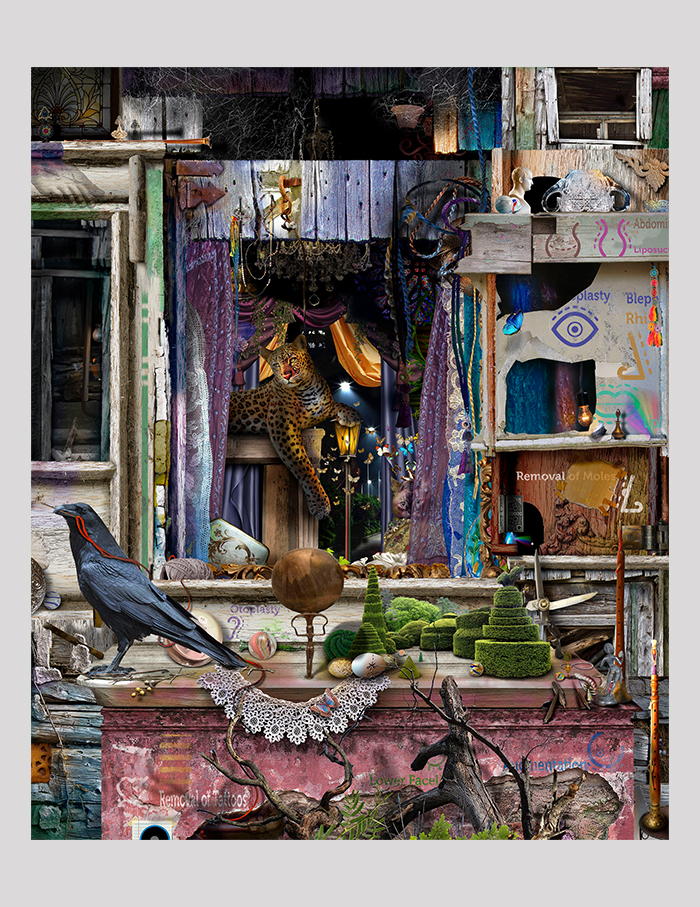 Ranbir Kaleka's work (see above) explores the relationship between place and time. In this digital print, he combines aspects of both day and night, where the boundaries between the outside and inside are indiscernible. In this sea of ambiguity and monotony, the sole recourse is intense self-reflection through mirrors. And looking at oneself enhances this feeling of time severely lacking a sense of place.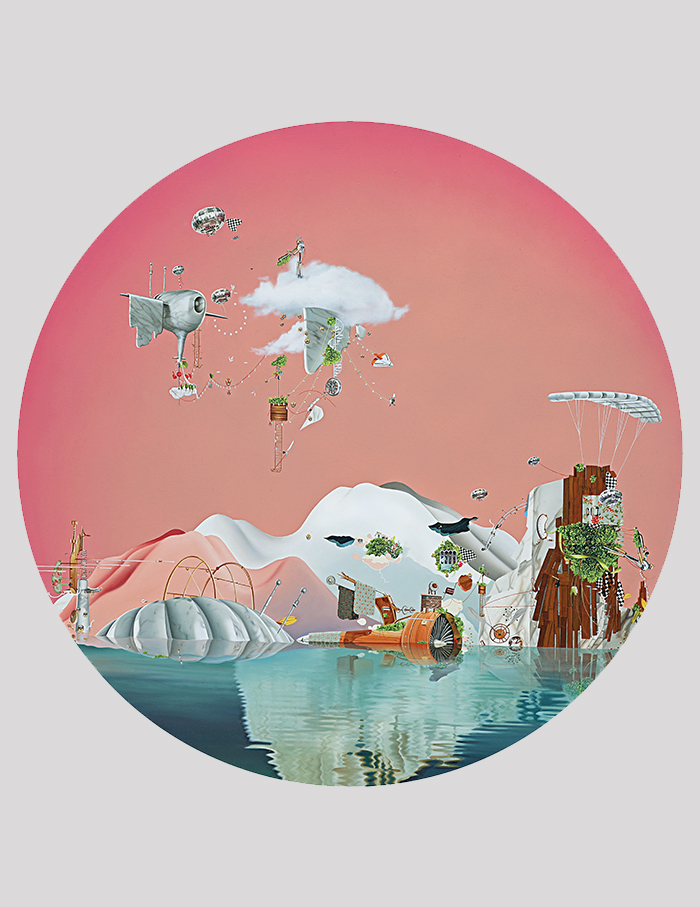 Thukral & Tagra illustrate a civilisation devoid of any signs of life, drifting in a quagmire of stasis, failure and suspended time. The palette, so far removed from the real world, heightens the alarming implications.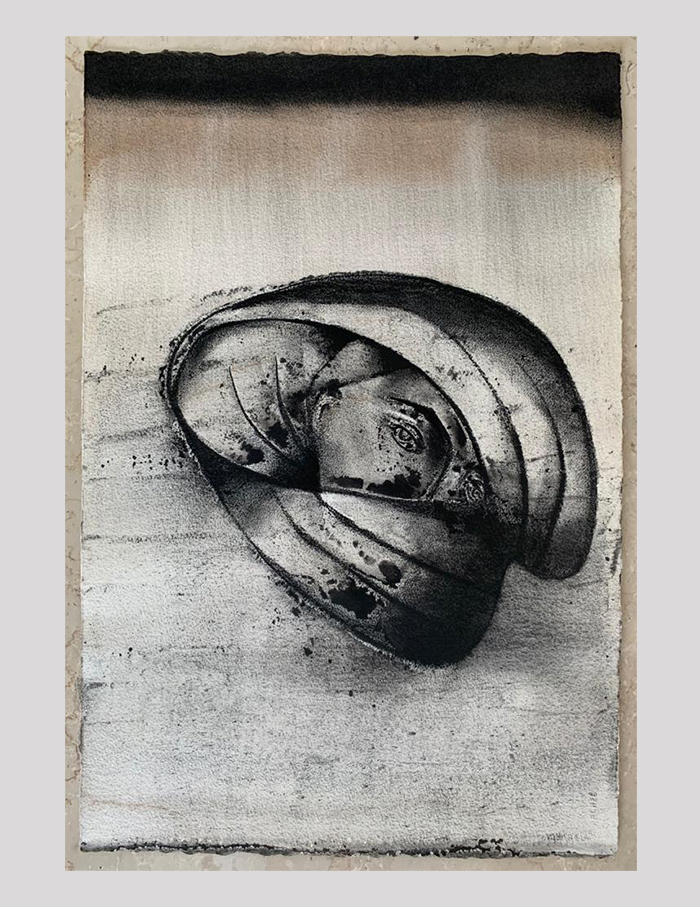 Faiza Butt's It Rained That Day refers to the ephemeral storage of memory, which does not rely on imagery or narrative but on sensation—a need to be 'felt'. The work (see below) depicts two individuals locked in an embrace. Their features are either hidden or generic, since their primary emotion of affection and support is meant to be the relatable aspects of their identity.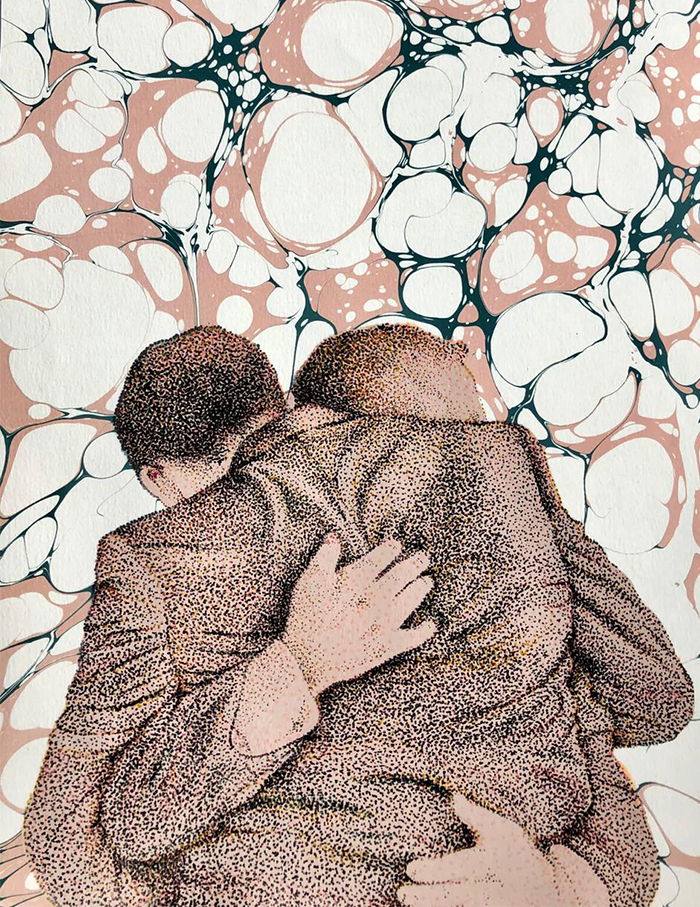 The swirly patterns or marbling in the background mimics an image of the heavens, reminding us of our connection with the universe, especially in these times of fear and lovelessness. "The uncertain times we're currently living in, now so far removed from the concept of touch, also registers as a series of sensations. I wanted to leave the relationship shared by these two figures open to interpretation—they could be lovers, colleagues, siblings or family members in mourning," says Butt.
Gigi Scaria's Trail and Stumble weaves in an element of stagnation into his otherwise familiar visual language of exploring dynamic architectural structures and spaces. A sense of suspension and lack of direction embody this series (see below) of acrylic on canvas, where a traveller or wanderer or explorer is restricted from pursuing new experiences and connections.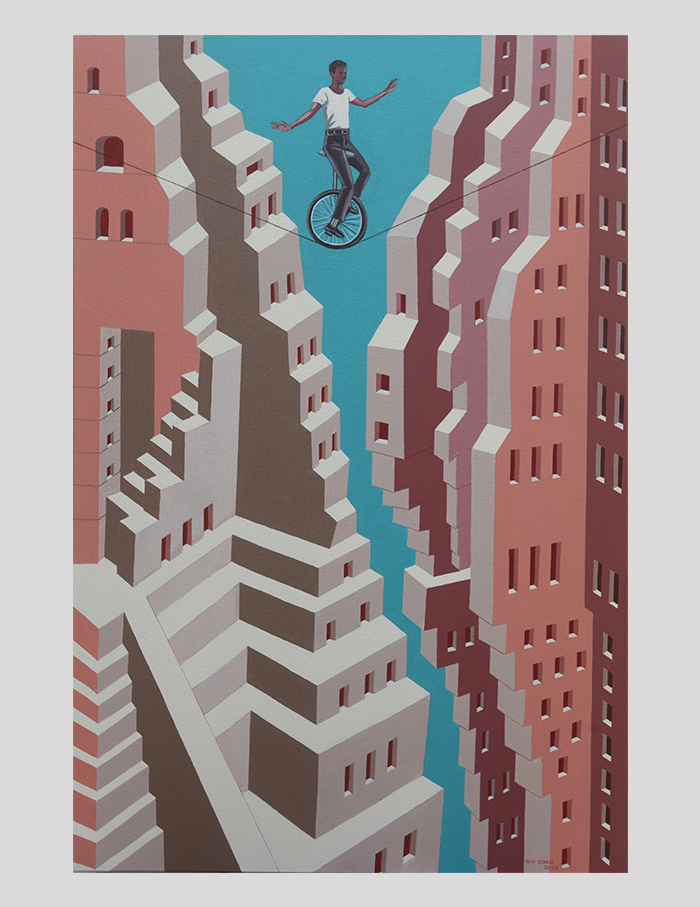 "I wanted to explore stagnation in architecture, and a sense of suspension and lack of direction. I consider these images to be predictive in some sense, representing an alteration in travelling and general cultures from which we are yet to emerge and then subsequently redefine," says Scaria.
Jagannath Panda presents a layered narrative with Urban Pecker 2. It examines the human relationship with the natural world and explores the paradoxical nature of comings and goings as a truth of time. "I developed a meaningful interaction and emotional bond with this little bird during the lockdown. My wife and I built a nest, and over weeks, it became home to a whole new generation of sparrows. I was simultaneously confronted with imagery of migrant labour making their arduous journeys home, which made me think of the Hindu deity Ram as he was leaving for vanvas. I wanted to explore both narratives—of birth and arrival as well as the plight of leaving," shares Panda.
Martand Khosla's sculptural work No reason to care uses the basic building blocks of architecture—frames, doors, windows and furnishings—as confetti, party favours as the band plays on and the ship begins to lilt, and where our ancestral roots in cubism, surrealism and constructivisim provide both guidance and solace. "My sculptural practice continues to concern itself with contemporary dilemmas of urbanism, migration and displacement. This work is part of a series that explores the constant realignment of urban settlements in India," says Khosla.
Riyas Komu's portrait on canvas Tragic Day Optimist is drawn from an image he came across on the Internet. Withdrawn from the world, the work (see below) draws towards itself, pulling us closer to the depths of emotion that engulf us all. "This particular portrait came to me in a flash. The thought centre lays in abeyance, in the forgetfulness of one's own memory," says Komu.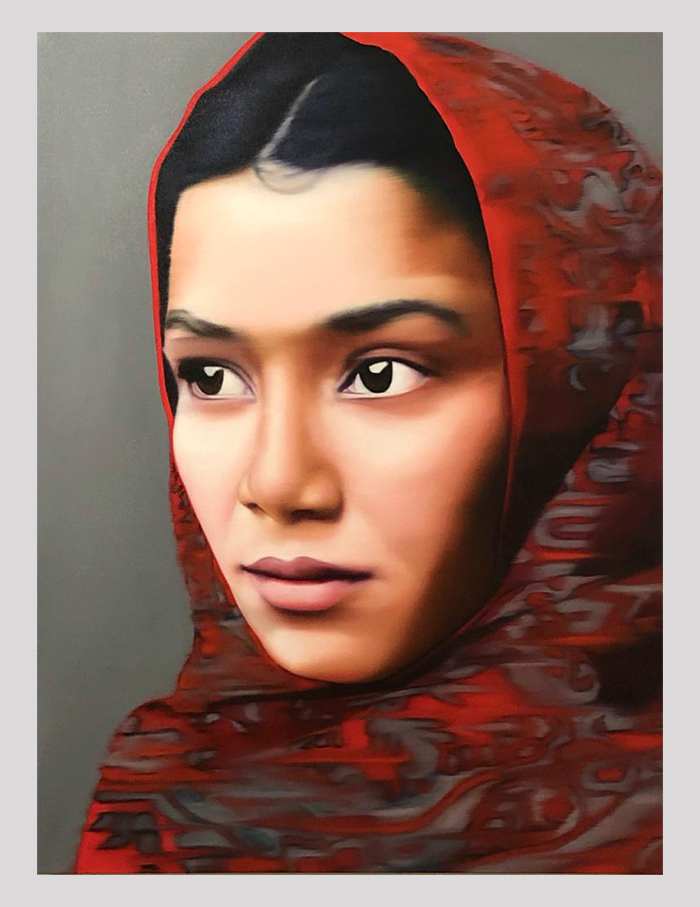 Dhruvi Acharya's Strike and Lockdown perfectly conveys our contemporary situation. In her watercolour entitled Strike, we see women wearing masks to protect their health while Saraswati, the goddess of knowledge, is blindfolded, lashing out randomly with her sword. In the work Lockdown, a single figure is lost amid clouds. "Strike is about the forces that strike out our freedoms, health and finances. It is also about hope—hope that the thoughtlessness with which humans treat all other living things on our planet will be struck down. On the other hand, Lockdown is about the isolation, fear and confusion this virus has made us all suffer through," says Acharya.
Asim Waqif's Ontogenesis X synthesises the organic with the technological, accentuating the grey areas between the two, resulting in elegant confusions.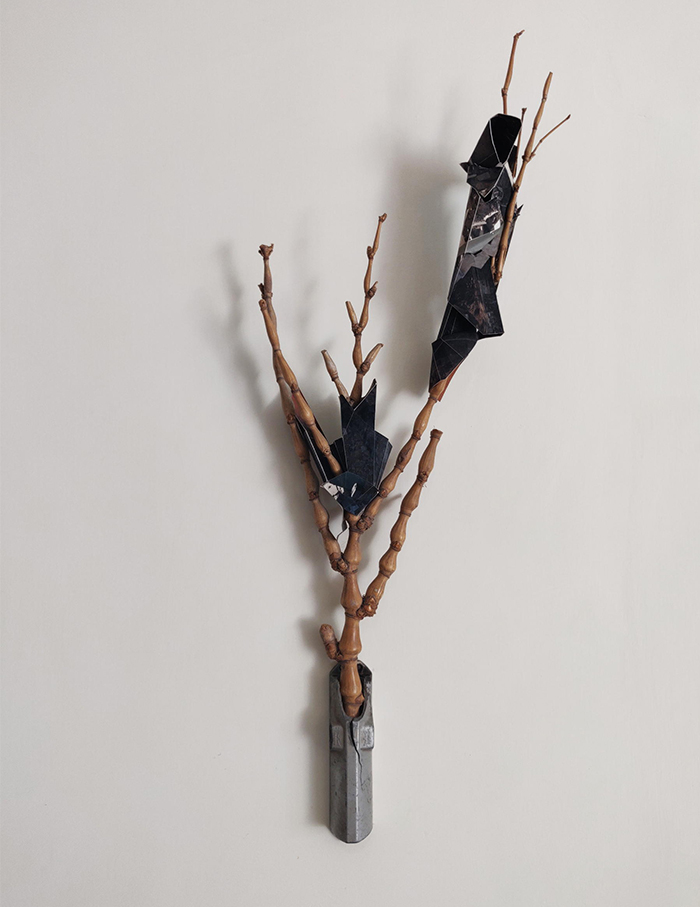 Of Waqif's work (see above), Peter Nagy, the American artist created with reviving Nature Morte in the late 1980s, says, "Nature is now a trope, manufactured for various purposes, not least of which to bolster our human egos. The hybrid is now the preeminent model, assemblage the norm, purity a nonsensical myth. This sculpture by Asim Waqif sits comfortably within this interstitial zone, acting responsibly towards both the manmade and the natural."
Manisha Parekh's Stumble is constructed entirely of cut and pasted papers, reminding us of cellular structures, genetic codes, and viral paths.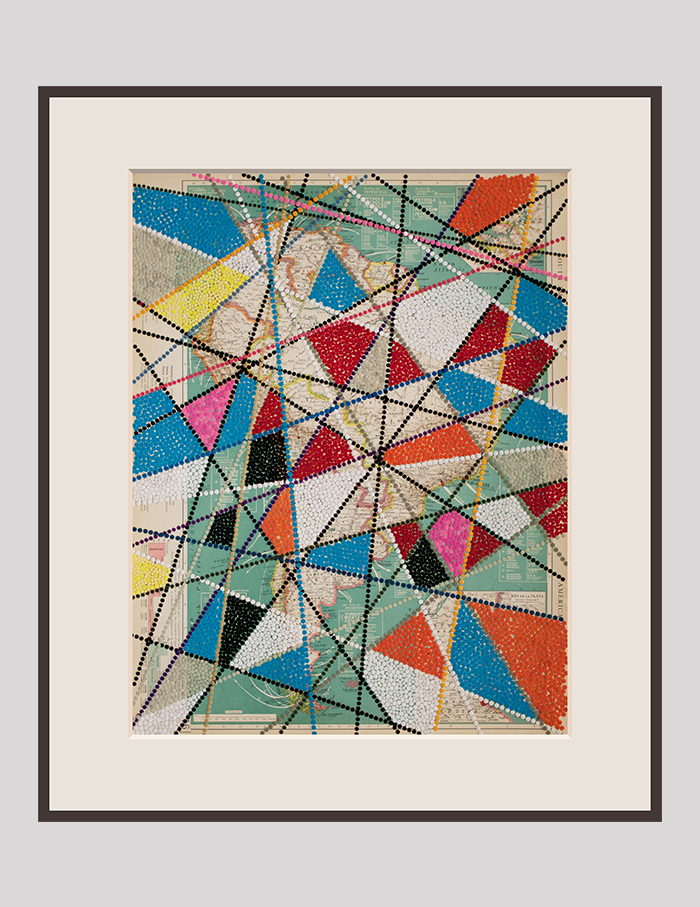 In a candid conversation, Sawhney concludes, saying, "Of them all, I find Riyas Komu's depiction of the migrant woman haunting; the pathos and contemplation in the eyes is striking. And the chaos in Nidhi Agarwal's abstracts reflects the ups and downs in our minds."
Future Is Not Fixed is available for viewing until September 20 on NatureMorte.com and VadehraArt.com