Homes
Explore Harry Nuriev and Tyler Billinger's Manhattan home
AUG 6, 2020
| By Aneesha Bhadri
Known for his rebellious use of colour and Russian motifs in interiors, Harry Nuriev—founder of Crosby Studio—and his partner and former publicist Tyler Billinger recently designed their 900 sq ft New York apartment with a no holds barred attitude. "We weren't confronted with any challenges—we were really able to infuse our style into the space. It's 100 percent us, with zero restrictions," says Nuriev.
Furnishings in popping hues of purple set against glossy ceramic tiles and powder coated metal in light grey tones create a bold, contrasting duality that allures and excites. Interspersed with shimmering silver curtains, glinting golden cushions and quirky metallic decoratives, the apartment is effused with understated glam.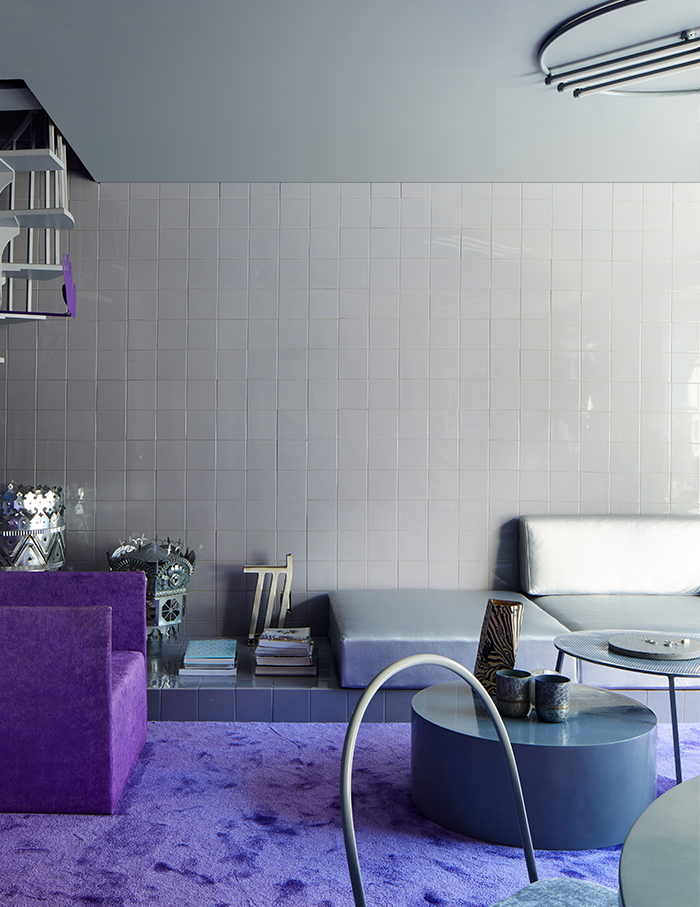 Large sliding windows open out to a balcony attached to the lounge that's decorated with pieces from Crosby Studios' collaboration with Mumbai based design studio Hatsu. "I was inspired by a pool when designing the balcony, which is why I covered it with tiles," explains Billinger. Nuriev and Billinger incorporated pieces from their collaboration with Hatsu for this space to complement the sleekness of the apartment's grey palette, while embodying the dynamism and opulence of the ultraviolet accents.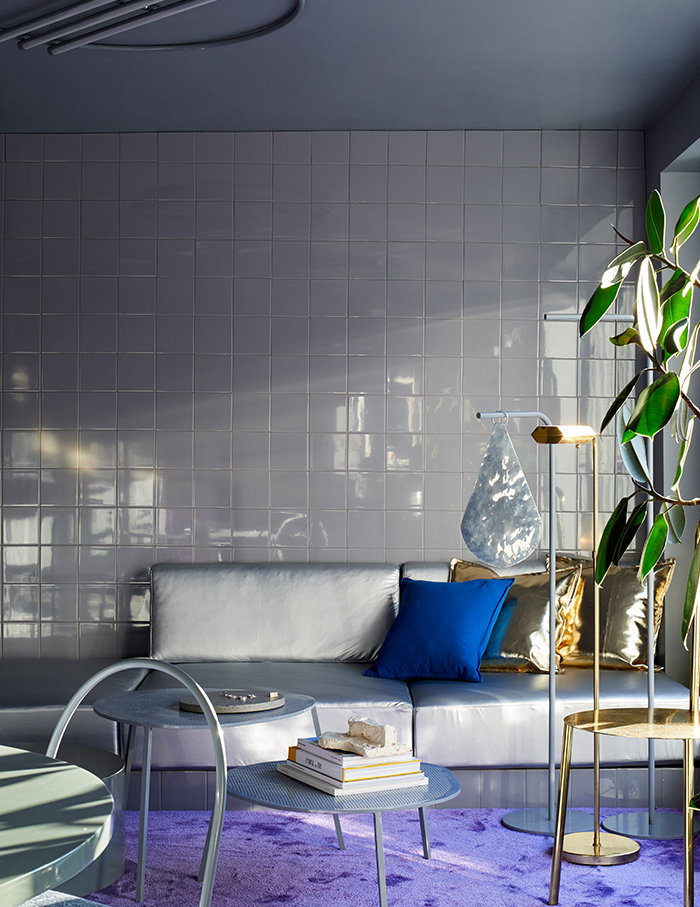 "I met Saumil Suchak, the owner of Hatsu, a few years back, when he'd approached me to design Hatsu's flagship store in Mumbai, which recently opened. I love working with Saumil and I think we have similar aesthetic sensibilities, both rooted in radical design. Having a shared approach to design that's playful, romantic and minimalistic allowed us to create this diverse collection," says Nuriev. Fixtures custom made with Dorf Australia complete the look.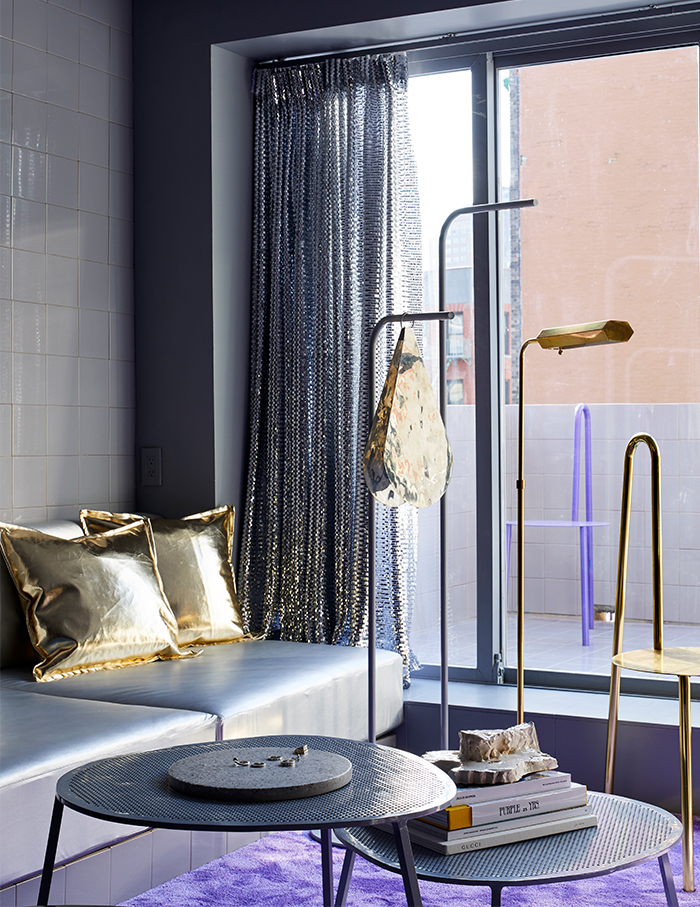 The kitchenette, with ceramic tiles and silver hued, vegan leather-clad cabinets, lies along the back wall of the living room. "I wanted the room to allow people to really interact so I positioned the sofa to look at the rest of the room. Next to it is our dining table, which is a part of our collaboration with Hatsu," says Billinger.
An ultraviolet window separates the two areas. "I wanted to distinctly demarcate the kitchen from the living space, and so I used a purple window divider," he says. "Kitchens are one of my favourite spaces to design in interiors—they're the centre of activity in a household but can also feel like a sanctuary," adds Nuriev.
In a corner, at the other end of the living room, a spiral staircase takes you to the upper level, where a little reading nook greets you on the right. "I love this spot to relax and to sketch," says Billinger.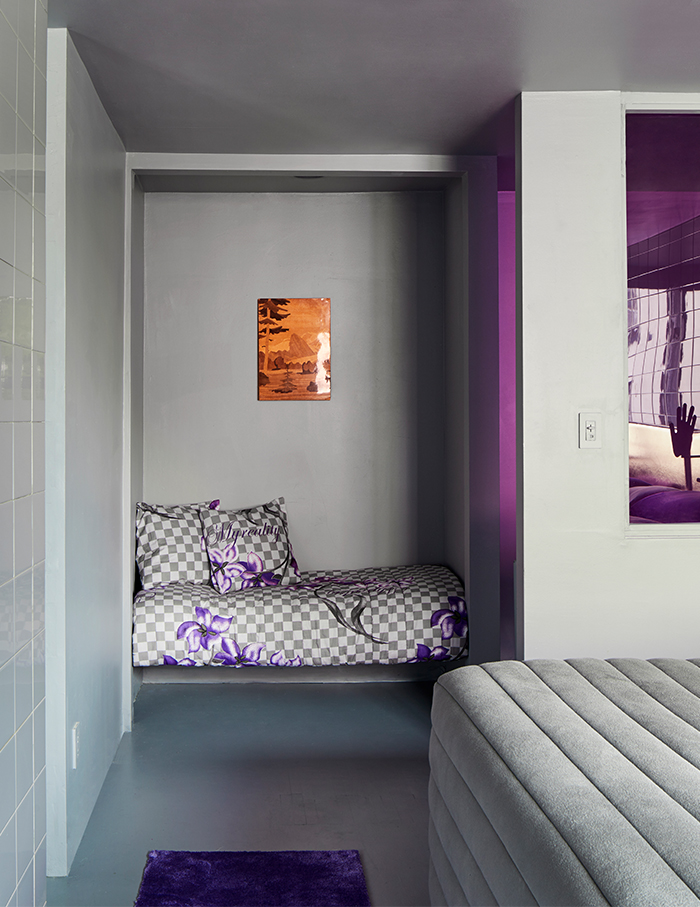 The bedroom beyond houses a custom shoe rack, built using tiles to act as a standalone wall and to divide the large bedroom into two zones—the sleeping space and a large open closet. The bathroom to the right of the wardrobe is fully covered in bespoke tiles made with Hatsu. "I wanted this space to feel open and an extension of the bedroom. So, I designed a large window, which looks out to the wardrobe to open the bathroom up," he explains.
A daring palette and sleek textures lend playful glam to this modern home. "We wanted a space that was not only elegant but also livable—a cosy sanctuary, which is why we used a warm grey as the base and a vibrant purple as the supporting colour to give it that signature Crosby boldness. Violet, our favourite shade at the time for us, is optimistic, cheerful and regal. If we redid the apartment today, it would probably be neon green, Harry's latest colour obsession," smiles Billinger.
Scroll below for more images of this Manhattan home by Crosby Studio…