Homes
The grey glamour: Mumbai abode by Design Hex is elegance wrapped into a home
SEP 21, 2022
| By Pratishtha Rana and Maheshwari Vickyraj
Sewing together a spectrum of many bright colours in living spaces is often a known way for residents to bring easy joy and design mood home. Adding her own spin to this thought is Shimona Bhansali of Design Hex, shaping up elemental interiors of a Mumbai home in Mulund's Ashford residential project.
Shimona's canvas is monochrome underscored with the understated glamour of grey and its many shades laced across the 4,100 sq ft space that is a combination of three apartments!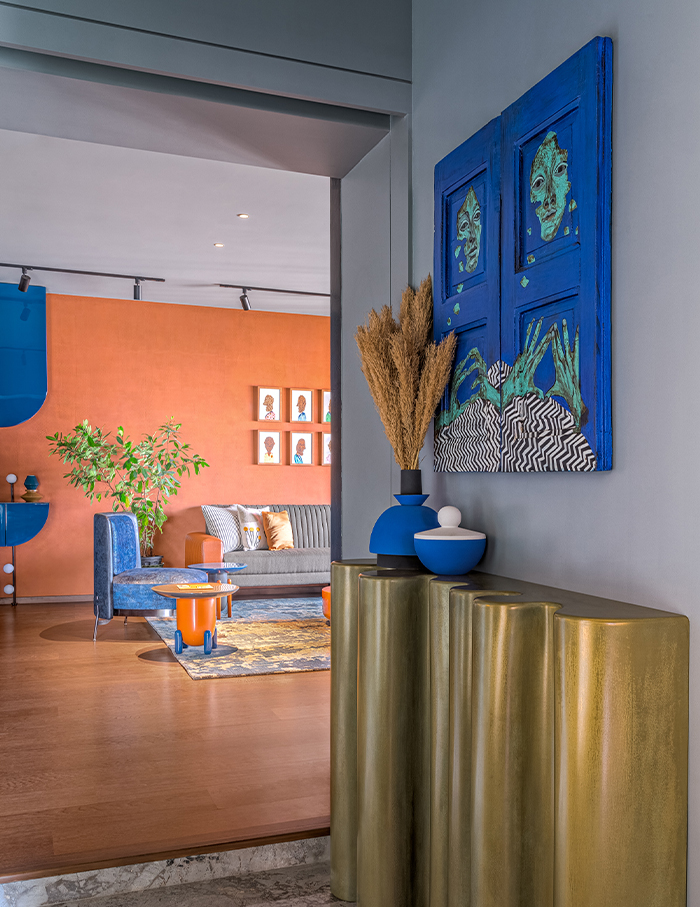 Curious Brief
While the home coalesces structural nuances with monolithic elegance, a palette of pastels is splashed on the interiors, with the whole section of the third house dedicated to socialising and entertaining with friends and family.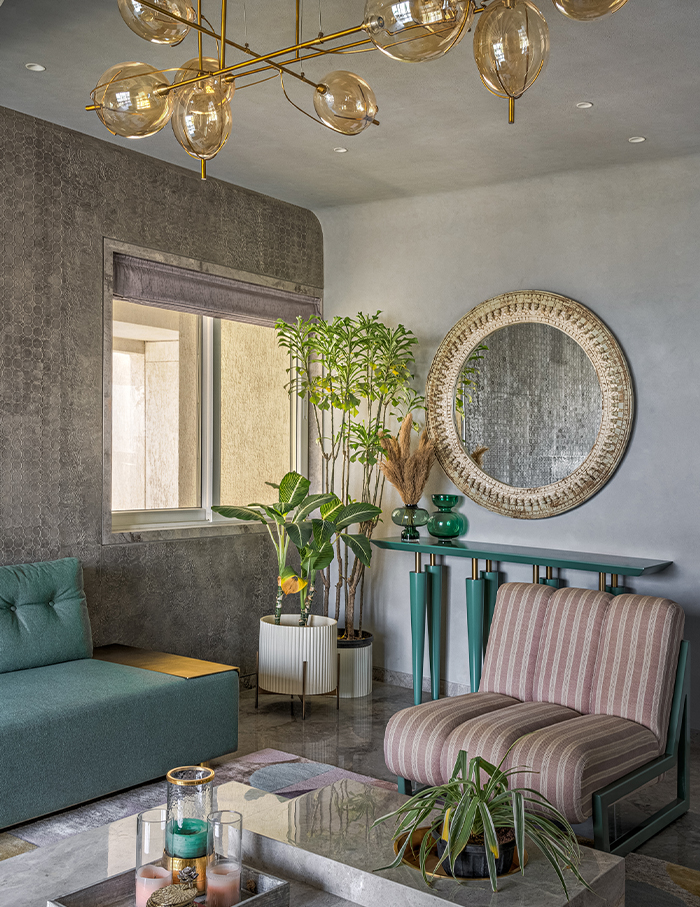 Tour of every turn
Enter this home, the spacious living room is a medley of soft shades of grey, sage green, and a hint of pink. The dining and living space is split in two by a scoop-scaled curtain that runs from the ceiling to the floor, with a custom 'Bauble light' by Design Hex enhancing the space.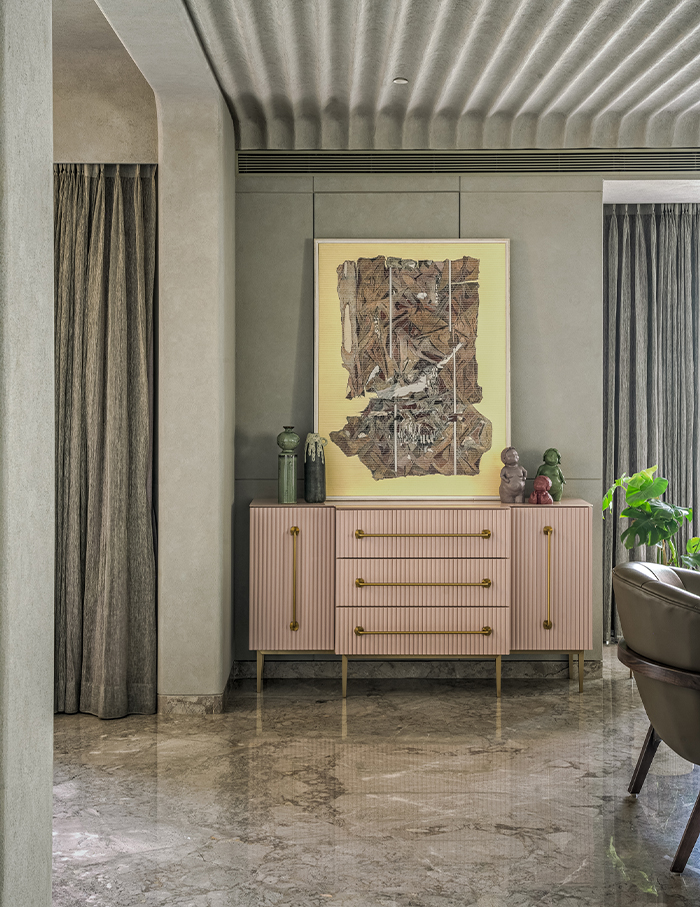 The dining table, with its marble surface, stands delicately in contrast to the golden-bronze console and is paired with blush pink chairs.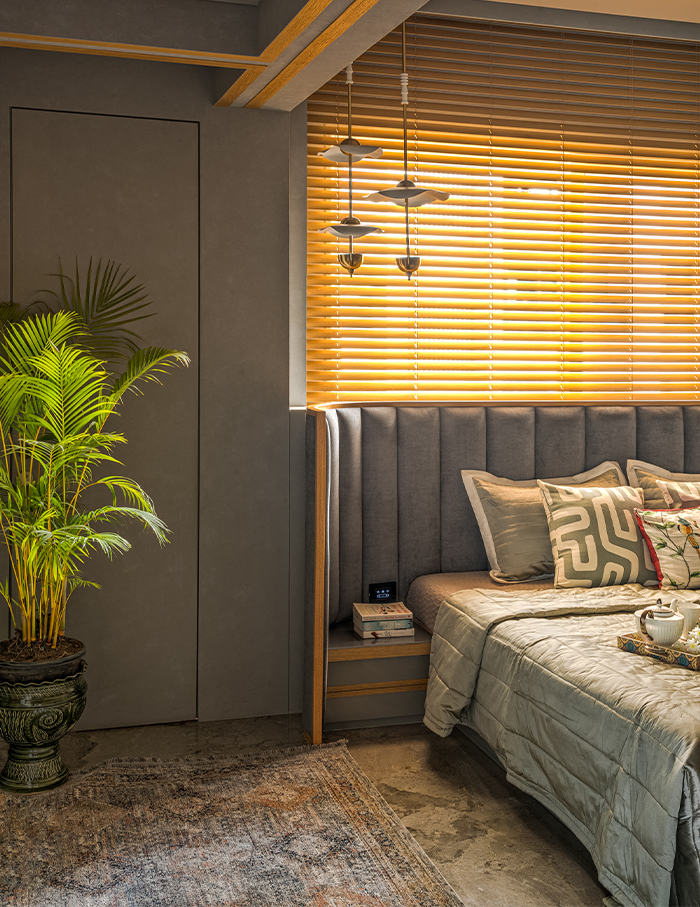 The studio's preference for robust architectural shapes is preserved in a contradictory colour scheme in which strong grey stone colours are set against light pastel incursions.
Exploring further, a spacious master bedroom room's walls feature a subtle veneer wood pattern. Continuing the same colour scheme as the rest of the house with a walk-in closet and a king-size bed with wings laid out in the centre reflects a clean and minimalist space.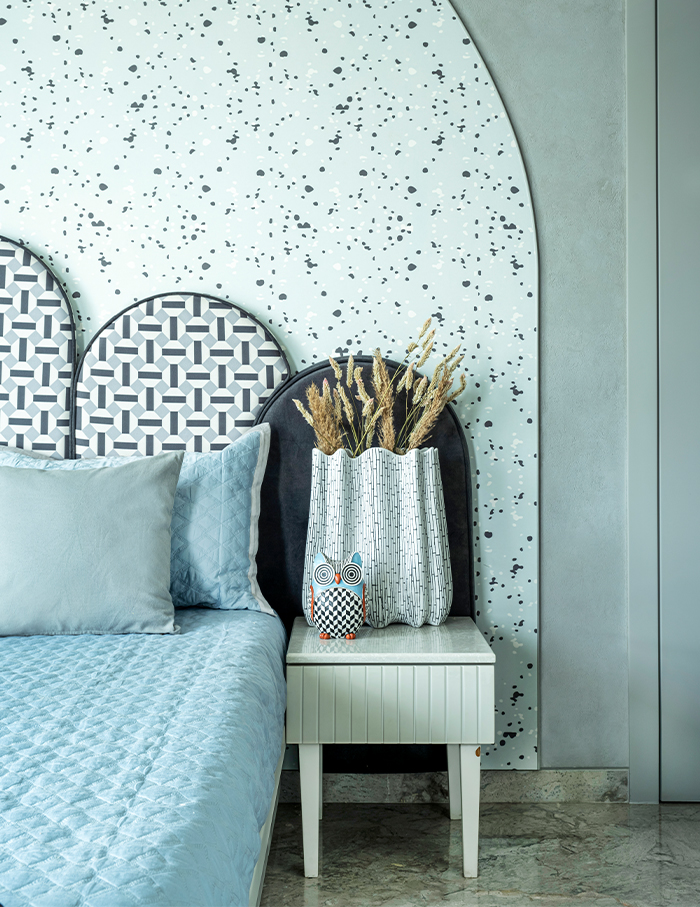 Reminiscent of the remainder of the apartment, the space further opens out to a cosy study nook located at the opposite end of the apartment and is dressed in a soothing palette of sage greens.
"We went with relaxing blue colour palettes and lots of open floor plan space in the kids' bedrooms to keep them occupied and engaged," says Shimona. The second child's room is an oasis of soft and tranquil design, rich in cool blues, interesting textures, and an arched headboard that grabs attention.
Enter vibrancy and fun—the party area is an extended space for the same client and is specially built to host their friends and family. "Chatterbox chairs" at the eight-person dining table set the atmosphere for lively card games. A guest bedroom, a fully equipped kitchen, and a lounge that doubles as a gym are all included in this, making it a multifaceted space.
The bathrooms have been imagined and designed in warm tones, revealing a dazzling new realm of honeycomb splendour. Upon entering, one is struck by the unexpectedly striking atmosphere of the powder room, which has been designed with black marble, Bisazza mosaic, and unique brass bees swarming all over the appealing walls.
Ideas to bookmark – colours and materials
Striving to incorporate unique forms and texture into the design, "For this project, our clients had two massive apartments; hence, we planned grey tones for the main home and a warm palette for the outhouse," shares Shimona.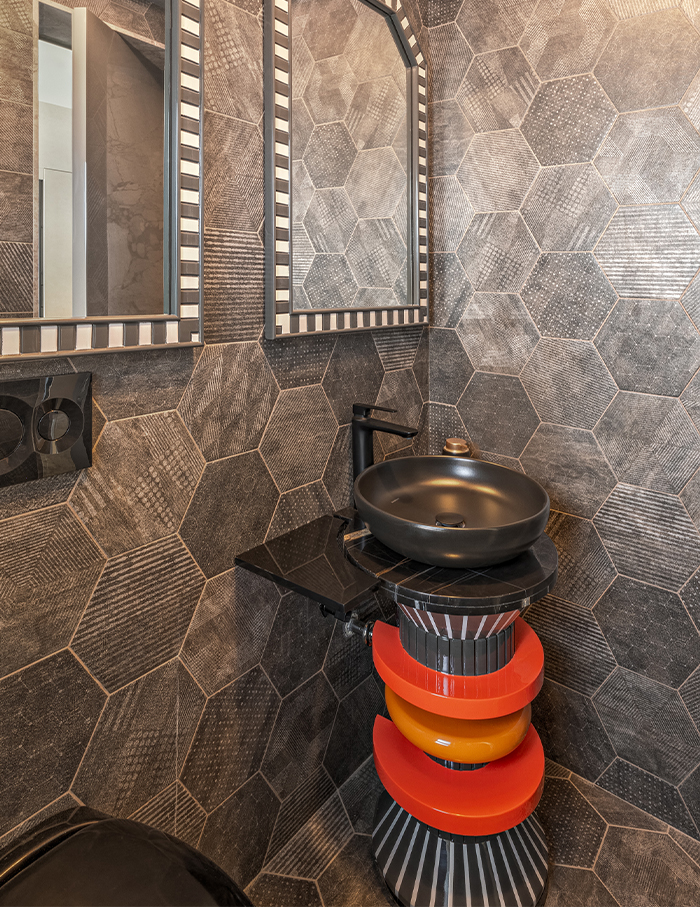 Staying true to the name "50 shades of grey", the home features a neutral colour scheme of grey tones and pastel accents throughout. Sage and pink are used in the living and dining areas, while green is used in the study and a soft blue is used in the children's bedrooms. The outhouse, on the other hand, is livelier because it is used for recreation and leisure activities