Design
Get inspired to be inspired—ED curates a list of cool offices to nudge you to give your office space a face-lift
OCT 14, 2021
| By Twinkle Tolani
Office interiors are being looked at with an all-new lens all over the world. While the changes had begun pre-pandemic, the event itself sped up the trajectory. The graveness of a healthy work-life balance seems to have finally dawned upon office managements!
To lift the bane of dingy, impersonal cubicles with cool, bright and inspiring work desks, Elle Decor India brings you a list of cool offices to offer inspiration to spruce up yours. Boxy, monochromatic, copy-and-paste office spaces are shenanigans of the past. It's time to make way for new, exciting and inviting workplaces.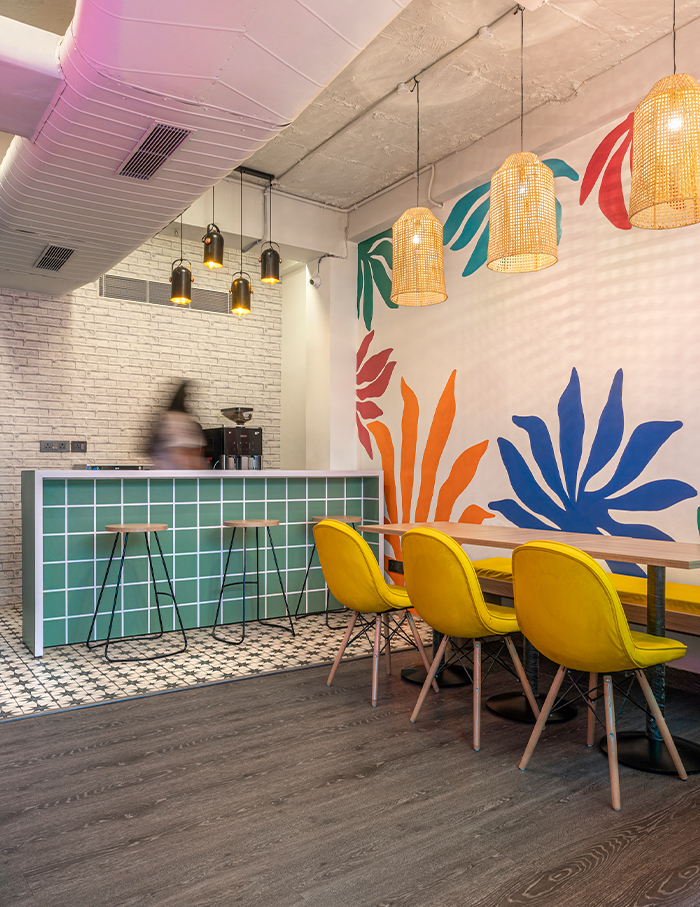 Who said fun, bright-toned spaces are reserved just for cafes? A colourful co-working space, the B-Hive 11 by Studio Bipolar—co-founded by Sanjana Mathur and Ujjwal Sagar—adopts invigorating shades and graphics to keep the employees' spirit up and high. The office can be described best as a space created for the young by the young!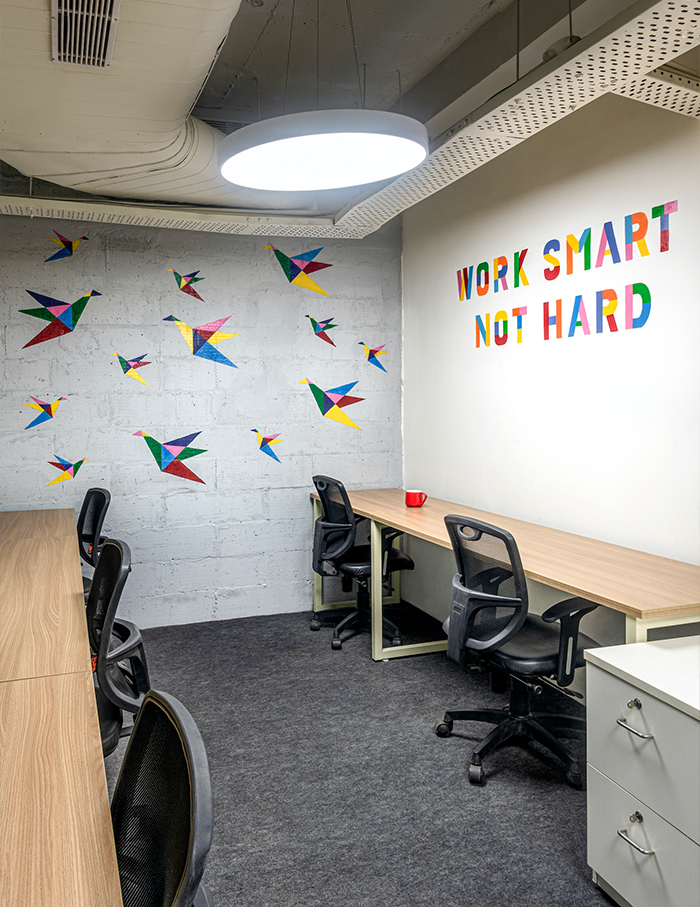 An open HVAC system rendered bright yellow, and walls with words of encouragement juxtapose furniture and flooring patterns in warm wood accompanied by novel lighting fixtures in the space. The conference room is lively with birdcage chandeliers and a faux-plant ceiling. 
Saplings Creations by Artystry
The Saplings Creations office by Artystry is a perfect example of vividity meeting subtlety. Light-toned timber furniture paired with pastel shades of green line the interiors of the office. Cosy break-out spaces, irregularly-lined workstations, and randomly placed dual-toned pouffes giveaway the creative nature of the work at the digital studio.
An innovative feature in the office is a cushioned-top, curved piece of furniture that is a perfect rest for your back while standing to have a conversation with your workmate. It sponsors small talk but also slyly reminds one that they are away from their desk!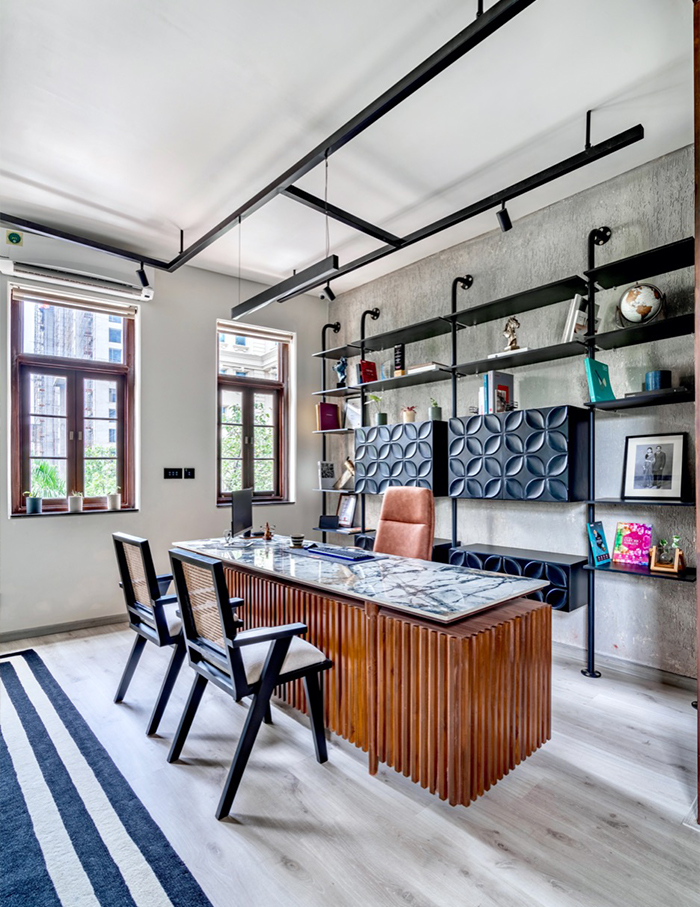 Oozing undisputable hippie and bohemian vibes is this office designed by Sakshi Arora Poddar, proprietor and principal designer of Tatvam Concept. A wooden bench and black-and-white patterned tiles greet you in the entrance hallway of the studio, acquainting you with the upcoming vibe.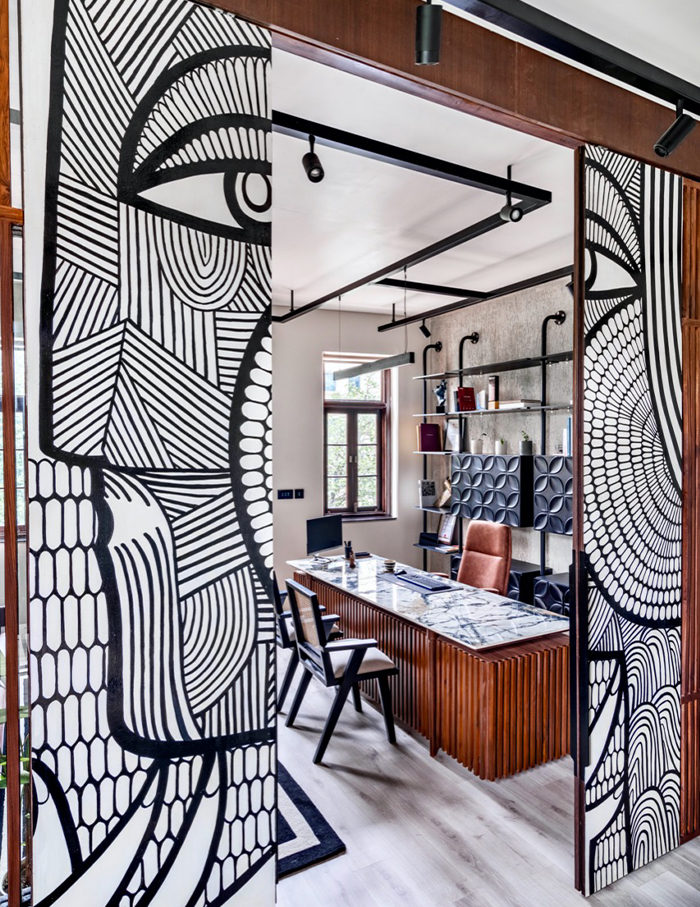 An eye-catching black-and-white mural of a woman on a partition made of timber slats separates the intimate co-working space from the main cabin. The magic happens when the large painting splits into two sliding shutters to become the door to the cabin! 
Home Office by The ChalkWhite Home—Nikita Mahajan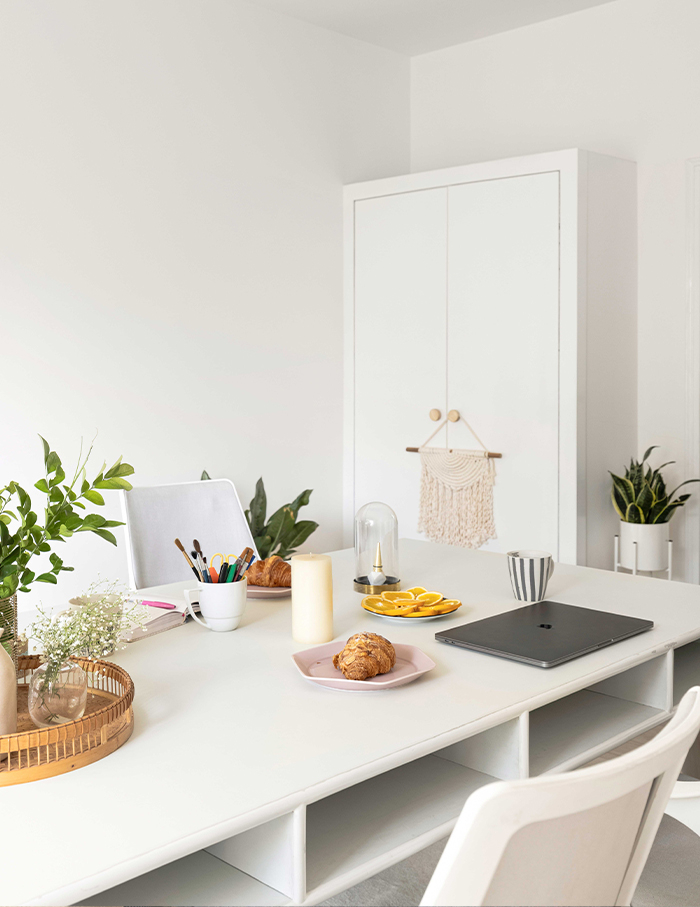 The onset of the 'work-from-home' situations made employees gleeful until they realised they actually had to work from home without the resources present at their offices. Home offices, since then, have become rampant. This fuss-free, minimal office by Nikita Mahajan in a Delhi home gives Pintresty vibes!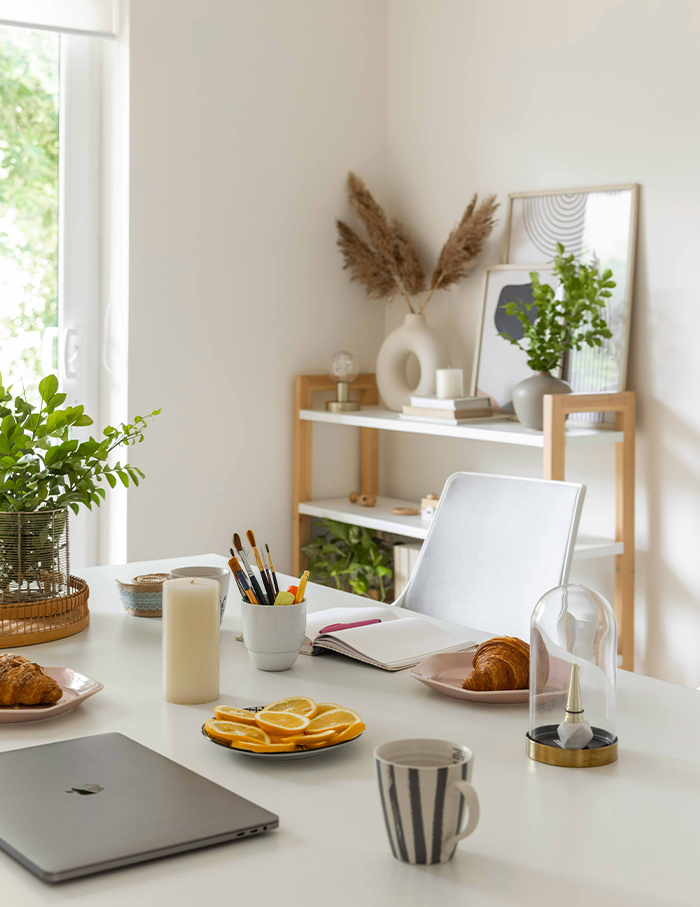 Doused in white—with flirty greens and beige accents—the room makes an excellent case of an inspiring and quiet environment. Illuminated by sunrays, on account of being located on the third floor, the design is a classier version of the boho vibe. 
Dental Clinic by Ketaki Poonawala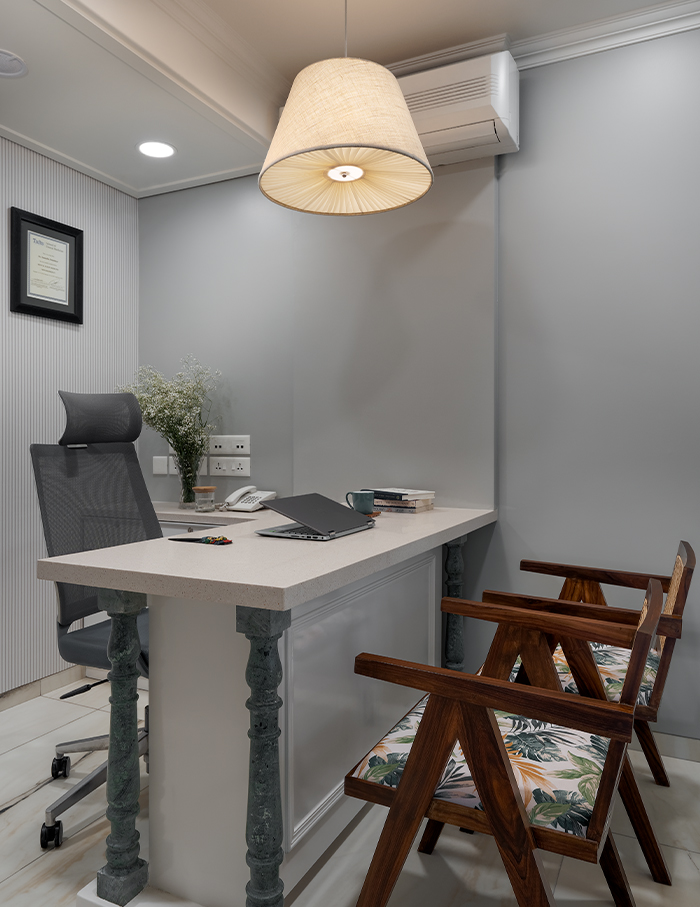 Although clinics are dreaded destinations for most, they also happen to be offices for doctors. Such spaces have to employ faint shades to ensure the areas are clean, but that does not mean they cannot be fused creatively with other elements. This dental office by Ketaki Poonawaala makes use of natural materials and flora to do so.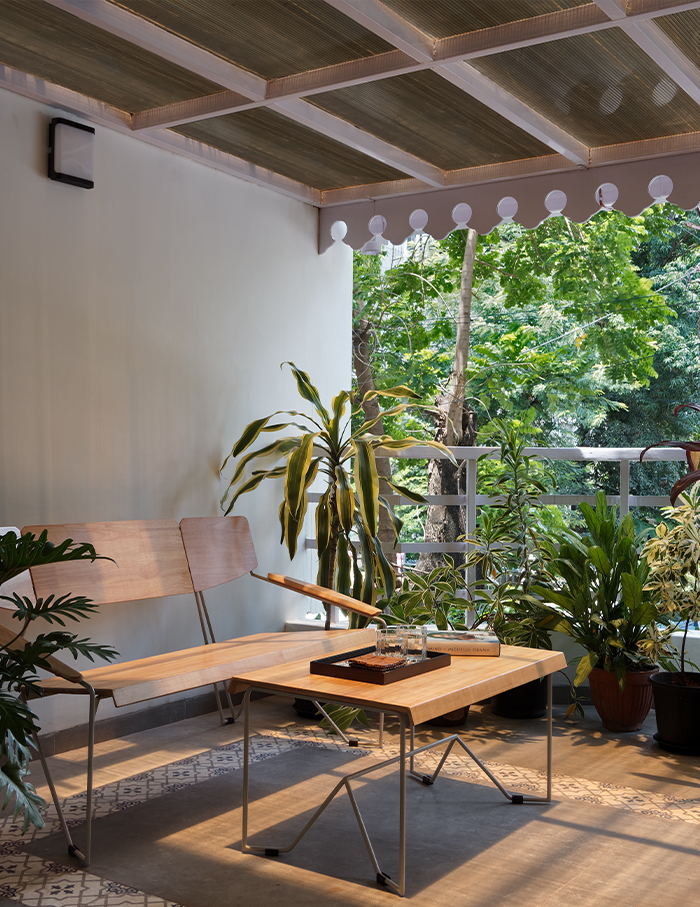 To imbue liveliness, plants fringe the waiting area and passages. A deck with raw wooden furniture and a crowd of plants smear the line between outside and inside. Even the windows, which have been specially widened, are accented with greens. Further, tropical fabrics and a grey and wooden colour palette enhance tranquillity. The clinic casually emanates a mid-century modern design language with cornices, wainscoting and bevelled glass partitions.
Coffee Bite by Studio KE Architects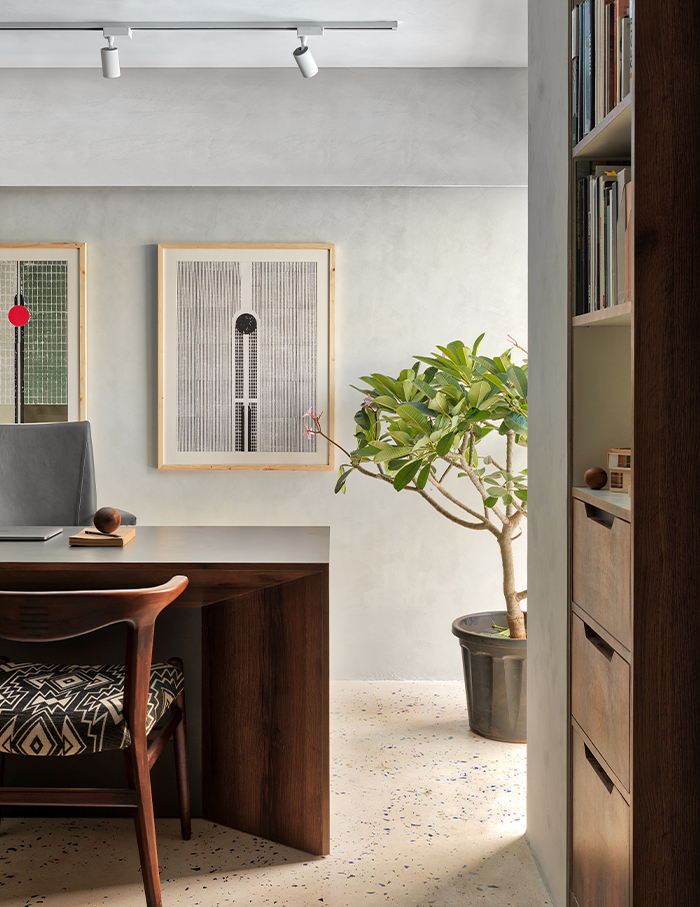 Aspiring to be as refreshing as the first sip of a cup of coffee, Coffee Bite by Studio KE Architects employs local materials and artisans to evoke clarity and wholesomeness in the design. Terrazzo flooring and concrete wall finishes impart a sense of nostalgia to the space, much like the name of the office inspired by the infamous toffee,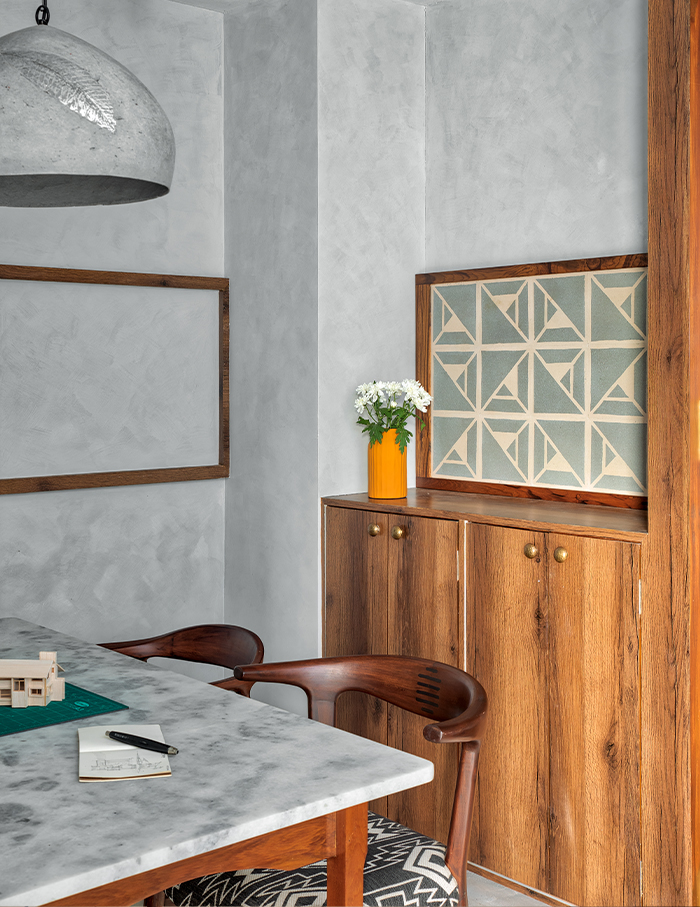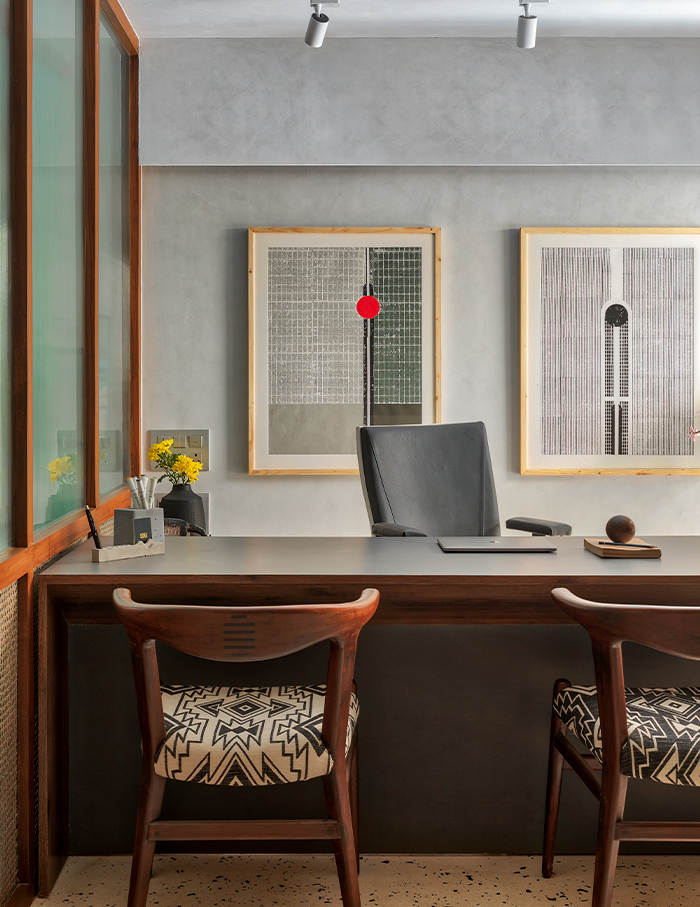 Elements like a blackboard and bamboo-woven seat backrests and door panels transport you to a simpler era. However, the theme of the space does not distract. Instead, its simplicity renders it personal and austere.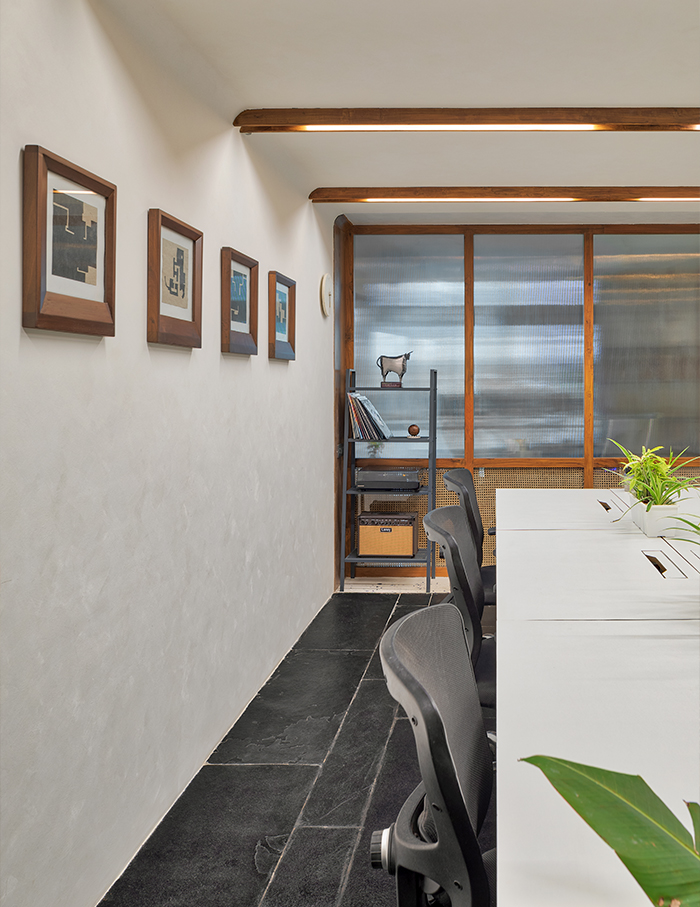 Dextrus' quaint and contemporary office space in Lower Parel is all set to welcome employees from different sectors to work together. The picturesque interiors place the early days of Bombay's textile supremacy in the lap of a contemporary context.
The subtle use of textiles throughout the space hint at the significance of being located in the same compound which housed the iconic Morarjee Mills. What could be more inspiring than working in a space that was once a centre point of success? Custom art pieces such as thread work on paper by Shamika Desai from Baked Chaplin and large windows sponsoring ample daylight line the space.
An office that speaks of its roots by Viaanca Interiors
With rapid globalisation, design languages are emerging out of borrowing attributes from one another. It's not an all-bad predicament at all; however, an office that flaunts its Indian context is certainly refreshing. This office for Concept International Business Consulting Pvt. Ltd by Viaanca Interiors imbues workspaces with a calming atmosphere by adopting earthy material and colour palette accompanied by Indian characteristics.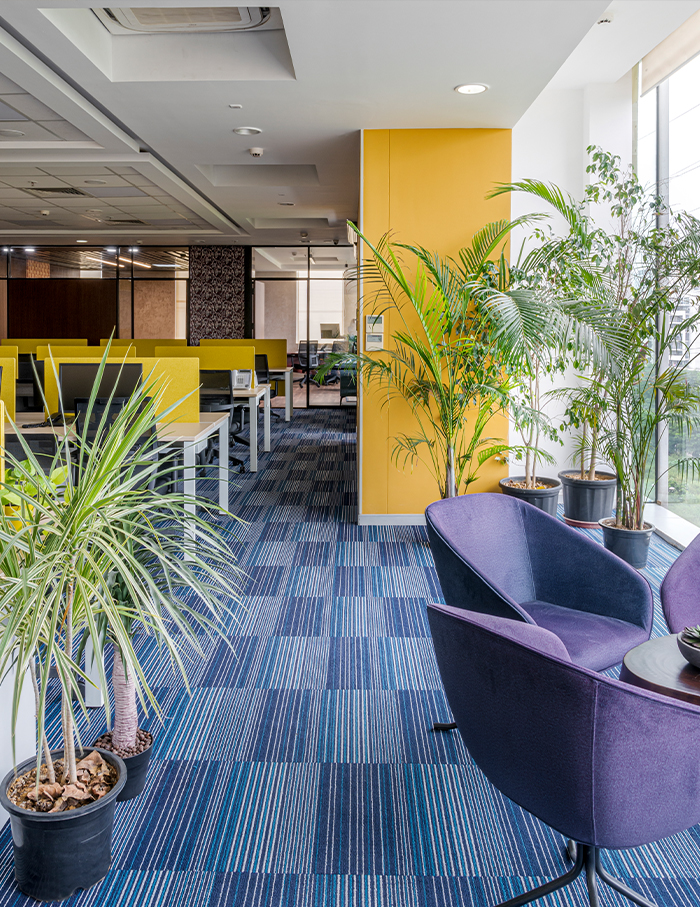 Alongside, walnut-hued wood veneer panellings with contemporary vertical grooves, the framed wallpaper from Sabyasachi Nilaya with quintessential Indian motifs in muted shades of indigo, mustard and brick-red and fabric panellings with distinguishing Indian patterns such as the paisley adorned the walls of the office fusing the formal nature of offices with the vibrance of the country's context.