Homes
Gauri Satam and Tejesh Patil of unTAG Architecture & Interiors curate this extensional apartment as 'A Tropical Paradise'
JUL 2, 2021
| By Saloni Rege
Conceptualised as an extension to an existing residential apartment in Ahmedabad, this abode coined 'A Tropical Paradise' renders warmth and a biophilic essence. Designed by Gauri Satam and Tejesh Patil of unTAG Architecture & Interiors, the house encompasses two guest bedrooms, a lavish entertainment area and a home lounge with an office as an addition of spaces to its next-door unit.
Wrapped in organic undertones and materials, the 1,800 sq ft apartment is crafted to act as a relaxing dwelling in nature. The overall aesthetic aims at an indoor space that rejuvenates the inhabitants through a metaphorical visual connect with the surroundings.
"The client brief was simple and straightforward. They wanted the ambience of a home lounge to host family and friends over large as well as intimate gatherings," shares Satam, co-founder and studio head of unTAG Architecture & Interiors.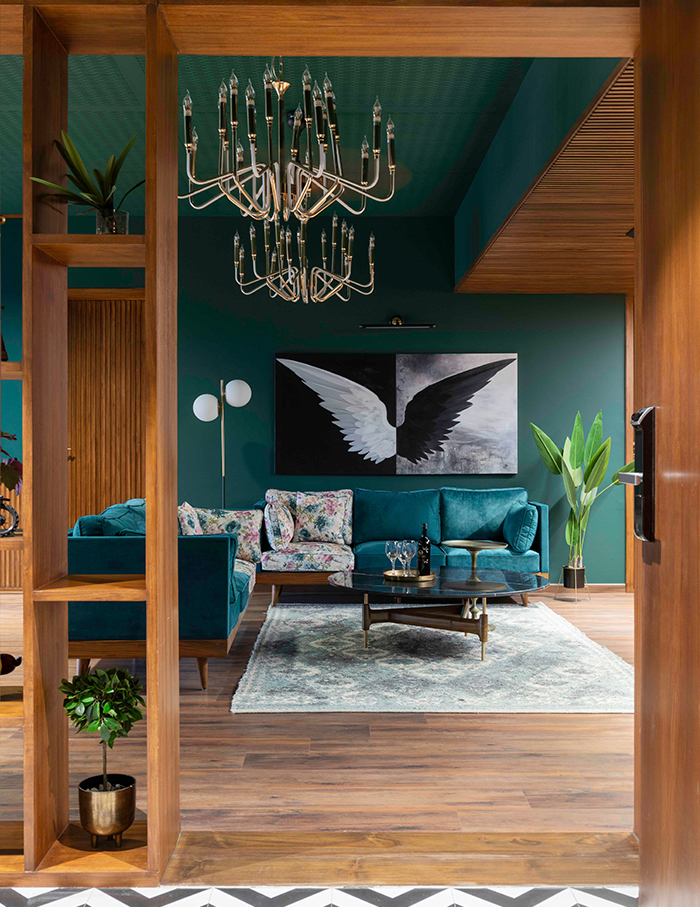 Upon entering the apartment, a small vestibule comes in sight, dressed in a white and black floor and IPS finished walls with a screen that separates it from the main lounge. The capacious primary entertainment space is consciously curated with hues and materials of a tropical rain forest—emerald greens and teak wood, imparting an arresting visual as well as a calming vibe.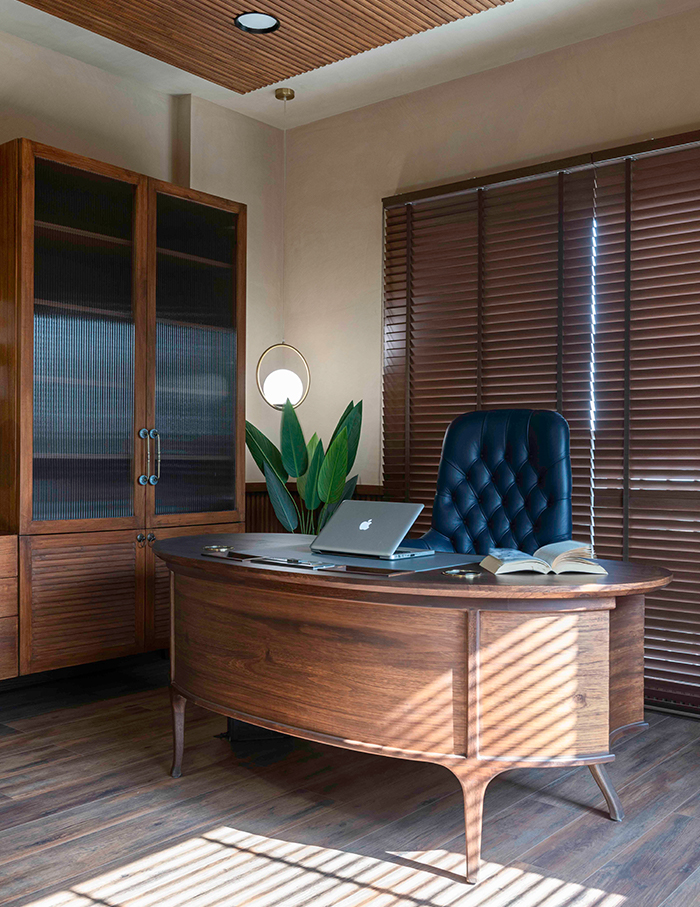 The layout of the lounge bifurcates into two kinds of seatings, one that serves as a setting for an audio-visual space with acoustic treatments and the other one as a low casual seating flanked by the adjacent bar. The bar, otherwise a hidden cavern, unfolds itself while entertaining friends, reflecting the entire space through its mirrored panels.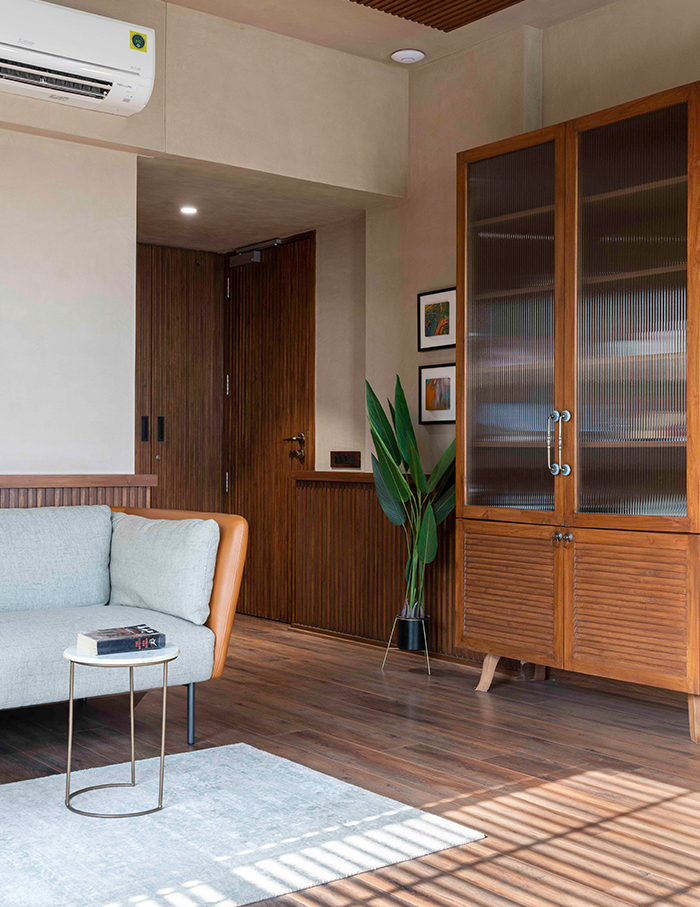 An emerging inevitable need of working from home is acknowledged by a home office, which is doused in a vintage charm that's achieved majorly in salvaged teak wood panels and complemented by hints of beige through lime plastered walls. Additionally, a selection of crisp furniture recreates the old-school genre of a 1970's office space.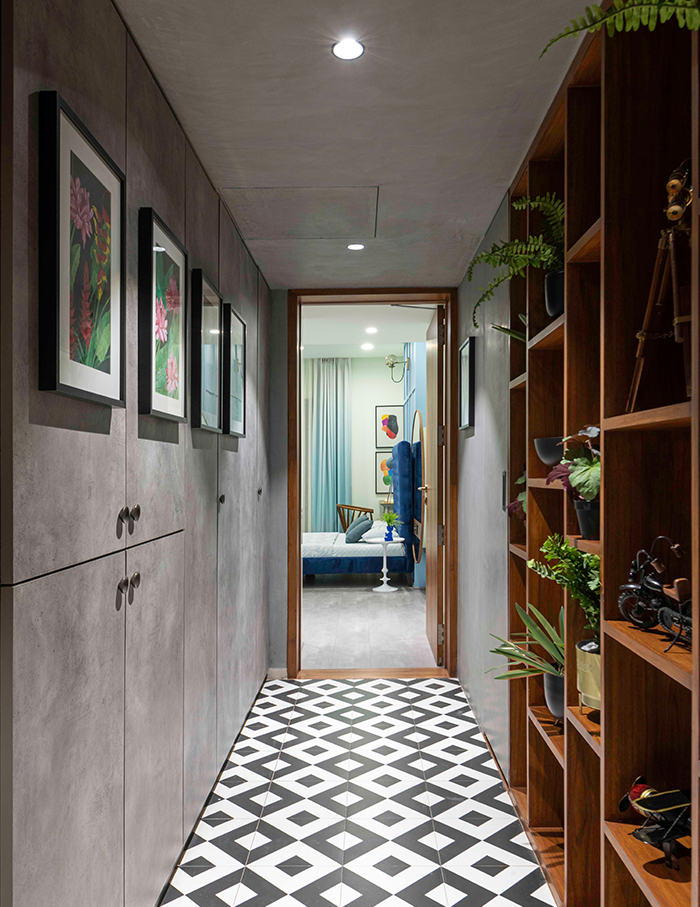 "The main lounge was the most tricky space to design, as it needed to be celebrating as well as calming. It demanded the accommodation of various moods from entertaining friends to having private conversations to watching a movie on a widescreen, alongside a glass of wine. The theme had to be a mixture of dark tones and subtle decor," reveals Patil, c0-founder and studio head.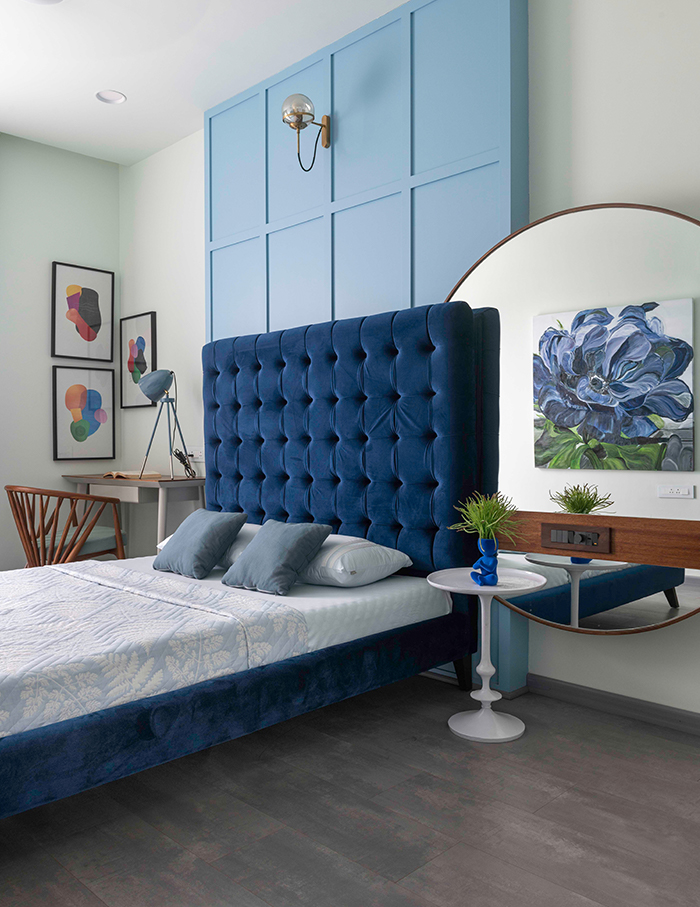 Taking cues from nature, a palette of greens, blues and browns paint the interiors of the house and are accentuated with occasional colour pops. Wood as an element has been extensively used throughout the residence and unifies all its spaces together. One of the guest rooms is embellished in celestial blue hue and houses modish furniture, a chic circular mirror and a fabric bed with a cushy, high headboard.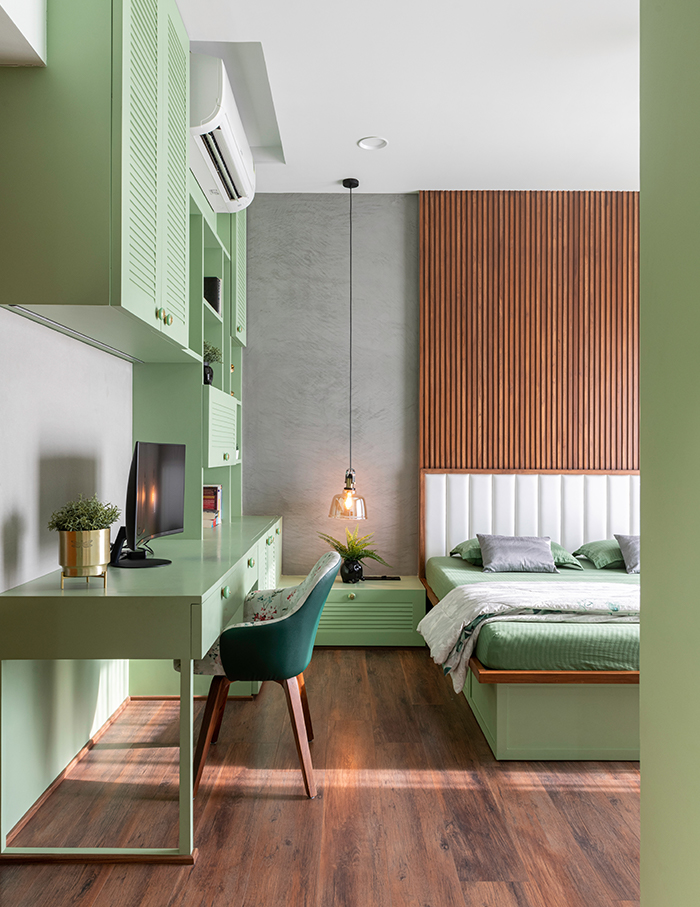 A shade of mint green engulfs another guest room that radiates serenity. A vertical piping headboard in pristine white colour is bedecked with a fluted wood panelling back that extends to border a platform bed. Emanating a cosy vibe, the bedroom personifies a minimalist haven of respite.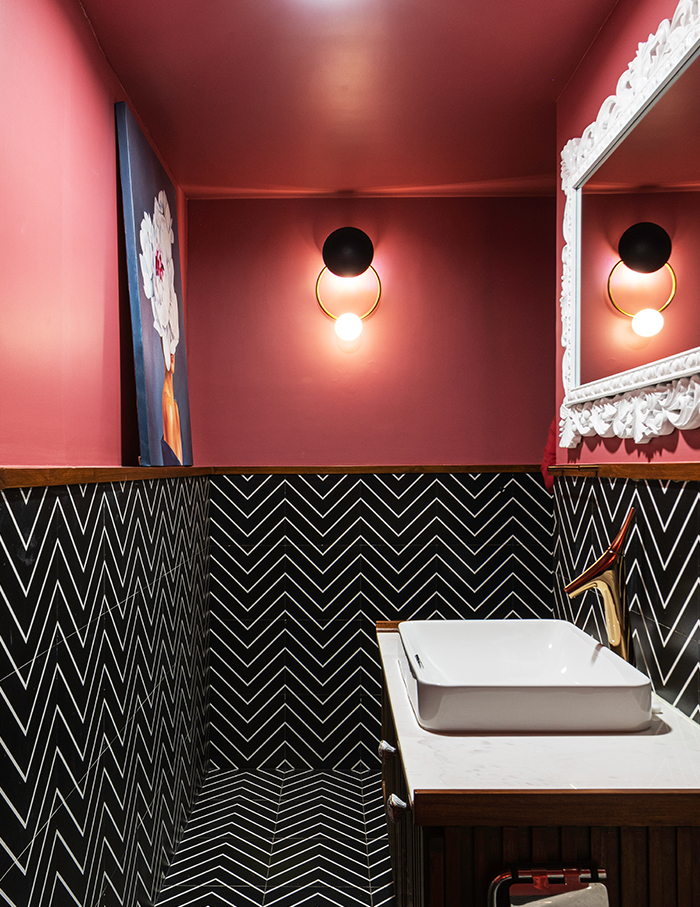 In stark contrast with the rest of the house, is a powder room that's splashed with bold hues and dynamic patterns. Realised as a pompous little cave of fuchsia with black and white chevron-styled floor and wall tiles, the space transcends the users into a parallel world temporarily.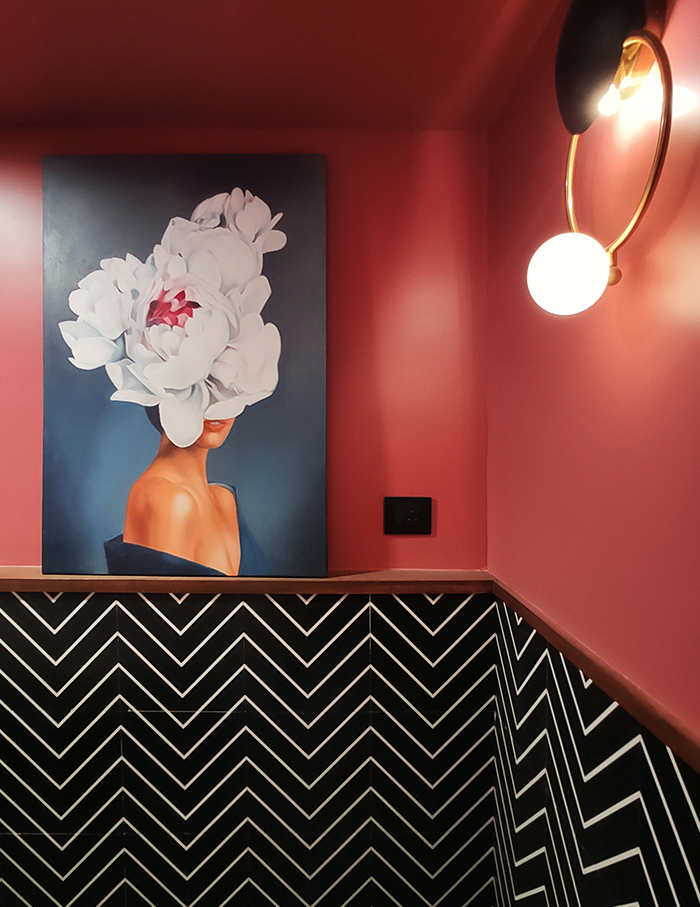 "The primary intent of the project was to keep it simple yet opulent. Exemplifying this idea perfectly is the home lounge! Although all the spaces have been weaved together in harmony, each room has its distinct character. We even chose the artworks carefully such that they align with prints from the nature. In case of this particular project, we were given a specific budget to craft lavish zones. So, economic sustainability has been achieved by making the project cost-efficient," share the designers.

While creating a sense of luxury through minimal interventions, the apartment maximises the user experience. And the best part is that the designers have promoted Indian brands thereby supporting small, talented businesses.