Lifestyle
Q&A with Vallari Harshwal, founder of Imbyou Design Studio, about her design journey and vocabulary
JAN 30, 2020
| By Team ELLE DECOR India
How did you chance upon pottery?
I studied Sculpture from the MS University, Faculty of Fine Arts. Pottery was a compulsory course for us. Right from the onset, I was hooked on clay. I found the process of shaping a pot on a turning wheel truly fascinating. I am truly blessed to have been a student of well known Indian potter Jyotsna Bhatt. Studying under her was an amazing experience. One of my distinct memories during the course was when I was struggling to make mugs of exactly the same size and shape and she said: "A set (of tableware objects) should look like family, not clones". I carry that thought as a "handmade" mark in my work to this day. After completing my BFA, I did Ceramic Design from the National Institute of Design (NID). Thus began my true journey of understanding ceramic design on an industrial level. NID brought a different kind of discipline and awareness in my learning curve. After working as a designer post NID, I was awarded the Charles Wallace Scholarship to study further at the Edinburgh College of Arts (ECA). Here again, I was lucky to be tutored by Clare Twomey, an internationally acclaimed ceramic artist from the UK. All the learnings and experiences I gathered through these years are standing in good stead for me today.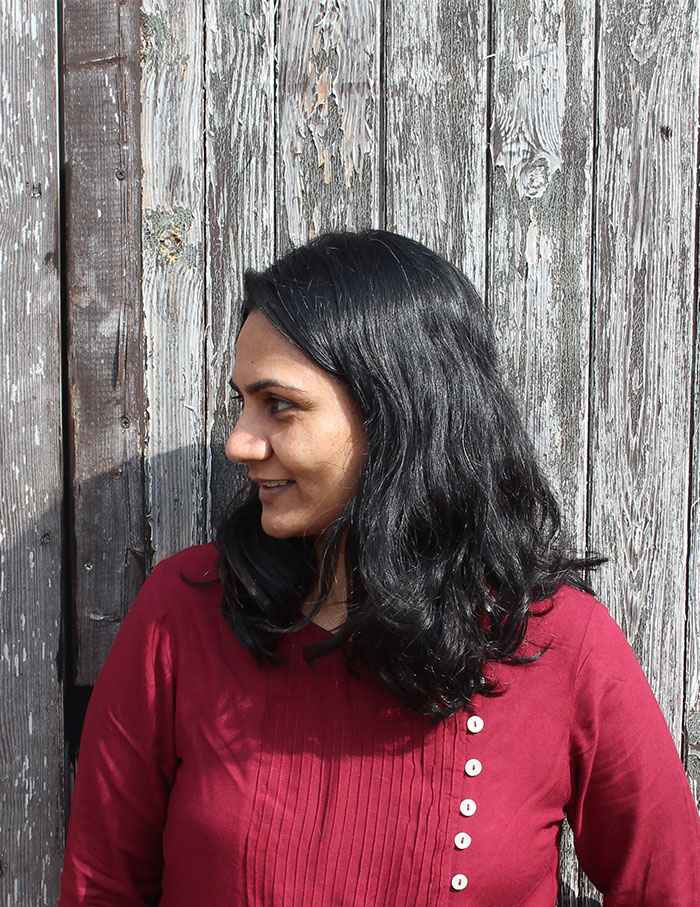 Tell us about your approach to creating new designs…
My work has two strands as of now: the handmade collection, which is usually a limited edition and the second is a set of collaborations with industry experts. There are layers to my creative process.I have worked for quite a few companies as a designer-Good Earth, Ishika, Piramyd to name a few. Each project requires a different design approach. If it is a client-centric project, then the creation starts from the point of understanding the design brief, followed by research and conceptualisation and then sampling. I usually sketch my initial ideas and very quickly move to make the ceramic maquette. I find making "sketches" directly in clay is much better than on paper after initial ideas are sketched. Sampling is then done to the scale and once a design fulfils the criteria of function and form, it goes into prototyping and final production. When I design for my own studio, my first point of creation is an inspiration from anything in life, be it my childhood memories, or objects which seem irrelevant today but held special meaning during a certain time in my life.Once I have some clarity on the direction of my design work, it is followed by making some samples in clay. I keep tweaking the design during the sampling phase and once I am satisfied with the final outcome, I start production.
What are the defining characteristics of your work?
My design language tends to be minimalist. They are simplistic to look at but always have one unique element that could be quirky or elegant. What I do use in copious amount is colour. Somewhere along the years, my aesthetics have transformed into an amalgamation of my Indian origin and life, juxtaposed with my experience of living in England for almost 19 years now.
Tell us about your latest collection…
Before I started my current "handmade" collection of ceramic ware, I took a small step back to set up Imbyou, my design gallery which features designers from India and the UK on various design platforms. During that time, I worked on illustrations for fun which then became a set of dinnerware collections. However, my latest collection called "Fold" is about using a flat sheet of clay and folding it into vessels. My inspiration comes from the way a street food vendor in India folds a piece of paper to make a container to dispense food. The concept of taking simple materials such as old newspapers or large leaves to be reborn as a vessel in an effective way is truly marvellous and I am quite taken in with this idea.
Name three of your favourite products or collections…
That's a tough choice… Each one takes me on a journey, hence each design is special to me. But there are a few I enjoyed designing the most: From my collaborative designs, the Goa dinnerware remains one of my fun designs, working on it was an immense joy because it brought back childhood memories. From the handmade collection, the nest of bowls I made for Liberty Store in London recently was an exciting albeit challenging project.Finally, my ongoing collection "Fold" excites me due to its quirky form which draws all sorts of reactions from customers and onlookers alike (most of the time good reaction).
What are your plans for Imbyou in 2020 – 2021?
When I set up Imbyou, way back in 2015, we were doing around 4 or 5 shows in and around London each year, showcasing a mix of Indian and British designers on various platforms. We have worked with some amazing designers both from India as well as the UK, like Sandeep Sangaru, Katharina Eisenkoeck, Sadhu Handmade Naturals, Kate Collins, Sonam Tashi Gyaltsen, Annaloom, Studio ABD, Linda Bloomfield to name a few of the many designers. Gradually, with time our focus shifted on doing meaningful projects instead of quantity and did lesser shows. During this time, my own design studio got (V H Studio) less attention work-wise, which was a conscious decision.In 2019, Imbyou curated a show at Raw Collaborative for the first time in India, bringing a select number of designers from the UK which was very well received. I hope to curate shows between 2020-2021 with the idea of bringing the two sets of designers from India and the UK to collaborate on projects and workshops which result in shows on design platforms between the two countries. I am exploring the idea of perhaps creating projects which have a more meaningful outcome for the craft and design communities in India and the UK. Along with this, Imbyou is looking at starting a series of collaborations with various creative practices in India for Craft Tours and workshops.