Homes
Form And Function creates an idyllic Indian residence in Chennai to pull on our heartstrings
FEB 20, 2023
| By Siddharth Babani
Rooted in culture, Form And Function designs a quintessentially Indian home in Teynampet, Chennai embracing a mixture of traditional Indian motifs with minimalist ordinance. Awash with natural light, founder, D. Priya and designer Krishnamithra enchant you into losing yourself in this quaint 900 sq ft abode.
A home away from home for the Indian couple living in the Netherlands, the selection of flooring, fabrics and furnishings was virtually overseen only for them to receive a most gratifying concoction of graceful luxury. A rhapsody of colour and texture, the house transports you to a time when a home was more of a sentiment than an ornament to parade through a crowd of your familiars.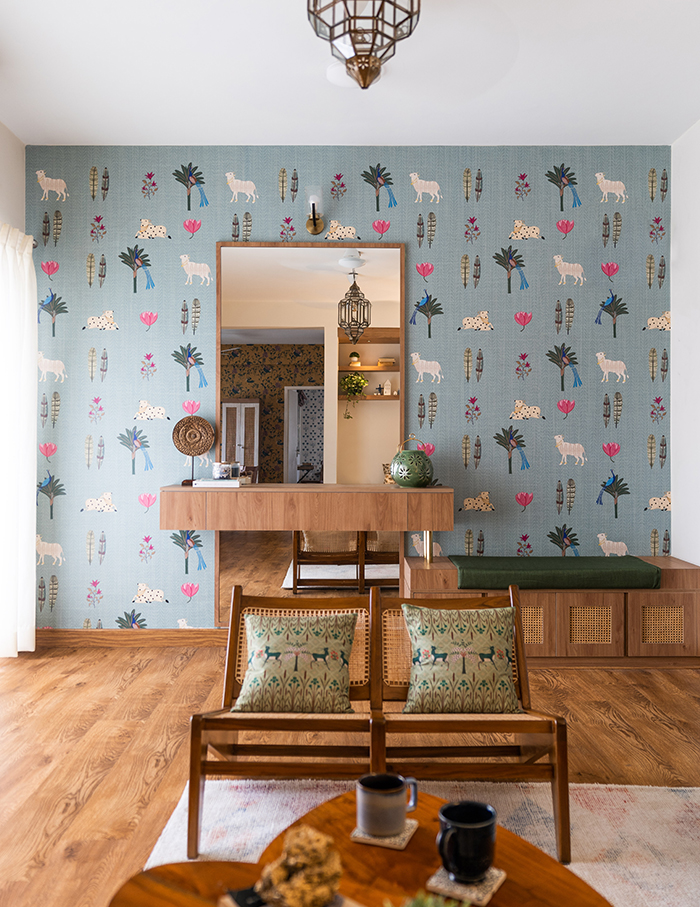 Touring the home
The electric blue door closes onto a bright and sunny living room immediately introducing you to the neighbourhood through its adjoining balcony. The wall to the right is adorned with an absolutely divine wallpaper that displays Indian imagery like the lotus, Pichhwai cows, peacocks and banana trees, which can also be found sprinkled across the lush green sofa and rattan accent chairs. The floor to ceiling mirror does an excellent job of extending the space and reflecting the cosy reading nook at the other end. 
Textured wooden flooring guides you to the warm embrace of the kitchen hosting a vivid golden wallpaper with more nature imagery. The handcrafted dining table becomes central to the home with the remainder of the spaces distributed around the cookhouse.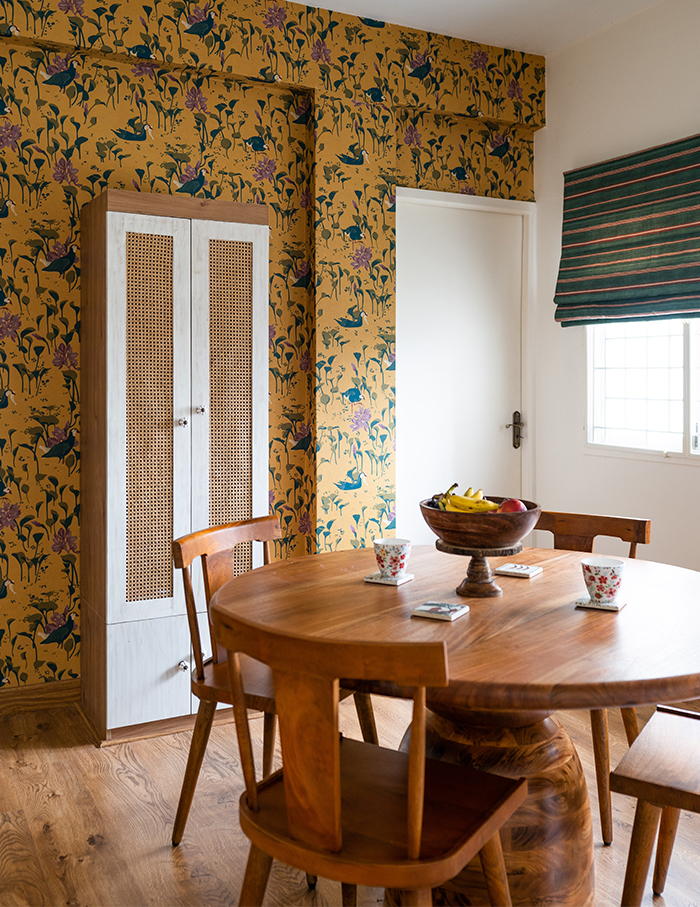 A prismatic woven chair and bright red curtains interrupt the monotonous shades of grey that embellish the media room. Scenic imagery featuring leopards, palm and banana trees can be found on the wallpaper behind the television. A grey diwan sits over the black geometric rug complimenting the panelled white walls.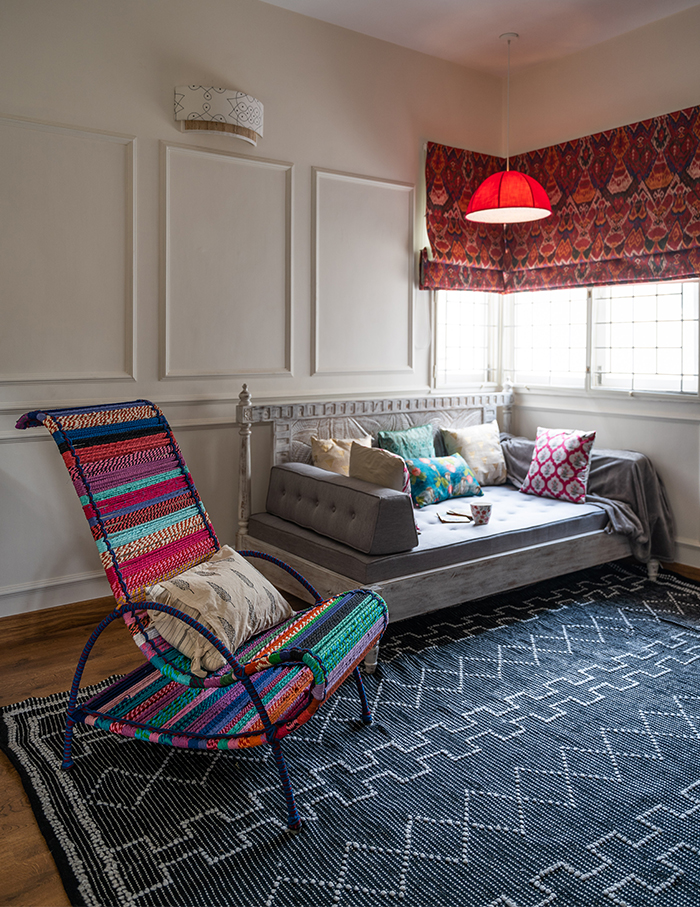 The master and guest bedrooms are designed to be modest and comforting. An undercurrent of tranquillity can be found in the serene wallpaper depicting water lilies in the master bedroom and in the trees of the indigo and white wallpaper in the guest room. Patterned folding blinds drape the walls to compliment the subtle rustic equilibrium maintained throughout the home.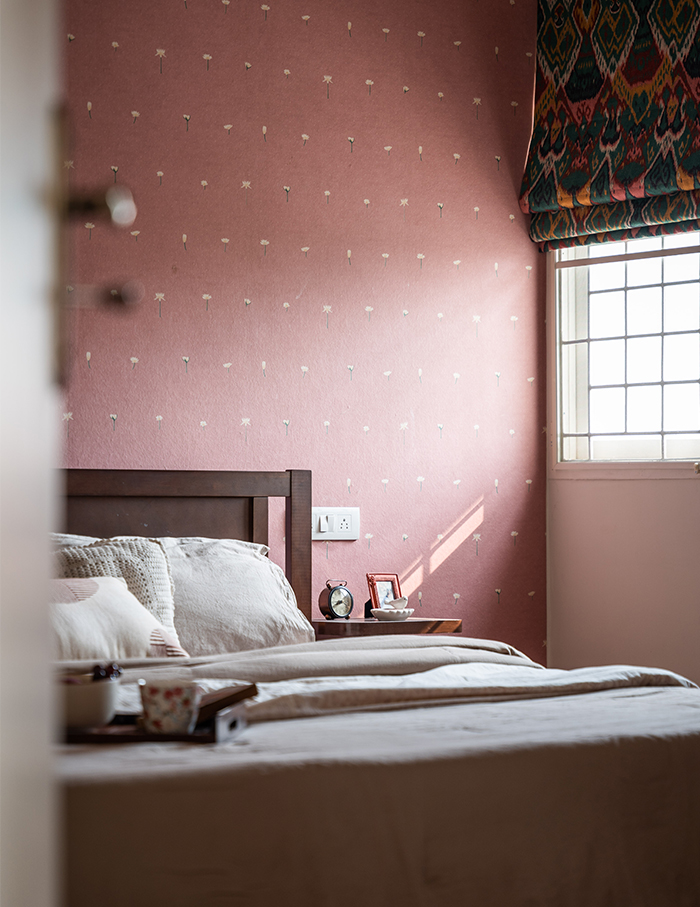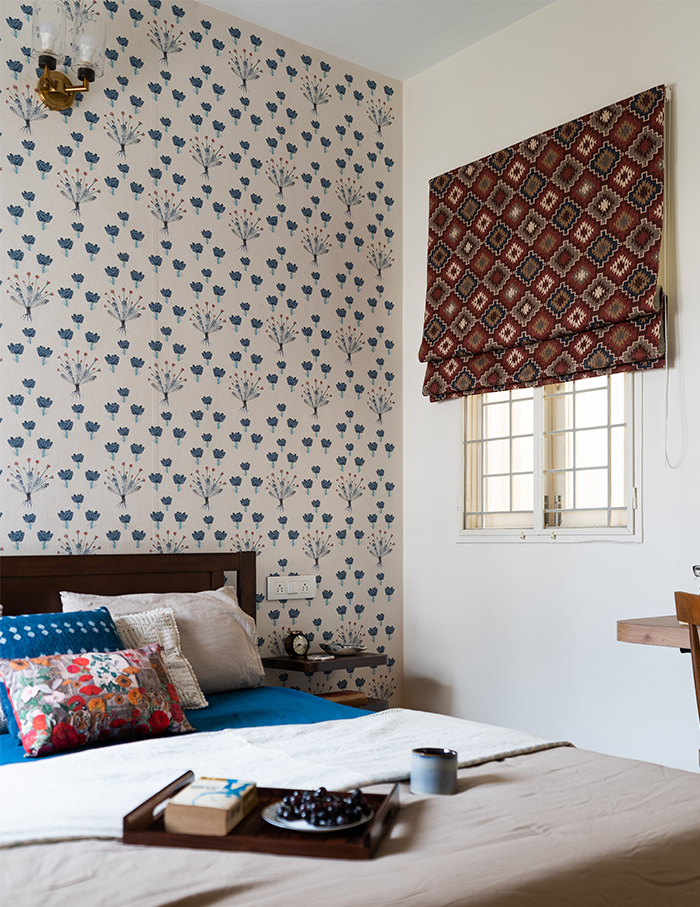 Ideas that inspire
A pertinent selection of printed wallpapers are a thing of great beauty. Not only do they make for great conversation, but they are an evocative symbol, a true reflection of its residents.
You may also like: The Auburn Studio dreams vintage and European styles in a modern Chennai home