Lifestyle
Forest For Rest, a spa designed by Leaping Creative, brings back the ancient Chinese tradition of foot bath therapy
SEP 3, 2020
| By Aneesha Bhadri
A layered layout, curved walls and an earthy palette that echoes the city's mountainous terrain—the Forest For Rest spa in southwestern China transports you to a realm where nature seems to seep into the modern world, bringing with it the serenity and purity of the wild outdoors.
Located on a popular pedestrian shopping street in Chongqing, the 29,000 sq ft space features a labyrinthine entrance with several curved walls defining multiple paths to enter the inner domain. Leaping Creative, a Guangzhou based brand experience design company, gave the interiors a natural and instinctive progression. The result is akin to exploring a fantastical desert terrain that reveals a lush forest.
The Leaping Creative design team chose the Hercules beetle as the icon for this leisure and wellness brand, since it symbolises healing, energy and vitality. "The process of Forest for Rest's spa services is redesigned with the floor plan, to guide the costumer's journey along the brand narrative. The Hercules beetle imagery is extended to print materials, screens, 3D installations and merchandise, to create an immersive experience," says project manager, Dongzhi You.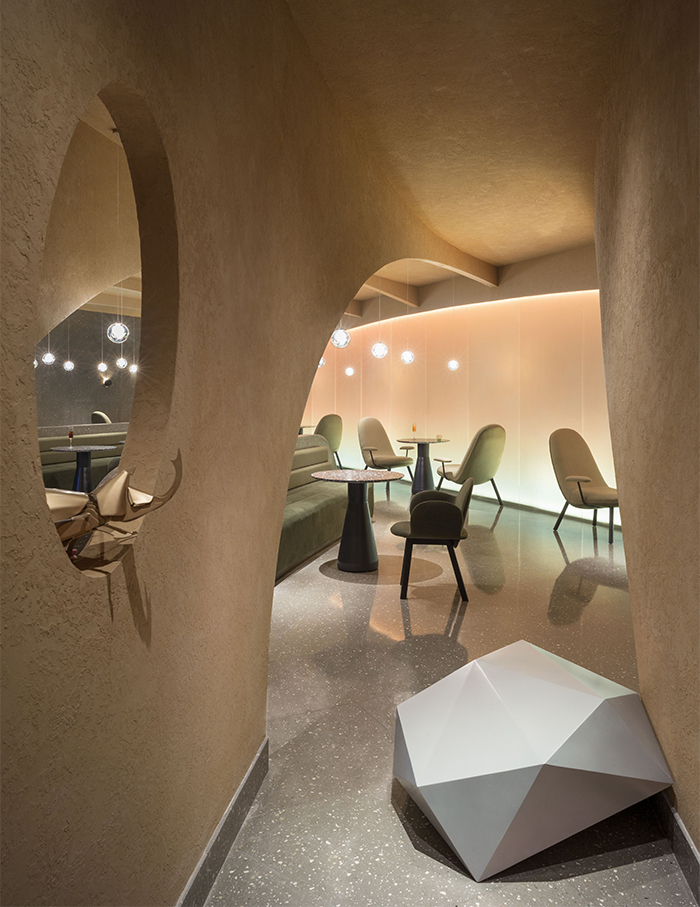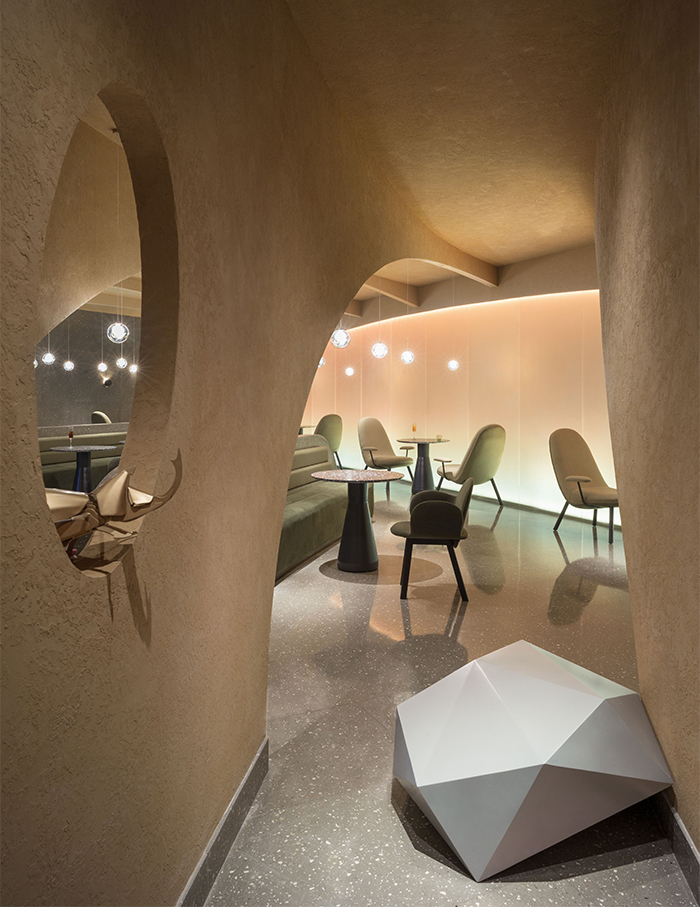 Forest For Rest, which appeals primarily to the younger generation, also upgraded its foot spa experience by breathing new life into the quaint old practice of foot bath therapy that has roots in traditional Chinese medicine.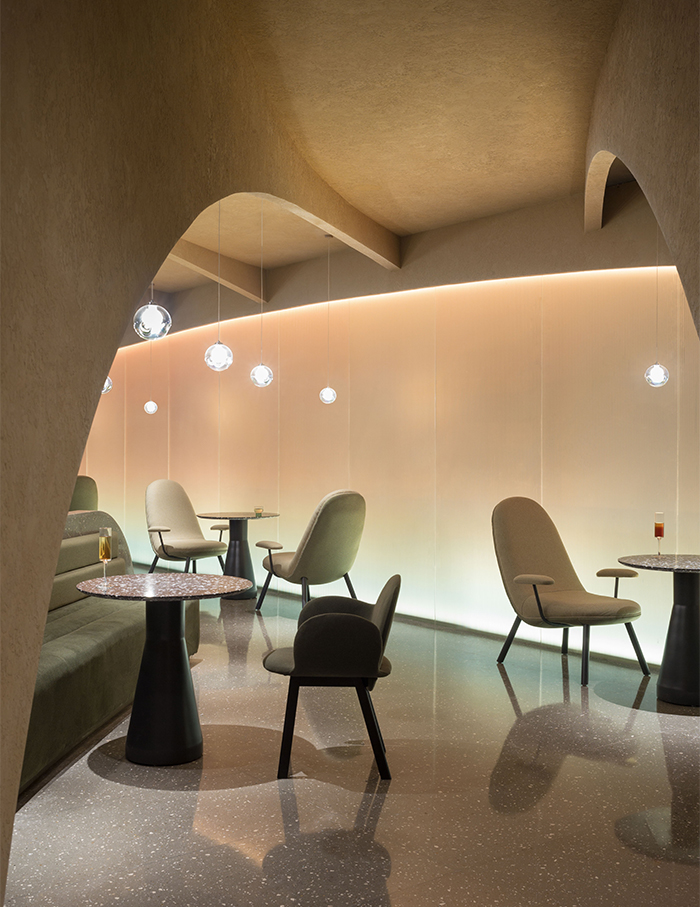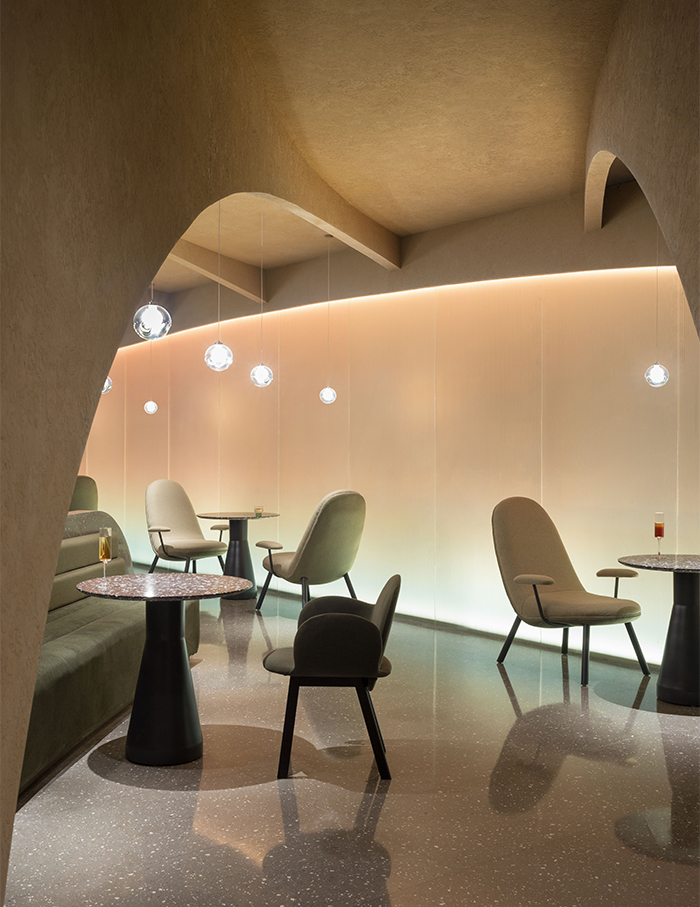 Textured painting and a warm terrazzo are custom made for the wall and floor of the entrance as well as the dining room, along with all the furniture and lighting fixtures. A handmade green carpet with a turf-like texture covers the seating area. While the foot bath and spa rooms feature nature stone to complement the terrazzo flooring.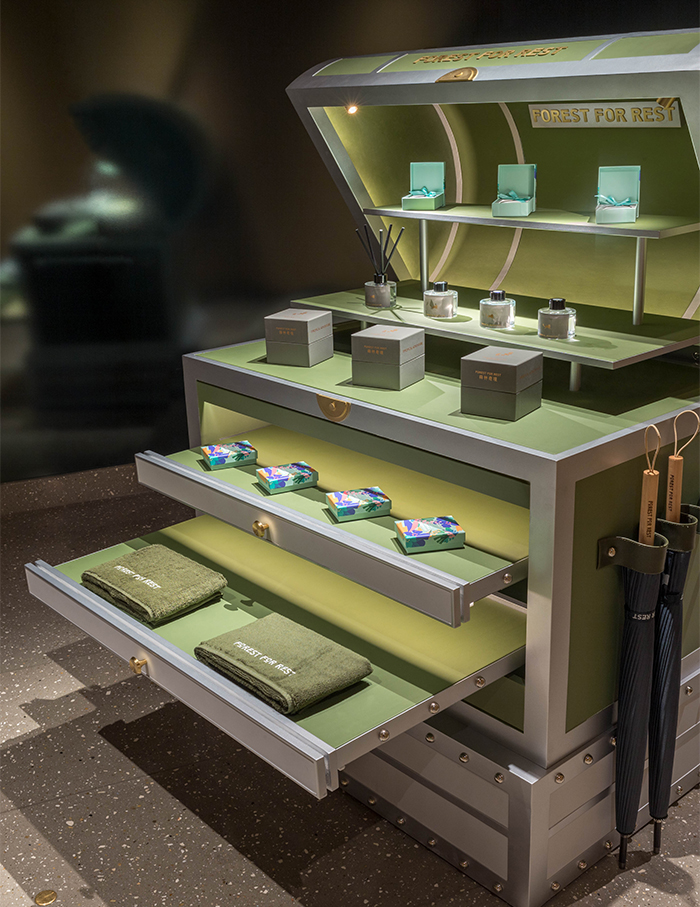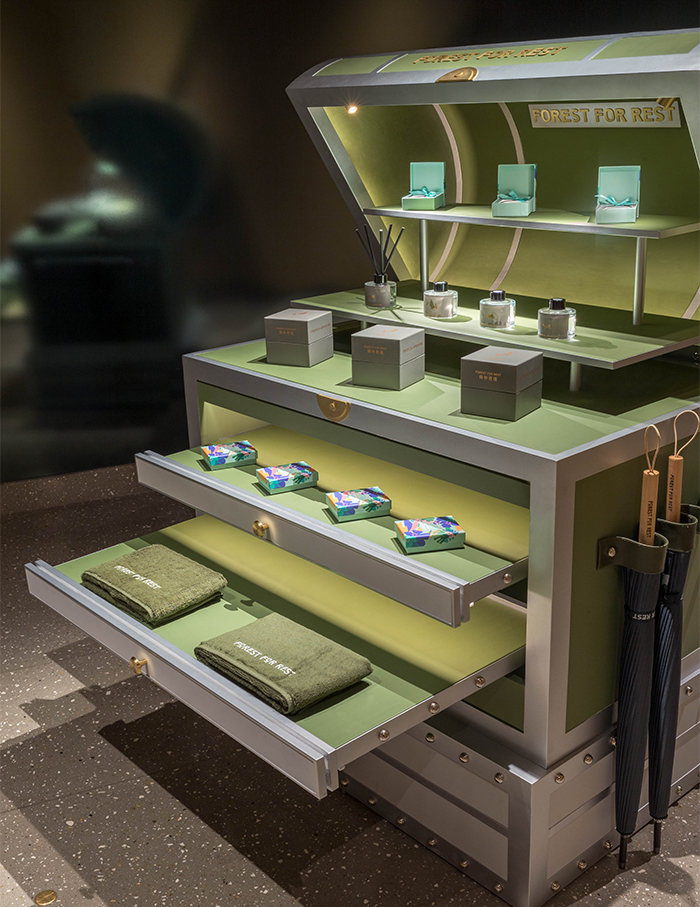 Aglow with a soft light, the waiting area is decorated with art installations that instill a sense of mystery and tranquillity. Before entering the foot bath and spa rooms, a dedicated space for changing footwear also works as a prelude for what lies ahead.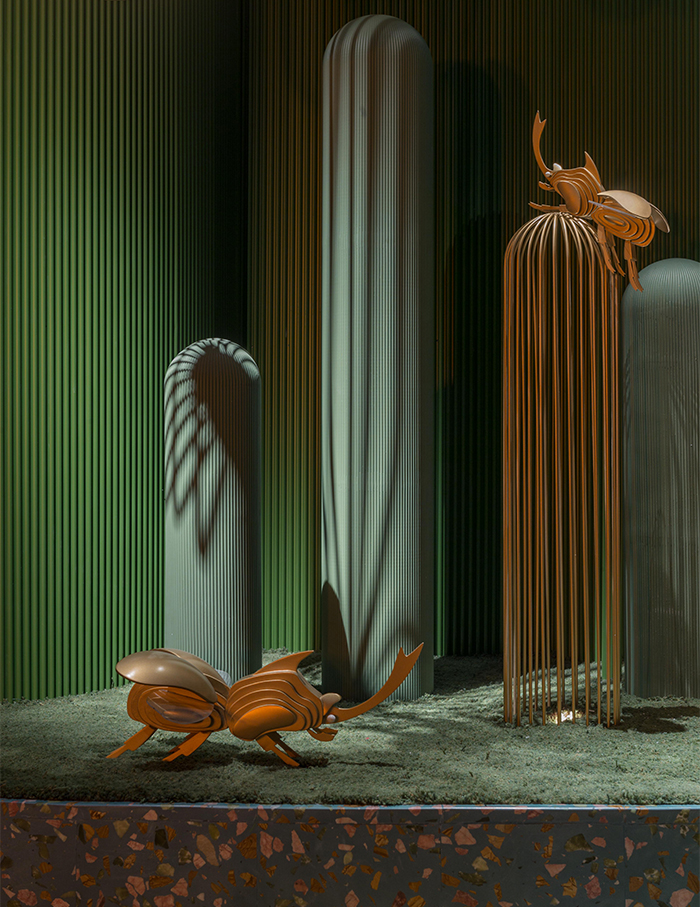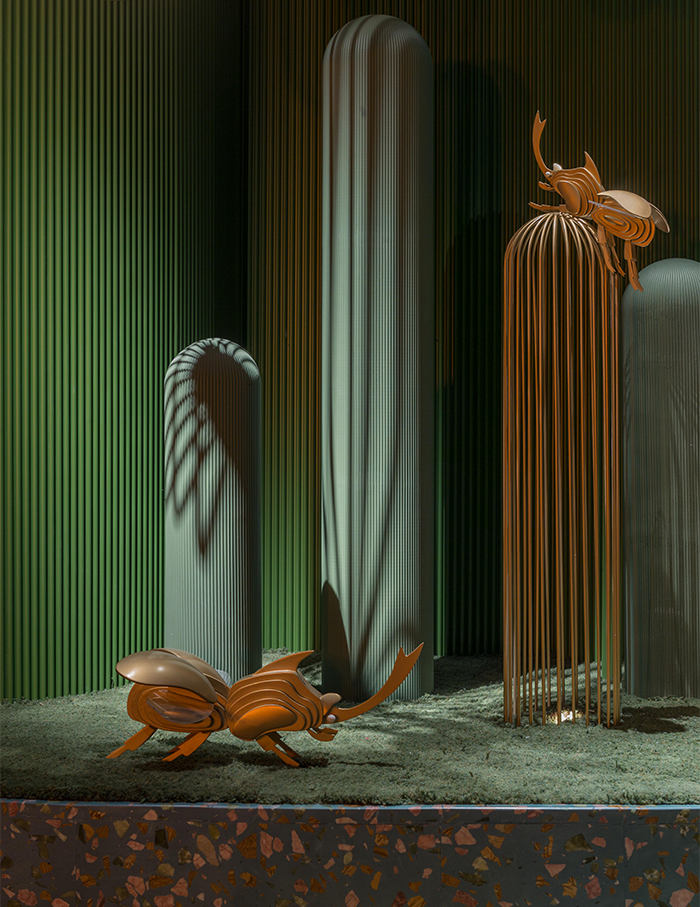 Based on Chinese poetic notions, this area is characterised by curved and semi-enclosed seating nooks and a soft dreamscape look. "Our favourite part is the shoe changing area. With the concept of 'moonlight shallow', it presents soothing, poetic scenes," says design director Zen Zheng.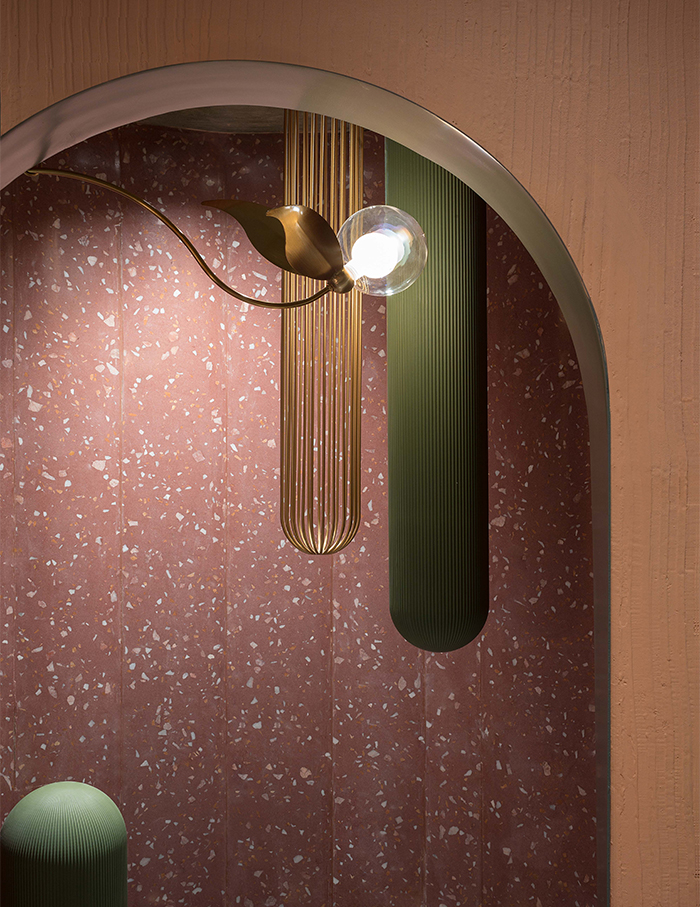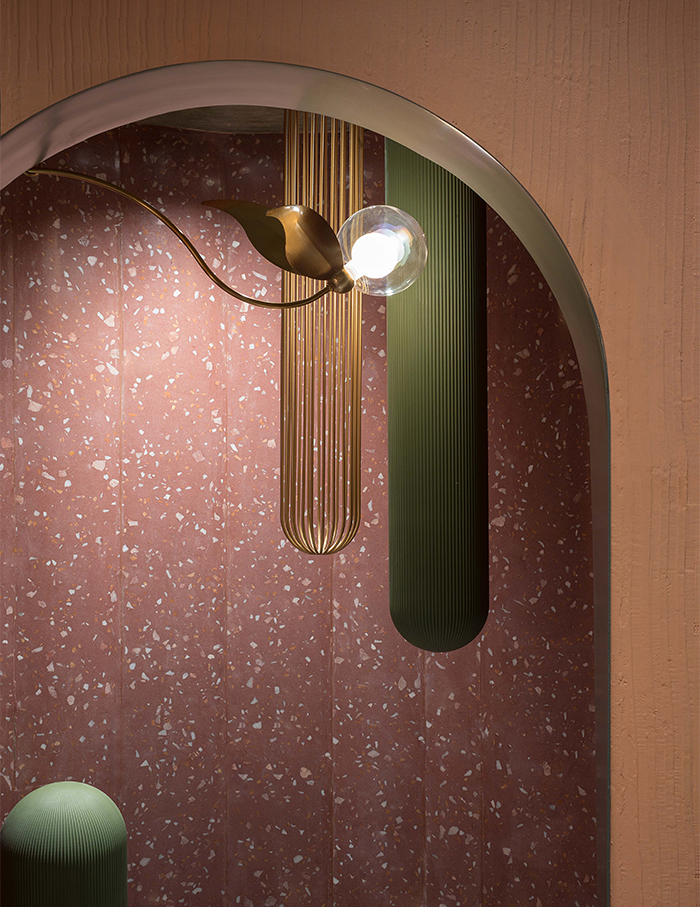 The inner chambers are designed around comfort, privacy and simplicity. These minimalist spaces induce a profound sense of relaxation. In the spa rooms, frosted glass installed above the tub, is embedded with an LED screen that displays mottled light and shadows, accentuating the feeling of lounging in a pool under a leafy canopy deep in the forest.