Lifestyle
Europe's first underwater restaurant by architectural practice Snøhetta
DEC 13, 2019
| By Aneesha Bhadri
Feast on delicious Norwegian delicacies as you watch marine creatures drift lazily in blue waters, a few feet away from you. Europe's first underwater restaurant, embedded in the southernmost spot of the Norwegian coastline, opened its doors this year. Crafted by multidisciplinary design and architecture firm Snøhetta, Under—Norwegian for 'below' as well as 'wonder'—is a 34m long and half submerged monolithic form, with an 11m wide fully emersed window that offers enchanting views of the ever-changing seabed and aquatic life.
Lying against the craggy shoreline, the structure's thick concrete walls are built to withstand pressure and shock from unpredictable maritime conditions. Like a sunken periscope, the restaurant offers stunning views of the changing seasons, with the colour of the water shifting from a cool, sapphire blue during a chilly winter day, to hazy, emerald green in the summer months, when the algae set in. "Under is a natural progression of our experimentation with boundaries," says Kjetil Trædal Thorsen, founder and architect of Snøhetta. "In this building, you may find yourself under water, over the seabed, between land and sea. This will offer you novel perspectives of the world, both beyond and beneath the waterline."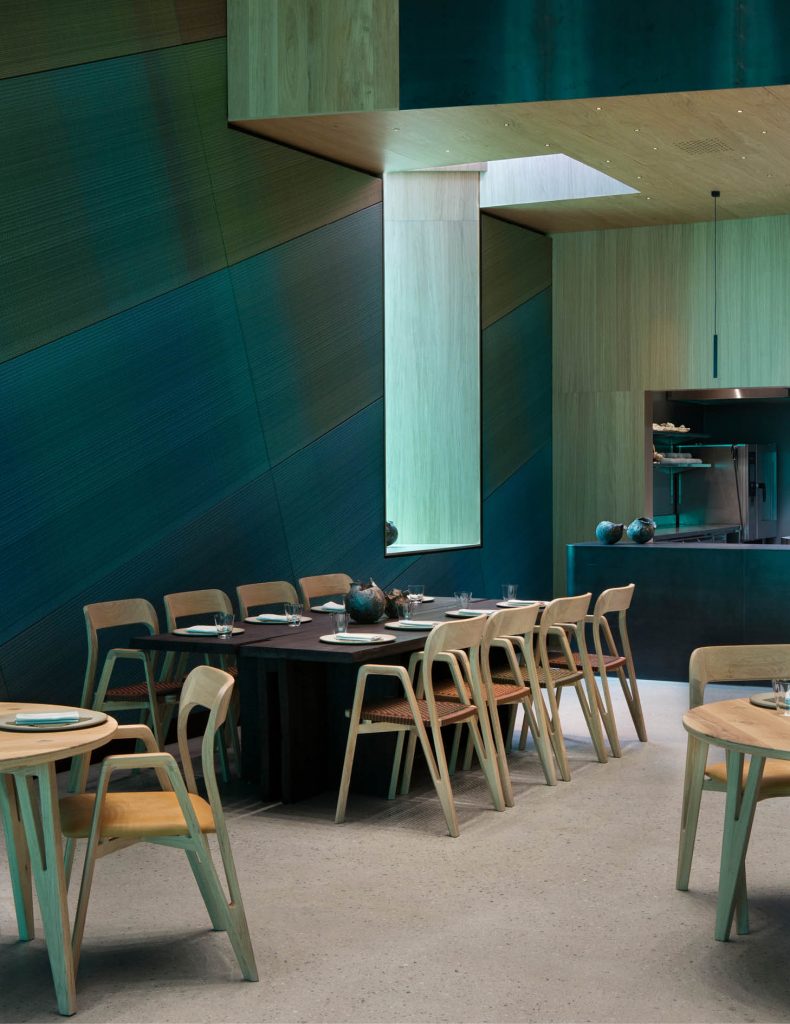 Upon setting foot indoors, one's impressions of the rugged, wild outdoors undergo a transformative change—the hushed foyer marks the smooth transition from rough, wooden finishes, with the sweet, lingering scent of timber to elegant, oak clad interiors with furniture exclusively designed for the restaurant. Raw steel railings with brass tube handrails lead downwards to a refined enclave, where the oak ceiling morphs into sumptuous, textile clad interiors. The bespoke textiles that stretch over custom acoustic panels follow the subtly shifting colours of the sun setting over the ocean, accompanying one's passage down the stairs—the colour deepens from a sunset pink, intense coral and sea green into a midnight blue as one reaches the dining room.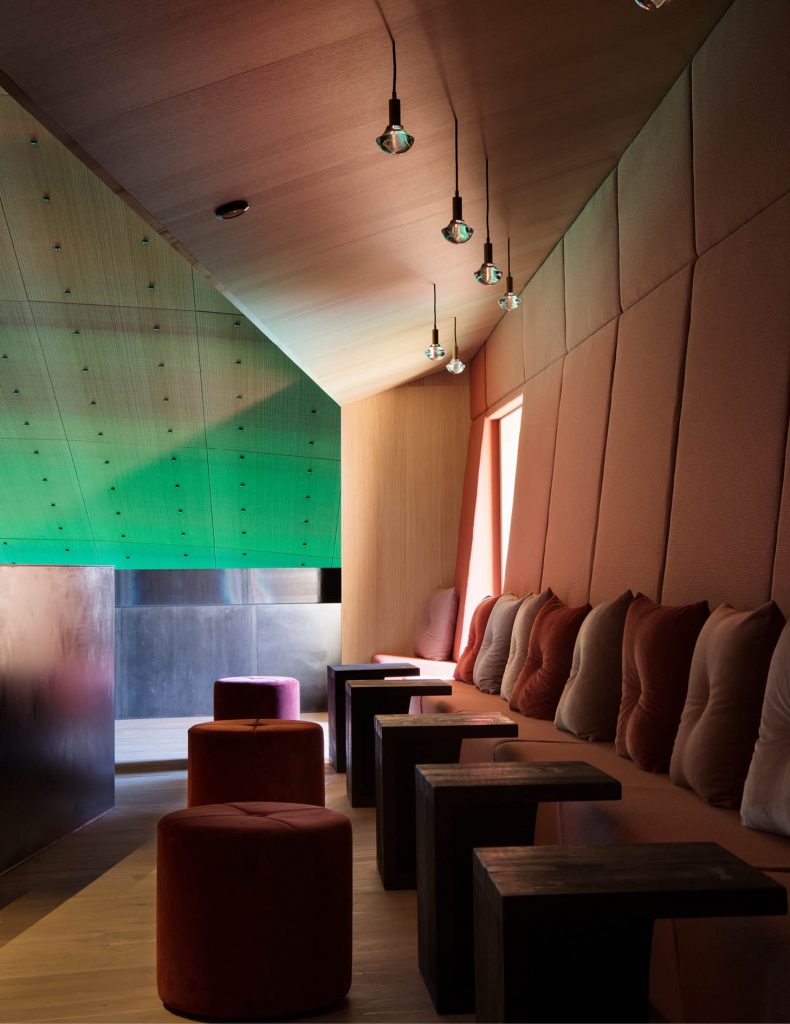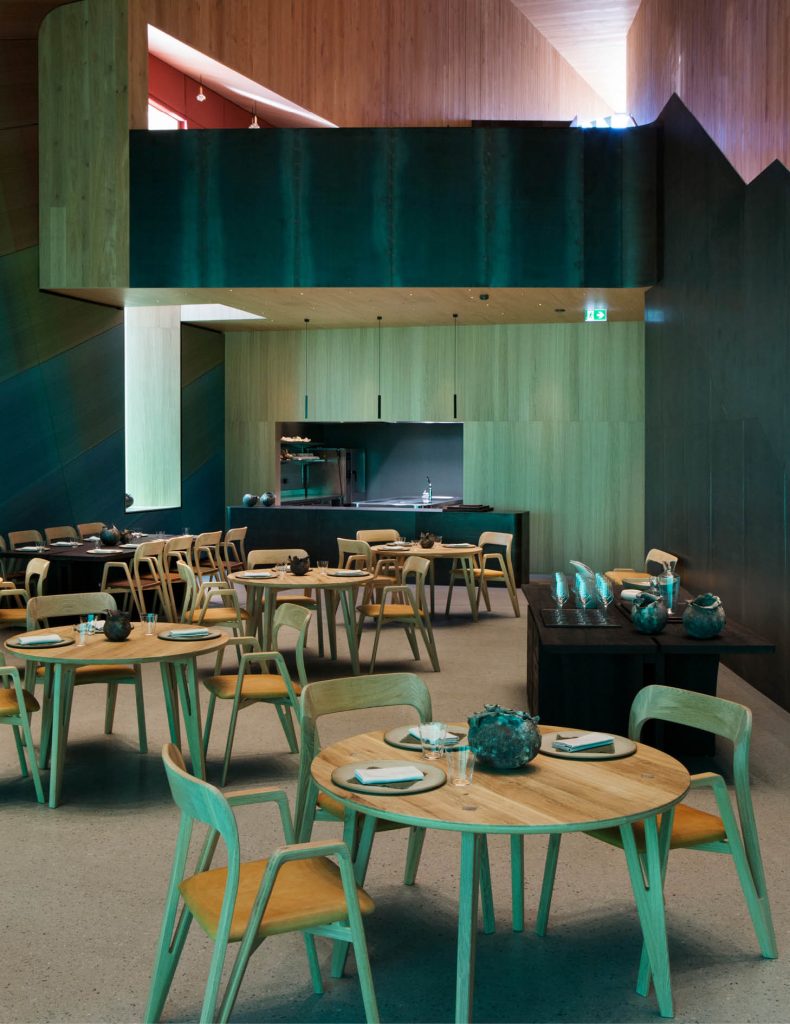 The culinary ideology of the restaurant is in sync with that of the building itself. Dining at the restaurant is a journey through the landscape of its locality, Lindesnes—from locally harvested seafood, shells and kelp to wild meat procured during the game season in late fall. Under also functions as a research centre for marine life, as a tribute to the wild fauna of the sea and the rocky coastline of Norway's southern tip.