Design
Esha Pandya Choksi and Aashni Kumar tailor Studio Flamingo with a fusion of tactile design and biophilic elements
JUN 3, 2021
| By Vedika Nair
"As we embarked on what is possibly one of our most personal design journeys, we thoroughly fleshed out our design intent: While functionality never empties the numero uno spot in any of our design endeavours, we knew that this space had to be more than one that showcased our artistic sensibilities while staying in step with utilitarian goals," share Principal Designers and co-founders, Esha Pandya Choksi and Aashni Kumar of Mumbai based Studio Flamingo. 
Nestled amidst the bustle of the maximum city, the designers found a home for their studio, while sharing a workspace with two other independent companies. Offices are often designed to be functional and commercial, Studio Flamingo is a space that contrasts every one of those stereotypes!
We've all, at one point or another, joked about how our office is our second home, and while that may be true, why shouldn't it be a space that actually feels like home? With Studio Flamingo, Choksi and Kumar strive to create a sanctuary, where everyone comes together to dream, explore, achieve and evolve.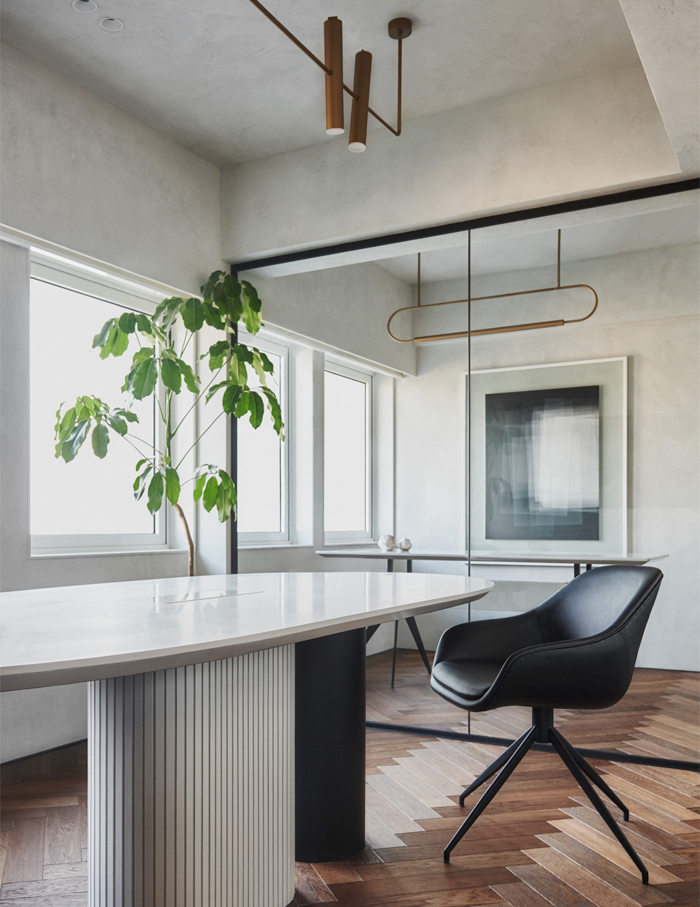 Not only does the studio offer leadership and efficient work culture but the design creates room for growth, satisfaction and efficiency. "We are convinced that spaces have the power to impact one's mood, and thereby teleport you between the portals of your mind," divulges Choksi.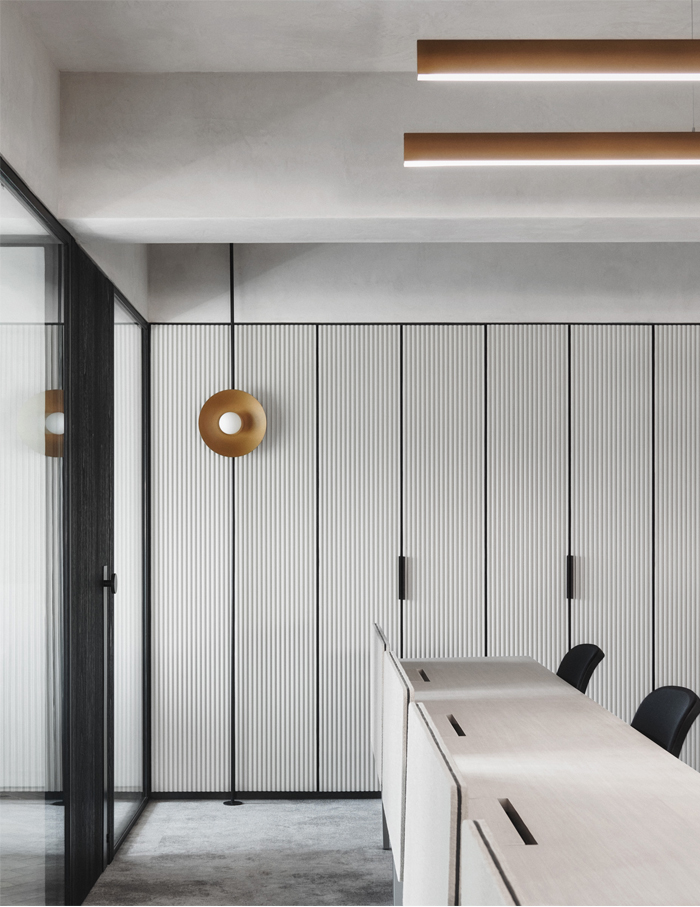 The shell of this studio is a layout of open and collaborative workspaces, accentuated by mediascapes and private work zones. A major per cent of the office is drenched in natural light, creating a sense of warmth and improving work moods.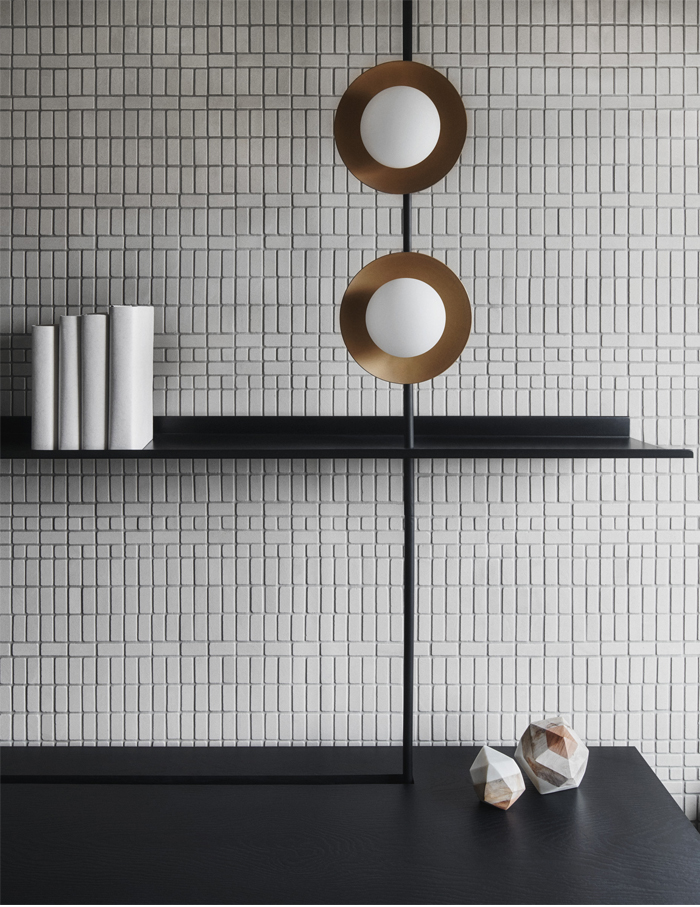 Elements like marble, textured paint, micro concrete, vitrified tiles and more, are married with subtle hues of black, white and grey. A juxtaposition of rustic and unfinished treatments with polished materials is seen, creating an artistic flair and also constructs an optical illusion for the viewer. "What you get to see is a visual treat of well-finished pieces of furniture and decorative lights juxtaposed against unfinished walls and flooring," shares Kumar.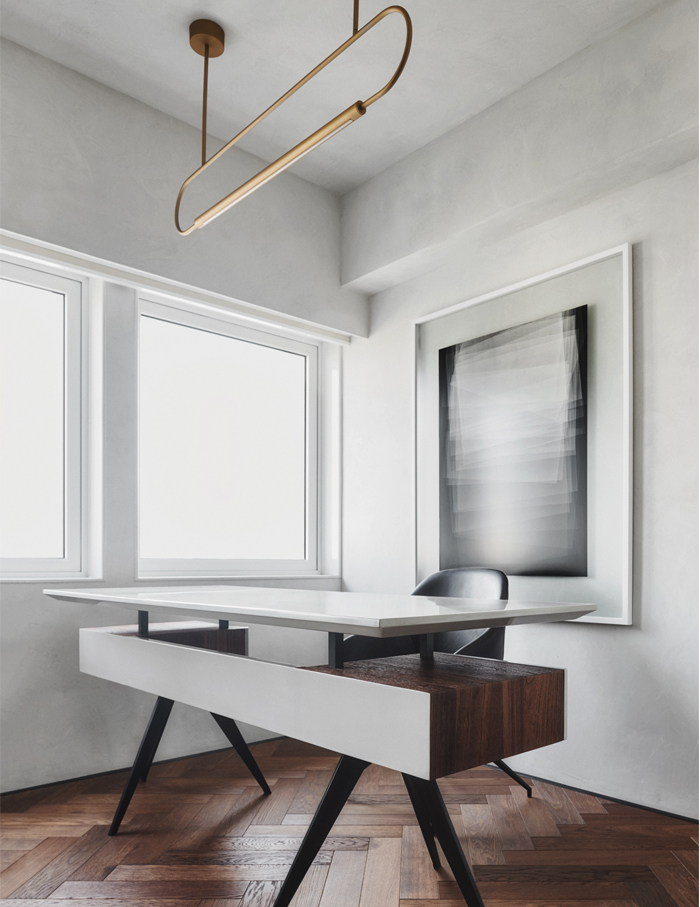 Themes of biophilia have been weaved into the workspaces through indoor plants, in order to create a connection with nature and add a sense of verdure. Biophilic design aims to connect people more closely to nature. Spaces with such design feature natural lighting and ventilation, natural landscape features and more. Not only does this boost positivity, but it also blends beautifully with the overall design intent of the office.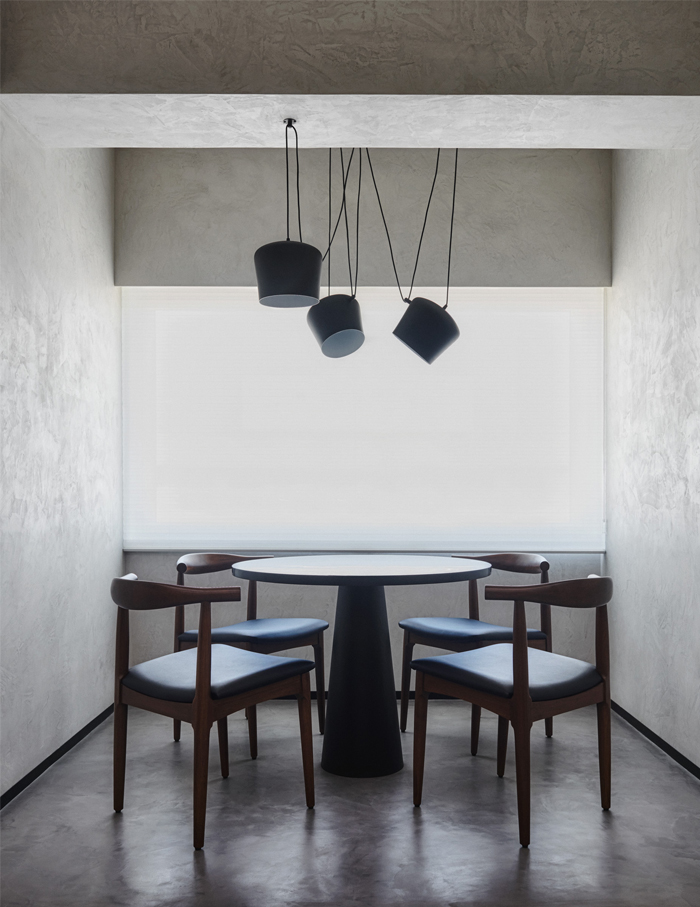 "A set of curated materials emulates Studio Flamingo's statement style, that is, to celebrate chosen architectural details, building materials and a tone on tone colour scheme," adds Choksi. Every element in the studio echoes throughout and cohesively brings the space together.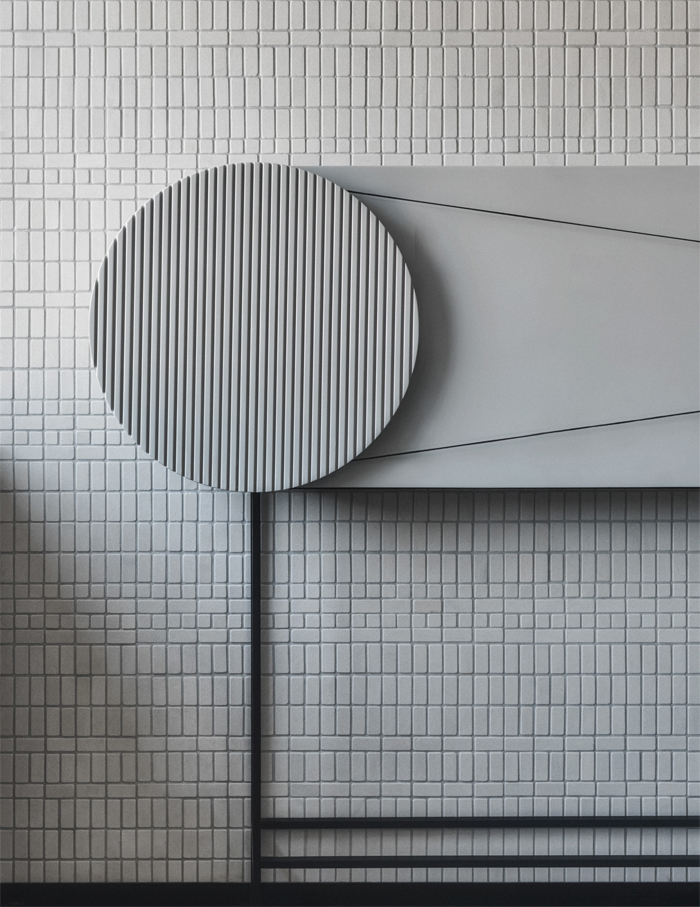 Another element we absolutely love in the workspace is a custom-designed workstation by Studio Flamingo. The desk highlights utility through a matt black panel monogrammed with Studio Flamingo's logo slides to the right, behind which are hidden away all electric connections. Once plugged in, the sliding panel can be put back in its place as the gap to the right of the panel allows for efficient wire management. Further, drawers and pockets are carefully constructed on the wall hung part of the desk to allow for stationery and drawings to be tucked away in their allotted homes.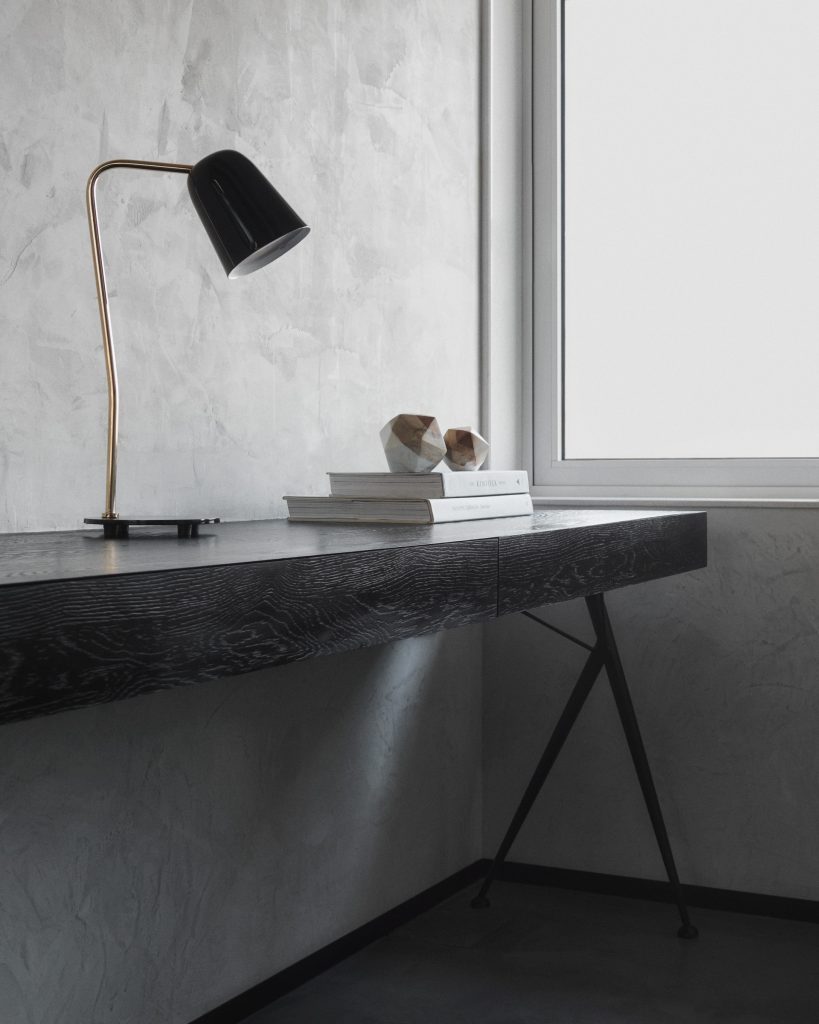 "Apart from the conventional utility it provides, the desk also partakes in symbolism. Geometry as a form of expression is used to serve as a reminder to the user of her belief each time the desk is opened at the start of a workday, that is, to be tied to her centre and remain consistent and deeply submitted to her vocation, akin to the movement and momentum in the dance form of twirling Sufi dervishes," adds Kumar.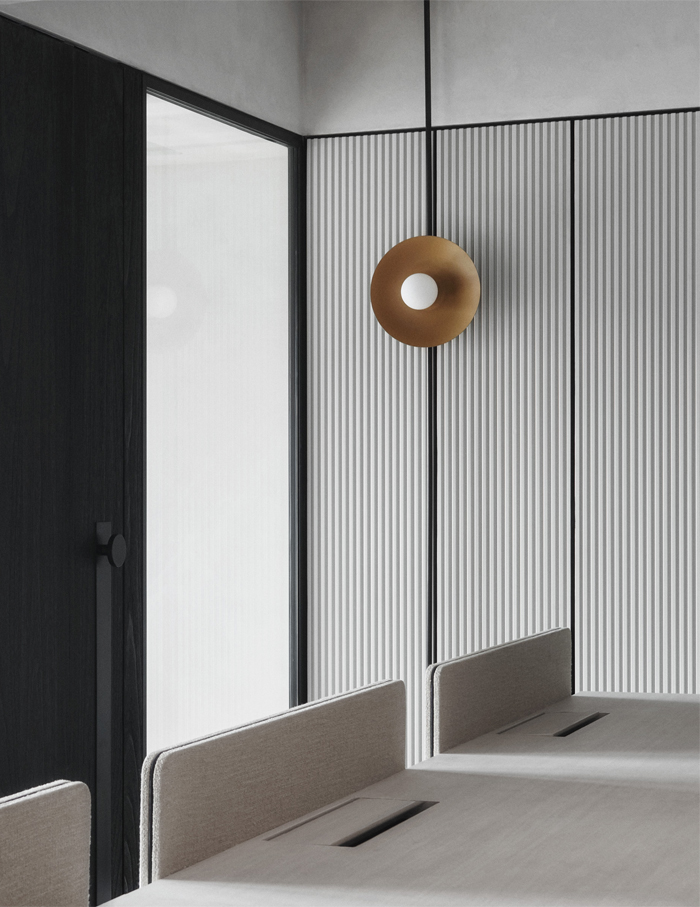 While Studio Flamingo features various elements, each of these reflects clean streamlined expressions. Dressed in a minimalist aesthetic, Choski and Kumar weave their design sensibilities into tailoring their workspace and offer a sense of understated luxury, in the end, making you feel at home!
Scroll to see more images from Studio Flamingo's workspace in Mumbai…