Homes
Embroidered to details: Saniya Kantawala of SKD imagines the Mumbai home of fashion designer Yogita Kadam
SEP 19, 2023
| By Pratishtha Rana and Bhipasha Hinduja
The sheer tactility of textiles glides through this gorgeous Mumbai home as a constant reminiscence of the intriguing boundaries of fashion and interior design. Poised within Oberoi Exquisite, this 1,300 sq ft home of fashion designer Yogita Kadam unfolds a charming design narrative helmed by Saniya Kantawala, founder and principal designer of Saniya Kantawala Design, who also envisioned the homeowner's boutique before.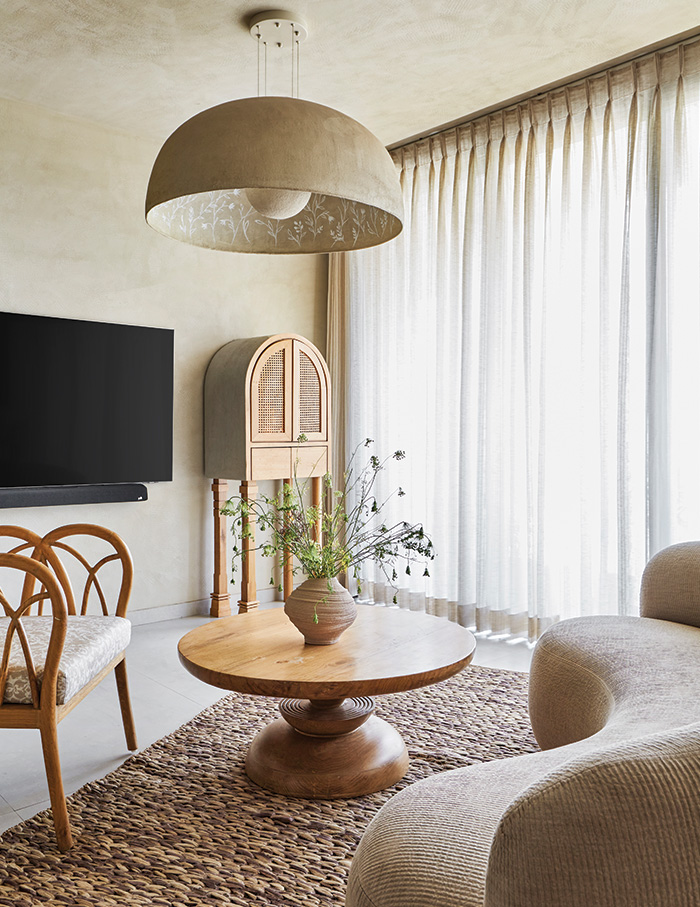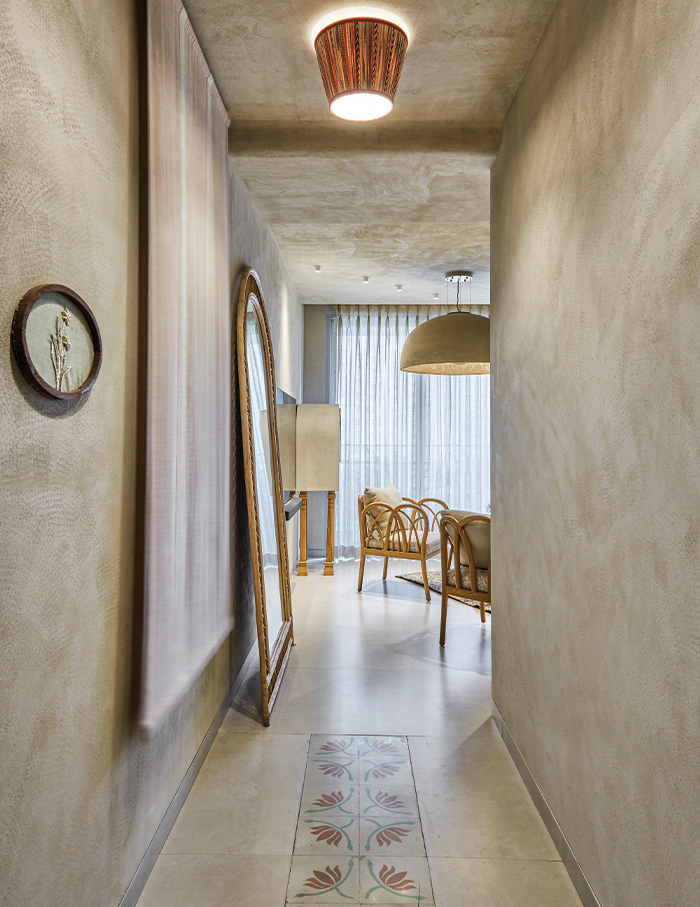 Beyond the notion of a residence, the space embodies an orchestra of artistry and fashion. Indicative of the name, the home stays true to the trend of celebrating embroidery in the home. "Embroidery is punctuated across the space, such as the beads framing the mirror in the bedroom and the artwork on the kitchen counter and ceiling. A light handcrafted embroidered fabric has been installed seamlessly on the kitchen counter and ceiling above the dining area," reveals Saniya.
The tactile dance of Rattan is curated by Yogita. From the personalised embroideries to the curated palette this home has beauty within. 
Embroidered narratives
The theme of this space is like the palette of an artist; it has love, emotion, and creativity all laced together. The celebration of threadwork, embroidery, and subtle and vibrant hues come together to brighten the home. The juxtaposition of different scapes and the personality of the homeowner blend seamlessly.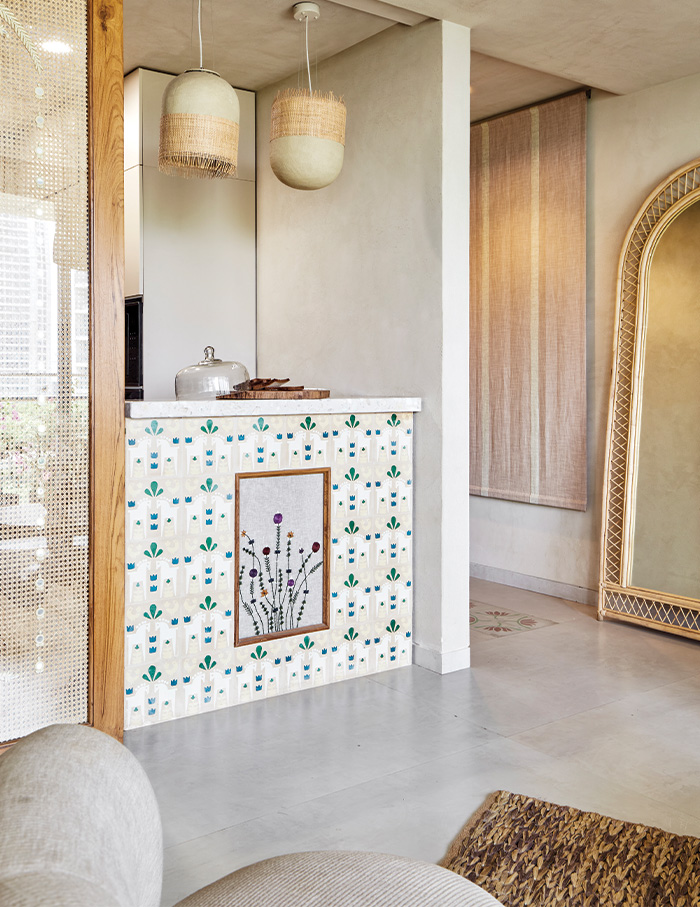 Footprints of creativity 
Step a foot through the main door and into a corridor, it is adorned with soft detailing, there are wall hangings, rattan lamps and floral motifs blossoming the home up a peaceful ambience. There is a luminous living room which has a dining room too. Adjacent to this there are the bedrooms. The kitchen has a breakfast counter with motif tiles and a  hand-embroidered centrepiece in floral motifs.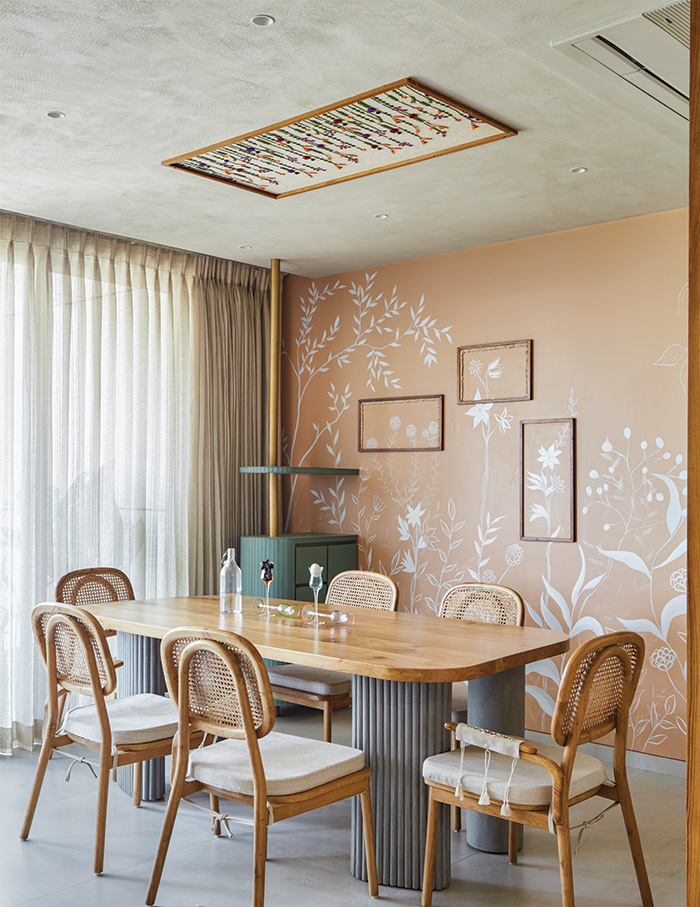 Treasured Tones
The moodboard is sublime yet subtle. The material palette with the muted hues amplifies the beauty of the space. It helps make the focal point of the texture and lighting. The textures are interwoven and give the space its identity, with rattan blending as an exquisite element. The earthy tones, pastel green and eclectic blues add vibrancy and the play between soft and bright hues give the home its distinctive identity. The harmonious fusion of all the elements balances the home and this choice of tones is indeed treasured.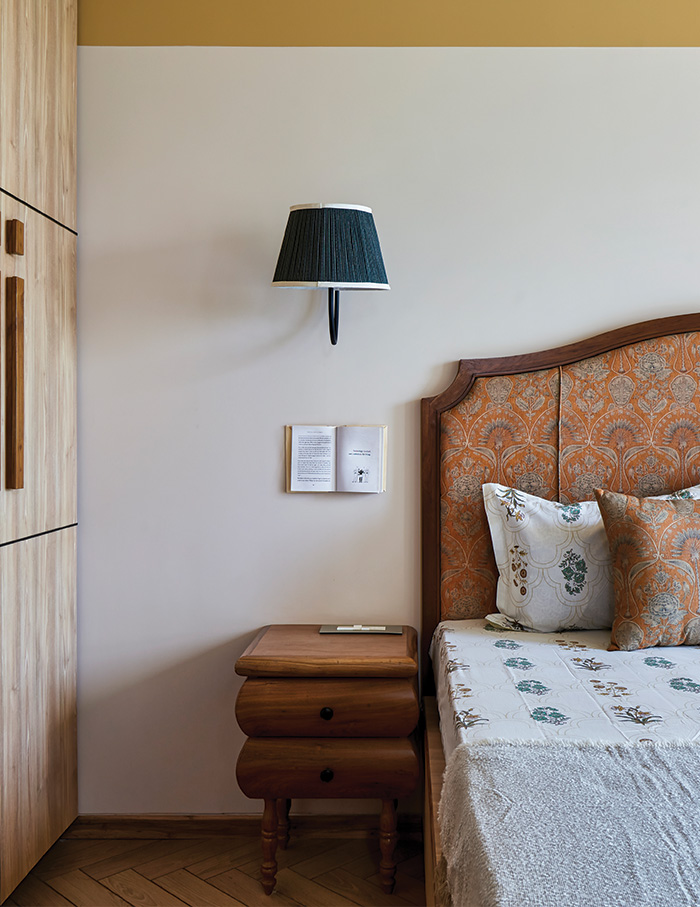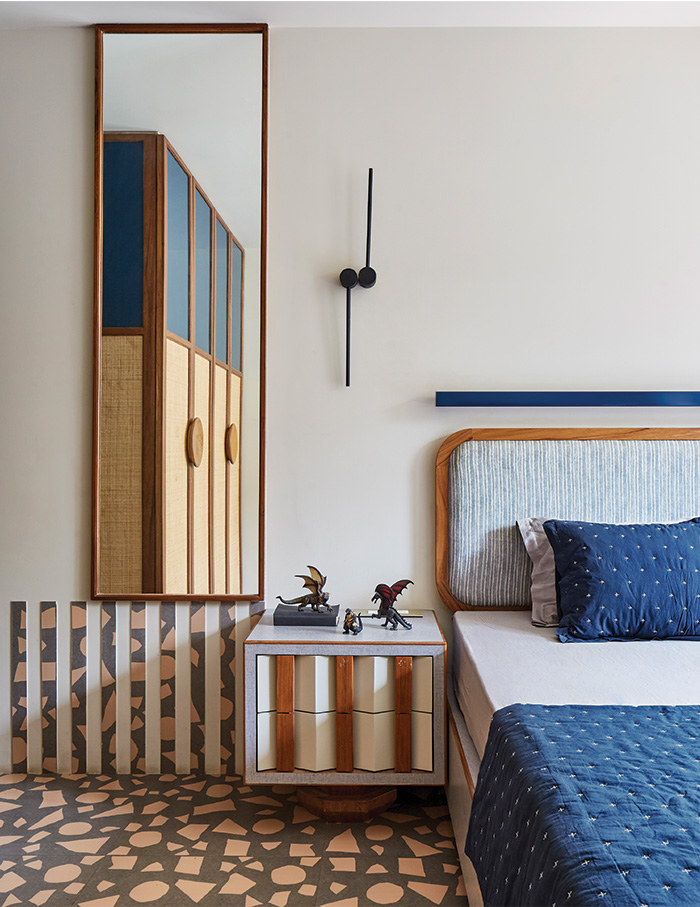 The inspiration
As Saniya says, "While we immensely enjoyed designing all the spaces, the living cum dining room was perhaps the most fun and challenging at the same time. Instead of sharp edges, most furniture and accents are curvilinear to create a leisurely conversational space. A custom-made rattan temple and customised arched mirror provide continuity to the design narrative. Embroidery has been used in tie-ups on the armchairs, the ceiling above the dining table, etc."