Lifestyle
#EDRecommends 14 eco friendly options that are guaranteed to jazz up your home with sustainability and style
JUN 4, 2021
| By Urvika Barua
This World Environment Day, ED handpicks sustainable decor and artefacts from all over the country that are working towards a greener tomorrow! 
The Loom Chair by AKFD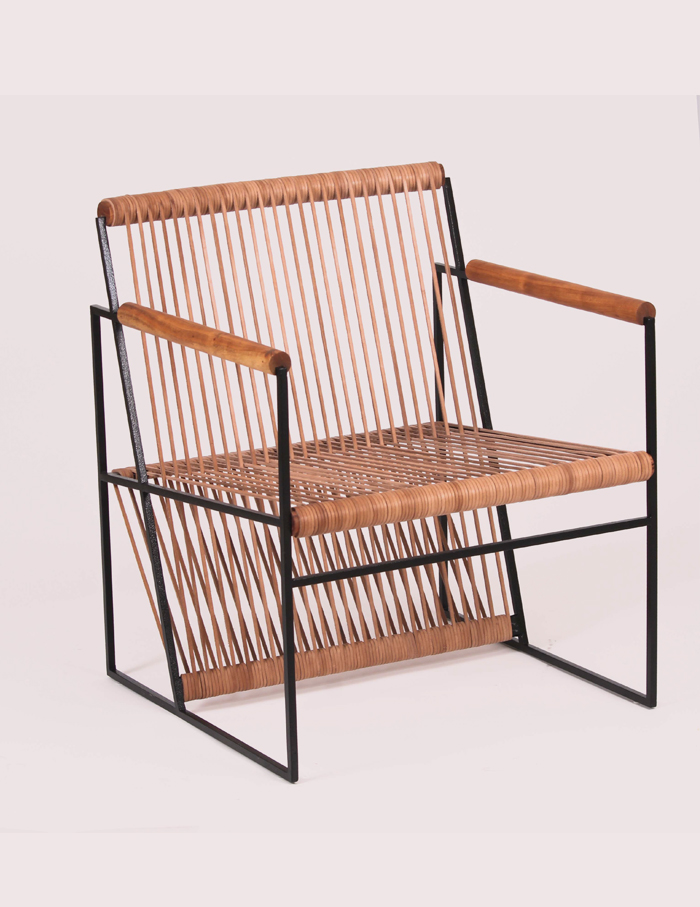 AKFD is a multidisciplinary design firm established in Jaipur that specialises in the production of high-quality furniture that can be found in design boutiques across the world. AKFD brings in a sustainable series of furniture which guarantees to spruce your space up with the right amount of glam—the Loom Chair made of acacia wood and framed with single, conscious leather straps as well as the Platypus Chair made of wood and wicker are sure to grab the spotlight!
The Katran Collection by Sahil and Sarthak
Specialising in bespoke decor which is Indian in spirit yet global in appeal, Sahil and Sarthak's 'glocal' pieces are paired with an eco-friendly twist! The Woof Seat and the Bodhi Lamp from their Katran Collection is their creative take on recycling production waste, in the form of vibrant and quirky fringes aka the "POM POM" effect, is a fun addition to any space!
All Time Chair 1.0 by Cane Concept
The All Time Chair 1.0 designed by Aku Zeliang for Cane Concept is infused with elegance and sustainability. Made of red-dyed rattan and an iron framework with a black velvet fabric, this chair embodies a mid-century contemporary design and exudes an aura of dignified timelessness in any setting! 
The Leaf Archive Napkins and Liti Table Mat by This and That
Add sustainability to your dining space with The Leaf Archive Napkins and Liti Table Mat (see scroll above) curated by Ariane Ginwala of This and That in collaboration with textile designer Anahita Ginwala. Made from organically cultivated cotton which is then handspun and handwoven into luxurious, fine count fabric adorned with the leaf imprints of Palash and Bordi tree, this set is perfect for every ambience!
The Rekhta Collection by Obeetee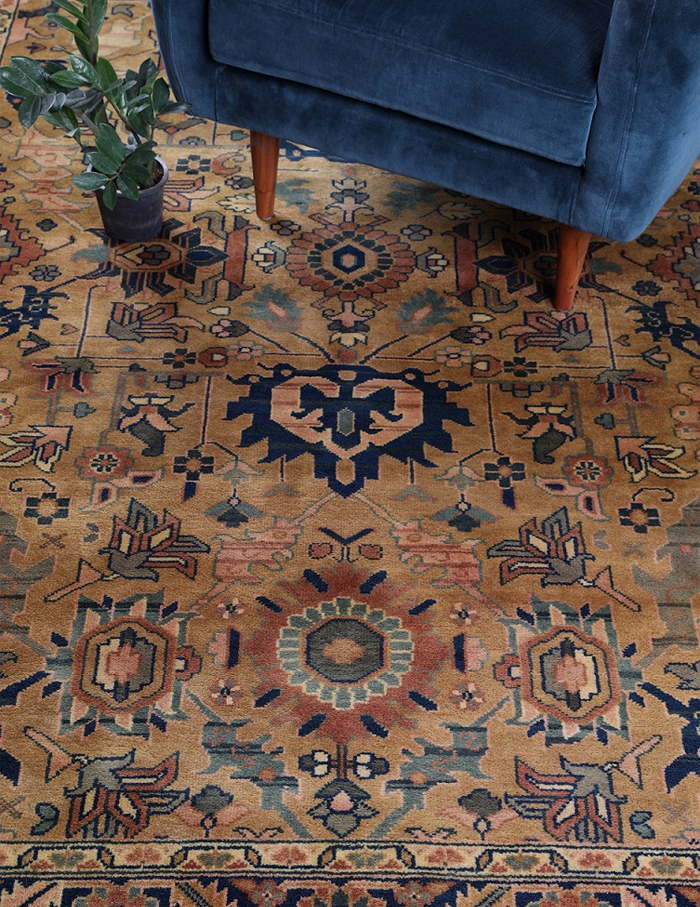 The Rekhta Collection is an extraordinary amalgamation of authentic Turkish rug knotting technique married with vegetable-dyed wool and recycled saree silk! Floral elements paired with geometric Mughal architecture bring forth a collection of limited-edition floor coverings that are exquisite as well as functional—a must have piece!
Nicobar Lounge Chair by Samsara
Effortless and eco-friendly, the Nicobar Lounge Chair by Samsara (see scroll above) is made of 100% HDPE plastic and MDF sides, secured with the assistance of eight bolts making it easy to dismantle. Influenced by the serenity of water in contrast to the texture of sea rocks, this chair guarantees relaxation and comfort!
Bamboo Desk Basket by Mianzi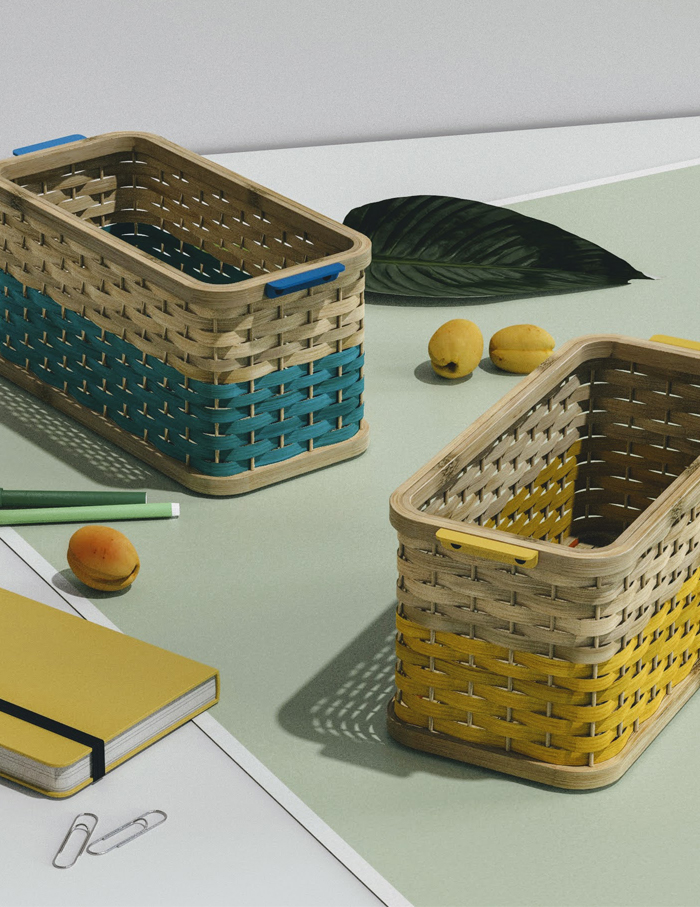 These adorably vibrant mini bamboo baskets designed by Shashank Gautam render the perfect pop of colour to an otherwise boring desk! These versatile baskets are ideal for keeping spaces clutter-free without hampering the aesthetics of the decor. In a range of fresh hues, organising clutter has never been more fun!
Tunnel Wall Lamp by Oorjaa Lights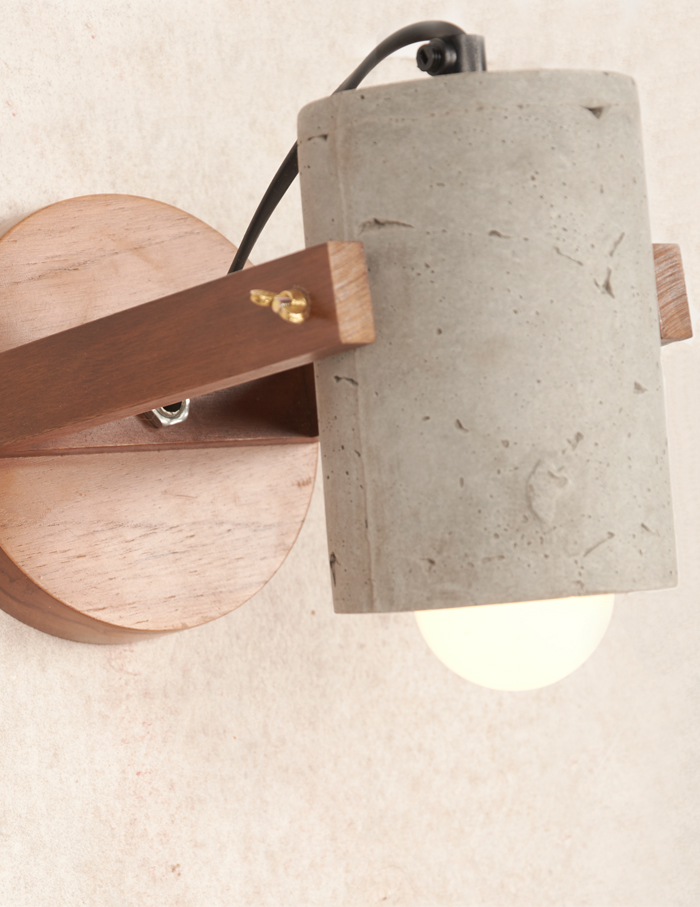 The Tunnel Wall Lamp is crafted and sculpted in faux concrete and captures light in arcadian grandeur, ideal for adding a soft illuminating glow in any setting—be it commercial or residential!
Pickling Kit by Ikai Asai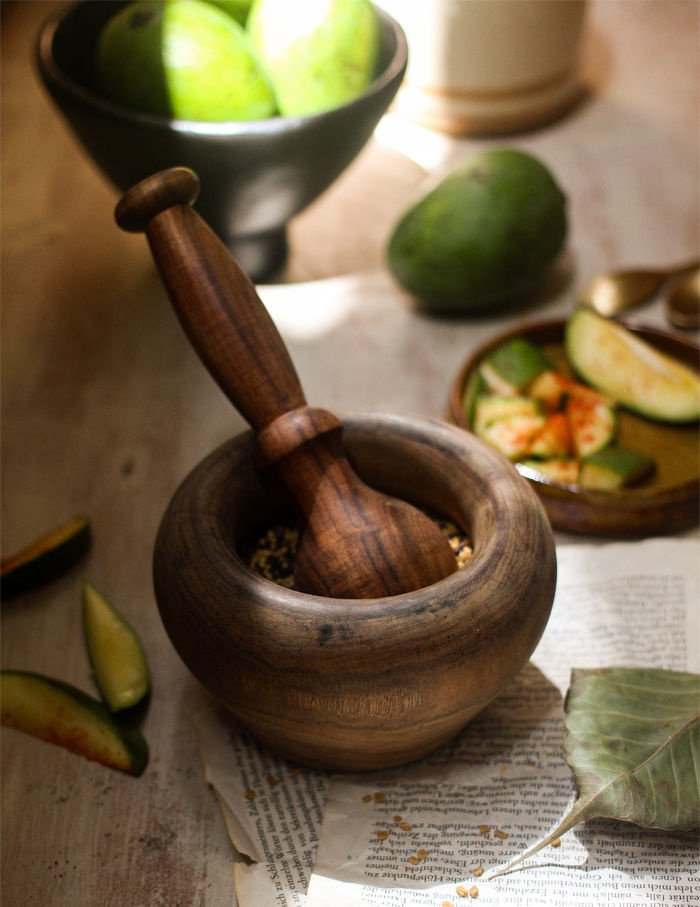 Sustainability now makes its way to your kitchenware, thanks to Ikai Asai! Organically farmed wood from Auroville found in their Acacia Mortar Pestle is perfect for grinding spices, or neatly packing away your creation in Barni-inspired clay jar or simply dipping in with a brass spoon and serving the pickle on a glazed clay plate! Along with being eco-friendly, Ikai Asai contributes 50% of the sales proceeds to Rahat Covid by Goonj.
Artefacts by Sandeep Sangaru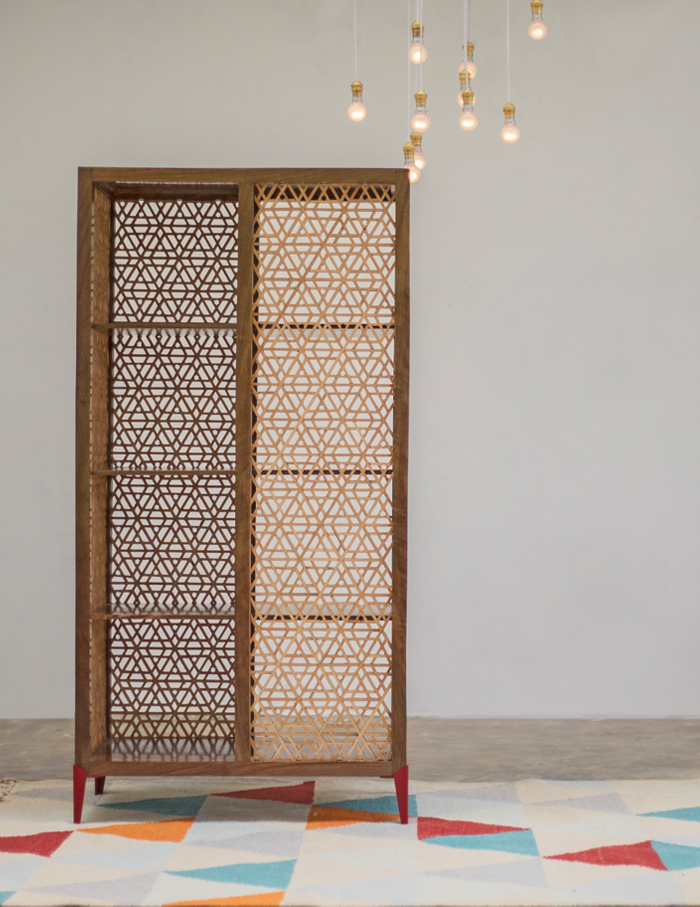 Sangaru's impeccable work has been centred and devoted around local material and knowledge. The local artisans curate the handmade pieces using sustainable, conventional processes which add a quintessential charm to any environment they are exhibited in!
Sherni Baskets by Rihaa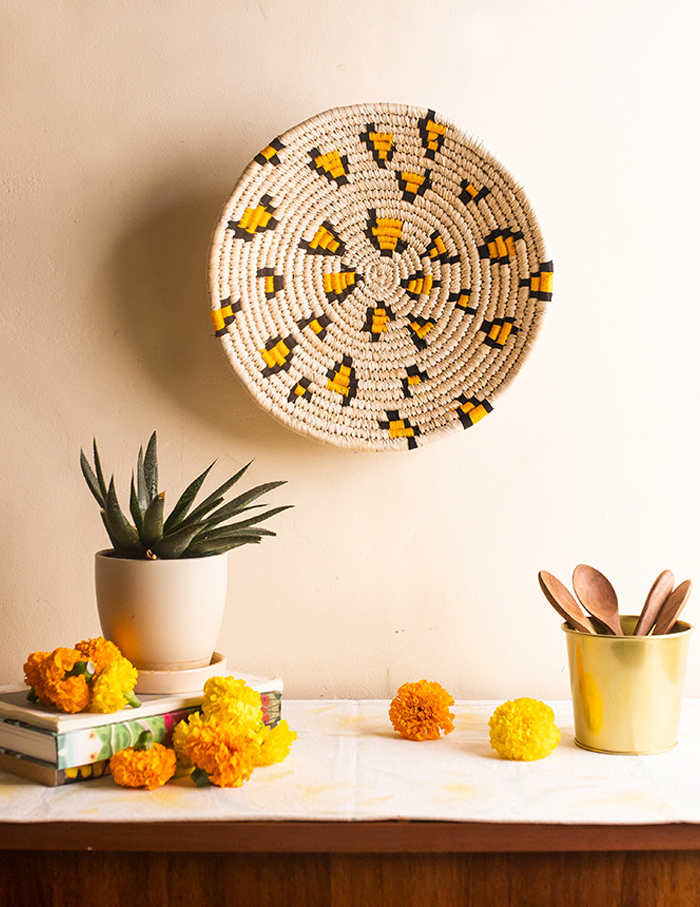 Handwoven by the local women of Orissa with organically sourced Sabai grass, adhering to the theme of the undefeatable Tigress. The collection caters not only to the sustainability factor but also aids the social aspect!
Kunda Collection by No-Mad India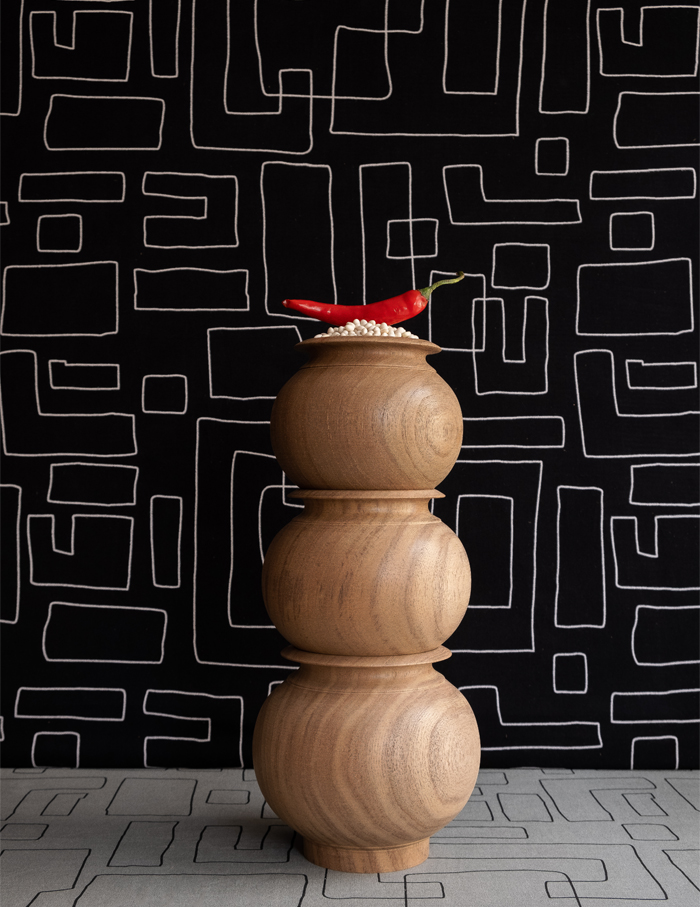 Kunda Monk Bowls are a state-of-the-art, set of nine individual bowls handmade from the dense grain of Rohida wood, uniquely carved from the heart of the bowl that precedes it. Similarly, the stunning wooden matkas too are carved from the dense grain of Rohida wood. This collection signifies the roots of the monks of India's Jain community and is a poetic expression of beauty, functionality and timelessness!
Adopting the motto "Reduce, Recycle, Reinvent", TRR partook in this sustainable and social mission by recycling denims, PET plastic bottles and so on for creating their pieces. The Rug Republic is a made in India, homegrown brand renowned for its eco-friendly rugs!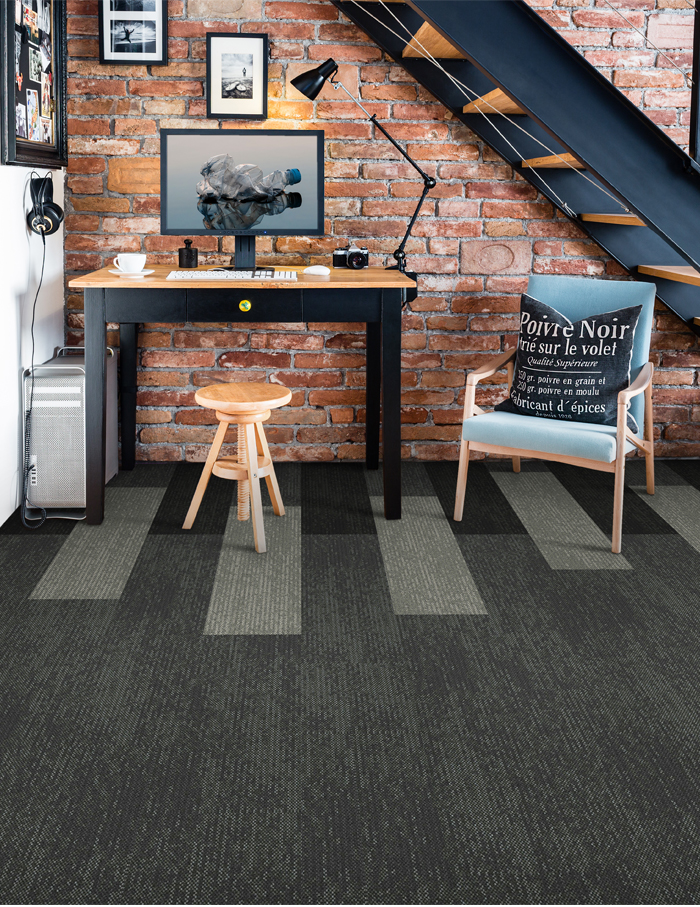 Pacific Carpets International Australia (PCIA) and Thailand's General Carpet Company Limited formed Carpets International Thailand Public Company Limited (Carpets Inter) in 1974 as a joint venture. The firm is striving towards a commendable intention to eradicate the inhumane element from the mix, with both the role of preserving marine life and preventing them from dying each year as a consequence of plastic pollution. Carpets Inter, creates carpets out of plastic trash from the ocean. This year, they recycled 787,000,000 used plastic drinking water bottles. Corporate businesses and homes alike utilise these carpets. This project aims to recycle approximately 1,000 million discarded plastic bottles by 2025!