Design
#ED loves the balanced elements of work and play in the modern Office Luxuria by Shobhan Kothari of KDND Studio
JUN 24, 2021
| By Jayasmita Ray
With a focus on interaction and incorporating the outdoors into the workspace, Shobhan Kothari of KDND Studio creates this luxurious sales office with modern elements woven by the theme of the suburban environment. The stunning interiors merged with lush plants ensure to boost productivity.
Office Luxuria, launched by Lodha is spread over 12,000 sq ft in New Bombay and has been designed with an understated sense of luxury and elegance. The simplicity of the clean lines and crisp detailing complement each other creating a modern aesthetic to the space. 
The space circulation and people interaction have served as critical factors while designing the dual function areas that connect the sales gallery and community hall. "The design needed interventions where the two separate functions could co-exist with minimal changes at a later date," says Kothari.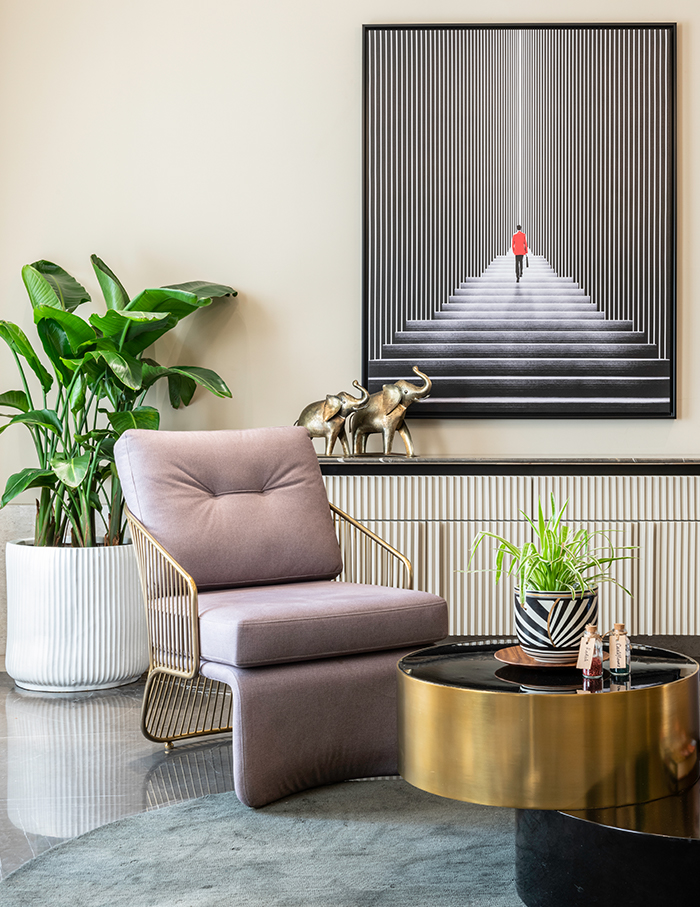 Muted undertones of beige with subtle shades of cool colours infuse the material palette cognizant of the dual function of the space. KDND studio strongly believes in catering to the program with a clarified purpose, building spaces that exude exactitude bonded together by a strong design theme.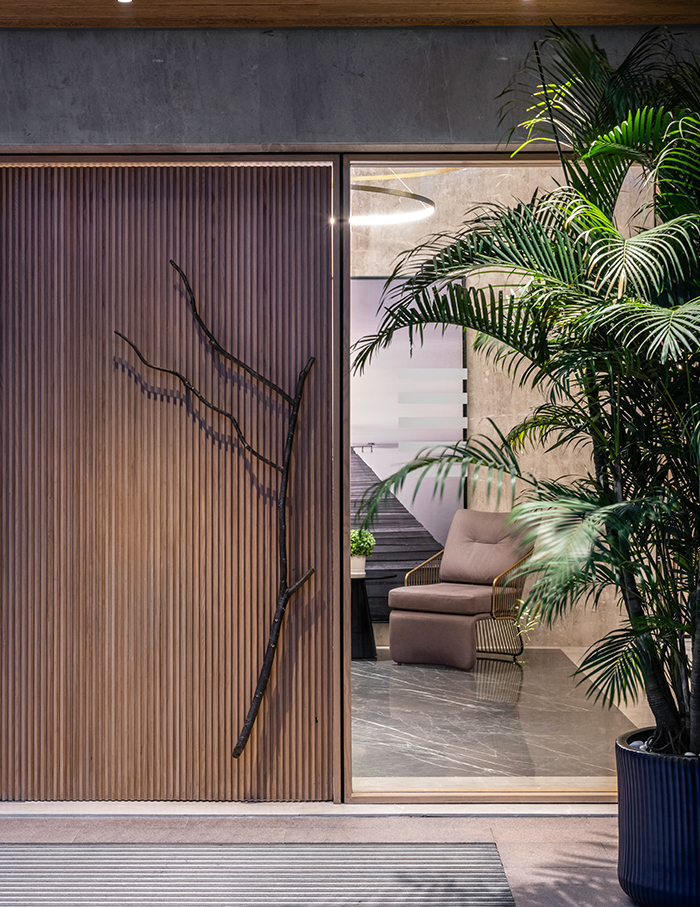 Greeted by the entrance canopy, a large fluted door with its twig impression handle swings open into a concierge lobby defined with two lounge chairs. The capsule concierge desk placed angularly ensures for the individual to be directed into the main waiting lobby with spaces defined to accommodate a larger crowd on a busy day.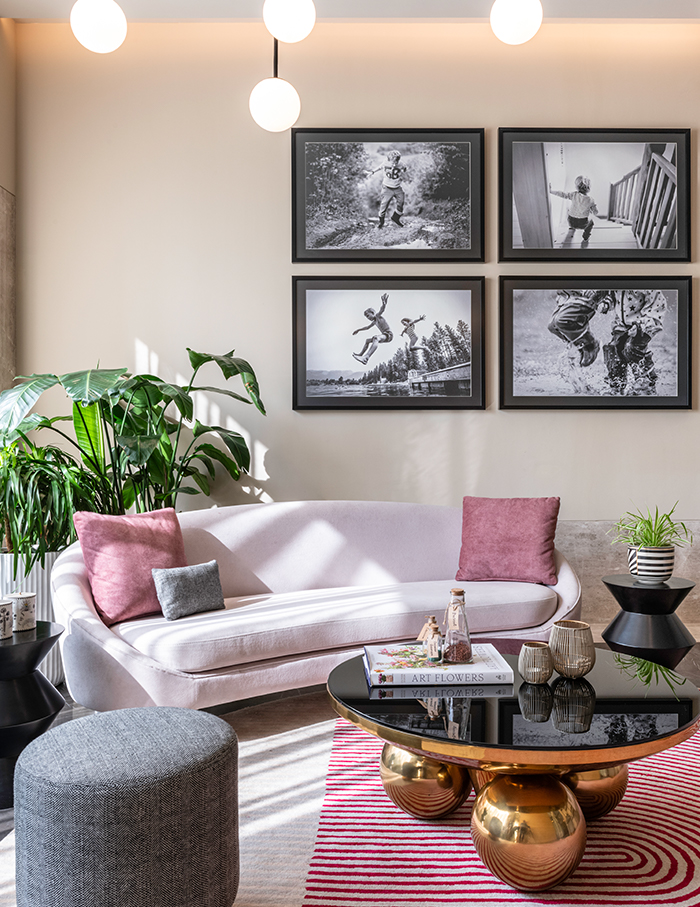 Anchored with a green wall running its full length, the space is equipped with office spaces and a pantry allowing developer representatives and customer interaction. Defined in the centre with cabins in the perimeter, we are led to the gallery space holding prototypes of different scales, all belonging to the project which is being launched.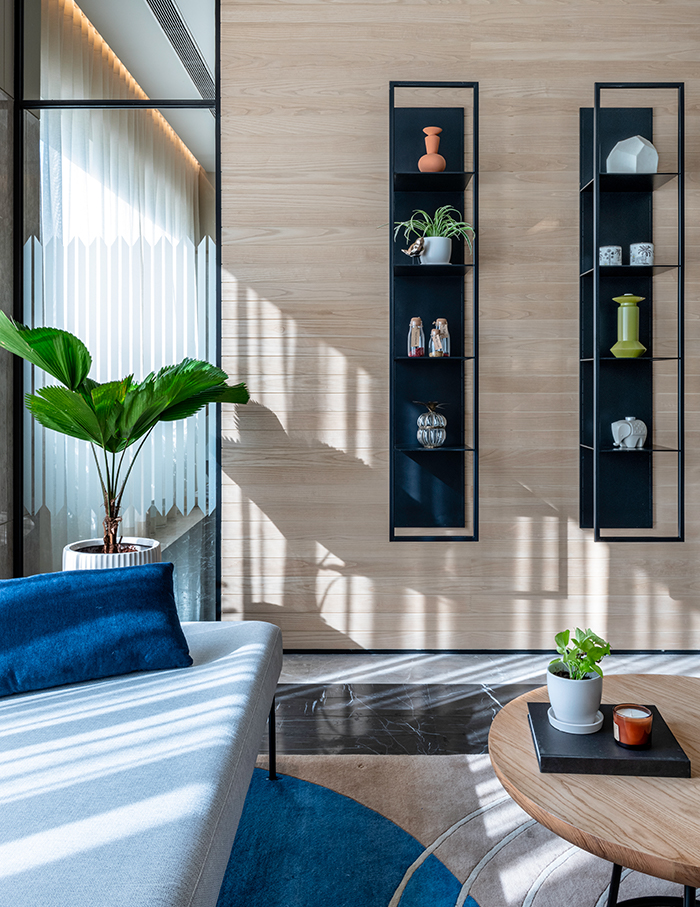 Rectilinear boxes juxtapose together to form an exciting visual on the ceiling. An intimate lounge area provides a comfortable space for further discussions about projects. Individual cabins have been given a distinct flavour keeping in mind the factor of luxury and creating a sense of comfort, the lawn attached to the structure is a breakout zone.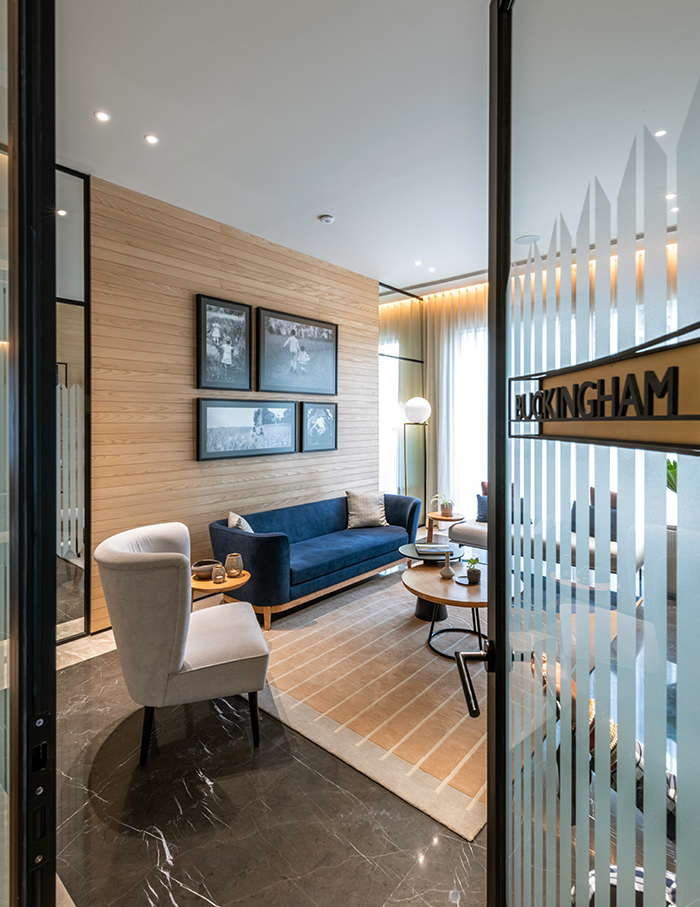 Biophilic design involves incorporating greens into the spaces and has been proven to improve the working environment and increase wellness in the people working there. This has been done with the use of green walls, pots and plants being incorporated into the design. 
We adore the fabulous accent colours in the furnishing with decorative pillows and wooden boarded panelling! Black and white artwork ideas that include real-time captures of suburban life and nature are blended in the bespoke office.