Homes
Dubai based architect Sneha Divias crafts interiors with modern accents and autumnal colours for this expansive villa in the ritzy waterfront development of Barr Al Jissah in Oman
OCT 31, 2019
| By Aneesha Bhadri
On the shores of the Gulf of Oman, a short drive from Muscat's city centre, lies an exclusive enclave set in a dramatic landscape dotted with coves and cliffs. Known for its picturesque location, Barr Al Jissah is set against a stunning backdrop of Prussian blue waters and the Al Hajar mountains.
Part of the secluded development is this sprawling, two storeyed villa conceived by architect Sneha Divias, who realised the brief of an open plan home with hints of modern accents to encapsulate the notion of comfortable living.
In keeping with other Sneha Divias Atelier projects, this 11,840 sq ft holiday home is a unique reflection of its owners' personality. Divias says, "Once I met the client, it was obvious that she had a clear vision and had already bought a few furniture pieces. It was a matter of working around the existing pieces to blend the interiors seamlessly."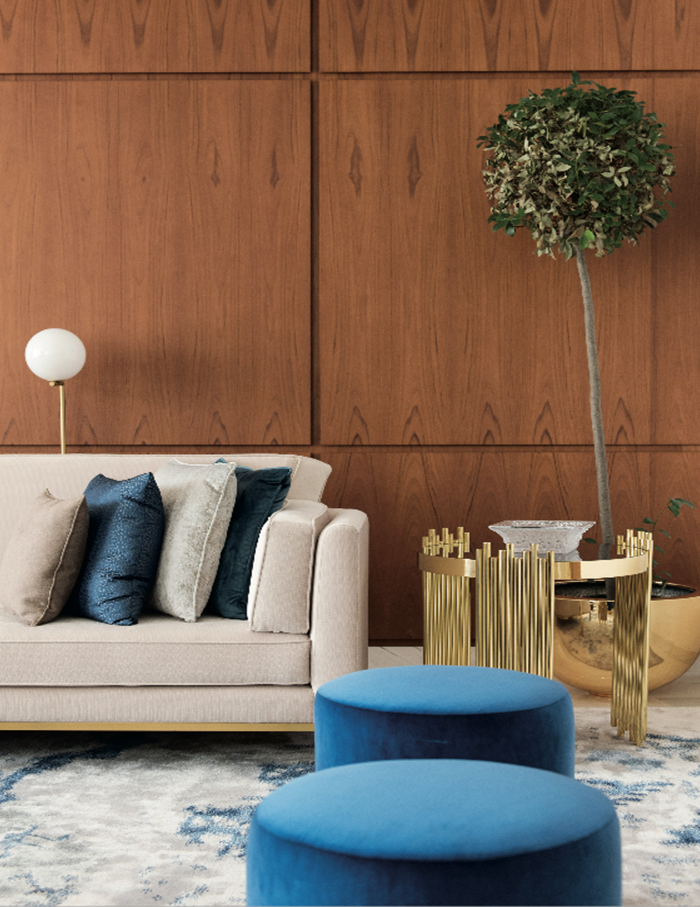 The client's taste for art inspired the interiors—particularly the custom Zao Khailin artwork titled Moon Shadow near the main door. Beyond the entryway lie the open plan living and dining spaces that promote socialising. "Despite the division of private and social spaces, we integrated both in a way that created fluidity and steady organisation," says the creative.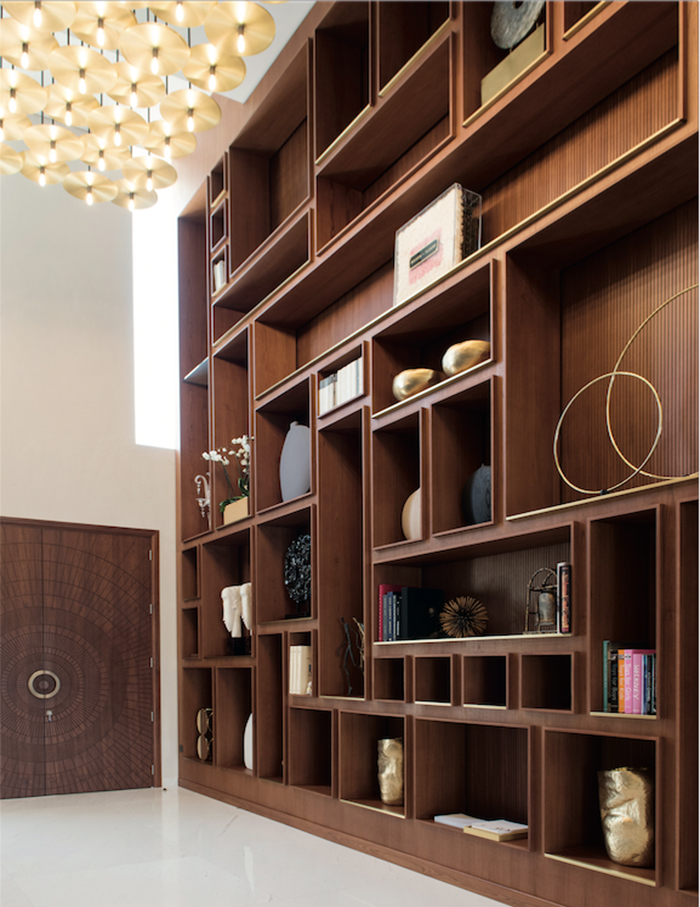 The segregation is achieved with the help of clever spatial planning and by introducing free standing elements such as the shelving unit between the sitting room and lounge—it holds hand picked sculptures, antiquated vases and books. Just outside, an infinity pool clad in sea blue mosaic and cosy outdoor furniture from Manutti with an oversized Umbrosa umbrella can be accessed through the lower level.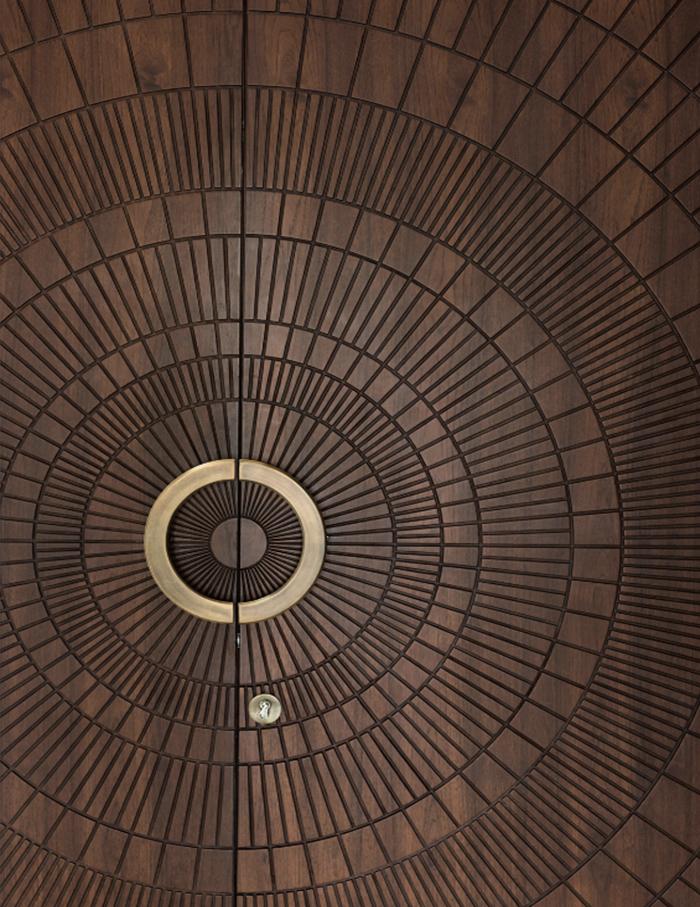 The neutral colour palette in the living area incorporates streaks of autumnal shades that are complemented by accents encased in blue fabric, inspired by the seaside location. Against it, the material palette creates a glamorous look, featuring brass that juxtaposes bold finishes with woodwork and metal detailing. Glossy surfaces and coloured accents complement the use of elegant lacquer, wood and brass.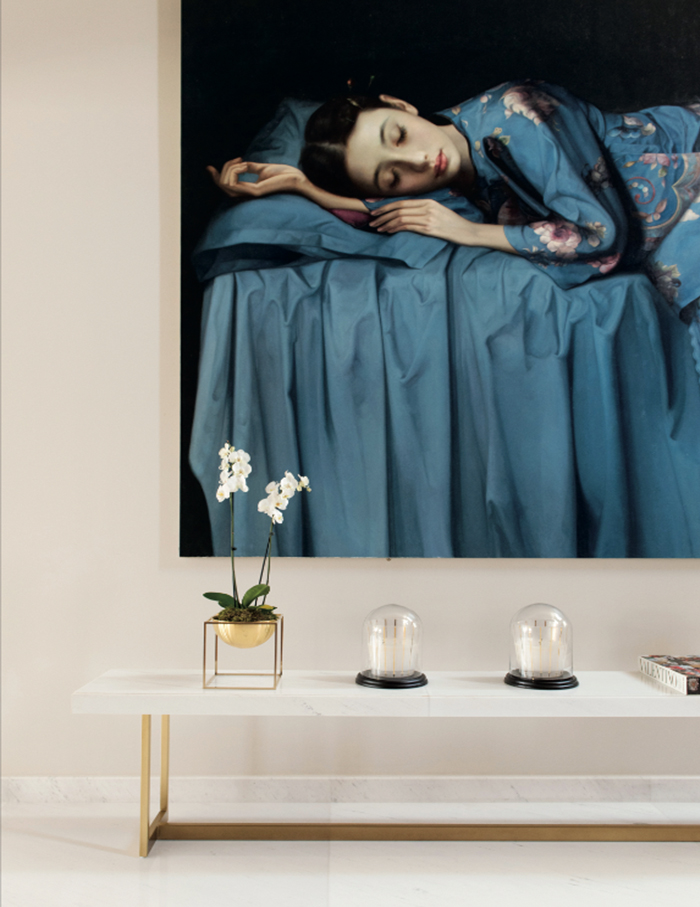 On the upper level, the private spaces include three bedrooms and the minimalistic master boudoir, bathed in natural light that streams in from the floor-to-ceiling windows. With soul stirring, uninterrupted views of the sea, this residence is a tranquil zone. Divias opines that luxury is not just about the aesthetics. She says, "What matters is how design makes you feel. Great design should respond to the contextual narrative and be conceptualised to be timeless. The subtle elegance of the villa—lavish without being ostentatious—is what contemporary luxury is all about."