Design
Draped in cheery yellow tones, this upbeat Mumbai office by Quirk Studio is sure to leave you with good vibes only
SEP 6, 2020
| By Disha Bhavsar & Shivani Ajmera
The Expand Loft is characterised as an open 2,400 sq ft office space in Mumbai, crafted for a corporate event management company. The design brief we received was to create a fun and vibrant environment that helped facilitate a natural flow of movement as well as encouraged interaction and collaboration among the employees.
We opted for a 14 ft-high ceiling for the entire setting along with panoramic windows that would bring in abundant daylight and offer expansive views of the city. Taking inspiration from the company logo, hints of yellow were infused throughout the space to build on brand recall.
Apart from these and a few other bright pops of red and green, we kept the underlying colour palette neutral, paving the way for an industrial aesthetic.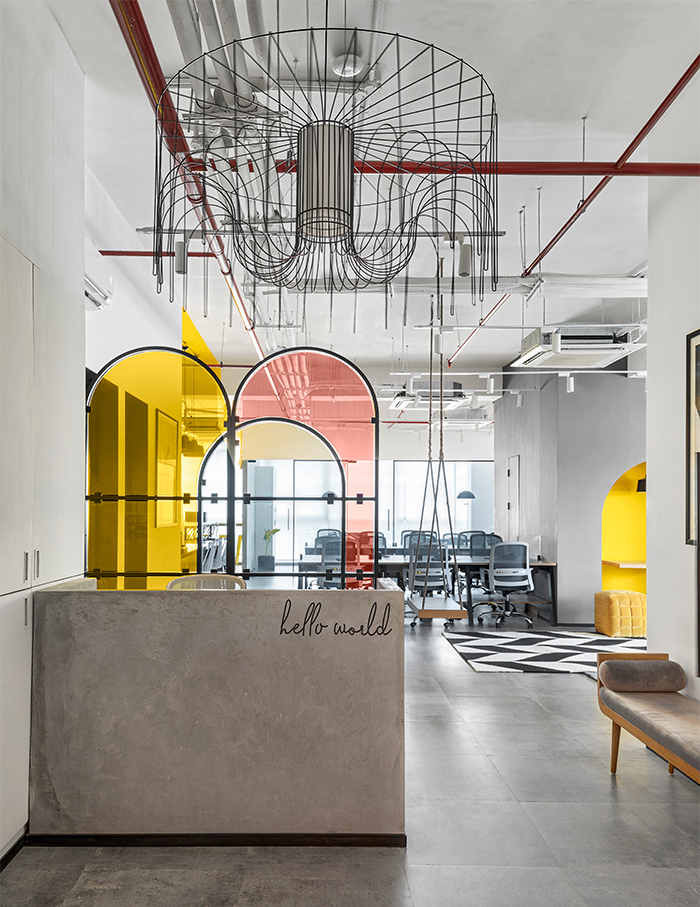 At the entrance, an IPS finished reception desk basks underneath a magnificent decorative light. The stunning artefact brings grandeur and a sense of identity to the space. Inside, we fashioned a small seating area underneath a yellow arched niche. This arena acts as a focal point for the office and features a playful swing, to help augment the space with dynamic energy.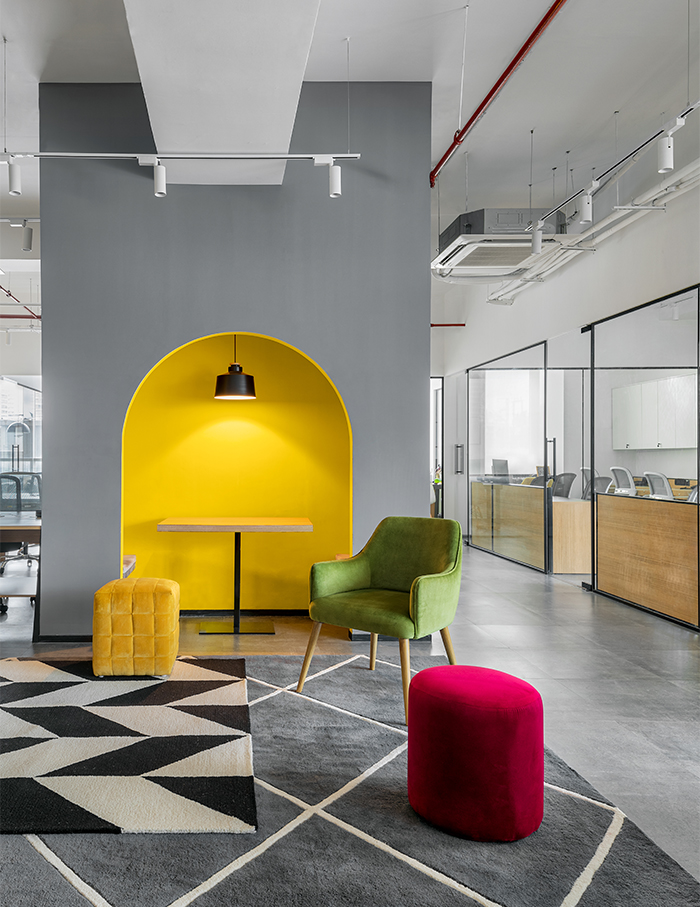 Further enlivening the workspace are foliage-filled planters, occupying different corners of the setting. Their fresh hues are coupled with classy monotonal artworks mounted on many of the cabin walls to uplift the room's sleek furniture.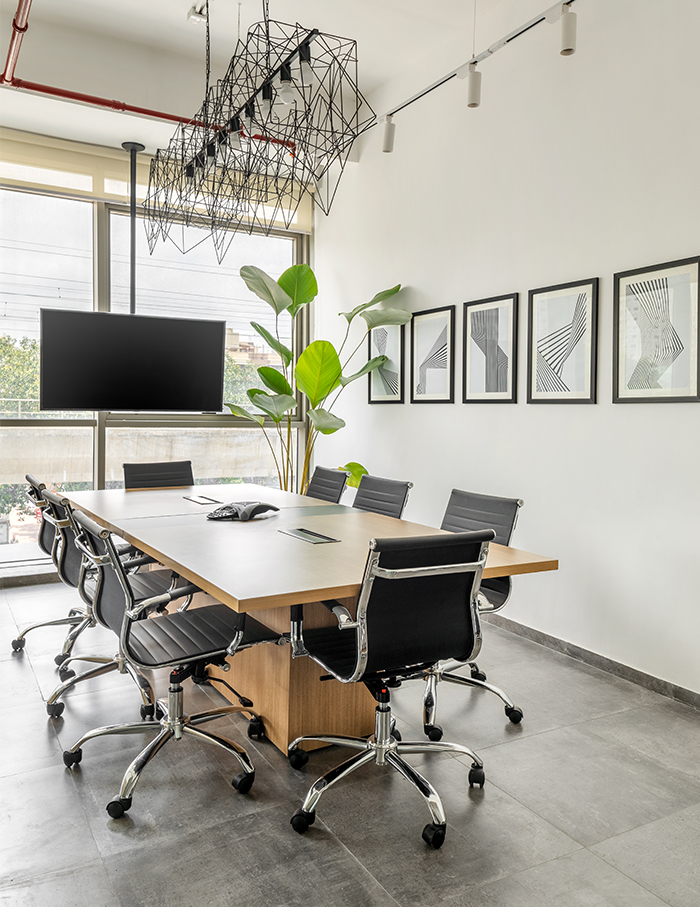 We chose a simple medley of materials, focusing on surfaces and finishes that were easy to maintain. The floor is covered in vitrified tiles with a cement finish. For illumination, we selected extremely artistic, metallic and powder coated black lighting fixtures. In fact, even in the conference room, a sculptural illuminator is fitted overhead.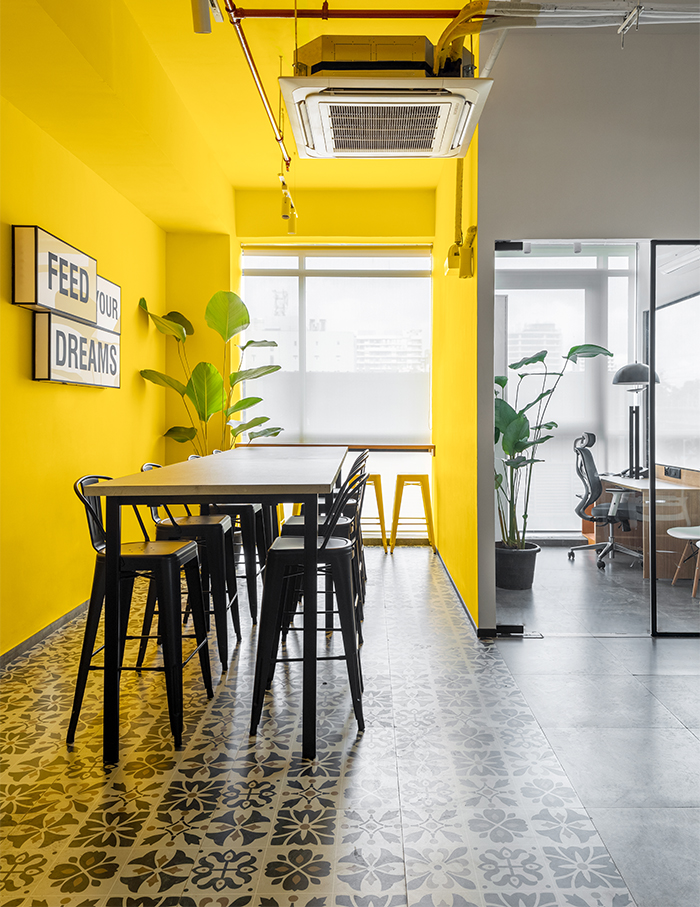 The idea of a spacious, informal setting led to a layout with an open pantry seamlessly extending onto the cafeteria. The latter has a yellow painted ceiling and matching walls, keeping in mind the brand's foremost choice of colour. It houses a long, community table surrounded by high chairs—an ideal platform for brainstorming sessions.
A set of stylish and chic pendant lights run across the ceiling that accentuate the overall ambience. The lightbox installed on the wall with the term 'Feed Your Dreams' is a play on what the space is utilised for, while it also brings to mind a positive affirmation of the quote. To offset the yellow and demarcate these two areas from the remaining workspace, patterned tiles are used for the floors.
We tried to ensure that the user-friendly and visually aesthetic spaces of this loft-like office cater to the evolving needs of its employees. The introduction of quirky, creative elements to the neutral decor offer a stark contrast to the office's industrial look, while augmenting its classy appeal.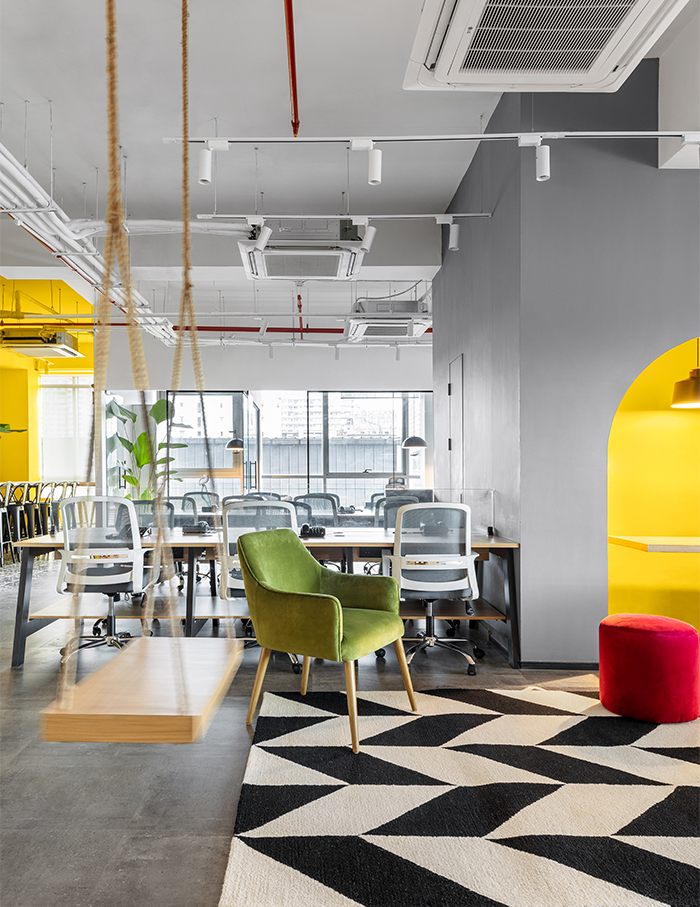 A modern, minimal oasis for social interplay, The Expand Loft aims to boost creativity by optimising the use of an energetic pop of colour, in adequate amounts, to exude a feeling of liveliness and wellbeing for the employees.