Homes
A French escapade: Dominique recounts devising the interiors of Château de Mille in Provence from the 13th Century
APR 24, 2023
| By Dominique Jean-Lavabre
If an epopee is an adventure where dreams come true, then the restoration of Château de Mille became the Provence epopee of the French-American couple Constance and Lawrence Slaughter. Married for over 30 years, parents to three boys who were raised in London, Constance is a French artist and Lawrence is an American working in finance.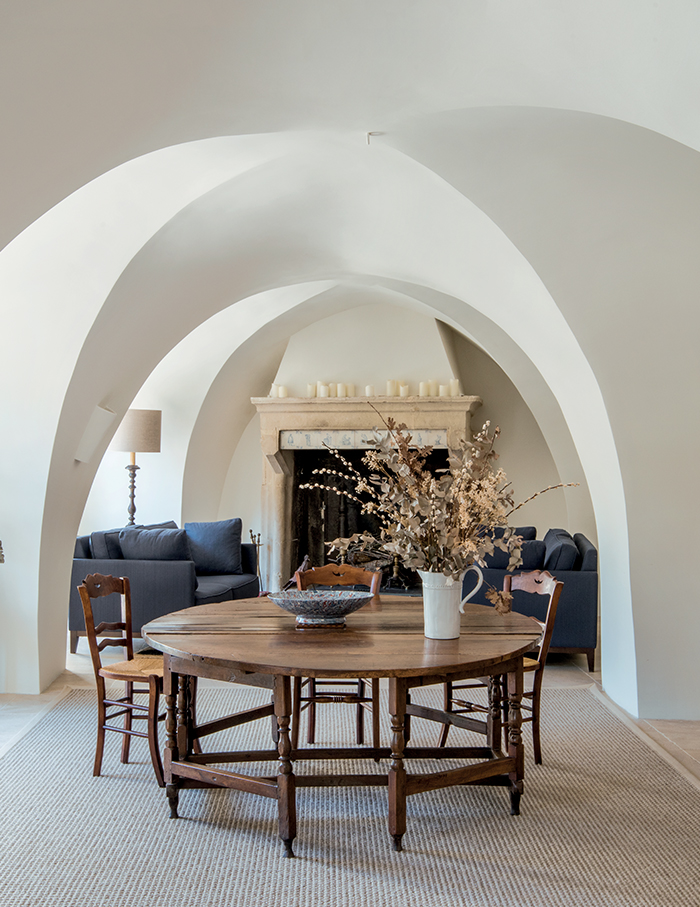 Finding a winery in Mille allowed them to embark on an adventure that is professional and personal. The rebirth of the castle and its prime vineyard is the fruit of passion and a tremendous work of adaptation and modernisation.
It has mobilised an extraordinary collection of talents under the vision of the architect Alexandre Lafourcade who specialises in complex heritage building renovations for more than 30 years.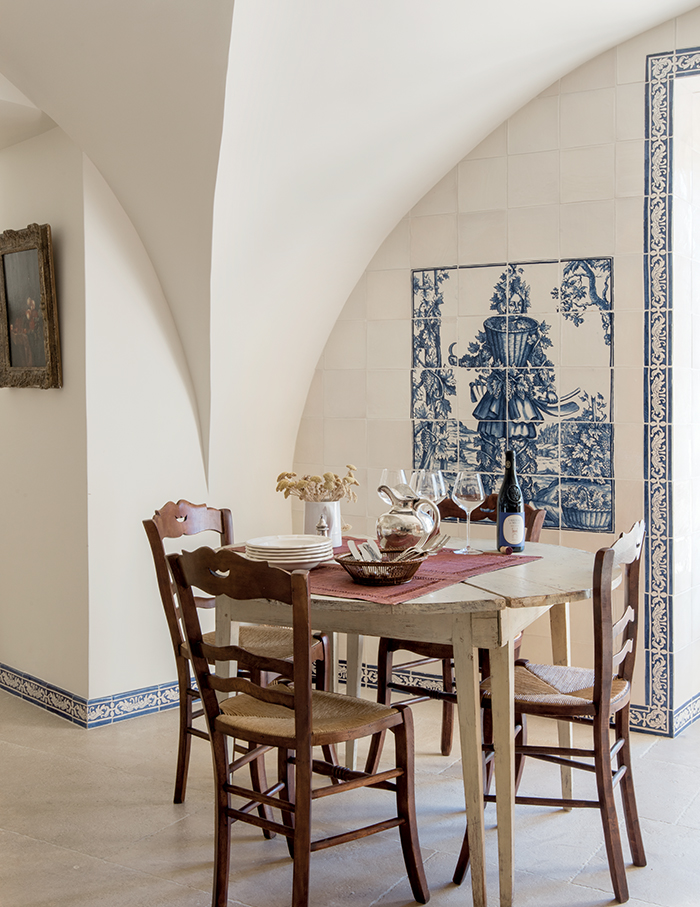 Handling the interior design of such a beautiful heritage place and mixing the remains of a mediaeval donjon dating back to the 13th century, a pure renaissance courtyard from the 16th century and a large mansion from the 18th century, was an intimidating challenge for me.
After a briefing with my clients, my work starts with an exchange of words. I put down in writing my vision of the project, with no visuals at the initial stage to leave room for possibilities. Images can be often too reductive.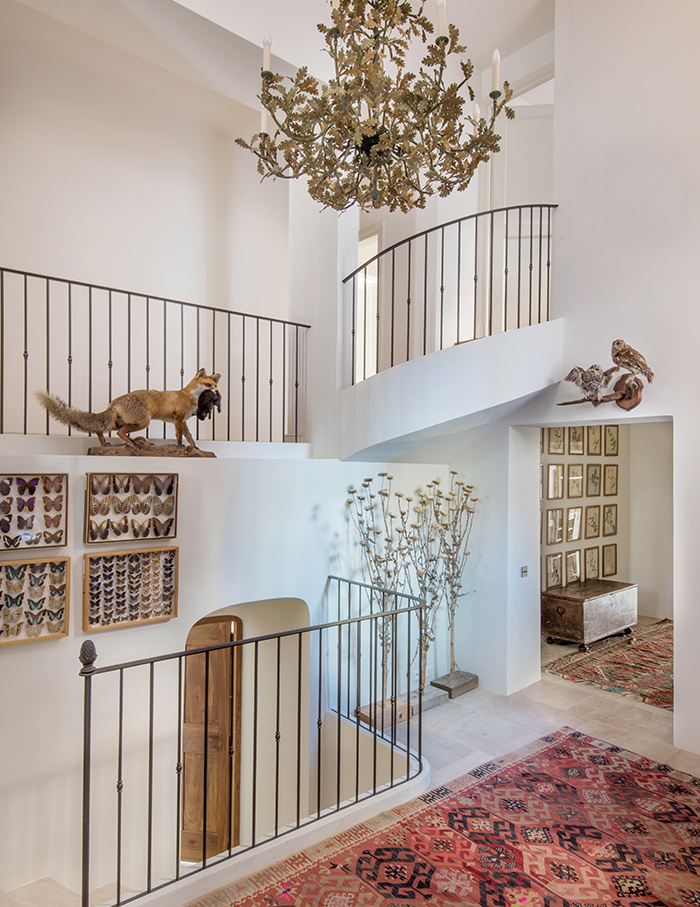 This project wasn't an interior designing project from the start. It put together exclusive furniture pieces from the 20th century and a selection of eclectic modern art paintings, collected over time by the family—to recreate coherent setups, to continue their history in a different context.
The result is a haven that stays true to its roots, pays homage to the past and is brimming with stories to tell. Like the great hall with its spectacular staircase with the vibe of a curiosity cabinet alongside a natural history exhibition with a collection of animals.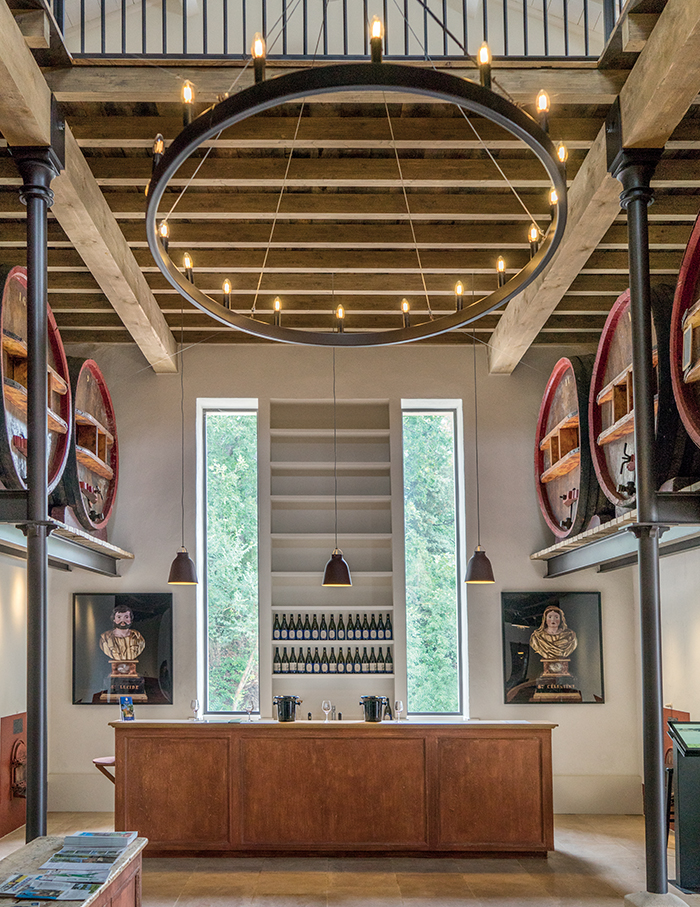 Its muted colours are derived from the strong painting of a woman by British portrait painter Chantal Joffe, Victoria Miro Gallery that hangs above the low library cabinet.
The television room vibrates with intense colours deriving from the Iranian carpet. It exhibits on the wall, an exclusive collection of antique original maps. An iconic lounge chair designed by Finn Juhl in the 1960s has been inherited by Lawrence from his parent's house in Washington DC.
Situated in the oldest part of the castle with vaulted ceilings and old simple farmhouse doors is the kitchen with a cooker from the 250 year old French brand Laclanche.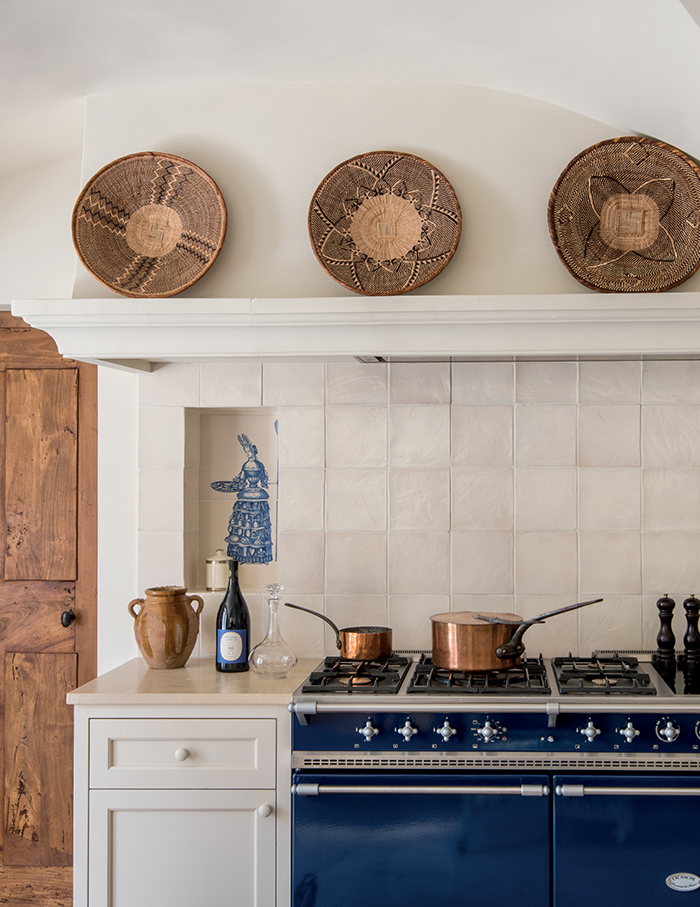 A bedroom in greys breathes the Provence mood with 19th century caned bench and chair in its original patina, sourced at the antique market of L'isles sur la Sorgues, and the fabric from Olivades which pursue the tradition of local prints akin to toile de Jouy. Facing the French East gardens is the bedroom in green dressed in floral prints from Les Olivades.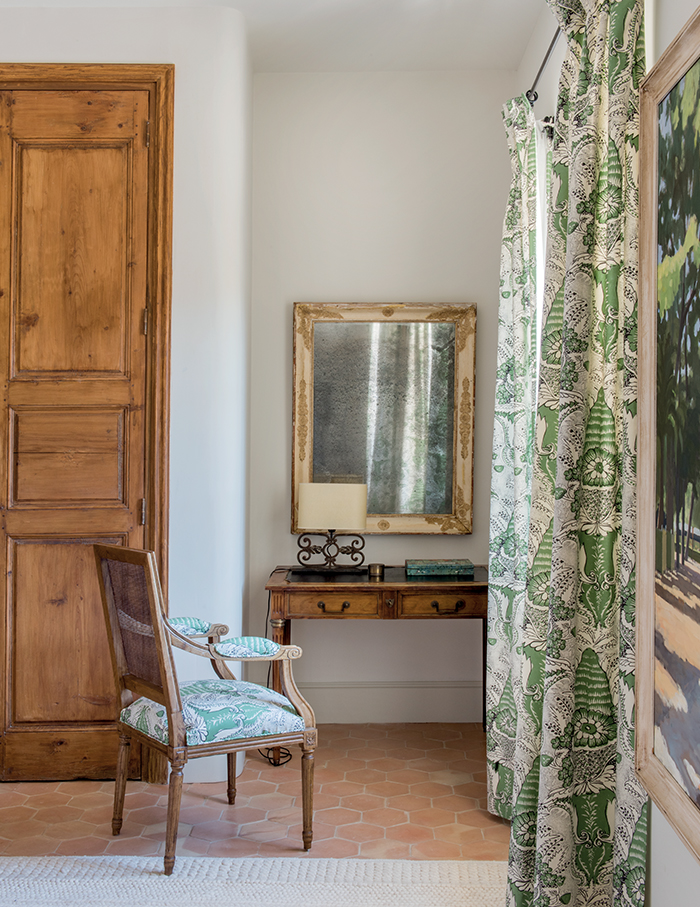 But probably the Château's most cherished epopee are the vineyards that sit on a fabulous mix of quaternary limestone scree, Oregonian limestone, clay quartz and clayey sandy soils of the Eocene period. This variety allows Mille to concentrate the wine varietals to the parcels which suit them best – producing highly aromatic and intensely flavoured grapes, which are then harvested and vinified.
The castle and its large reception area will be occasionally rented for parties and self-catering accommodations for one- week rentals. "I decorated several houses on my own before, but the scale of Château de Mille was daunting. Dominique was the best designer we could dream of. He listened to us and helped us implement concepts and ideas. He brilliantly coordinated various local artisans, found solutions to technical as well as aesthetic problems. We worked hand-in-hand over several months to make a home that is warm and inviting, where we feel happy to live, work and invite our clients and friends," shares Constance.