Homes
Designer Rita Chraibi decks this chic abode in Miami as "a top model that one must dress, ready to parade on a runway"
SEP 29, 2020
| By Krisha Godani
Opting for an utterly sophisticated and chic vibe, Morocco based International Designers by Rita Chraibi sets the tone for the interiors of an over 5,000 sq ft expansive apartment in Monad Terrace in South Beach, Miami. 
The luxury condominium Monad Terrace is crafted by Pritzker Architecture Prize winning architect Jean Nouvel along with Kobi Karp. The sustainable, sea facing structure was the first one-of-its-kind on completion to be built above updated flood and sea level elevations. It features a unique mesh facade that regulates heat gain and serene climbing gardens running along its north and south walls that offer privacy as well as shade. 
Rita Chraibi ensures that the experimental construction of Monad Terrace is carried forward into the interiors of this residence. The interior designer—also an ambassador for Roche Bobois—is inspired by the furnishings of haute couture fashion icon Jean Paul Gaultier's collection for the French furniture brand. She's shaped the abode with curated furniture designs, exclusively from this collection, paying a fitting ode to both fashion and interior design.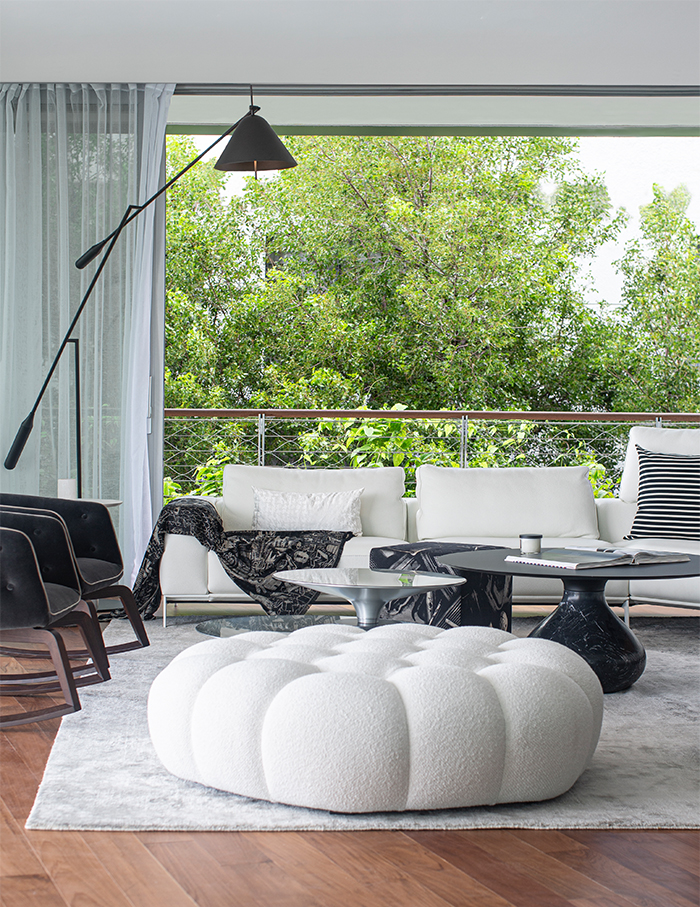 Staying true to the contemporary architecture of the residence, the creative has opted for an elegant and minimalistic approach for the decor. "I wanted to have a very fashion-focused and haute couture-like result as if the space was losing its material aspect to become human, signed with high fashion elements," says Chraibi, who chose select pieces from Gaultier's collection.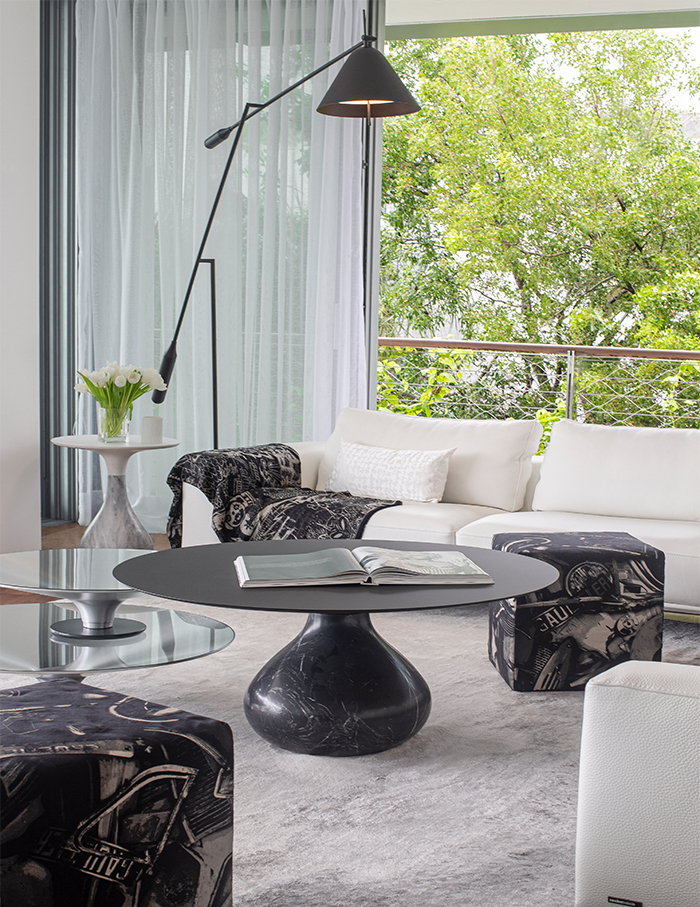 One gets a real understanding of just how luxurious this apartment is through its grand entrance. A private elevator opens up inside the home. Just within, Chraibi steps away from traditional layouts and positions a bedroom-cum-private office space on the immediate right, leaving it isolated from the remainder of the apartment.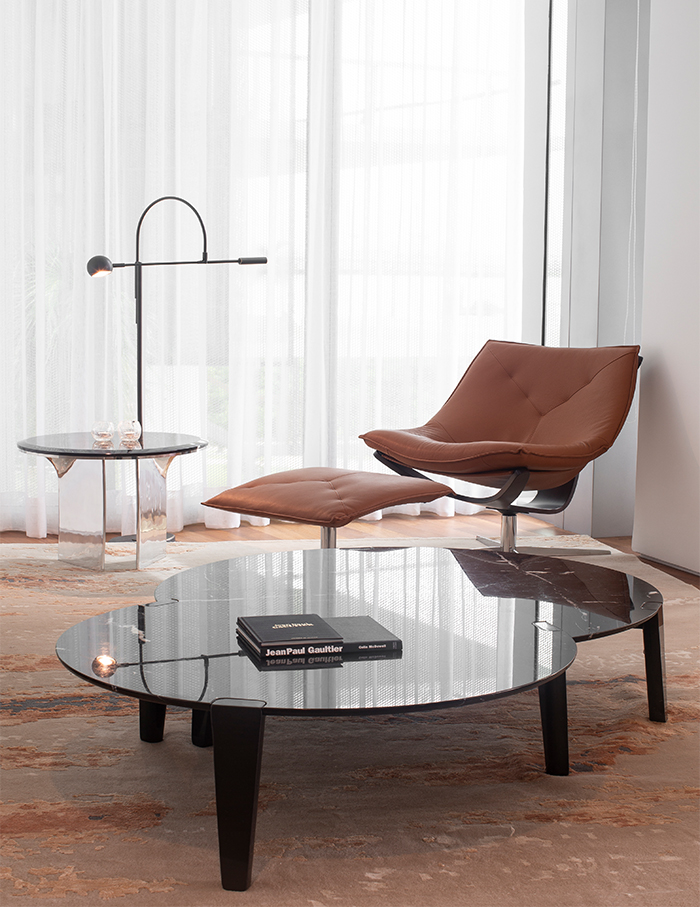 A minimally styled living room, a custom designed Gaggenau open kitchen and the dining area follow next and are set in the centre of the abode. Each of these spaces are framed with floor-to-ceiling windows that offer unobstructed views of Miami beach. To the back lie three bedrooms with integrated bathrooms and a small office, which can also be converted into a fourth boudoir. We love the 42 ft-deep terrace with a bayfront reflecting pool and breathtaking vistas!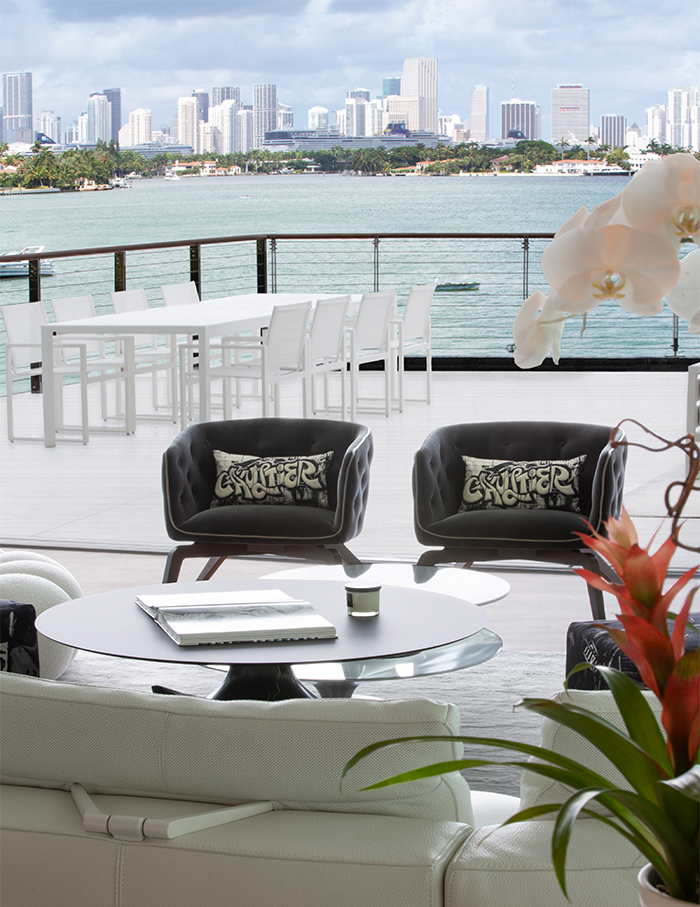 Overall, the abode features a monochromatic palette that helps deliver a chic look. Parquet flooring runs throughout the apartment, complementing the elegant white marble used on the kitchen island and in the bathrooms. "I used white for the furniture with subtle black details—similar to the kind a fashion designer would add to a formal evening gown. Keeping the home all-white makes it look like any other beach house. Instead, I wanted this to stand out as more trendy and experimental," explains Chraibi. 
A sculpture, representing a woman's body made by the designer herself, also features in this home as a tribute to the famous costume that Gaultier designed and produced for Madonna, which helped launch his career.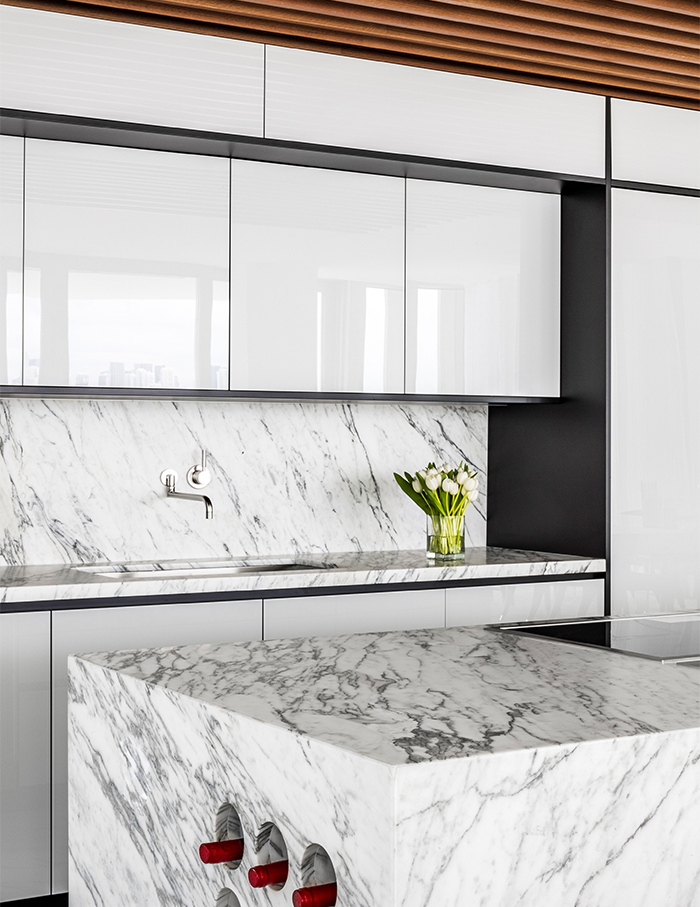 Chraibi also collaborated with New York based contemporary art gallery Galleria Ca' d'Oro to source bespoke pieces by Italian artists Marco Grassi and Lorrenzo Perrone that are evocative and offer a sense of wonder for the residence. These, along with selections from Gaultier's furniture series, together create a cross-section between fashion, art and design.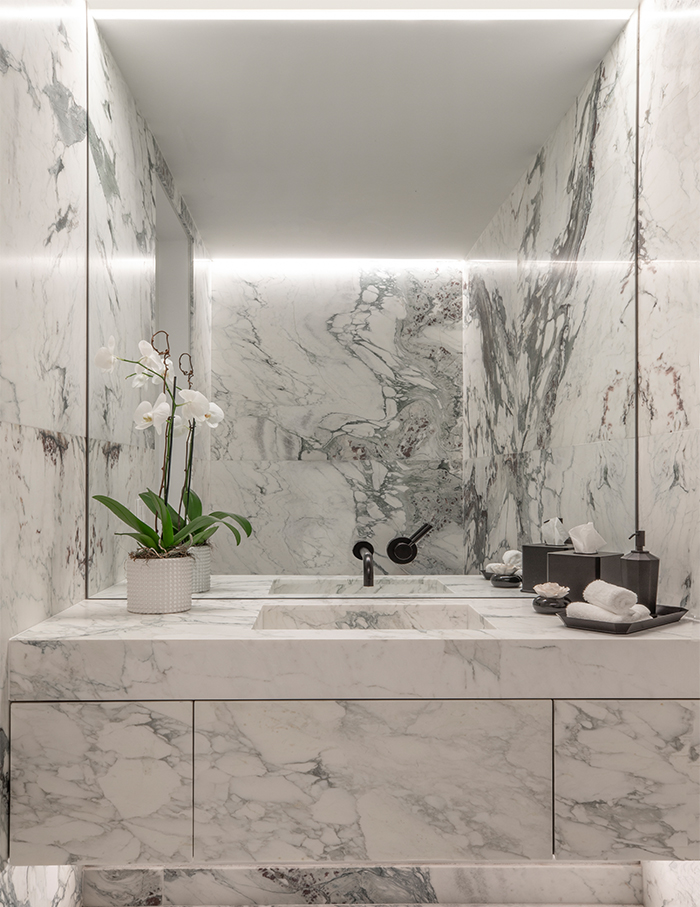 "My design for this space highlights my signature style, which uniquely fuses concepts and elements from interior and fashion design to humanise the space. I think that there is nothing more beautiful than visualising an interior space as a top model that one must dress, ready to parade on a podium," concludes the Morrocan creative.
Scroll below to see more images of this luxurious abode in Monad Terrace by Rita Chraibi…