Lifestyle
Designed by Studio Goya, Cafe Botaniq is a green testimony of all things serene and nature inspired
SEP 28, 2020
| By Akshita Mehra
A unique amalgamation of design sensibilities borrowed from Geoffrey Bawa's signature aesthetic along with influences from a botanical garden led to the decor scheme of Cafe Botaniq in Bengaluru. Aside from its visual appeal, the space communicates a narrative through its experience. This cosy, distinguished cafe has a dreamy, poetic charm to it, complete with classic jazz tunes.
One can spot this snug, 500 sq ft cafe right in the middle of Indirangar's bustling 100 Feet Road. Its intimate and compact layout that seats just 22 makes the cafe an unassuming venue but one with a vibrant and distinct personality. Ample sunlight and cross ventilation help bring the outdoors in, invigorating one's senses.
Our biggest challenge was the size of the project. It seemed daunting at first, as this was the first time we were approached for such a small square footage. However, we genuinely believed that a limitation or restriction whether in terms of space or budgets always pushes us designers to explore possibilities that we otherwise wouldn't!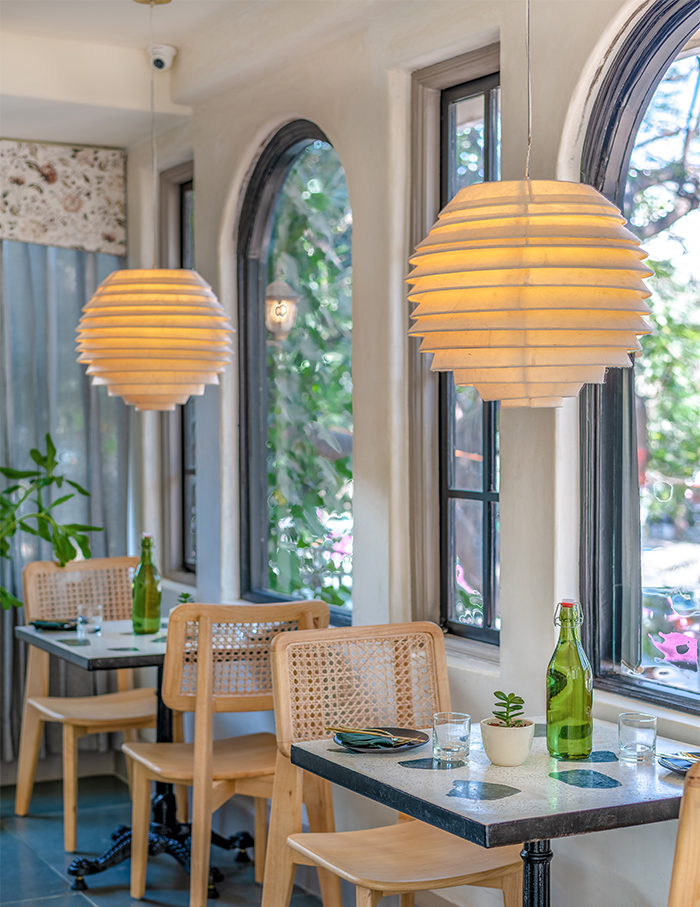 In its previous avatar, the venue housed a spa—in fact, the 500 sq ft of Cafe Botaniq was just the pedicure section. So, we went about remodelling the entire setting. This included demolition of the floors, ceiling and plumbing lines even, to redesign it with a fresh approach that aligned to the brand identity. We changed the rather dreary glass facade and built arched windows to offer a sense of intimacy along with a connection to the outside.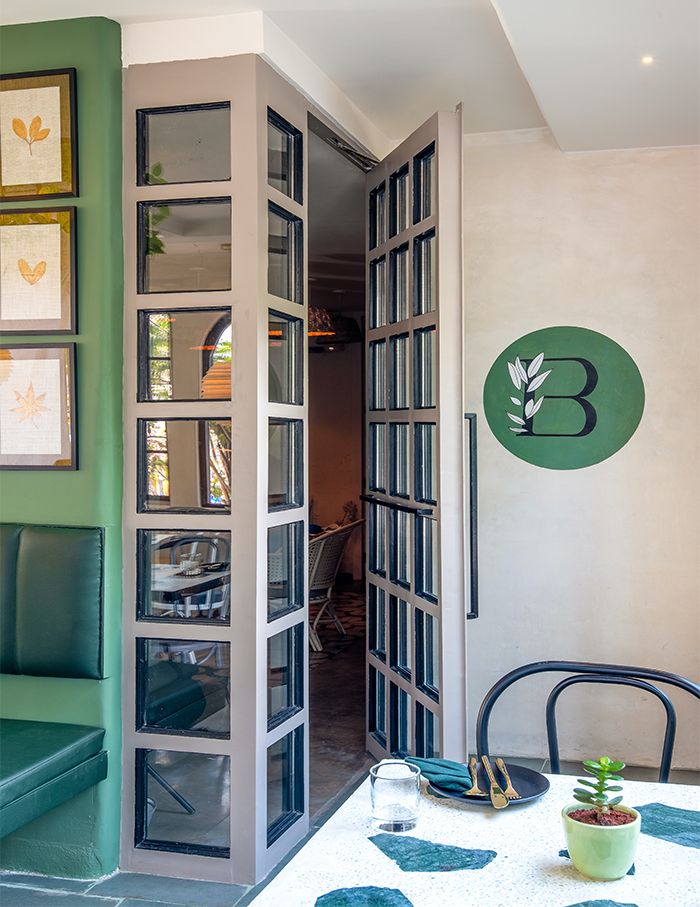 The inspiration for this cafe, as the name suggests, are botanical gardens. We sought a natural colour palette with a Bawa-esque twist. These references can be seen in the tropical green set off by warm beech and cane chairs, a deep bottle green leatherette sofa, white oxide finished walls, neutral kota flooring, white terrazzo with oversized green marble chip tabletops, floral printed fabrics, banana fibre paper lights and brass accents. Indeed, a custom brass light feature atop the couch seating serves as a botanical installation and provides warmth to the space.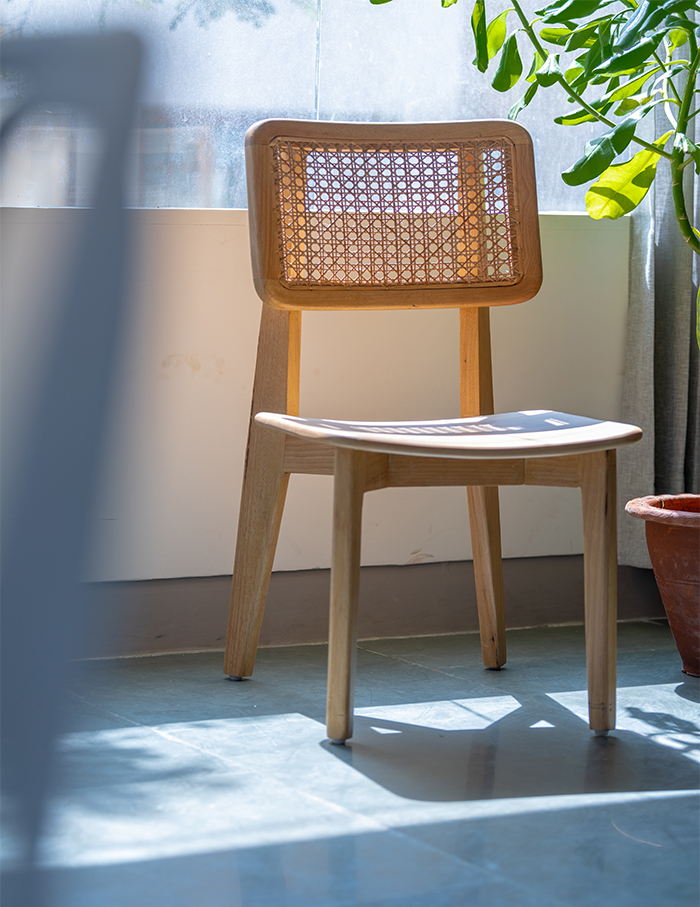 Undoubtedly, my favourite feature of the cafe is the 12-feet wall that's adorned with various frames of pressed leaf artwork. We exclusively custom created each of these at the studio after spray painting and framing dried leaves with a raw silk border. And this wall acts as a focal point in the space, adding a touch of chic elegance.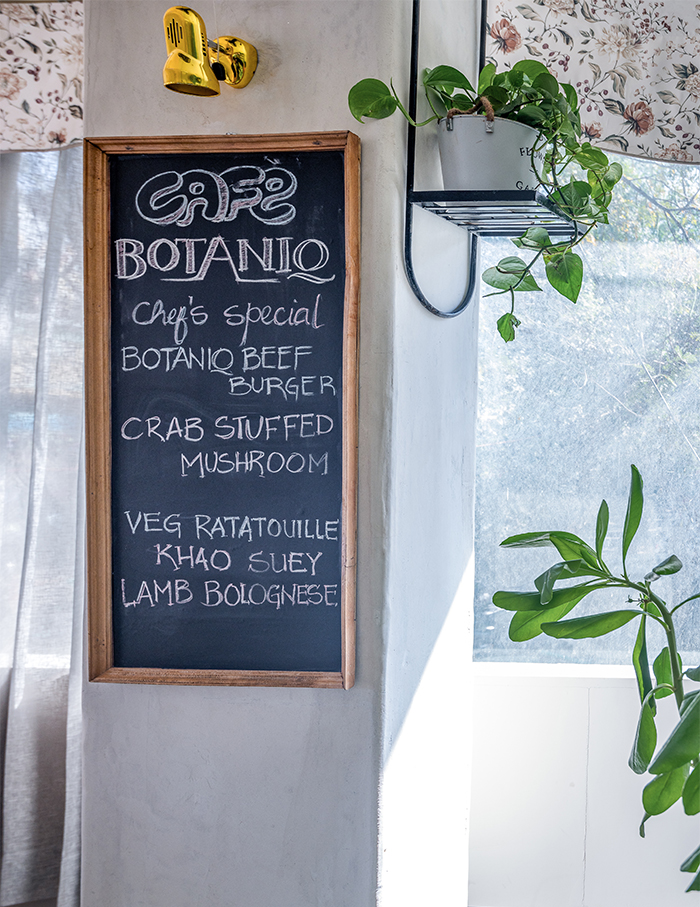 Our work reflects quiet, understated and handcrafted luxury with a hint of nostalgia to it. At Studio Goya, we are ardent believers of experiential design and endeavour to go beyond just the visual appearance of a place by making it wholesome. In this project as well, we realised the client's fresh, lush and chic vision for Cafe Botaniq seamlessly with our design philosophy of creating sensory-based designs.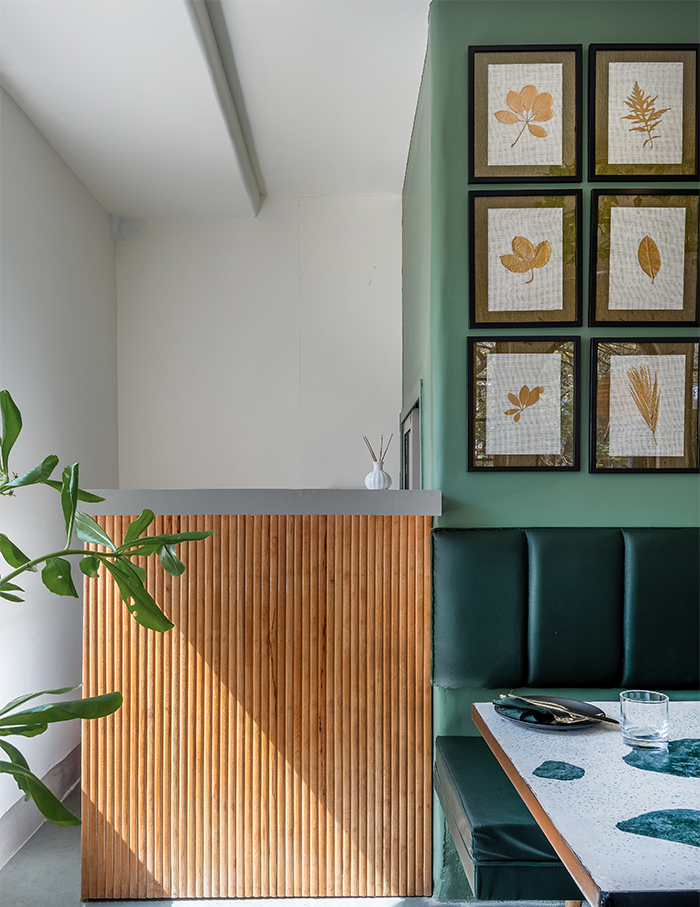 Akshita Mehra is the founder and creative director of Bengaluru-based Studio Goya