Lifestyle
Designed by Studio Clay, the Biscuiteers bakery next to a busy highway in Meerut surprises with its arboreal atmosphere
NOV 14, 2020
| By Aneesha Bhadri
When a previous client of Studio Clay approached the practice to turn a warehouse in Meerut into a bakery, the brief called for a complete overhaul of typical bakery interiors in the city, with mirrored walls, sharply lit spaces and overflowing displays.
"The warehouse was a relatively newer part of Grand 5—a sprawling banquet and fine dining complex, which was designed by us a few years ago. The client visualised it as a voluminous social space, which would stand out for its understated yet classy feel…a departure from the cramped glitz associated with the bakeries of Meerut," says Asit Gupta, who worked on the project along with Namit Mittal of Studio Clay.
Together, they toyed with a number of ideas ranging from Mumbai's Irani eateries to old Milanese cafes. But all the different elements failed to merge into one coherent theme until they decided to build upon the underlying feature of the Grand 5 complex—green landscaped spaces. The warehouse was reconfigured such that the ground floor would hold small parties and banquets, while the first floor would house the bakery with a seating area.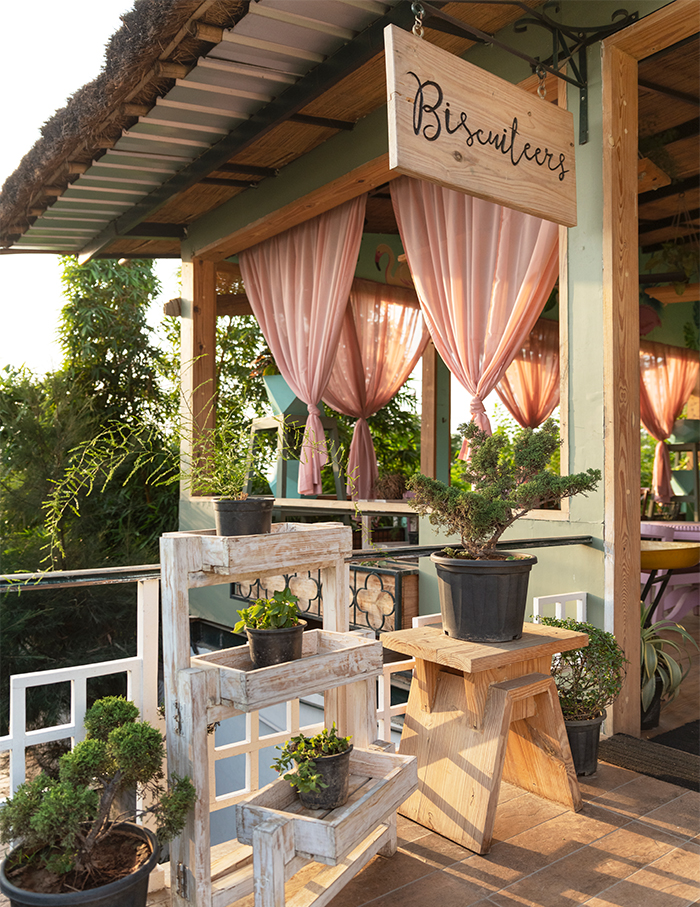 The perimeter of the property was panelled with glass to bring the outdoors in, with lush green landscaped lawns of the Grand 5 complex converging from all sides. Enchanting imagery of flora and fauna covers the pastel hued walls of the 1,200 sq ft Biscuiteers bakery.
Open panoramic windows wrap around the facade of this petit eatery, with sheer drapery swaying in the breeze, offering verdant vistas. Nature seems to gently sweep in, with hanging flowerpots dotting the ceiling and squat planters lining the periphery of Biscuiteers.
The space has a certain old-world charm with solid wood flooring and an eco-friendly thatched roof. An eclectic assortment of wood and wrought iron furniture as well as traditional swings creates a cosy atmosphere, where people of different ages can relax and have a good time. "When the client wanted to add to seating choices by creating a chaupal-like space in one nook, we went in for ethnic looking seaters in polyresin, cast in situ, to stay true to the overall thematic feel," asserts Gupta.
The extended party space on the ground level is built around an existing tree. Coupled with the airy bakery on the first floor, there is a distinct feeling on being perched on a branch in an aviary. The wooden display and counters are kept neat and minimal. Subdued lighting adds to the overall effect, bringing to mind quaint bakeries found in Dehradun and other old colonial towns.
Studio Clay as well as the client are happy with the result—a little green oasis that stands out against its urban context and belies its location, the Roorkee-Delhi bypass road. "Lulled by the cultivated natural atmosphere, you can scarcely believe that you're sitting next to a busy highway and not in some remote tropical island resort sipping cappuccino and nibbling on biscotti," smiles Gupta.