Design
AHEC's Connected series brings creatives and creations together from across the globe
NOV 12, 2020
| By Sakshi Rai
The ongoing pandemic has played and continues to contribute significantly in the way we live, work and interact. After months of isolation, we all crave for in-person meetings and the company of our friends, colleagues, near and dear ones. And the impact on the creative community has been similar.
To channelise this distance and longing into time spent exploring new materials and concepts, the American Hardwood Export Council asked nine leading international designers to craft imaginative and original table and seating designs for a new and improved home office—the most important zone of a residence now.
The participating designers include: Ini Archibong, Maria Bruun, Jaime Hayon, Heatherwick Studio, Sebastian Herkner, Maria Jeglinska, Sabine Marcelis, Studiopepe and Studio Swine. This project not only challenged the creatives to reimagine functionality and aesthetic using the three American hardwoods they were offered—red oak, maple or cherry—it also served as an interactive platform with a global audience.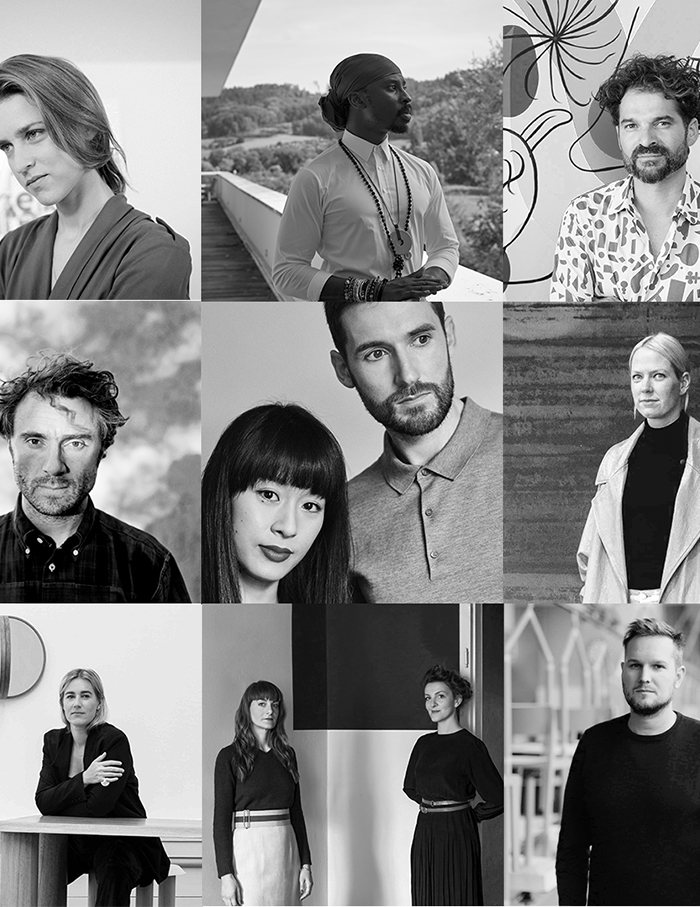 The resultant pieces, crafted by artisans in Europe's Benchmark's Berkshire workshop while being guided at every step by the creatives comprise the Connected installation, displayed at the Design Museum in London. Countless hours of video conferencing between the craftspeople and nine global designers ensured exact details were met and resulted in a creative showcase despite the lockdown.
"This extraordinary exhibition showcases the results of a unique experiment that sets out to push the boundaries of what is possible with these timbers and to explore how designers and craftspeople adapted their working practices during the lockdown," said Roderick Wiles, AHEC Regional Director. 
Jaime Hayon
The Spanish designer's complex and multi-functional setup called Mesamachine (see scroll above) allows its users to work, play, eat or spend time with the family in a single space. Moulded out of American cherry with a clear oil, the table has various storages and shelves integrated as part of its structure. Two playful stools and a bench with cutout smiley faces accompany this versatile counter.
Sebastian Herkner
Featuring skived tracks, that facilitate the movement of trays atop the table, German designer's Stammtisch, translating to regulars table is a peak into his life and signature style. The rounded piece of furniture (see scroll above) has a stack of trays in varying sizes and uses a thoughtful curation of materials—bleached red oak for the table, American maple for the large tray and red oak for the smaller tray and stools—in different finishes.
Sabine Marcelis
The Candy Cubicle by this New Zealand based designer easily transitions from an open setup to facilitate work and a closed one to signal pack up with the help of casters. The expandable, bright yellow unit (see scroll above) has outer and inner surfaces fashioned in veneered American maple. Inside, compartments have been designed to accommodate books, computer and a circular stool, made from stacked and turned solid maple.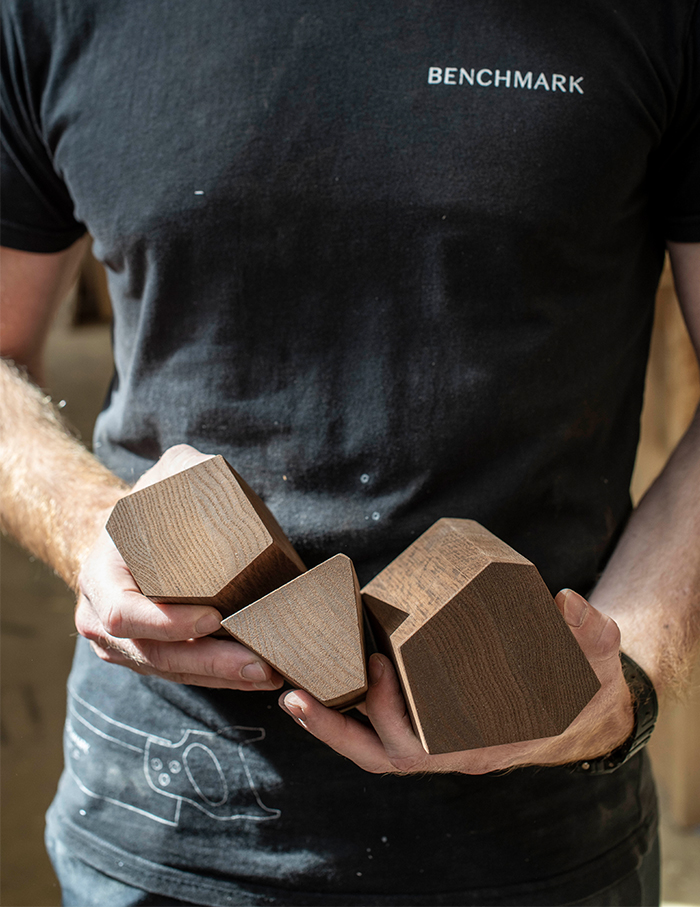 This Switzerland based product designer's outdoor table and bench pair, called the Kadamba Gate entrances with its sculptural form. The table with a metal base rests atop numerous irregularly shaped extrusions of varying heights inspired by the Giant's Causeway in Northern Ireland.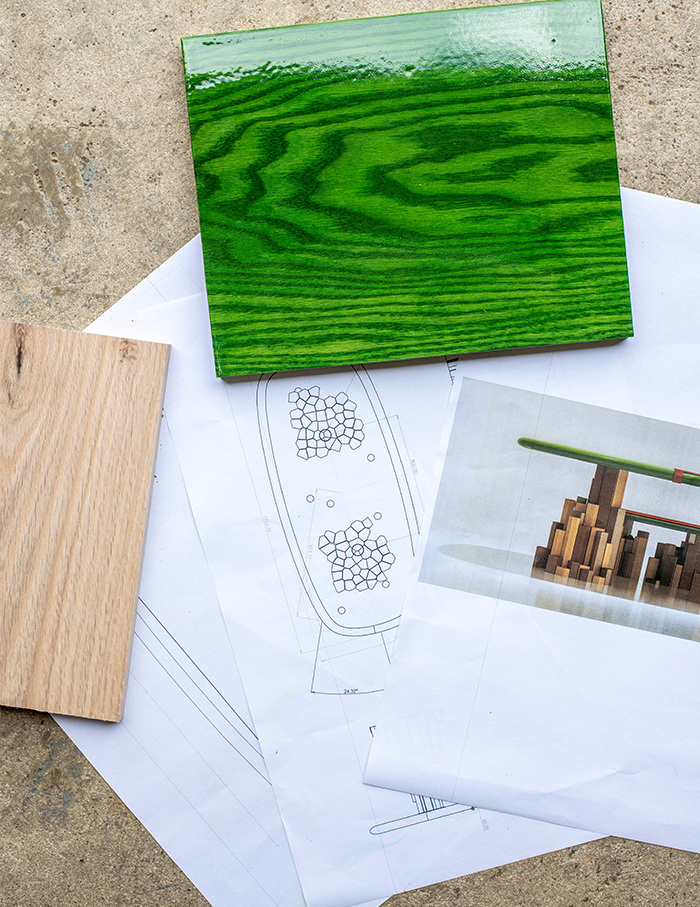 It is made using a mix of materials including cherry and thermally modified American red oak. The bench follows suit with a similar frame and a removable vegetable tanned leather seat pad, custom crafted by Bill Amberg Studio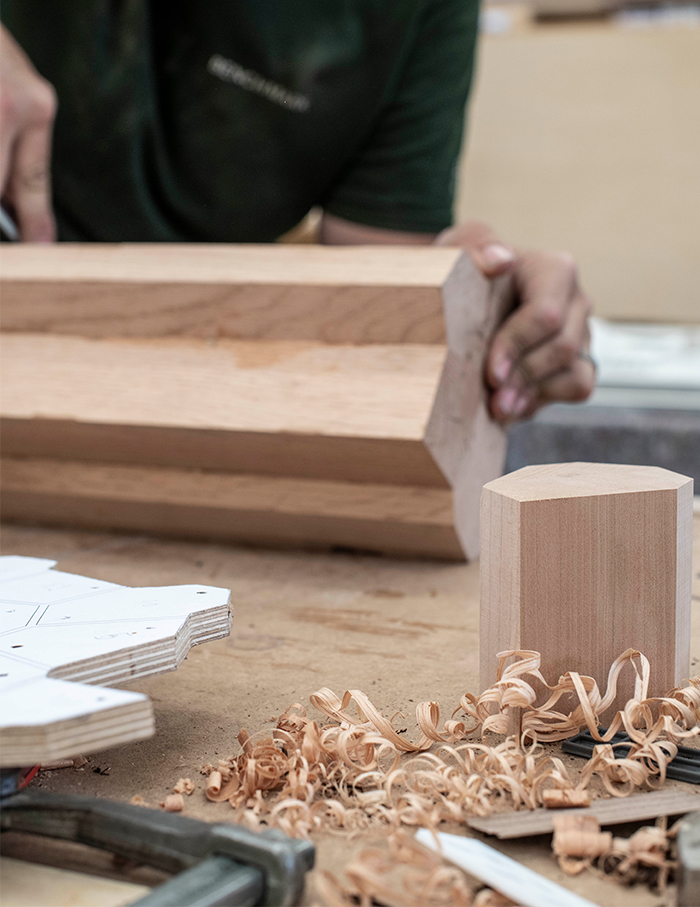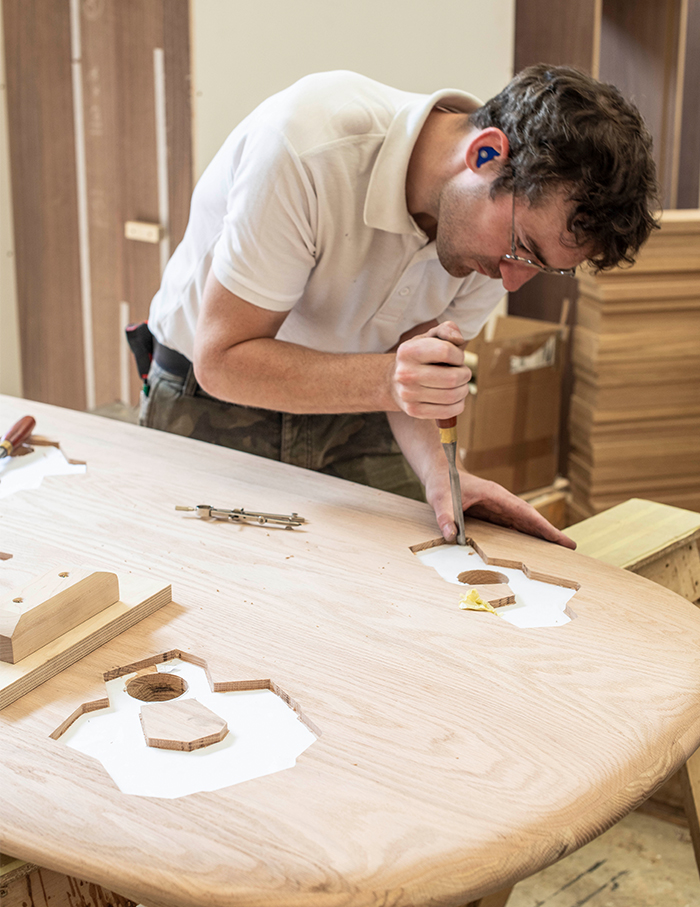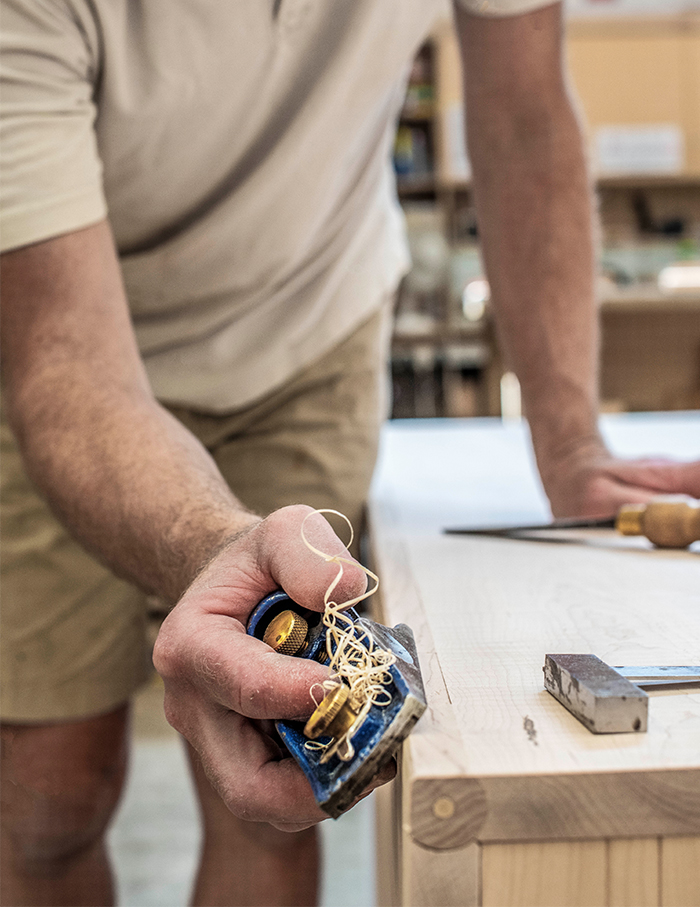 The subtle design for this Danish creative's Nordic Pioneer series reminds us of beauty in simplicity. Fashioned entirely in American maple, this foldable counter has an elegant wood hinge detail, running along its entire length and rounded feet. Bruun's seat references the functional and linear lines of the table while stackable stools with rounded seat pads are moulded from solid maple.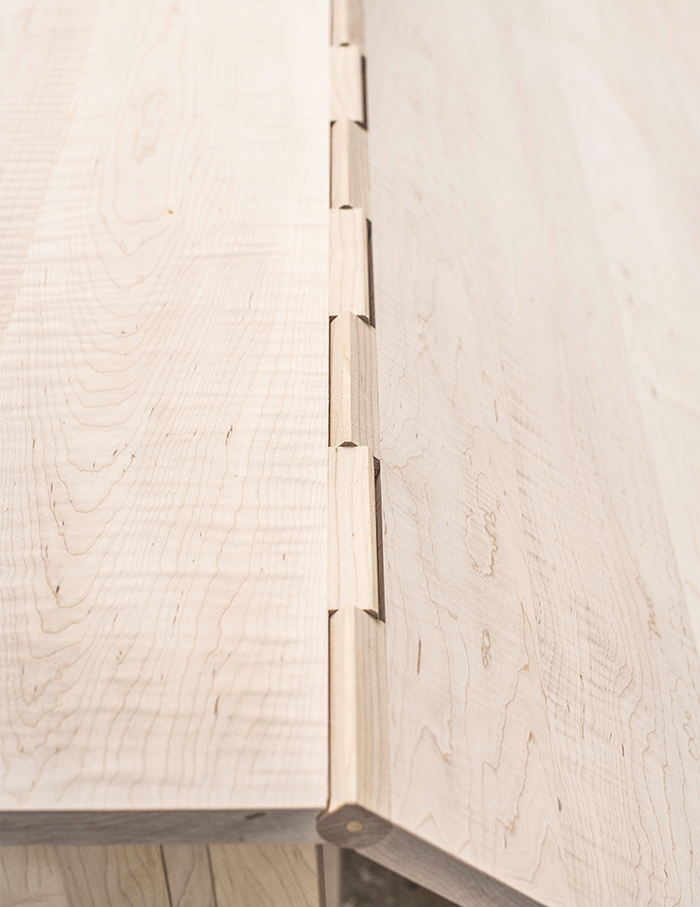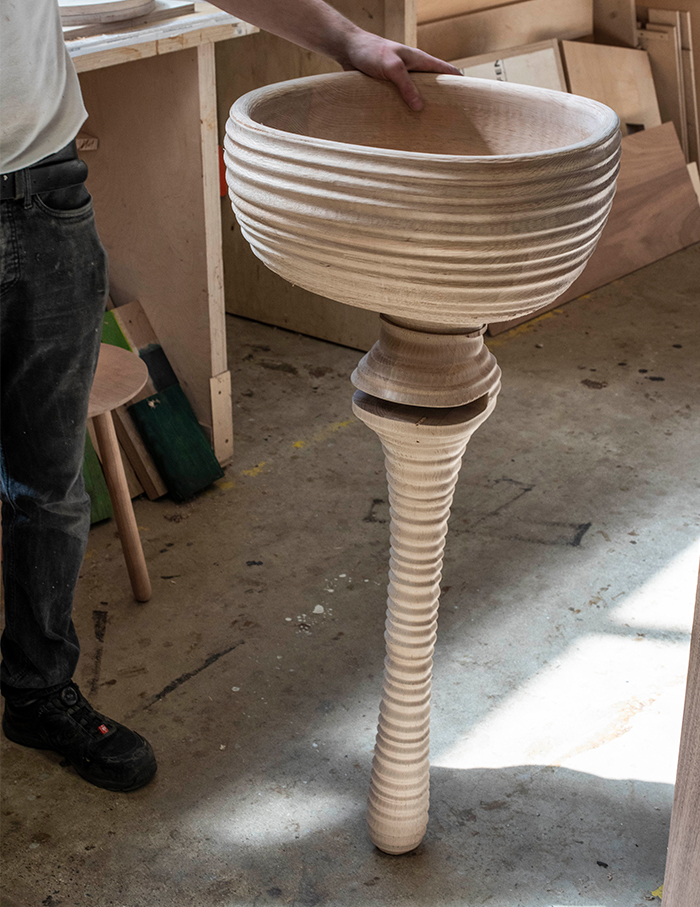 Months of isolation and longing for the outdoors led the British architectural and design studio to settle on a biophilic theme for their creation Stem. The concept features interspersed plants held in pillar-shaped pots emerging onto a glass tabletop. The craft of wooden spoon carving inspired an integrated shelving unit with carved timber uprights and glass shelves as well as a Gotland shearling upholstered seat with matching form.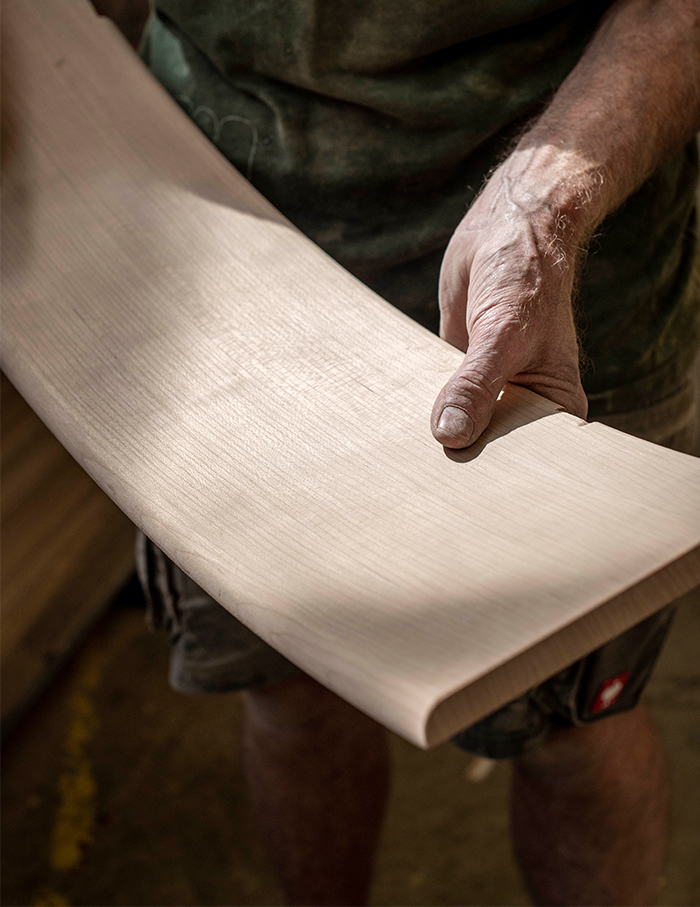 The Polish creative draws inspiration from the curves of the human body as well as the architecture of Benedictine abbeys to shape this sculptural setup, comprising an American cherry table. The angled legs of the table adopt a peculiar, quarter moon shape to create tension, aided by inset metal plates while the chair's coopered side panels celebrate the resilience of the hardwood used.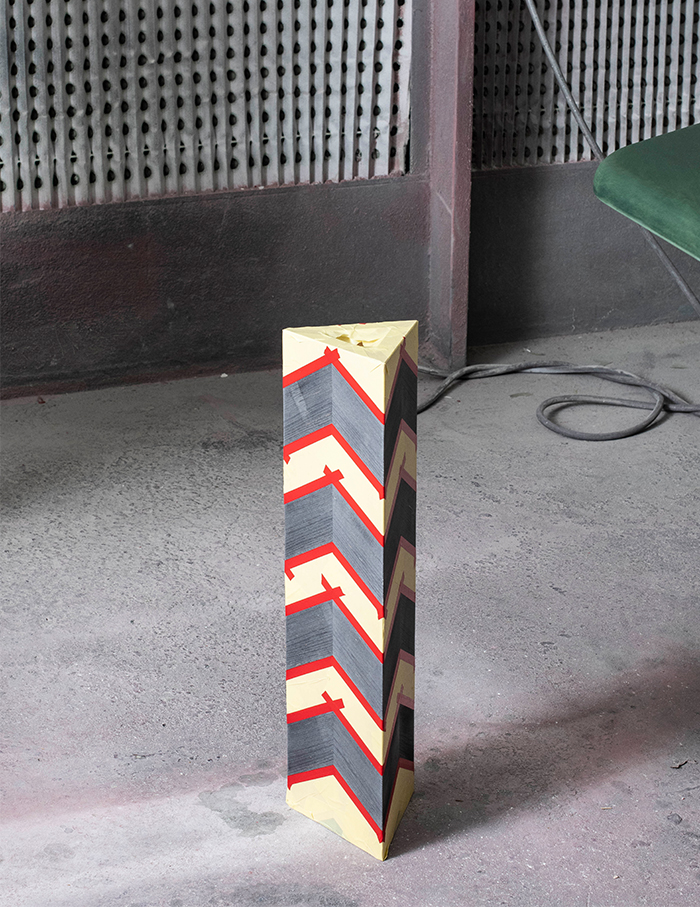 This Italian practice was inspired by phenomenons that mark cycles of renewal and new beginnings such as the Pink moon in spring. Conceptualised as a single composition, the contemporary seat with a large moon shaped backrest in American maple appears to float above when pulled closer to the table, which also features contrasting inlay details in its legs.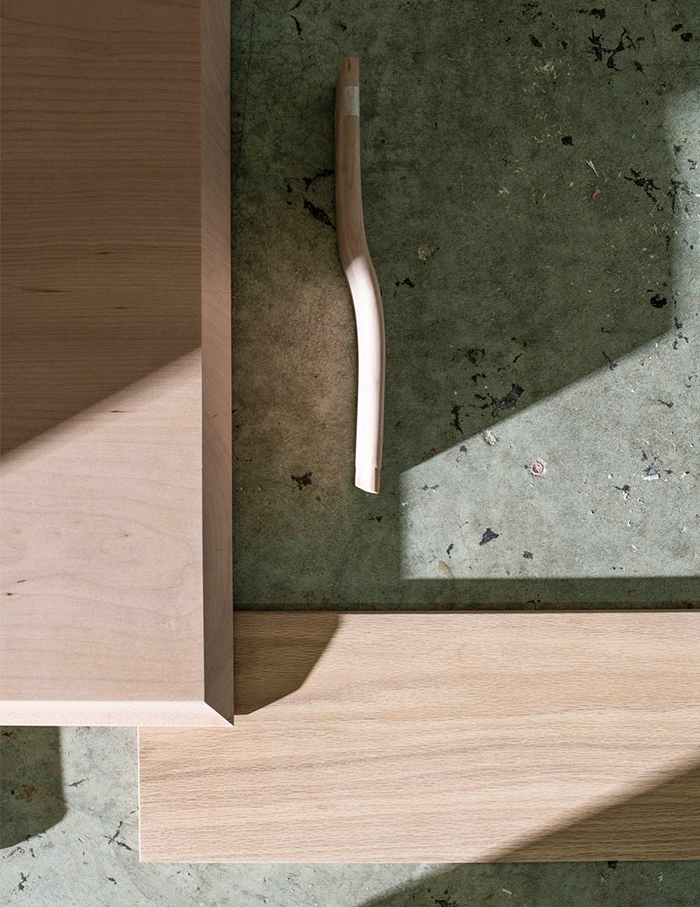 The Humble Administrator's Chair and Table by Japanese architect Azusa Murakami and British artist Alexander Groves has a throne-like appearance, reminiscent of traditional Chinese gardens and the archetype of the Ming Chair.
The duo missed the vibrant hues of nature during the lockdown, which is why they chose caramel toned American cherry and Red American oak for the seat. A smooth, subdued table counter with an inset laptop shelf offers just the right balance to the frame.