Design
Concrete groundbreaking—Studio Renn brings forth the Strangler ring in collaboration with Material Immaterial
NOV 17, 2021
| By Ankita Rathod
If you're bored of gold and silver and looking for something more 'concrete' in jewellery, Studio Renn and Material Immaterial might have something in store for you. A ring in acid-treated concrete, reinforced with blackened 18K grey gold and brilliant-cut round diamonds sounds like a definite collector's item, doesn't it?
"The idea of concrete as a common and inexpensive material but yet so crucial to our cities and civilization as we know it, fascinated us. Concrete doesn't last as long as other building materials do, leading to a deterioration of cities which made us think of impermanence/transience," shares Rahul Jhaveri co-founder and creative director, Studio Renn.
Born out of the combined love of ageing materials of the collaborators, the project experiments with atrophy and entropy-something that was an ongoing and important project at Studio Renn.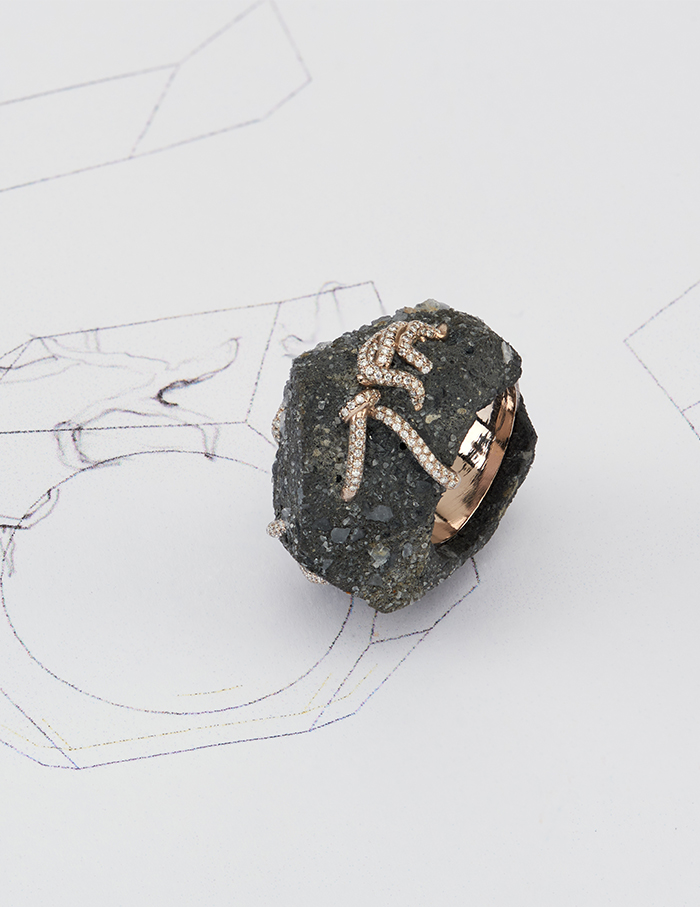 Material Immaterial and Studio Renn bring the Strangler Ring to lifeDiving into a philosophical stance, Jhaveri elaborates, "If nothing is permanent why do we expect it to be? This study started with two series of three rings which captured the sensibility of rot and decay. And that then lent itself to the Strangler rings, where we embraced atrophy and accepted destruction as a creative force."
Displaying their immaculate rapport, Nitin Barchha, designer and partner at Material Immaterial tunes in, "Atrophy is such a beautiful character visible in buildings and objects all around us, and also the most undervalued and underrated. The idea was to give atrophy its deserved place, by treating it as more a gem than the gems themselves."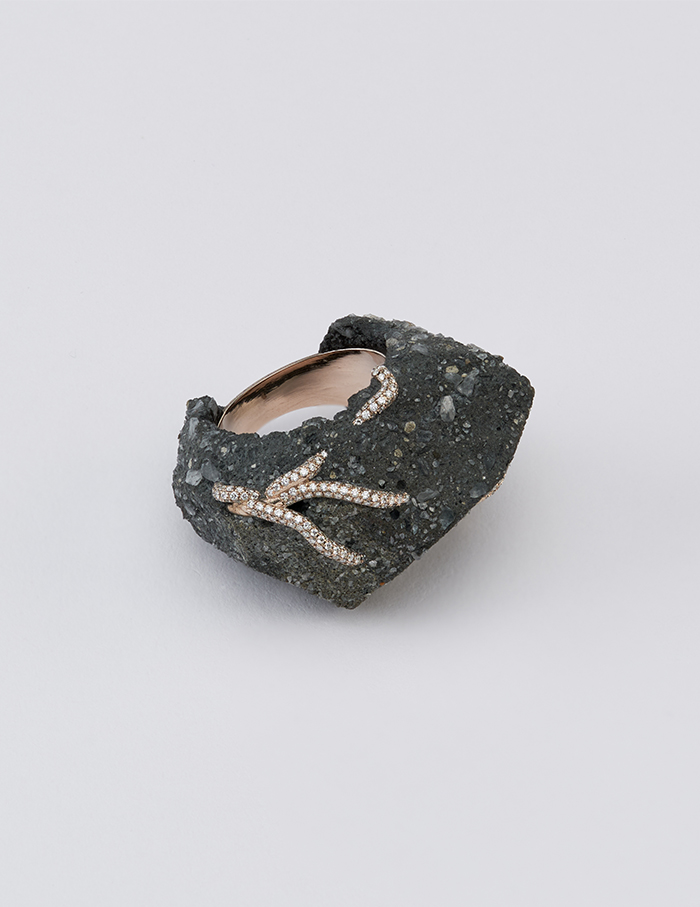 Having won the best in innovation award during their international debut exhibit held in Couture Las Vegas this August—it's safe to say, the team aced the task at hand. 
Speaking of the technique, Barchha elaborates, "We cast the concrete around the gold ring which in turn comes out as a complete and finished product. It is then first cured for a long time under controlled humidity and then carefully treated with the acid of a particular concentration. Followed by a thorough wash to ensure there is no residue left. The piece is then finished by steaming, buffing etc."
Studio Renn was recently invited to showcase at Vivarium's NEW MODERNISM curation at Phillips Auction House HK. It will be the only Indian brand to be showcased alongside brands such as Sottsass, Calder and Vendome. Priced at INR 3,10,000, the Strangler ring is an edition of 5.