Homes
These cutesy children's rooms are a whimsical paradise of cheer and joy
DEC 30, 2020
| By Raashi Dev
Confused about how to transform your child's room into a wonderland of dreams and fancy, without having them outgrow it? Look no further. We've put together all the children's decor inspiration you need to give your little ones the chamber of their dreams that allows their imagination to run wild!
A fairytale land by Circu
The brand aspires to create spaces that expand a children's imagination and creativity with its wide array of bedroom decor ideas.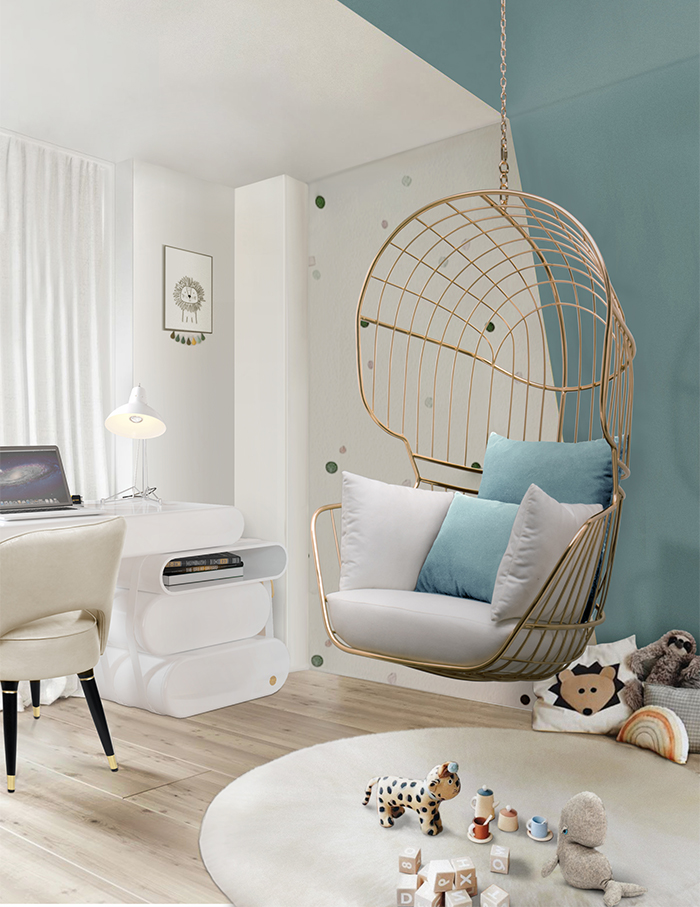 From aeroplane beds, rocket armchairs to a crib inspired by a hot air balloon, their pieces create moments and experiences between children's real-world and imagination.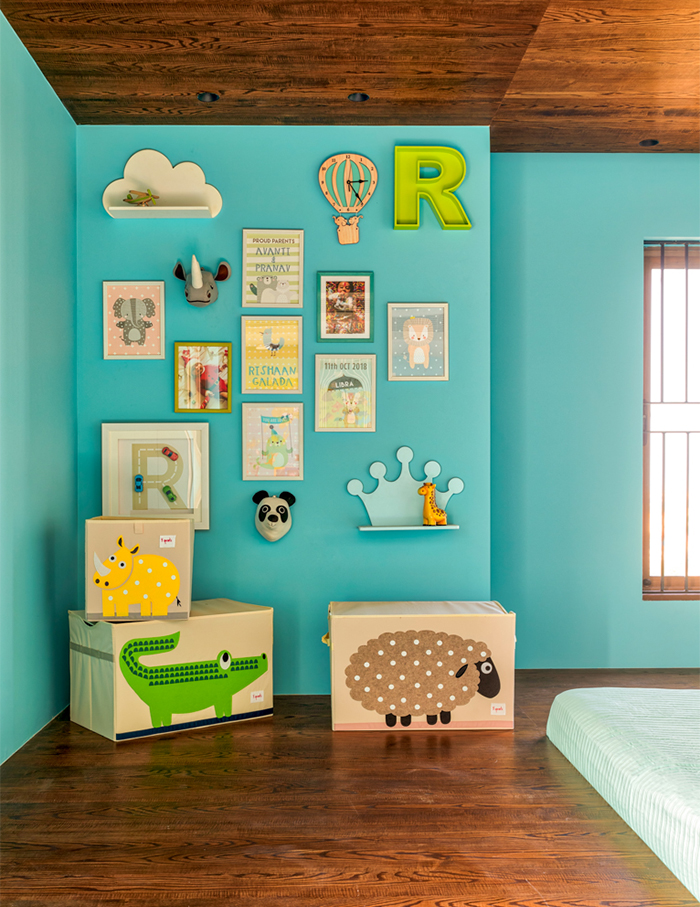 Designed as a gender-neutral space and keeping in mind safety and protection, Khushboo and Kunal Khandelwal divided the room as two clear activity zones—one large platform devised as the sleeping space and the other as a play zone. The fabric collage wall with myriad patterns in hues of soft teal, light blue, lime green, and orange acts as the headboard to the sleeping nook. The custom-designed jolly world map serves as a backdrop to the leisure area, sparking wonder from a young age.
A luxe aesthetic by Dolce Bambino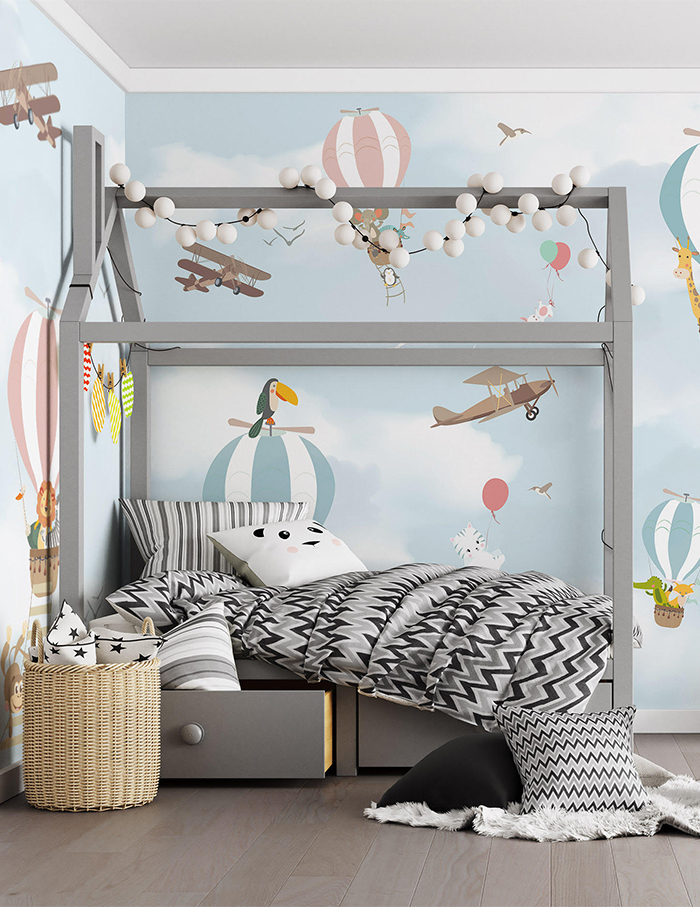 According to founder Anika Sadarangani, "A wallpaper can make or break the vibe of a room." And we're definitely in agreement. The wallpapers follow a minimal Scandinavian aesthetic that's more than a visual delight. They're fire-retardant, odourless, eco-friendly, PVC free and use non-toxic inks that are completely baby-proof.
An animal safari by The House of Things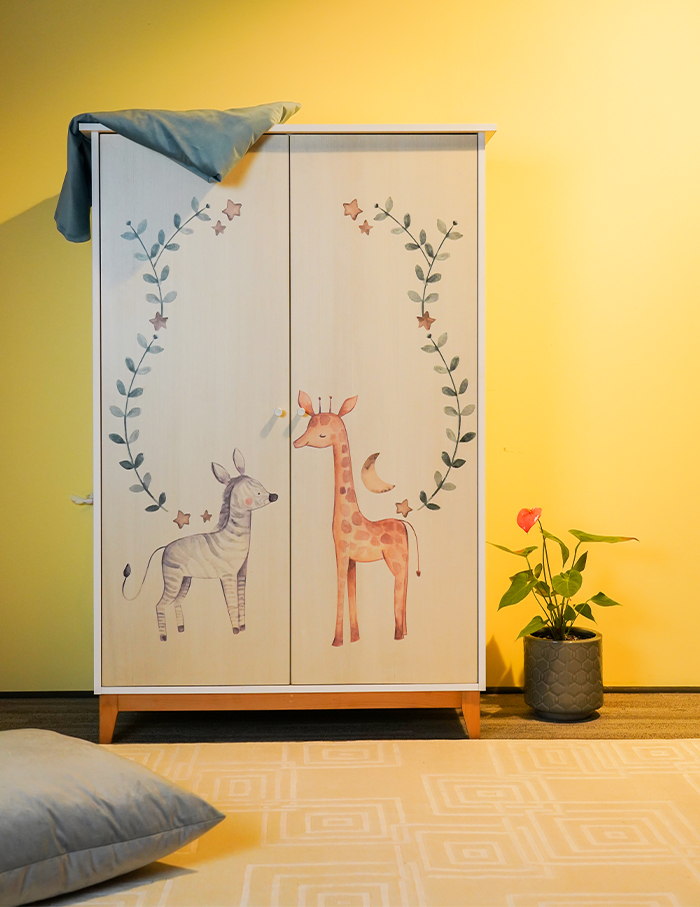 These versatile units are magnificently crafted from engineered wood and feature a charming print that embellishes its surface. It comes with spacious storage and is finished with elegant tubular legs, perfect for decluttering and instead, spreading joy at home.
A pastel paradise by Human Scale Designs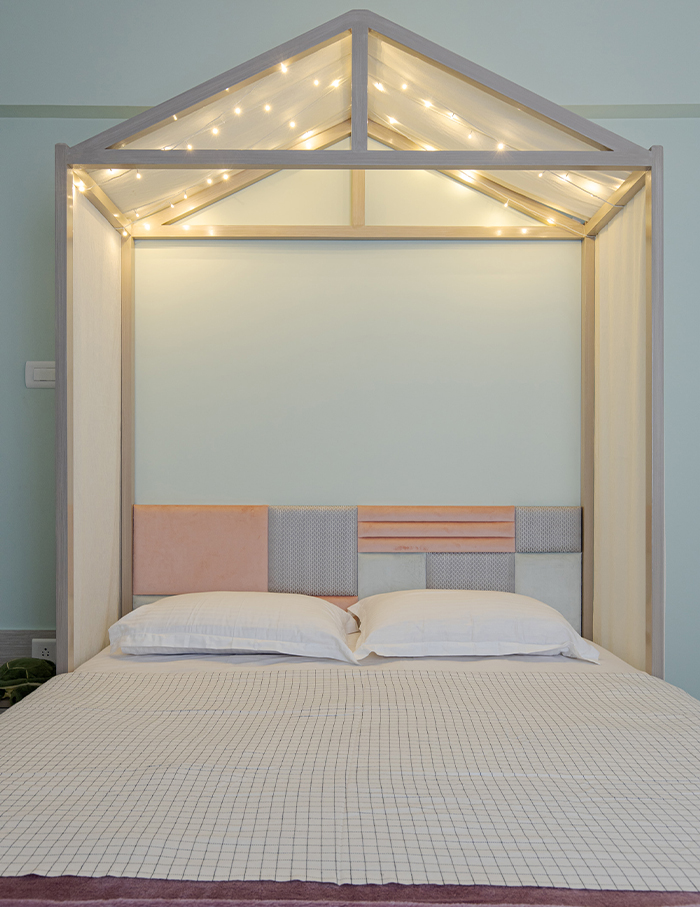 Designed for a four-year-old boy, this room breaks away the cliché of going overboard with bright, gender-specific tints. The neutral and pastel palette instead plays with fun forms and elements to bring some glee in. The decor is timeless and designed to continue to excite the young mind as the years unfold. 
A natural utopia by One Habitat Studio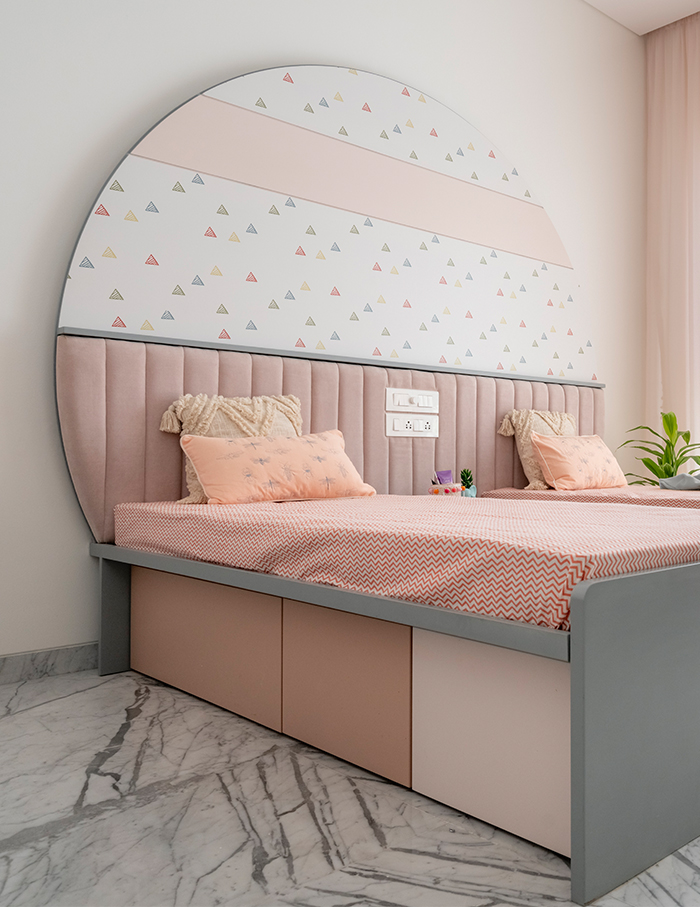 The kid's room is exceptionally designed for two girls, intending to add a newfangled and energetic vibe to it. Bespoke grooves, handles, units, and wallpaper—all with a common geometry of triangles—are used to create a sense of liveliness. The furniture seamlessly balances the varied shapes, while also serving functional requirements such as ample storage.
A minimalist cove by One079 Designs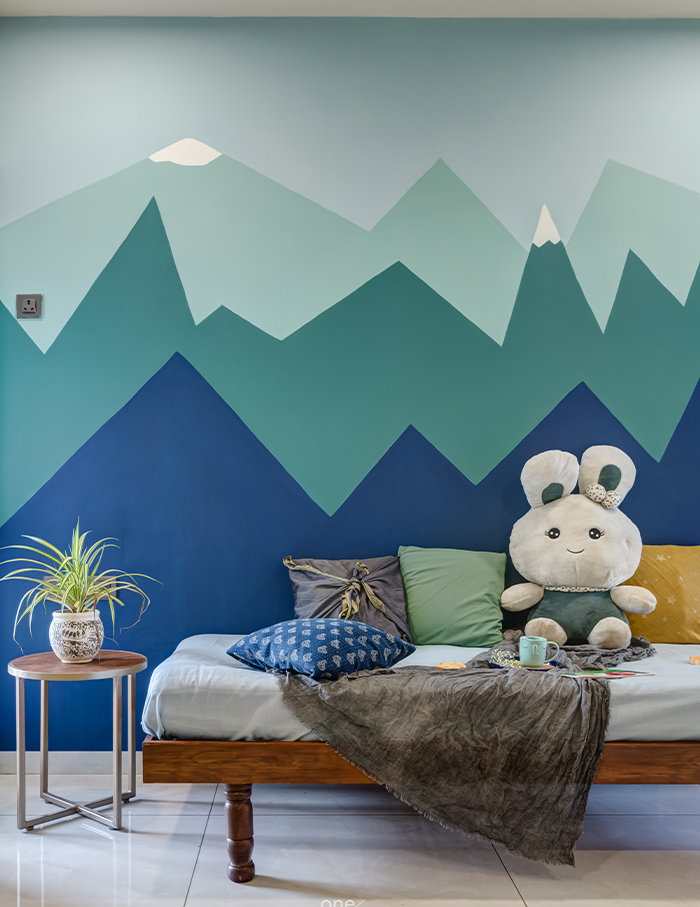 This child's room is planned with minimal furniture in neutral tones and more spillover space for the young one to enjoy all his toys and games without the fear of running into a sharp corner. A splash of colour is added to one wall, while the others are kept pristine as an empty canvas for the child to fill imaginatively. The tones of blue and green invoke the calming essence of nature and are pleasing to the eye as well. 
A pink and gold paradise by The Picturesque Studio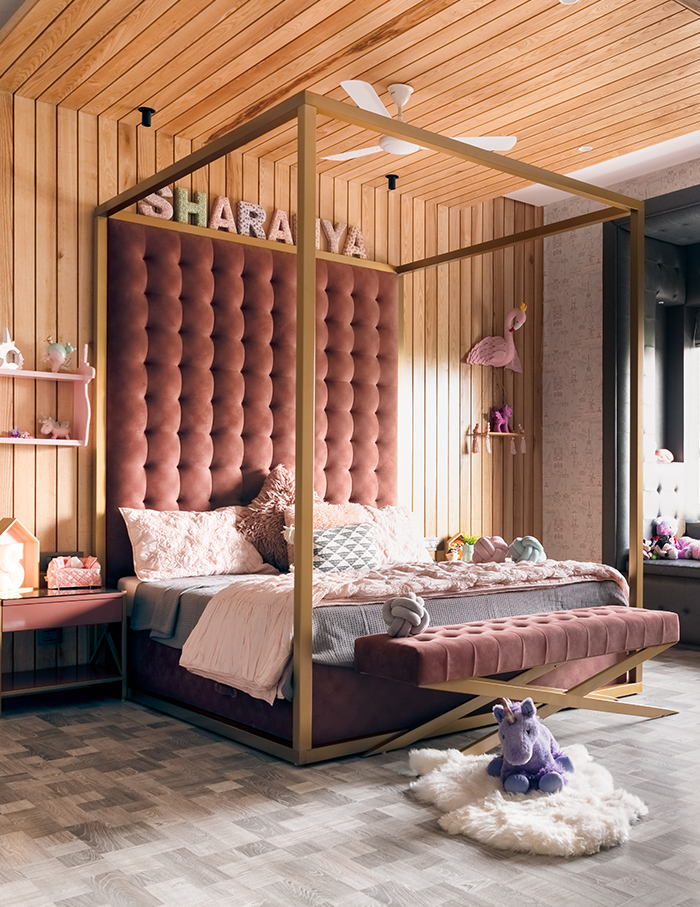 Designed for this baby girl who loves pink, gold and unicorns, the white faux fur chair and the onion pink velvet and matte gold metal bed add a luxe aura and feminine appeal. The aromatic pine wood cladding, grey wooden open unit and velvet bay window imparts a neutral background. Pastel pink wallpaper on all the remaining walls seamlessly ties all the elements together. 
A chic bedroom by ThinkCutieful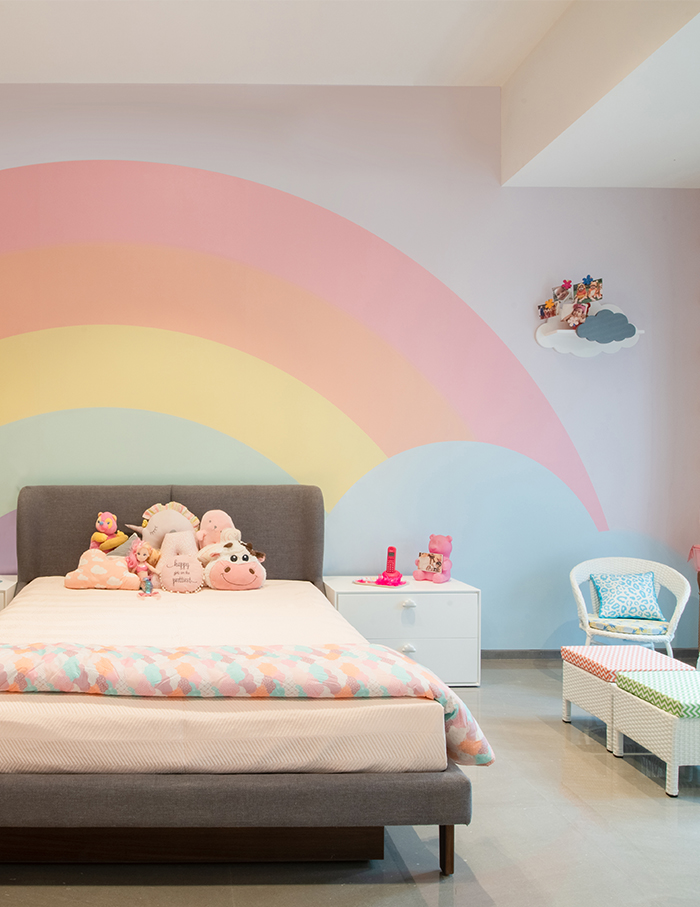 The patterned wall covering bursting with an uplifting rainbow wallpaper incites feelings of comfort for the inhabitant of this room. The customised wallpaper is crafted in muted tones to lend a quiet yet whimsical appearance. Warm hues pop off the pastel background to make the room lighter, brighter and happier. 
A place in the sun by Anushka Contractor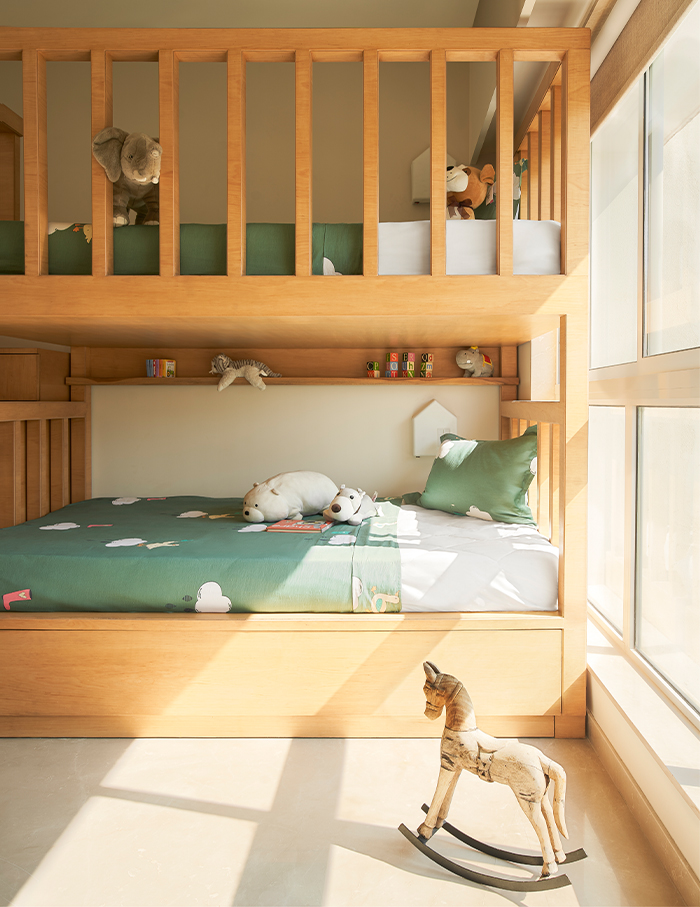 Imagine walking into your very own fairy tale complete with a wooden bunk bed, accented with green and white, seamlessly coupled with a set of drawers under the steps. The cleverly designed space also includes concealed storage under the lower bed and is aglow owing to the ample sunlight that streams in.
A Unicorn tale by Peekaboo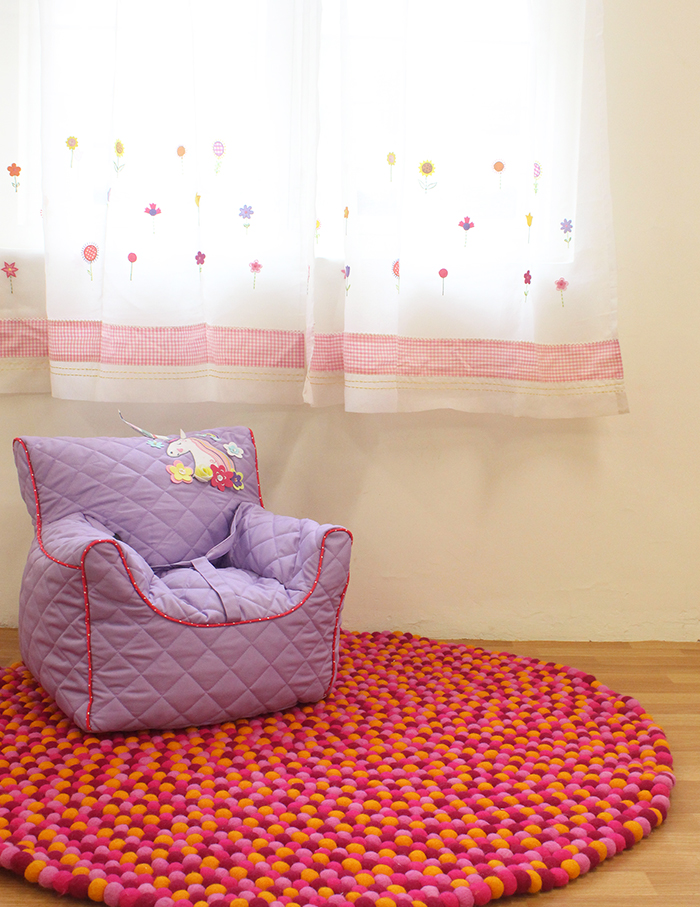 Vibrant and buzzing tints add a playful essence to the space allowing a vibrancy in your child's day to keep their energy levels up all day. The walls have been kept neutral to balance the loud colours and add a sense of composure. 
A colourful cove by Wall Paper Scissor
The newest kid on the block, or as we'd like to say wall, Wall Paper Scissor creates made-to-measure and customised for children. Conceived by Bhumika Ganjawala and Dhwani Ganjawala Patel, the brand uses non-toxic, eco-friendly, PVC free and odourless paper to decorate children's rooms. You can pick from a range of dreamy forests to monochrome cities, from flying animals to floral fantasies to give your child's room a sense of fantasy!